Wood French Doors: to Paint or not to Paint
This post may contain affiliate links, please read my disclosure policy.
Wood French doors are so beautiful, but today sparked a great debate: to paint or not to paint?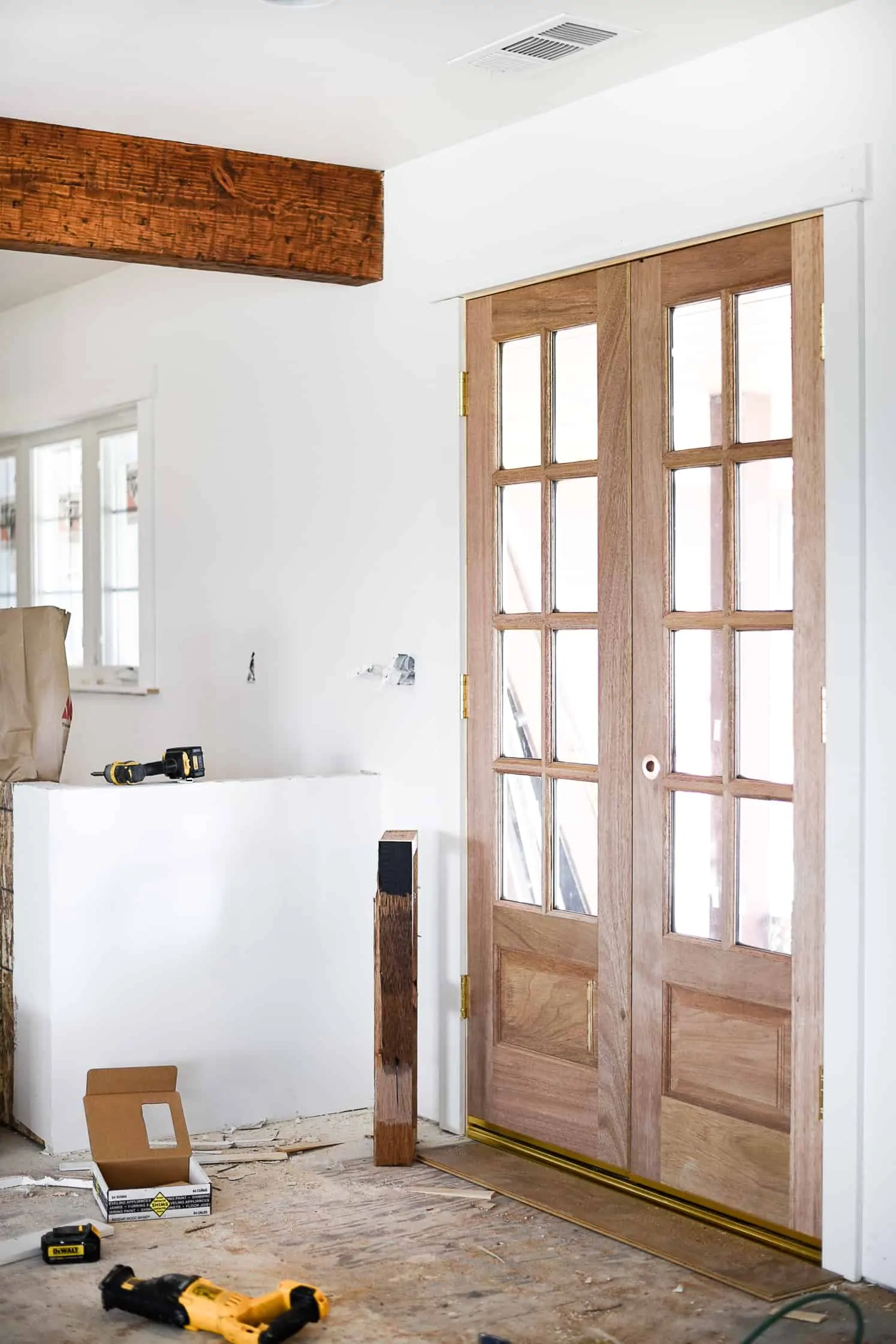 Painting Wood French Doors…?
I suppose I shouldn't even say a debate was started because in actuality, only three people have suggested that I paint our new mahogany french doors. However, it was my plan, so I guess it's us against everyone else. So here we go: painted vs. natural wood french doors…
interested in learning more about these wood french doors? click here
Let me give you the back story:
I wanted beautiful wood casement windows, and two sets of tall narrow french doors for our living room. The wood casement windows got the boot with their $13,000 price tag, but I managed to sneak in the doors of my dreams.
I searched high and low, and got quotes from at least 15 different websites / businesses – but nothing came in on budget. I finally found a company online, and discovered that they had my doors, and in budget.
If you have ever ordered doors before, you might be aware of the fact that one doesn't simply 'order doors'. How cute, you thought you would just add those doors to your shopping cart? Think again. Questions like: what size door handle hole would you like? And, left hand or right hand? kept me from ordering the doors for a good month. I didn't want to make the wrong choice.
One thing I knew for certain was that I would be painting the doors, so selecting 'paint grade' was a no brainer.
Once I finally ordered the doors, it took them 6 weeks to arrive. SIX WEEKS. It was torturous waiting for the doors of my dreams, but after what seemed like six years, the doors arrived. My contractor began to unpack them and asked me what kind of wood I had selected? …My answer? paint grade.
He propped them up on the wall of our kitchen, and we both sort of looked at each other and telepathically communicated, "these doors are too beautiful to be painted."
But what about my plan???
So here I am trying to decide, raw wood vs. painted french doors?
After we unpacked the doors and had our telepathy session, I headed down to our basement to grab a few cans of stain that were left over from the beam. Jeff (my contractor) and I tested them out on a spare piece of wood, and after holding them in many different lights – I think we are going to simply seal the wood leaving it as. is.
Thinking about renovating your home? Read my post about the best renovation investments for a dramatic change.
I reached out to my friends on Instagram and guess what? Out of nearly 200 messages, only two people have suggested that I paint the doors. At this point, it might be considered a crime to paint them. There are a few small little problems that may sway me to the dark side:
The wood is paint grade, meaning there are some noticeable variations in wood color, and even once stained, they will still be noticeable.

I was planning on painting them black, so I opted for brass hardware. The brass on the natural wood looks (and I quote), "Like something from a Motel 8."

We're starting to get quite a bit of wood in the design: exposed beam, reclaimed island, reclaimed barn doors in the pantry…I'm a little nervous that these wood doors are going to get lost in the mix, and I really want them to pop!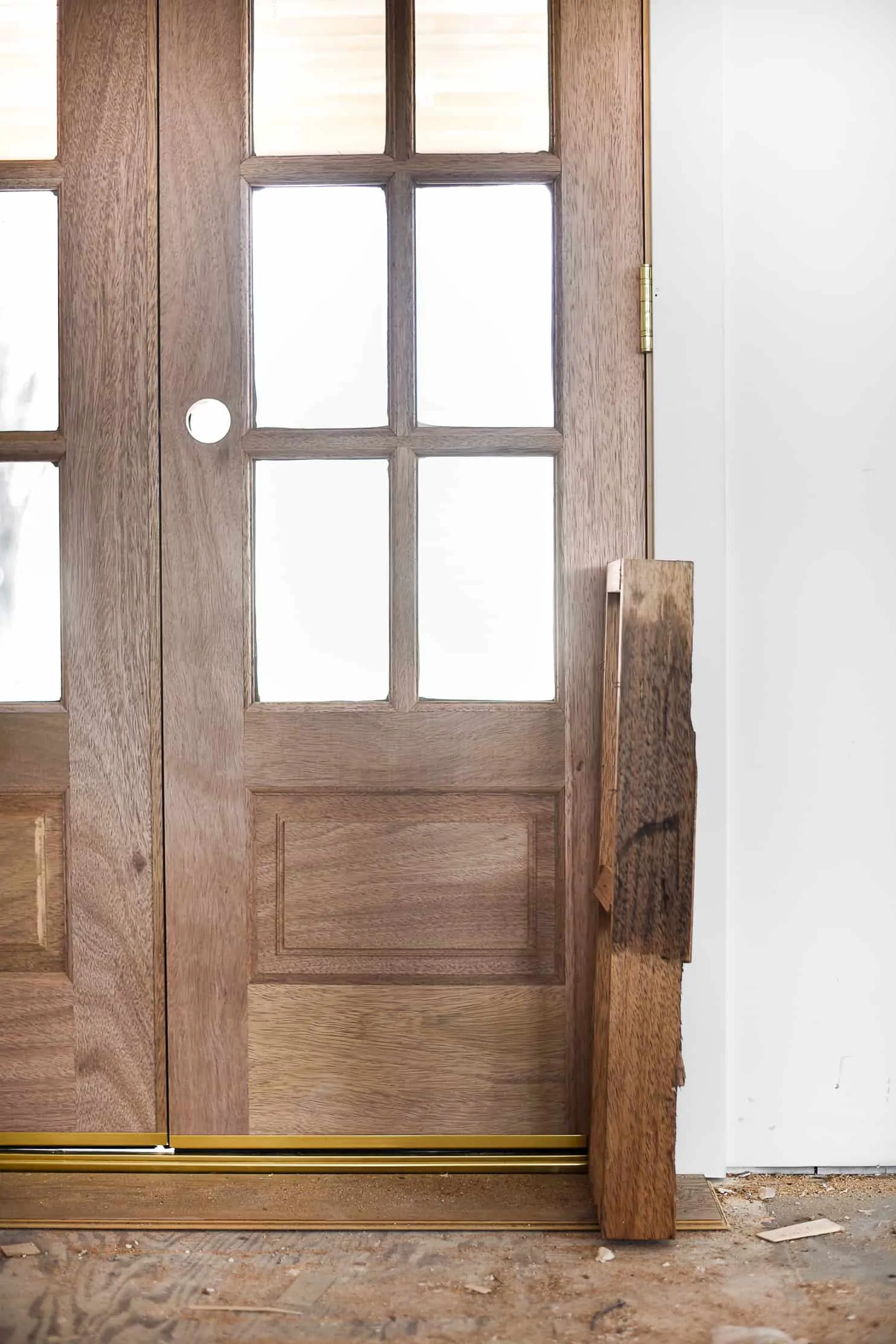 The top stain is the color of the beam, the bottom stain is simply a sealant.
See the brass…? Would be great with black paint, but it's not so great with the wood.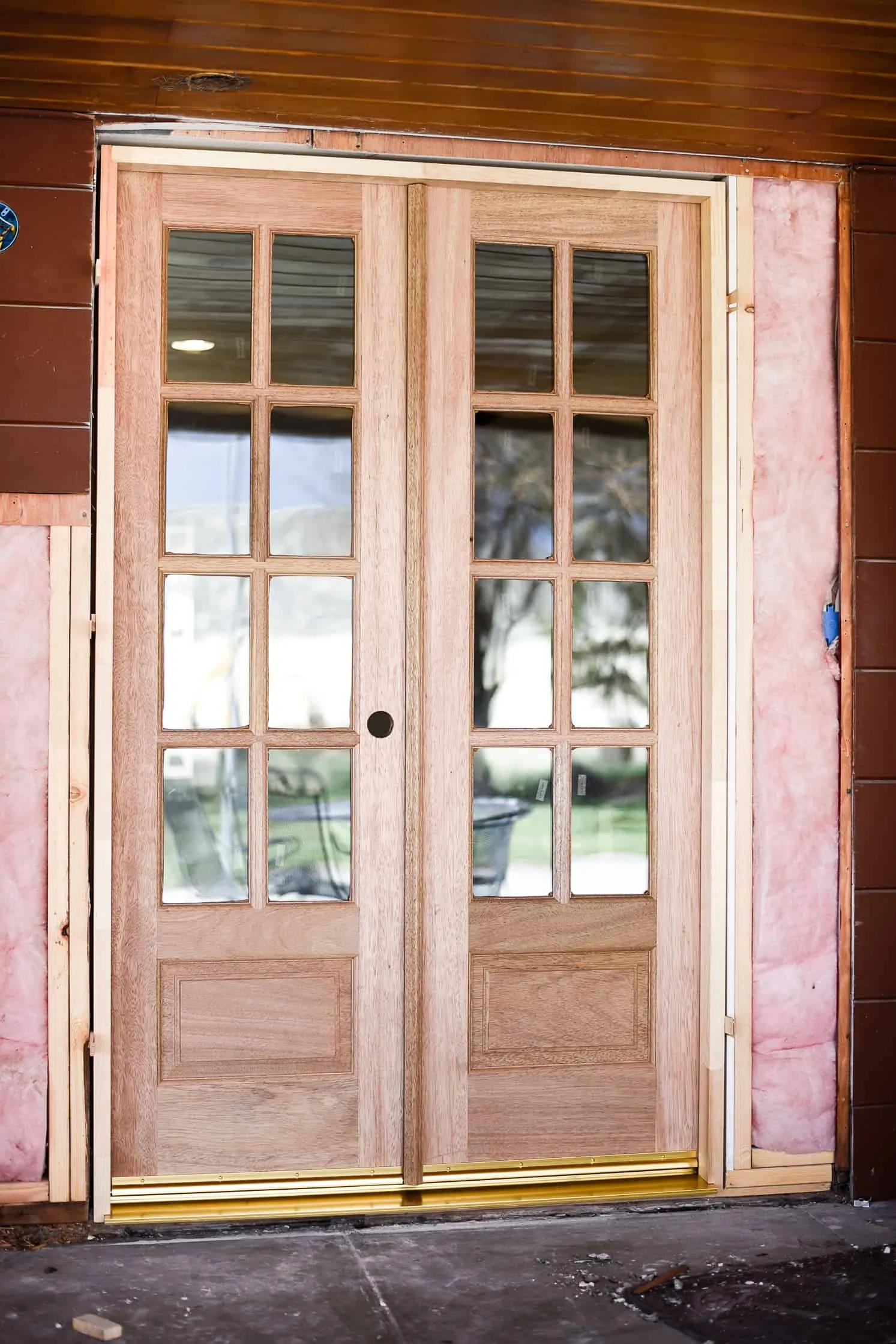 The whole exterior will be painted white, all of our windows are white vinyl with black shutters…Can you see why I'd want to paint these black?
I still can't quite believe that this white-paint loving girl is considering leaving her doors raw, but the debate isn't over yet – I am going to wait until the floors are in and the tile installed until I make my final decision because as many of you on instagram said, "it's a lot easier to add paint than to take it off."
If you are visiting here from IG, thanks so much for coming to say hello! I have appreciated all of your input so much – it's been a blast making this decision with you!
the options
inspiration
All White
Coastal Living Hamptons Showhouse 2006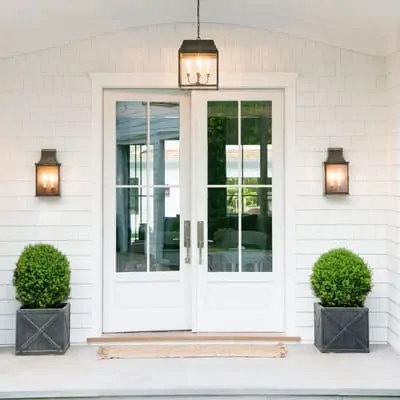 Natural Wood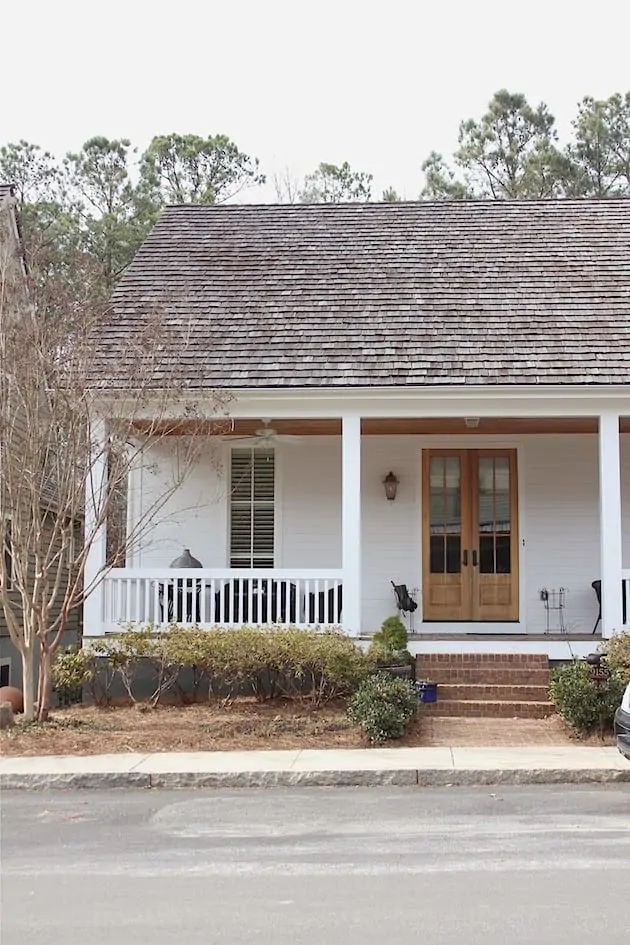 Painted Black
h2 Design and Build