As I share a glimpse into the interior design process of my personal bathroom project, you will learn how I look at pattern, color, and ultimately the pieces that create the whole.
The intent of sharing the behind the scenes so to speak of my personal bathroom remodel is to show you how intricate the design process is, and how deeply passionate we are about the details.
In this post I discuss how to select materials, thoughts on mixing metals, creating a color palette, and developing a cohesive design. Learn all of my designer secrets for creating a layered design with soul.
In case you missed it: be sure to check out the inspiration for my personal bathroom remodel, it involves sink skirts and marble!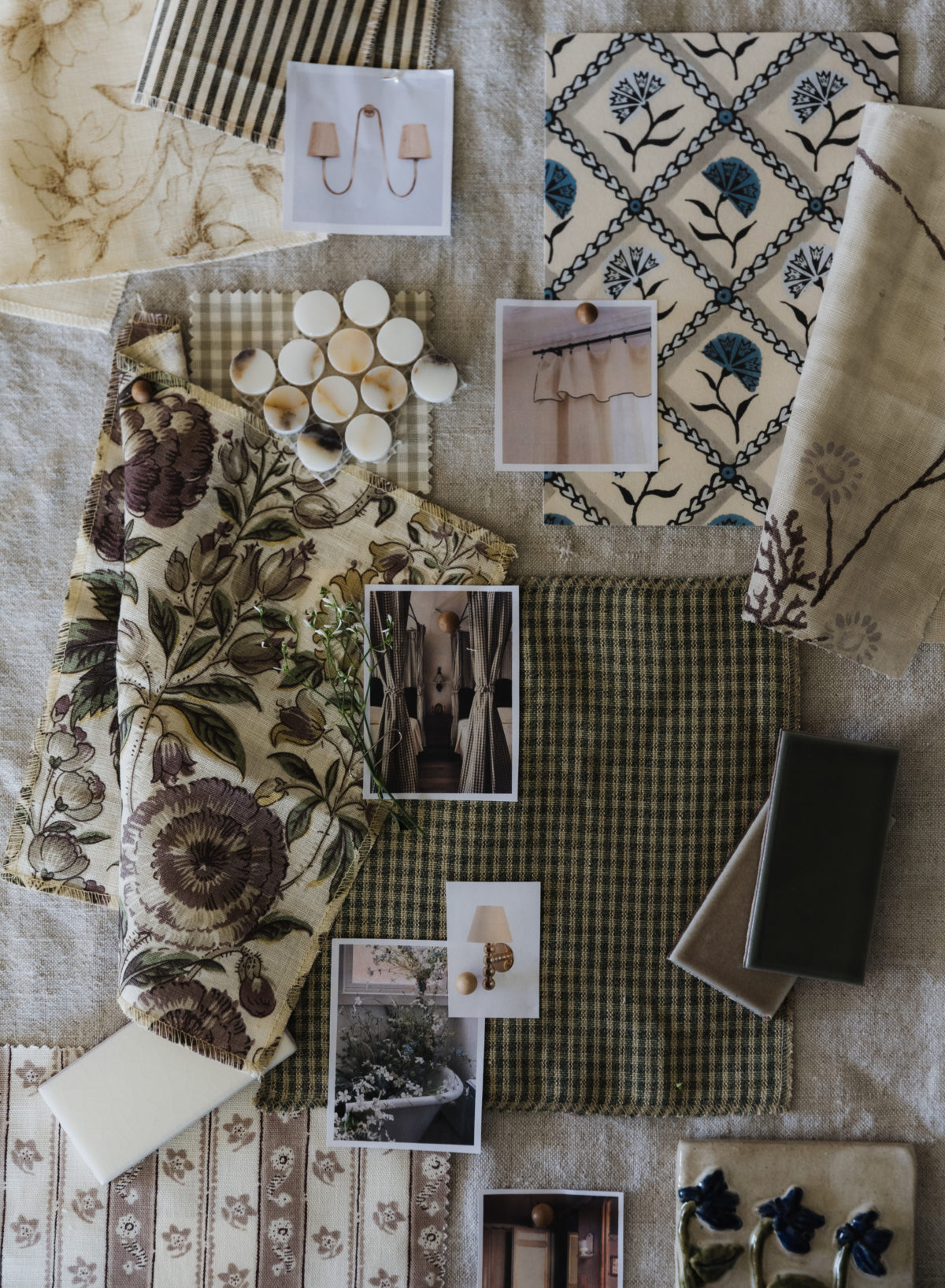 The Design Process: Phase Two
Whenever we begin a project at Boxwood Avenue Interiors, we start with inspiration. Not necessarily photos (although often, that is included) but primarily the feeling we want the space to provide for our clients. It is a collaborative process between us and the clients to develop the overall design direction for the home.
Once we are aligned, we transition into material selection. Material selection comes prior to furnishings and soft goods (textiles) because the materials serve as the foundation of the space.
Our Design Philosophy
A brief ramble of my thoughts on design, and creating a consistent design…
I recently learned about holism in psychology. I find it absolutely fascinating as someone very interested in learning more about myself and our interactions with one another. I find that this theory not only applies to human nature, but also to interior design very definitively.
Holism: The theory that parts of a whole are in intimate interconnection, such that they cannot exist independently of the whole, or cannot be understood without reference to the whole, which is thus regarded as greater than the sum of its parts.
Reading this from the pov an interior designer feels as if the lightbulb has just gone off. Finally, what I feel so deeply inside as a creative, is defined!
This all to say, materials create the whole. Each element is important and dependent on one another. When one selection changes, it is a domino effect of other changes that must reflect the new material.
We explain this in depth to our clients as we work through the design process. Often, a client may not be smitten with a particular color or rug and request a change. But it's important to think of the bigger picture, looking at the entirety of the design.
If you're following my wholistic approach to design mentioned above, then you'll realize that the change of a single element cascades throughout the entire project.
This is why we begin working with our clients collaboratively from day one. Beginning our process with a design direction presentation. Setting the scene for the project, together. Prior to even thinking about materials.
Planning a remodel, new build, or design project?
We'd love to learn more about how we can help yo bring your project to life through our interior design services!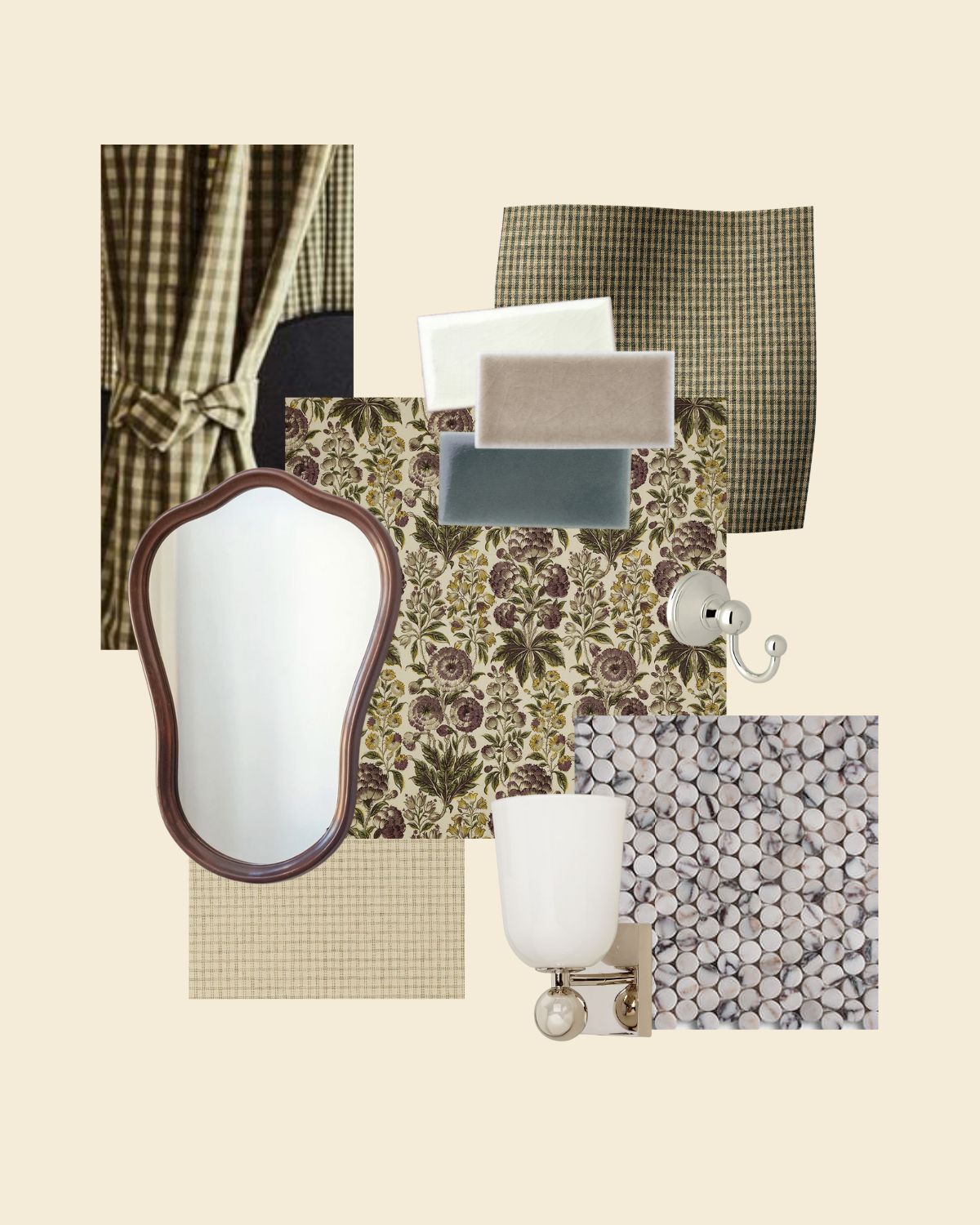 How to begin selecting materials for a interior design project?
The Feeling
I believe that much of the things we wish for are not so much the "thing" but the feeling the thing provides us.
This serves true in design as well. Making a beautiful space is easy, the challenge comes in creating a space that feels exactly as our clients dream it to.
When thinking about materials – we alway start with the question: How do we (us & the client) want the space to feel?
Jumping Off Point
Once an overall feeling is established, we transition to a jumping off point.
The jumping off point of a project is just that: the inspiration that propels you into the creative process. The diving board of the design project.
Many times this is an overall aesthetic, color, "vibe", specific fabric, or piece of artwork.
Sometimes it can be a special piece of furniture or even light fixture.
This is the piece that begins the intricate web of material selection.
Should you mix metals in a bathroom?
Mixing metals
Mixing metals in a bathroom is always beautiful. Doing so creates depth and interest in a space. As a designer, I highly suggest this approach to material selection.
Pretty Mixed Metal Combinations:
Unlacquered Brass + Bronze
Unlacquered Brass + Polished Nickel
Aged Brass + Bronze
Aged Nickel + Bronze
Metal finishes to avoid: matte or brushed finishes (in any material) such as matte black, champagne bronze, gold, faux brass (polished vs. unlacquered).
What are the best metal finishes for bathroom faucets?
Unlacquered brass faucets will forever be one of my favorite finishes to use in a bathroom design. I also happen to love polished nickel as well as oil rubbed bronze.
You'll notice that all of these finishes feature warm undertones, my personal preference.
Best plumbing finishes for a bathroom:
Polished Nickel
Unlacquered Brass
Aged Brass
Aged Nickel
Oil Rubbed Bronze
Design Tip: Make sure to select the same brand, style, and finish for all plumbing hardware in a bathroom. Ex: A brass faucet should match the brass shower head, etc…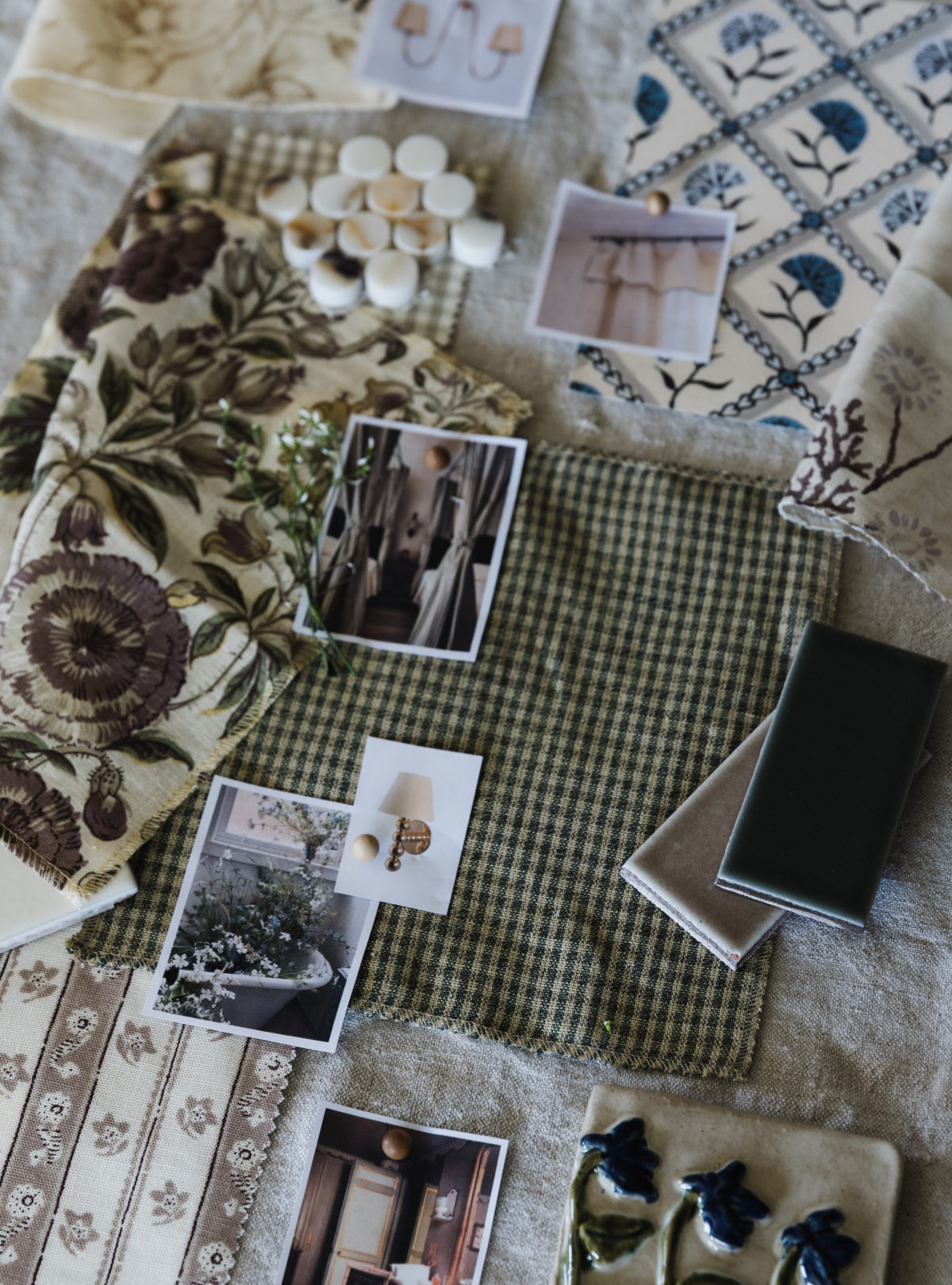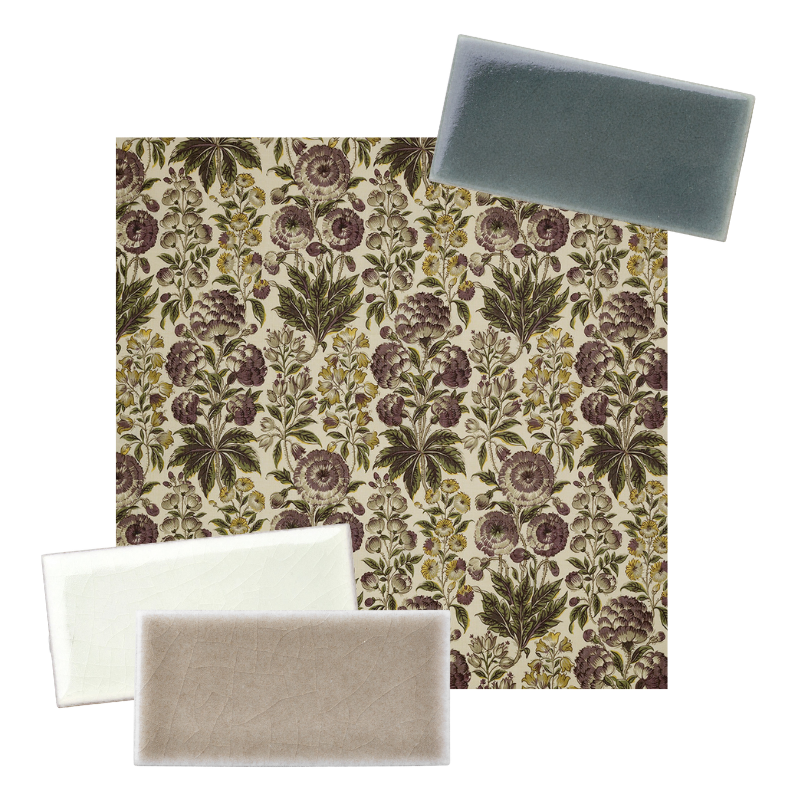 Creating a Color Palette
Utilize the jumping off point to begin the creation of a consistent color palette.
As a designer, one of my favorite ways to pull the color ways of a fabric individually. You can see here in my bathroom I've pulled the purple and blue undertones of the fabric to select the tile colors.
I love sourcing tile from Fireclay, their colors are exceptional!
Developing the Design
With the design direction narrowed down and a refined color palette in mind, you can develop the design further with intricate details to take things to the next level.
This includes the stitch types, thread color, grout color, tile trim, transitions, etc…
Developing the design is a fine line. I find that it's much like accessorizing: it looks best when there's *just enough* and not too much (unless maximalism is intended!).
Designer Tip: Refrain from layering a multitude of trends in a singular space. This will date your home quickly. Instead opt for timeless details that speak softly.
In my next post, I will share how to think through the details including tile layouts, textile fabrication, and more!