13 Tips for Hosting a Dinner Party
This post may contain affiliate links, please read my disclosure policy.
These days, hostessing is less about perfection, and more about friendship. Think about it, you're welcoming someone into your home, you're cooking them food, and you're spending precious time with them. You don't want things to be perfect, you want things to be interesting. You don't need to have the newest Crate & Barrel dishes or Anthro flatware – use your grandmother's silver instead. It'll be a great conversation starter.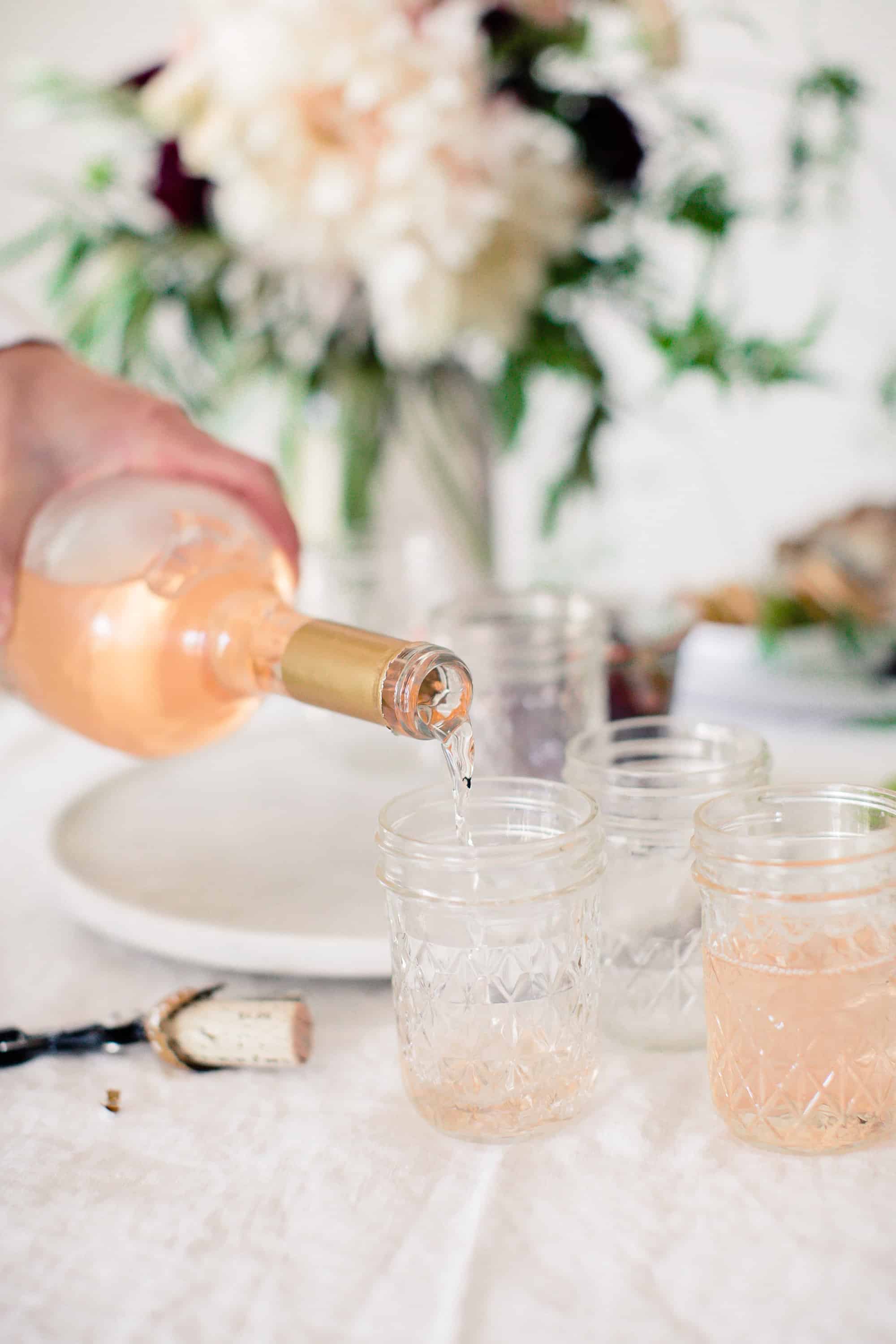 host·ess | ˈhōstəs/ | noun
a woman who receives or entertains guests.
"the perfect dinner-party hostess"
Welcoming guests into your home to share a meal is one of the most intimate ways to get to know someone. The last thing you need to worry about is being perfect. Your hair doesn't need to be neatly done, in fact, I prefer a braid, your dress doesn't need to be pressed, I generally go barefoot in jeans, and your husband doesn't need to be sitting in a corner smoking a cigar in order to have a fantastic party.
I love hostessing – it's probably one of my most enjoyed activities. Here are some of my favorite tips for making guests feel comfortable and cherished, all while helping you feel at ease! Because nobody likes a stressed out hostess!
Prep as much of the meal as you can ahead of time.
You probably saw your mom do this time and time again whenever she was preparing for a big meal like Christmas or Thanksgiving. Well, the times might have changed, but the benefits of being prepared have not! If you prep ahead of time, you'll realize you forgot the cheese the day before the party, rather than five minutes before your guests are arriving. Instead of scrambling to piece broken Cheez-Its back together, you'll have time to go to the store and get the stinkiest cheese you can find. Prepping will help you stay organized, ahead of schedule, and sane.
Make a tried and true recipe.
I talk a lot about my girlfriend Sarah, because she's become one of my best friends out here. I learned this tip from her! I went over to her house one day and scoffed that she was 'recipe testing'. I couldn't believe she would waste her time doing such a thing… That was until I had guests over, and my recipe completely failed me. So here's my tip, er Sarah's tip: test out that recipe before you invite your boss over. If you're making spaghetti, you're probably in the clear, but if you're going for the gold – like say, a soufflè – you might want to give her a whirl beforehand.
Prepare an accessible bar area.
There's nothing worse than the guys going in and out of the kitchen reaching for another beer. Our bar is conveniently located on top of one of the four pianos in our house (no one plays the piano in our family…). At least it's serving us some use! I like to fill ice buckets, set out glasses & stir sticks, as well as an ice chest of beer and other beverages. I don't mean cool-man (unless that's your vibe, go for it), but one of those large metal tubs!
Serve a light appetizer.
You're giving people alcohol – give them food too. Set out a cheese platter, or make one of my favorite appetizers, so that guests have something to do while you're waiting for everyone else to arrive. I know we've all got that one person who thinks it's fabulous to arrive fifteen minutes late to everything. Oh wait, that's me.
Count on your significant other.
If you need a reminder to pull the bread out of the oven, or defrost the puff pastry, let your main squeeze know. Assign that important task to them, that way you won't forget, and if they do, you'll be able to guilt trip them into doing dishes.
Have a game plan.
A few days before you're having people over, make a list of everything you need to get done. I'm not talking about cutting down the tree you've been meaning to for the past six months, I'm talking about things like "mop the bathroom" or "arrange flowers". Life is so much easier and more organized with a list.
Break out the best of the best.
This is probably my favorite tip! You want to make your guests feel special, so I think it's super important for them to be treated like royalty. Don't use your everyday goods – set out fancy glassware, your grandmother's silver, your favorite platter, etc… It's little details like that, that will make your friends feel loved! Don't feel pressured to have new and shiny dinnerware. Something you thrifted or found is a great conversation piece!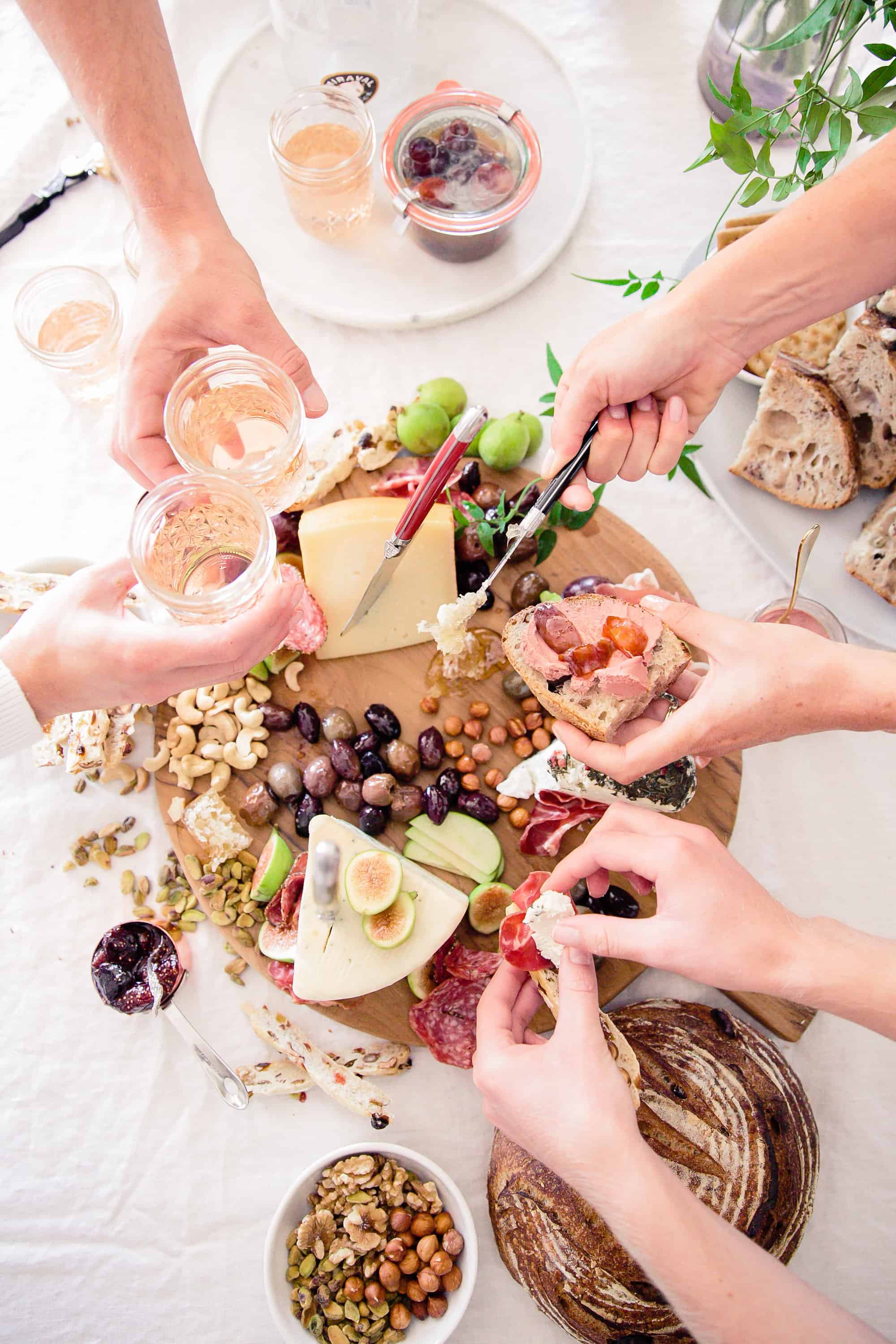 Clean as you go.
Is there anything worse than finishing a delicious meal only to remember that you've got a dirty kitchen to clean? It's sort of like realizing you've still got to put the sheets on the bed at 11 o'clock at night. I like to pull a Rachel Ray and keep a 'trash bowl' near me as I cook. I put all of my scraps in there – trash, onion skins, wine bottles ;), so that I have an easy clean up. I also like to do the dishes as I go, so that when I sit down, I know I only have to load the dinnerware into the dishwasher.
Dress casual.
Unless you specified a dress code – expect your guests to show up casual. Do not plan a grand entrance – a la Scheana – in a crop top ball gown. It's just going to make your guests feel uncomfortable. Go casual, and wear something with an elastic waistband if you're planning on having 2 servings of dessert.
Prepare an after dinner area.
Once the plates are cleared away, it's super awkward to continue to sit at the table with a full belly and an empty glass. Replace glassware at the bar area, and offer your guests some coffee, tea, or after dinner drinks in a relaxed area (like on your couch).
Keep animals out of the dining room.
I hope my friends are rolling their eyes. If you've ever been over to my house, this is a cardinal rule that I break every time. My dog sits at the table with us every night, and I so rudely allow this to happen even when we have guests over. I've even considered getting him a little doggie bow tie so he would feel appropriately dressed for dinner. I am that person. However, if you're having someone over that you aren't super comfortable around, you might consider securing your pets during dinner.
This came to me after watching real housewives tonight, when I saw them drinking out of plastic water bottles at the dinner table. I might allow my dog to eat off my fork, but brand name packages on the table make my skin crawl. It's like saying, "Hey, I worked really hard to make this beautiful dinner for you, and oh, by the way, here's some Heinz."
If you're serving ketchup, serve it in a nice little dish (unless it's one of those adorable miniature bottles, everyone loves those). Serve water or drinks in pitchers, and if you're serving something that is hard to put into a bowl (like ice cream), pre-plate it in the kitchen. 
Learn more about hostessing and mistakes you can avoid!