Ahhh dining al fresco…there is just something magical about enjoying the beauty of nature with friends while sipping a delicious cocktail and munching on fresh food with a soft breeze and warm sunshine!
Whether or not you have a sprawling garden to set up dinner or a quaint patio to enjoy, these tips will give you all of the entertaining tools you need to plan a fabulous outdoor meal!
This post is sponsored by The Home Depot and ShopStyle Collective.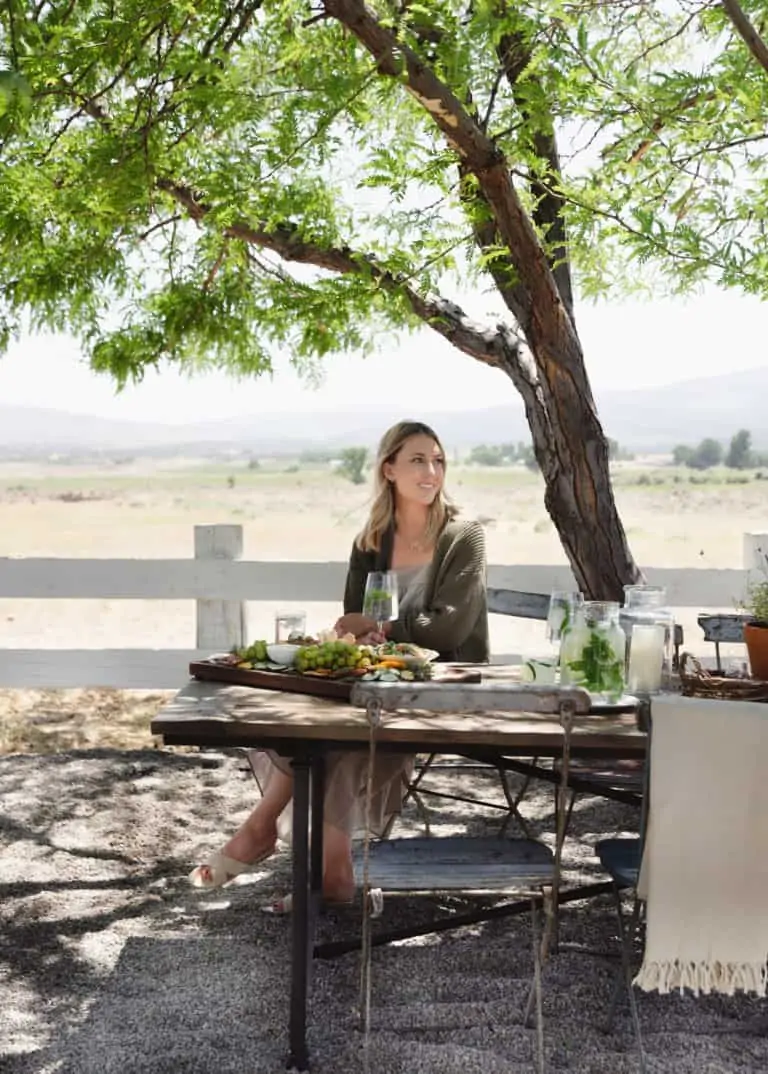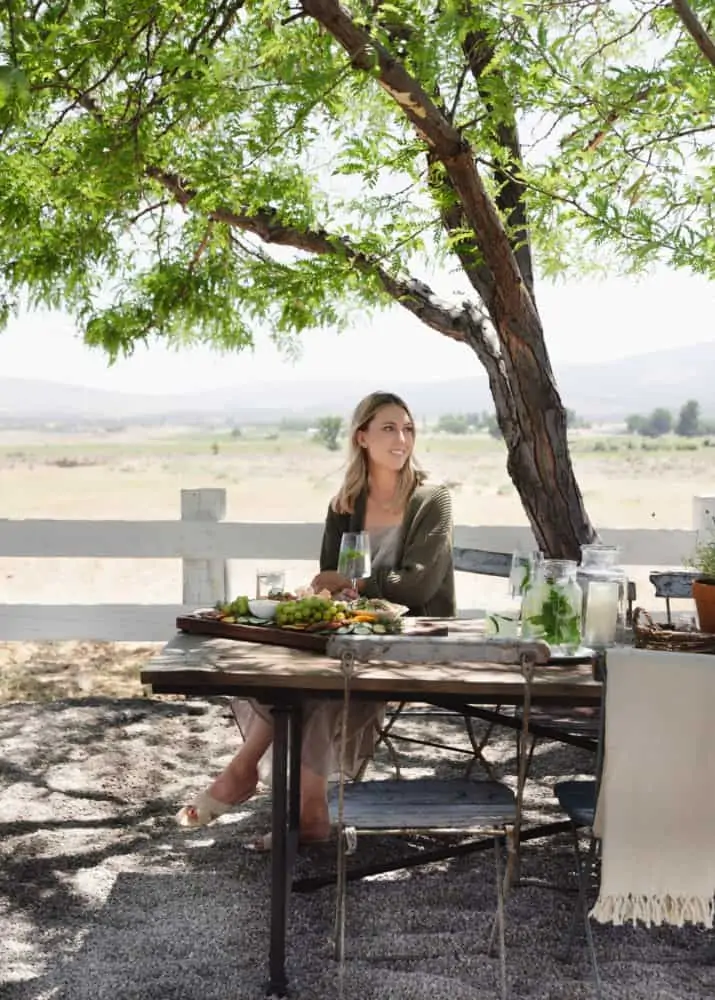 Did you know that you can find more than just home improvement products at The Home Depot? This post includes links to some of my favorite home decor products available at THD! With summertime here, a little decor refresh is just what I needed to spruce up my entertaining cupboard!
From appliances to kitchenware, I love shopping The Home Depot. They have some of my favorite brands and a great collection of decor items for both indoor decorating as well as outdoor living spaces!
If you're looking to plan your next party, this is the best time to shop as The Home Depot is offering up to 30% Off Select Furniture, Décor, and Kitchenware from now until 7/6.
Al Fresco Dining
Dreaming of traveling to France, Italy, or Spain but don't have any travel plans in your immediate future? Whisk yourself (and your guests) away with an al fresco dinner party.
Grab my tips and tricks for hosting a backyard dinner alfresco! From keeping the bugs away to planning the perfect menu, this post has everything you need.
What is dining Al Fresco?
To dine al fresco means to dine outdoors. "Fresco" is an Italian word for fresh, yet I believe this is more of an American term than a true Italian saying.
Regardless, dining al fresco just so happens to be one of my favorite things. I love dining outdoors and seize the opportunity as much as I can!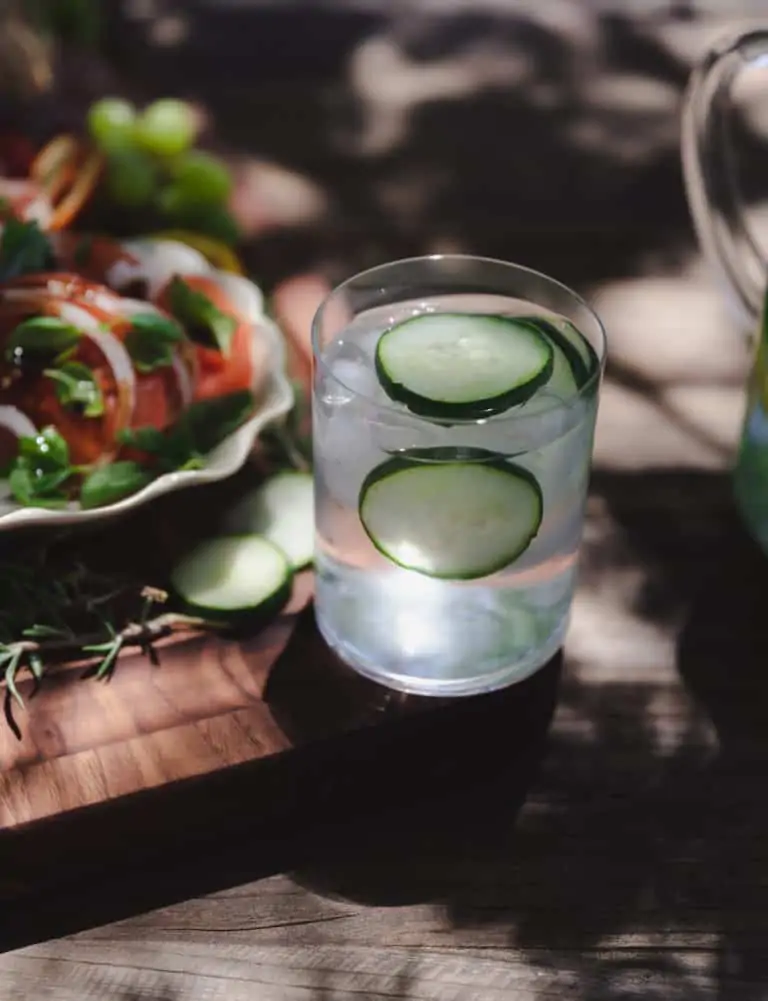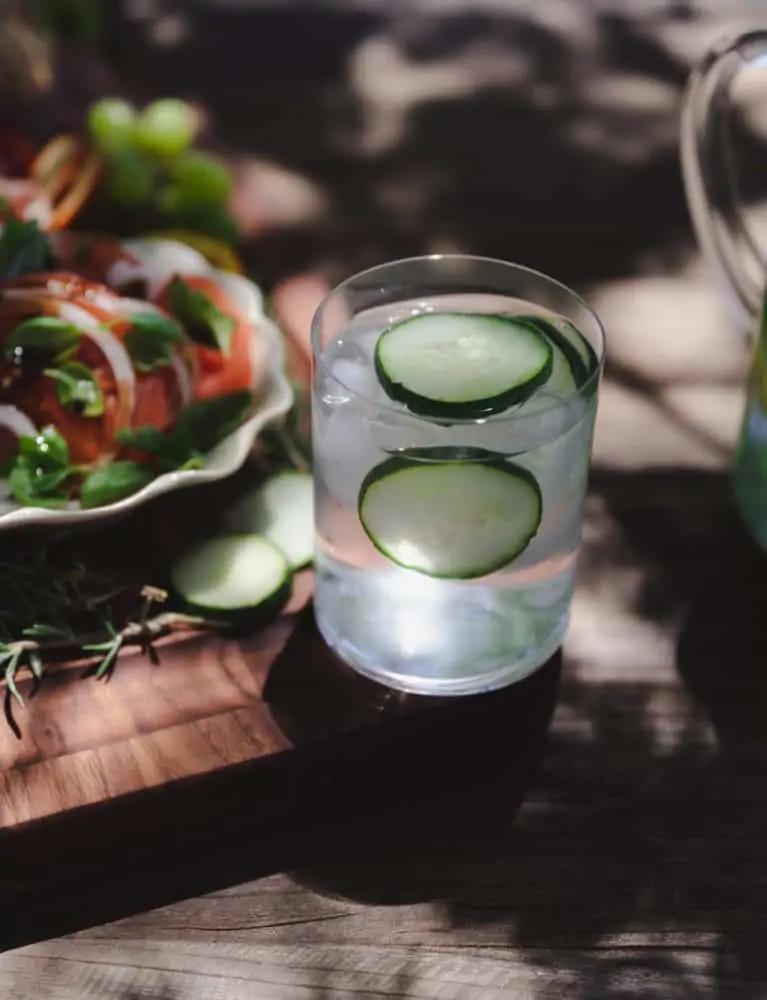 How to menu plan for alfresco dining?
When dining outdoors, it's best to prep as many of your recipes as you can ahead of time so that you as the host can enjoy yourself with guests!
During the summer months, BBQing is always a great idea! Nothing beats the wonderful aroma of a backyard cookout on the grill! Did you know that you can cook nearly anything on the BBQ? I use a cast iron skillet to cook things that I can't place directly on the grill.
When menu planning, think of a main protein such as chicken, beef, or fish. Then plan to add 2-3 side dishes that pair well together. Some of my favorites are grilled corn and potatoes with chimichurri, a fresh garden salad, or grilled squash.
You'll also want to plan an appetizer or two for guests to enjoy before sitting down to eat. Try a large charcuterie board with a mix of meat, cheese, fruit, and spreads.
Charcuterie board favorites include pickled plums, orange marmalade, and pickled radishes.
Try chips with an assortment of dips or even a quick triscuit cracker appetizer. Anything that can sit out without needing temperature regulation is a great option!
Don't forget dessert! If you're grilling, keep it outside and try grilled peaches or a cobbler made in the cast iron skillet. Or make a cake ahead of time, I love this yummy orange cake!
Pro Tip: I like to use herbs and sauces to tie all of the dishes together! Herbs added to a salad are divine! Give it a try and let me know what you think!
The Home Depot has tons of wonderful kitchenware for hosting dinner parties! Perfect for serving your delicious dishes to family and friends!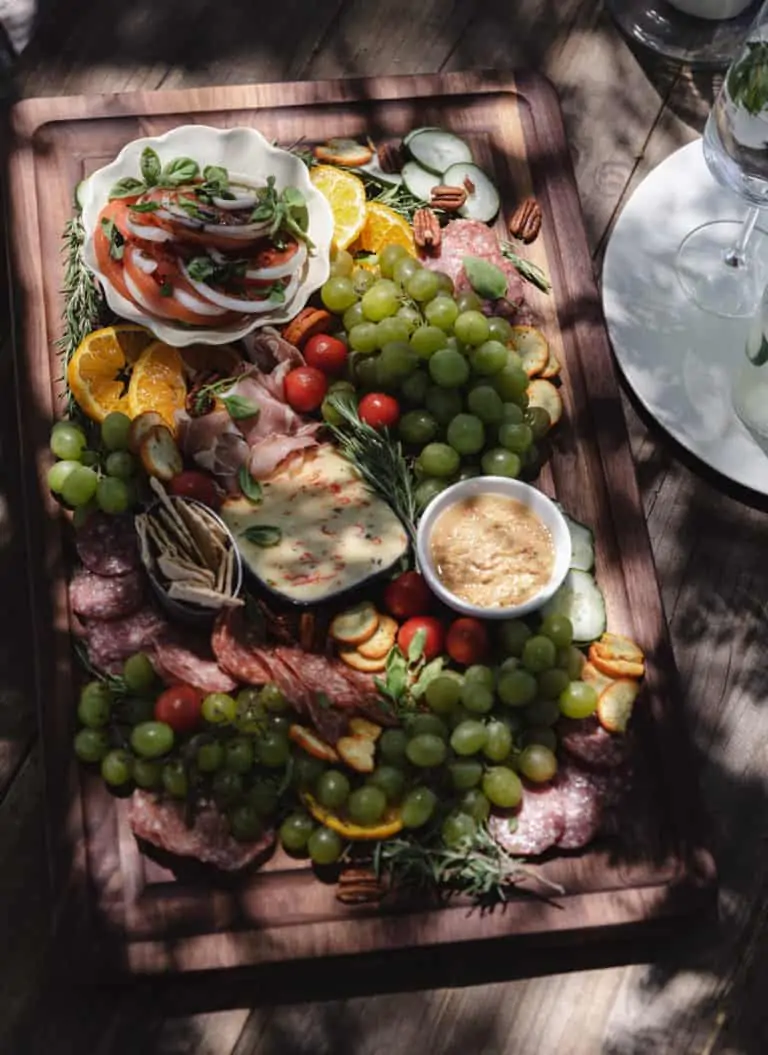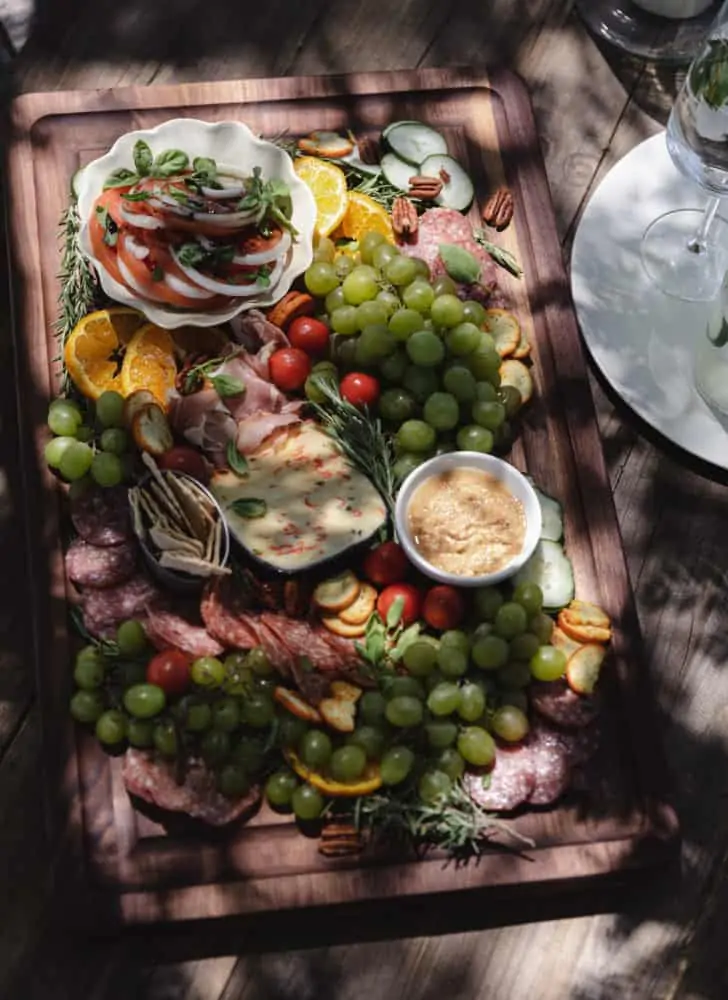 8 Tips for Dining Al Fresco
Get Creative with the Food
Depending on your location, you can dine al fresco any time of year! It is fun to craft your menu around seasonal ingredients.
In the fall, an apple walnut salad and warm soup is prefect! Or if dining outdoors during the summer, BBQ steak and fresh corn or squash make a lovely menu. As a rule of thumb, I reach for whatever is in season and think of unique ways to dress the ingredients up with herbs from the garden.
Try heading to your local farmer's market for inexpensive and fresh ingredients that your guests will love!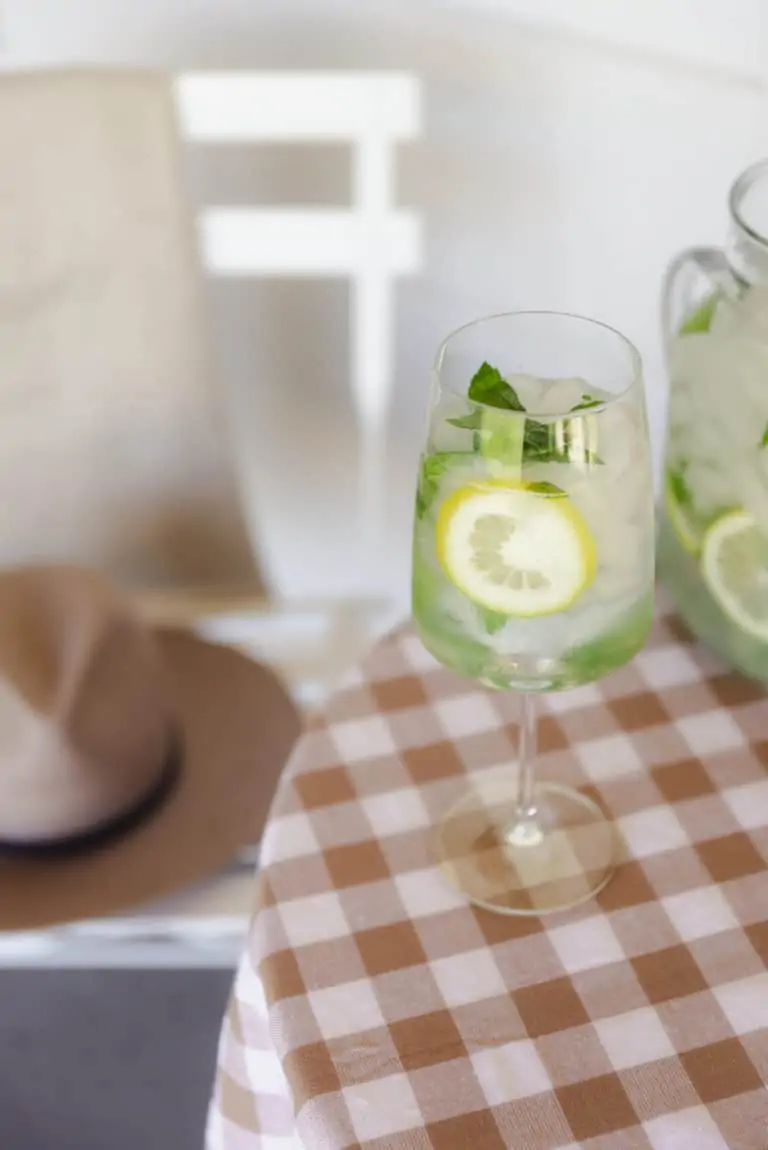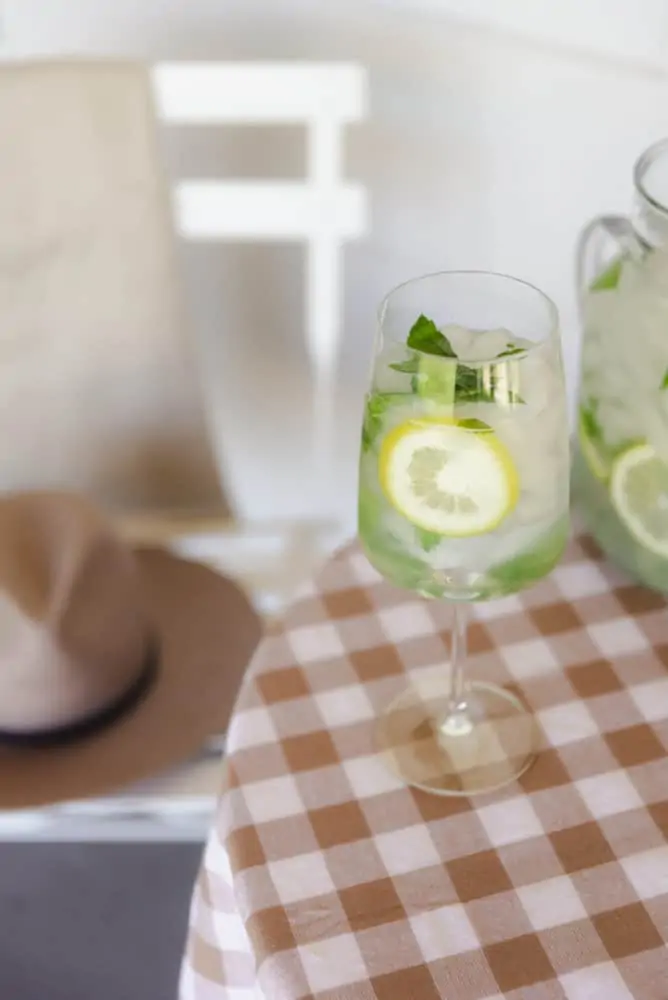 Hydration is Key
Think about what your guests will drink and batch it up! A batch of party punch and a few infused waters always work well. A large glass pitcher is the perfect way to serve a crowd!
Try a mix of mint and lemon or cucumber and lemon. Rosemary, rose water, or lavender are also really yummy additions to any drink!
I like to pre-mix these drinks ahead of time and refrigerate all day long so they are nice and cold! I also recommend putting out a tub filled with ice and a variety of beverages so guests can select what they'd like to enjoy.
This keeps you from playing bartender and gives you more freedom to enjoy the dinner!
Be Mindful of Garbage
Rather than placing plastic water bottles out or using disposable serve ware, reach for something that is reusable. Whether that's your everyday dinnerware or melamine, it is less wasteful to use reusable plates, cups, and utensils. Plus, it's prettier too!
There are tons of lovely plastic options that are made for outdoor use, but I find myself reaching for my everyday serveware when I entertain outside. There's no reason it can't be used outside.
Even when using reusable tableware, trash is inevitable. Place a small bin out for recycling and garbage so guests have a place to dispose of bottles and trash.
The Home Depot has both reusable outdoor tabletop decor as well as traditional ceramic and porcelain options. I love their assortment of glassware and flatware as well!
Keep Guests Cool (or Warm)
Depending on the time of the year, you'll want to provide some temperature regulation for your guests if possible. This can be something as simple as an umbrella for shade or a linen throw blanket for a chilly evening.
If you plan on hosting outdoor dinner parties often, you may even want to purchase a heat lamp or fire pit for cooler nights – both available at The Home Depot! A fire pit is always a fun activity to stretch out the evening where everyone can gather after dinner. S'mores anyone?
Keep the Bugs Away

Bugs are inevitable but are easily manageable! I like to place a small basket of bug spray off to the side of the party where guests can spritz themselves if desired. Citronella candles are also a great option and add ambiance to the overall mood.
Food tents are also a great investment for summer entertaining. The mesh screen keeps the food protected from bees, flies, and other critters.
Pro Tip: Place a basket of bug spray downwind from the party to encourage guests to apply at a distance. No one wants to get a cross breeze of bug spray in their food or drink!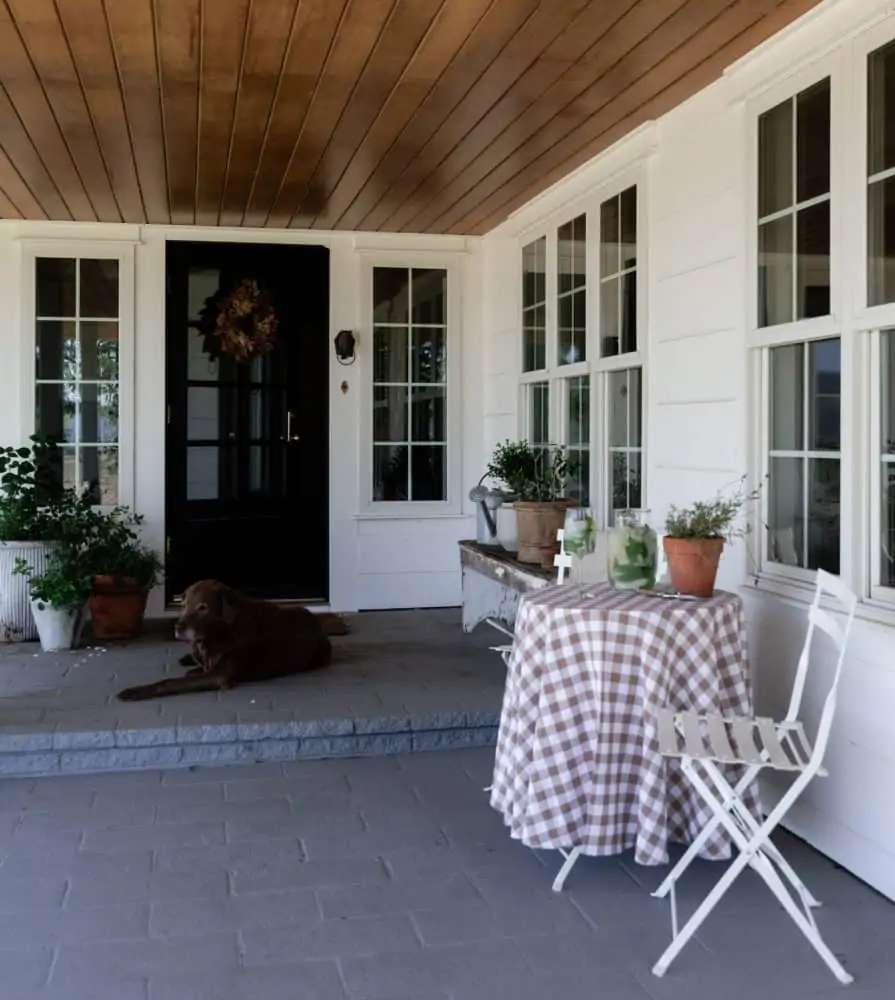 Get Inspired by Nature
Use organic elements such as branches or cut flowers as an inexpensive centerpiece or table decor! You can clip a few branches from a tree or shrub and place them on the table for a quick and easy centerpiece.
Use fresh cut herbs layered on linen napkins for a pretty place setting! I have even used small pebbles as table decor, nature is the best inspiration for a laid back and elegant table!
Set the Scene with Pretty Decor

An outdoor dining set, lounge chairs, and pretty decor will make dining al fresco feel extra special! I love using linen napkins, a tablecloth, and votives to dress up my outdoor table settings.
As the sun sets, twinkly lights and candles add ambiance and charm and will make guests feel like they're dining alfresco at a fancy restaurant :).
Something as simple as a few tea lights really go a long way!
The Home Depot offers hundreds of decor options that are sure to spruce up all areas of your home! From tabletop decor to furniture I love their curated collection of affordable items!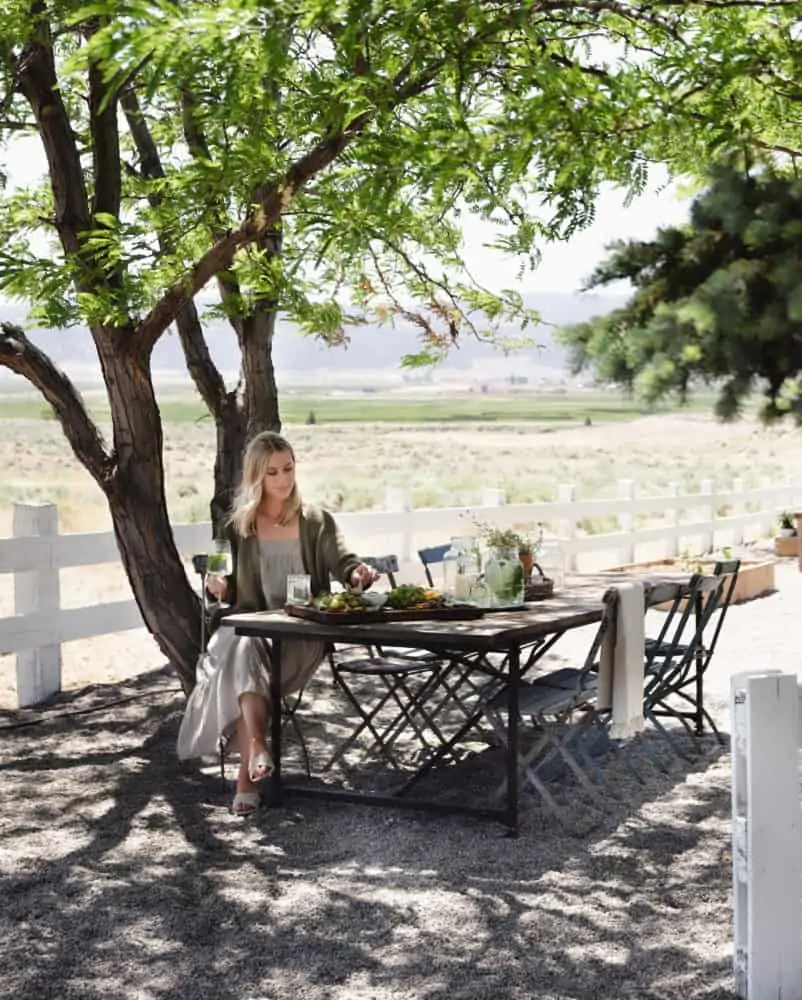 Prepare for Guests Needs Ahead of Time

If you are planning on dining al fresco, you won't want to spend your time running and out of the house to get odds and ends for your guests. I like to think ahead of what my guests may need during the party such as a bottle opener, wine opener, napkins, ice, appetizer plates, serving utensils, etc…
Spend a few minutes making a list of all of the items you think you will need, then pack them up in a small basket or tray and place somewhere your guests can easily access them!
Once you create your list, you can easily pick up everything you need to throw a great Al Fresco dinner party from The Home Depot. Not to mention, from now until 7/6, The Home Depot is offering up to 30% Off Select Furniture, Décor, and Kitchenware making it the perfect time to plan your next soiree.
For more home decor ideas, visit The Home Depot!