Looking for the best brass faucet for your bathroom? These options will cover you at any budget!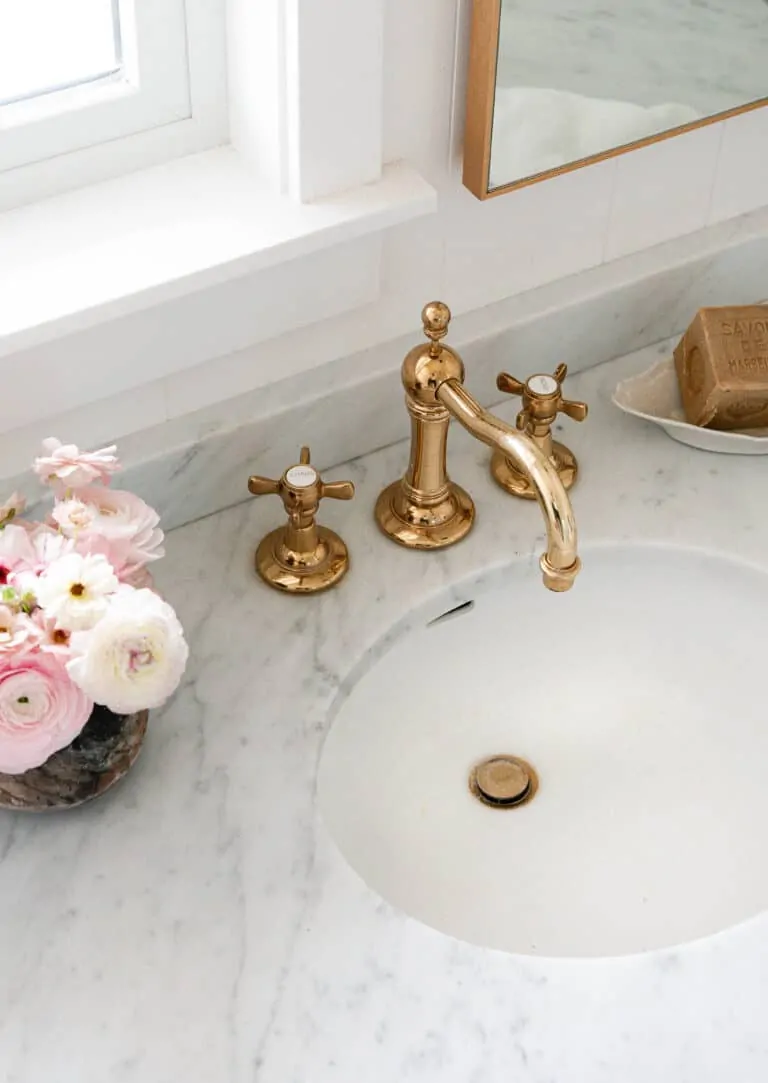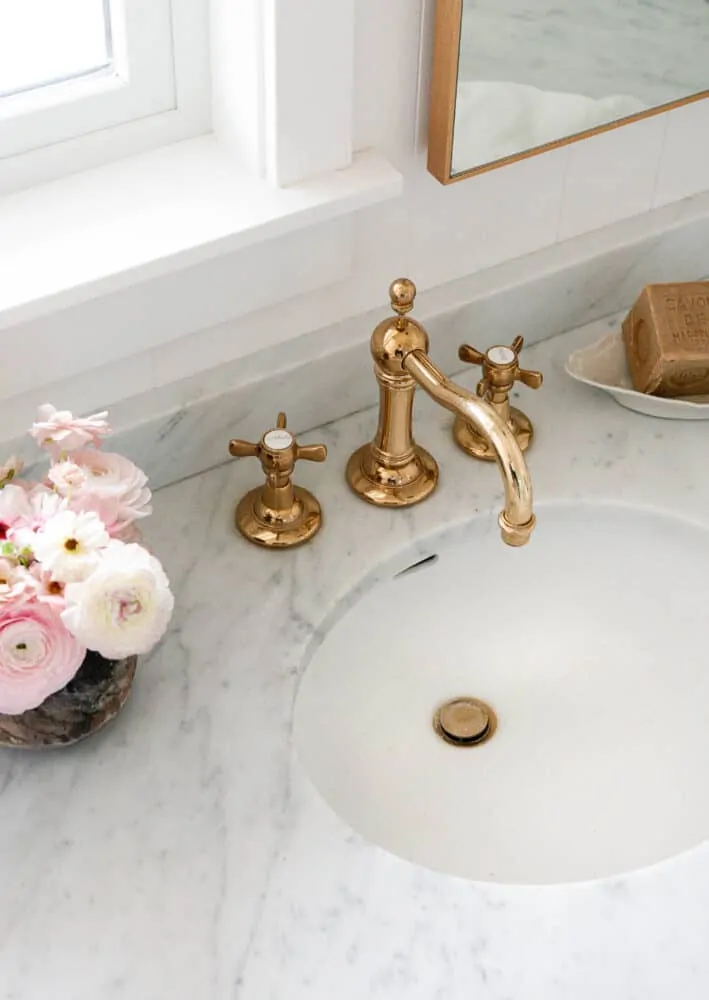 The Best Brass Faucet for your Bathroom (& Budget)
No doubt about it, brass faucets are a timeless element that can add charm to any bathroom and there are countless options available for any budget!
However, the biggest choice you'll need to make when selecting a brass faucet for a bathroom, is whether or not you want a finished or unfinished faucet.
If you're not quite sure what "unlacquered" and "lacquered" mean, we break it down for you.
What is the difference between lacquered and unlacquered (living) brass?
The difference between lacquered and unlacquered brass is in its ability or inability to age or tarnish.
Unlacquered Brass
Unlacquered Brass is known is a living finish, meaning it will wear over time due to its exposure to the elements. Water, air, and oils from our hands will naturally age the element to become perfectly aged and well loved. It develops a lovely patina that is reminiscent of an antique brass faucet.
Unlacquered brass is quite popular in design due to its natural beauty. It simply oozes delicious design! Buyer beware: high demand means high price!
Lacquered Brass
On the flip side, lacquered brass is coated with a lacquered finish that seals the material preventing it from aging or developing a patina. Some homeowners might desire the brass to maintain its original shiny state. If so, opt for lacquered brass.
Building or remodeling? Learn how to choose light fixtures!
Brass On A Budget
If your remodel or build is constrained by a budget and you can't spring for $1200 faucets throughout your house (can anyone?) – don't sweat it. You have a few options.
1. You can purchase a nickel or chrome plated brass faucet and have the faucet stripped. Just make sure it is made of brass. This information will be in the specification sheet of the fixture and will say "brass plated". Companies charge less for brass faucets with a silver coating because of demand.
In order to do this, you'll need to find a metal shop to remove the finish, and it will cost a bit, but hey, cheaper than what you can usually find!! More info here.
2. Or, you can purchase an "aged brass finish" which is made to look like, well, aged brass. There are endless options out there at very affordable price points! However, this is the easiest and most cost effective option.
Commonly Asked Questions About Brass Faucets
How to tell if a faucet is lacquered or unlacquered brass?
The product information will list "satin finish", "brushed finish", "aged finish" or any other type of "finish" – it is lacquered aka finished.

If you're hoping to find an unlacquered brass faucet, look for that exact wording. It might also be coined as "uncoated".
Best brands for unlacquered (unfinished) brass faucet for bathroom?
Rohl: Perhaps one of the most well known and most beautiful. Warning: it will make you drool. Beyond gorgeous, but you'll pay for it!
Waterworks: A modern take on the traditional faucet. Simply gorgeous, also not inexpensive. One of the highest end fixture manufacturers. Eye candy!
Newport Brass: I really like this company's designs and it is moderately priced.
Kallista: This is Kohler's sister company, they produce some seriously beautiful faucets!
Best brands for lacquered (finished) brass faucet for bathroom?
Kingston Brass: A very affordable company (imported), but a great option for "getting the look".
Signature Hardware: I love their option of timeless and antique looking faucets.
The other usual suspects: Kohler, Moen, American Standard – they all make beautiful options.
Brizo: Some really lovely contemporary designs in a "luxe gold" finish.
If you are looking for some inspiration for your bathroom, check out our post on our Guest Bathroom Renovation!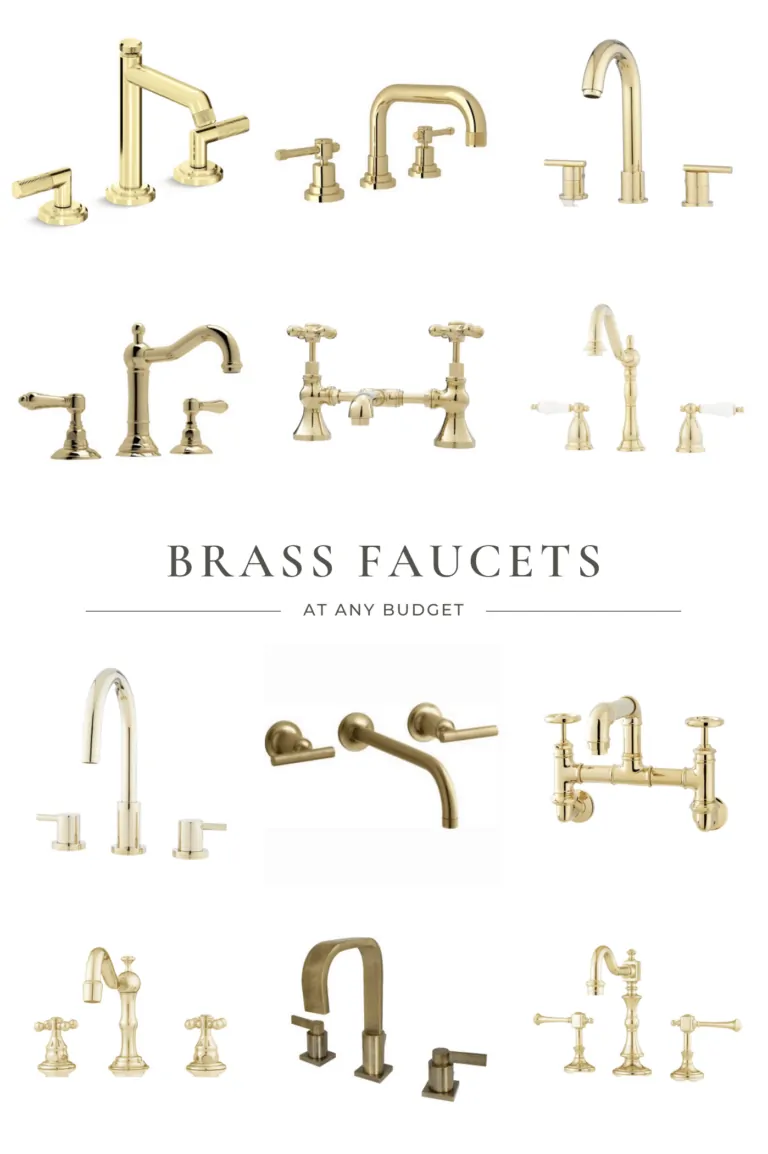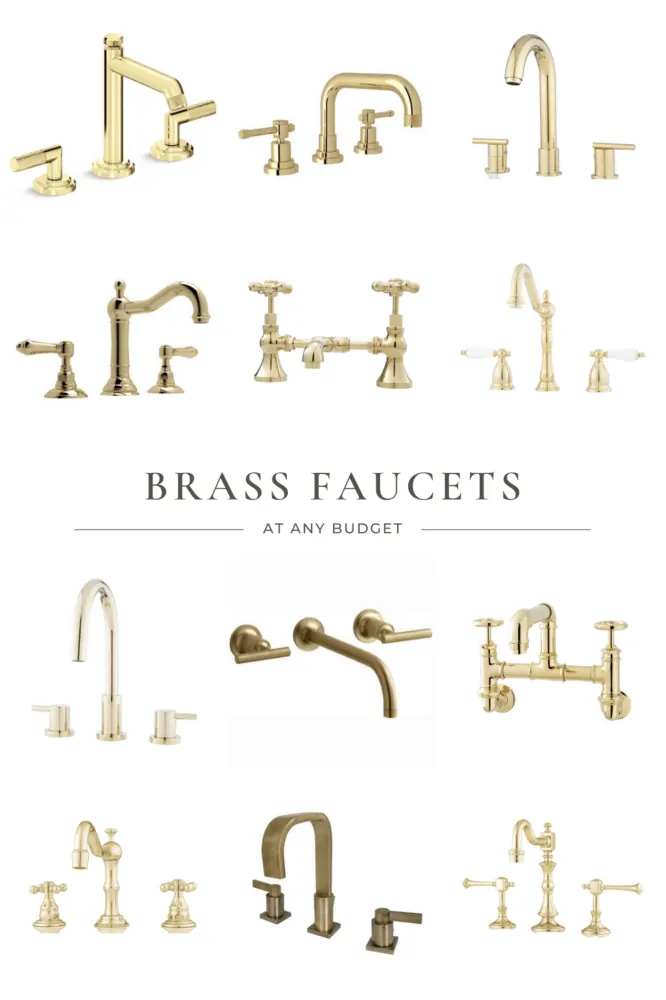 Brass Faucet Under $500

Brass Faucet Over $500