Around here, there's pretty much an unspoken rule that at any point in time, you could have a visitor. Luckily we have two cattle guards that make a lot of noise when someone drives over them, so this usually gives me at least a minute or two warning to put some pants on, and toss the dirty dishes into the dishwasher.
Having a visitor pop in can be a welcomed time to catch up and visit, or an excuse to bust open some rosè at 11 o'clock in the morning. If you get a text that reads, "mind if I stop by?", chances are you've got about 15 minutes to get things in order. Here is my routine for putting the house together on short notice, and my best tips for welcoming your guest with your best Martha Stewart game face on.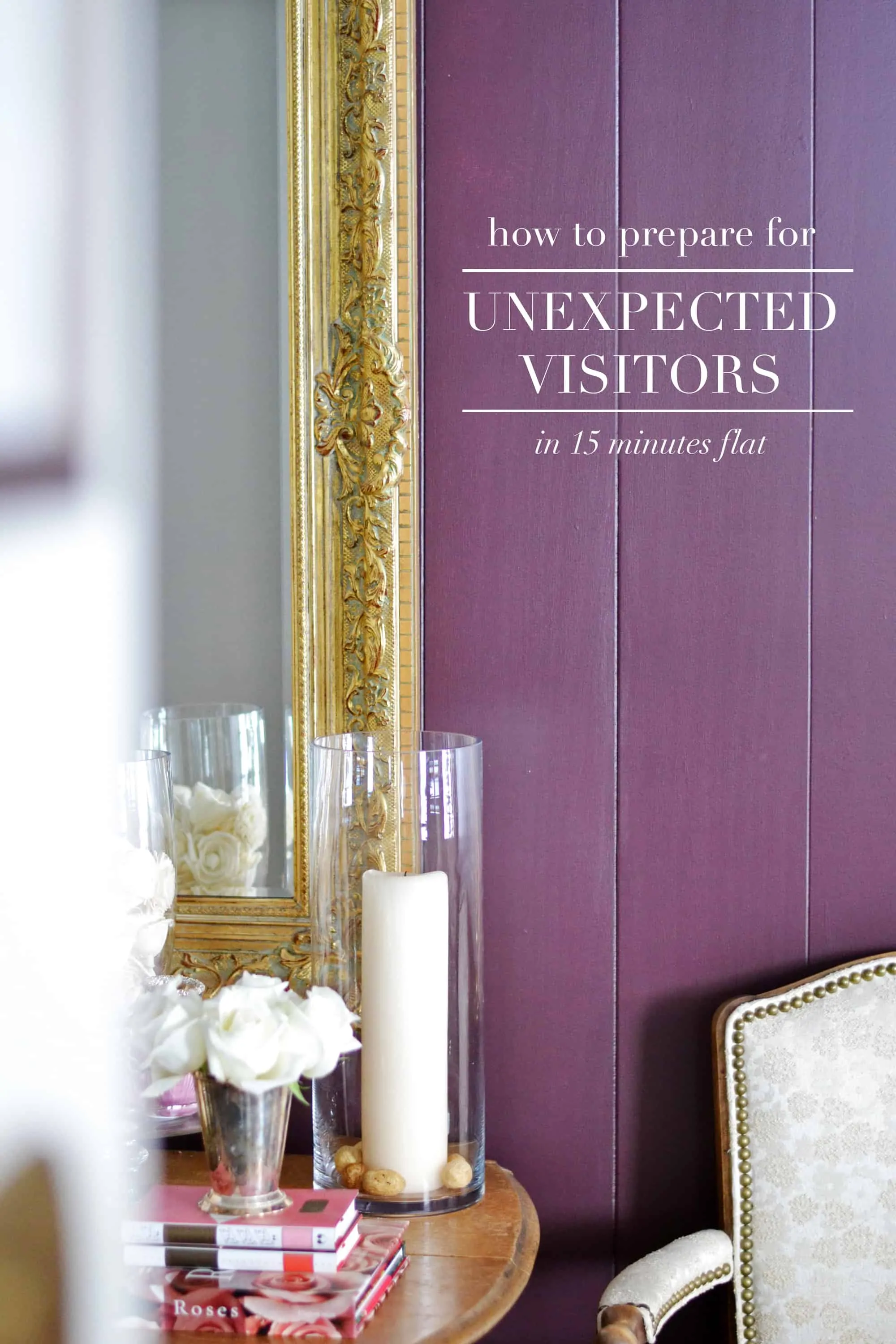 Minutes 1-5: Put any dirty dishes in the dishwasher, wipe down counters (this is my favorite spray), and do a quick sweep (don't worry about picking up your dust pile until the end!).
Minutes 5-10: Grab that feather duster of yours (or Swiffer), and do a light dusting of your entry way and living space. Spray a bit of wood polish where needed, and polish off any dusty furniture. Straighten pillows and blankets, and if needed, vacuum or sweep the living area.
Minutes 10-15: Now head to the guest bathroom – spray toilet and counters down. Straighten hand towels, and bathing area. Wipe counters down, and finish off with a quick toilet cleaning (nothing too nitty or gritty here). Head back to the kitchen and living area to pick up any dust piles, and put away cleaning supplies.
If you have extra time:
Light a few candles around the house.
Grab your favorite serving platter and prepare a few light bites (cheese, crackers, fruit).
I also love to have a pitcher of water with some fresh sliced fruit, and a set of beautiful glasses out. This only takes a minute or two, but leaves a big impact!
What are your best quick & dirty entertaining tips? I'd love to hear them in the comments below!