If you have more jalapeños than you know what to do with, making a batch of jalapeño jelly is the perfect way to use them up and preserve them to be enjoyed throughout the year!
This recipe is the perfect balance of sweet and spicy, and is a jalapeño lovers dream! In addition to being delicious, this recipe couldn't be easier! If you only have a few minutes to preserve your harvest, this is going to be a new favorite recipe!
This post is sponsored by the makers of Ball® home canning products.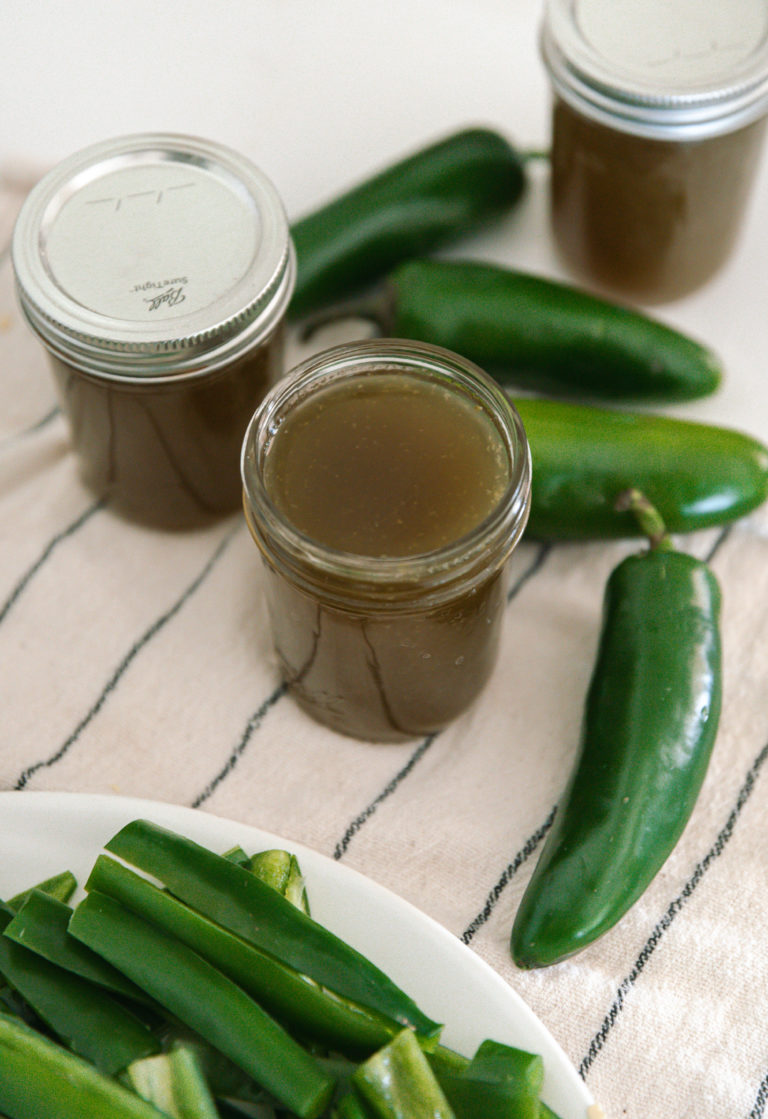 Jalapeño Jelly
It's one of those things that seems quite unassuming. At first you might think, Jalapeño Jelly? Eh. But then you taste it and you discover the delicious sweet and spicy creation that you can't believe you have lived without for so long!
I will admit, I don't even like jalapeños, but I like jalapeño jelly. It seems to pair well with pretty much anything. Try it on pizza, a burger, sandwich, with a block of cream cheese… the list goes on and on.
One of the world's easiest appetizers is a block of cream cheese or brie – warmed, of course ;) – completely smothered in delicious jalapeño jelly. It's a total crowd pleaser. If you want to make things extra fancy, serve it with crusty bread. Or keep it simple and serve it with crackers.
If you have an abundance of jalapeños in your garden, this is the perfect recipe to whip up. It takes about 5 minutes to prep. Just puree with peppers with some cider vinegar.
Combine the puree with the remaining cider vinegar and sugar and cook the mixture for 10 minutes at a full roiling boil (key step).
Add the pectin in, stir, and cook for 1 minute more at a hard boil. That's it!
To preserve the jelly, ladle the sticky delicious mixture into sterilized jars and process for 10 minutes (adjusting for altitude).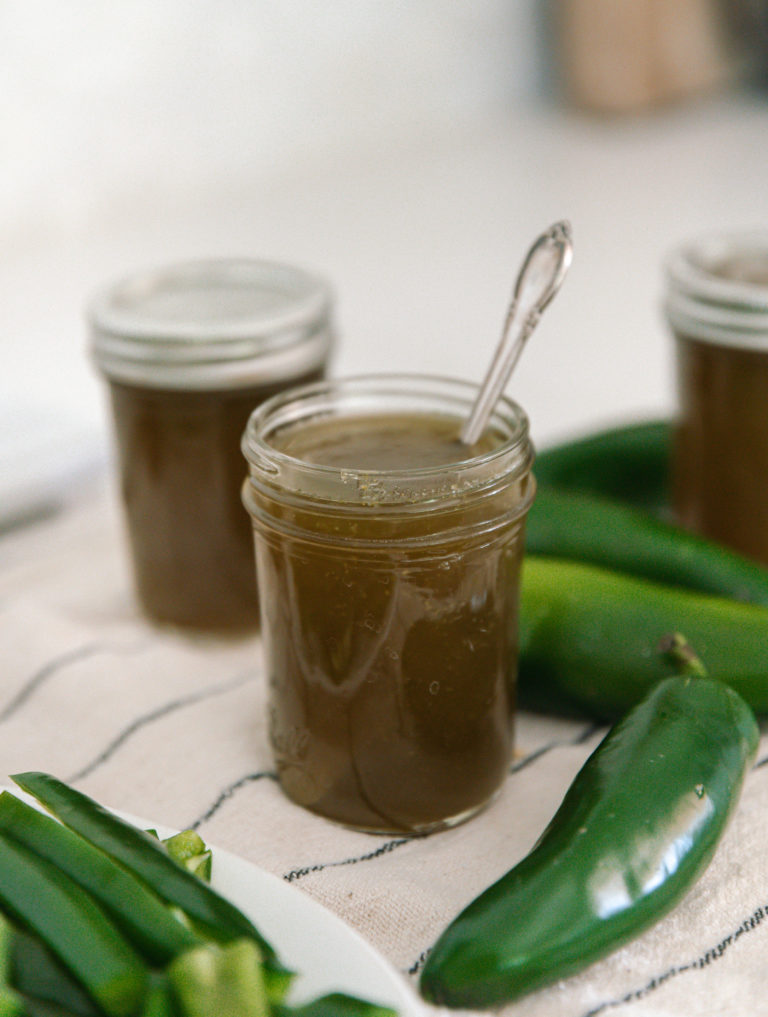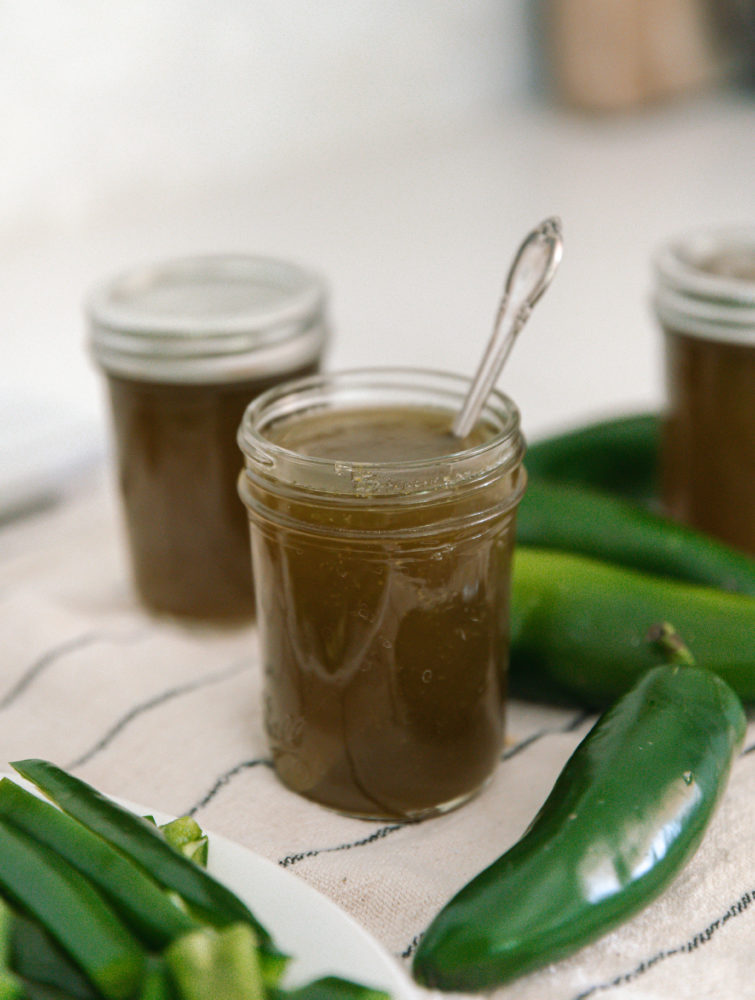 What is Jalapeño Jelly?
This wonderful jelly recipe is made of just a few simple ingredients: jalapeño peppers, vinegar, sugar, and pectin. You may optionally add food coloring if desired.
The peppers are pureed into a spicy juice that is made sweet with plenty of sugar. The jelly's sweetness is perfectly balanced with the tart acidity from the vinegar.
Tip For Getting Jalapeño Jelly to Set
If you want to ensure your jalapeño jelly sets and isn't runny, you should test it prior to removing it from the heat. Even with adding pectin, you can still end up with a runny jam.
To avoid this you can use the spoon method, cold plate method, or a thermometer.
I find that more often than not, I rely on my instant read candy thermometer when making jam.
It's a reliable tool that gives me peace of mind. There's nothin worse than going through the trouble of making jam or jelly and it not setting.
Since we all have different stoves and live at different altitudes, I find that a blanket "cook for ten minutes" isn't as accurate as using a candy thermometer.
To ensure a jam is going to "set", the mixture should be 220 F (adjusting for altitude below). This is the temperature at which the sugar can bind with the pectin causing a gel.
Sea Level: 220 F
1000 FT: 218 F
2000 FT: 216 F
3000 FT: 214 F
4000 FT: 212 F
5000 FT: 211 F
6000 FT: 209 F
7000 FT: 207 F
8000 FT: 205 F
How to Make Jalapeño Jelly
Ingredients
Fresh jalapeño peppers – about 12 medium
Cider vinegar
Sugar
Ball® RealFruit Liquid Pectin
Green food coloring (optional)
Steps
Prep the boiling water canner and your jars and lids.
Purée the jalapeño peppers in food processor or blender with the cider vinegar.
Combine purée with remaining cider vinegar and sugar. Bring the mixture to a boil for 10 minutes.
Add the pectin and boil hard for 1 minute, stirring constantly. Remove from heat and add food coloring, if using. Skim foam if necessary.
Ladle the hot jalapeño jelly into hot jars.
Process in a boiling water canner.
Be sure to scroll down for the full printable recipe with helpful tips!
Is this recipe spicy?
I will be the first to tell you, I cannot handle heat. Ketchup is spicy to me, ha!
I very much enjoy jalapeño jelly. It is a great blend of flavors and doesn't pack too much of a kick.
However, and a big however, jalapeños can vary so much in spice that you may end up with a hot batch or a more mild batch depending on the spice of the peppers you have on hand!
To give you some control of spice you can optionally remove (or keep) the seeds prior to pureeing. By removing the seeds, you will create a more mild jelly and vice versa.
How to Enjoy Jalapeño Jelly
Smothered over a block of cream cheese with crackers, instant appetizer!
On a homemade hamburger as a delicious topping addition!
Drizzled over a homemade pizza! It's like "hot honey" to the max!
Smeared in a sandwich, try in on a Philly cheesesteak sandwich! So delish.
Combine brie cheese with jalapeño jelly for a fancy-ish appetizer! Serve with crusty bread, yum!
Added to tacos for a sweet and spicy Taco Tuesday!
Try it on your next gourmet grilled cheese recipe!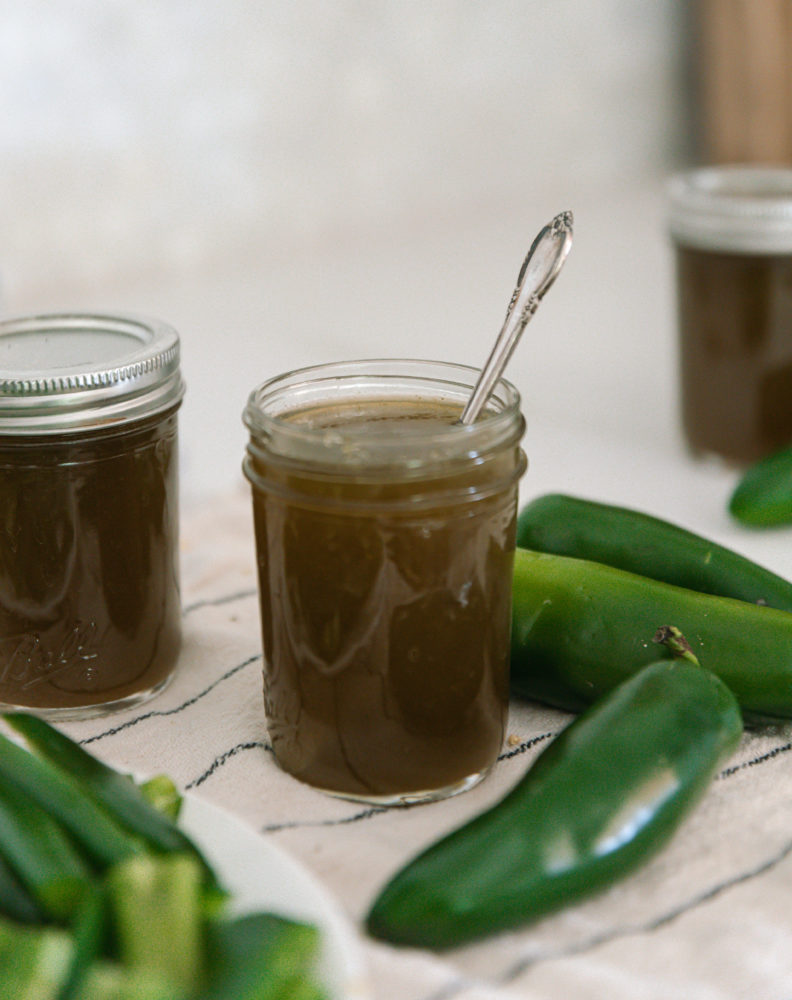 If you love jalapeños, you'll also love my candied jalapeño recipe!
The Recipe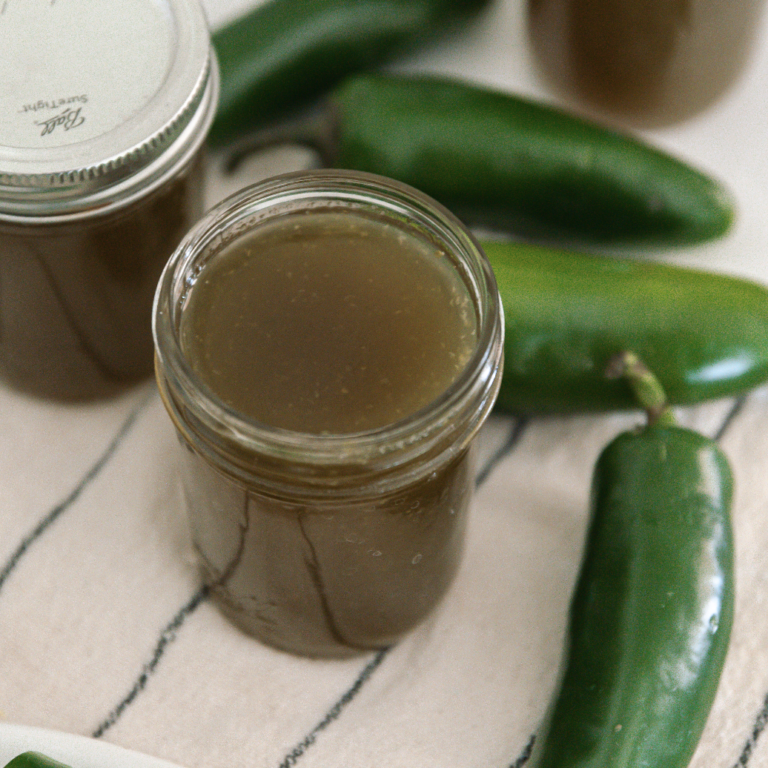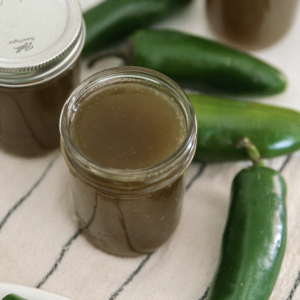 Jalapeño Jelly
This lovely sweet and spicy jalapeño jelly recipe is a great way to use up all of those jalapeño peppers from the garden! It pairs perfectly with cheese and crackers or drizzled over a fresh pizza!
Equipment
Ingredients
12

medium jalapeño peppers

2

cups

cider vinegar

divided

6

cups

sugar

2 3-

oz

pouches of Ball® RealFruit Liquid Pectin

Green food coloring

optional
Instructions
Preserving Method: Water-Bath-Canning

Prepare boiling water canner. Heat jars in simmering water until ready for use. Do not boil. Wash lids in warm soapy water and set bands aside.

Slice the top (stem) of each pepper off. Then, purée the peppers in a food processor or blender with 1 cup cider vinegar until smooth. Do not strain the purée.

In a large pot, combine the purée with remaining 1 cup cider vinegar and sugar. Bring to a boil over high heat. Boil 10 minutes, stirring frequently.

Add Ball® RealFruit™ Liquid Pectin, immediately squeezing entire contents from pouches. Continue to boil hard for 1 minute, stirring constantly. Remove from heat. Add food coloring, if using, and skim foam if necessary.

Ladle hot jalapeño jelly into hot jars leaving 1/4 inch headspace. Wipe rim. Center lid on jar. Apply band until fit is fingertip tight.

Process in a boiling water canner for 10 minutes, adjusting for altitude. Remove jars and cool. Check lids for seal after 24 hours. Lid should not flex up and down when center is pressed.
This is a sponsored post that is part of an ongoing partnership with the Fresh Preserving Division of Newell Brands. They have provided jars, equipment and monetary compensation. All thoughts and opinions expressed remain my own.