Learn how to preserve your jalapeños all season long! This candied jalapeños recipe is a crown favorite – and for good reason, they're hard to walk away from!
This post is sponsored by Ball® Fresh Preserving.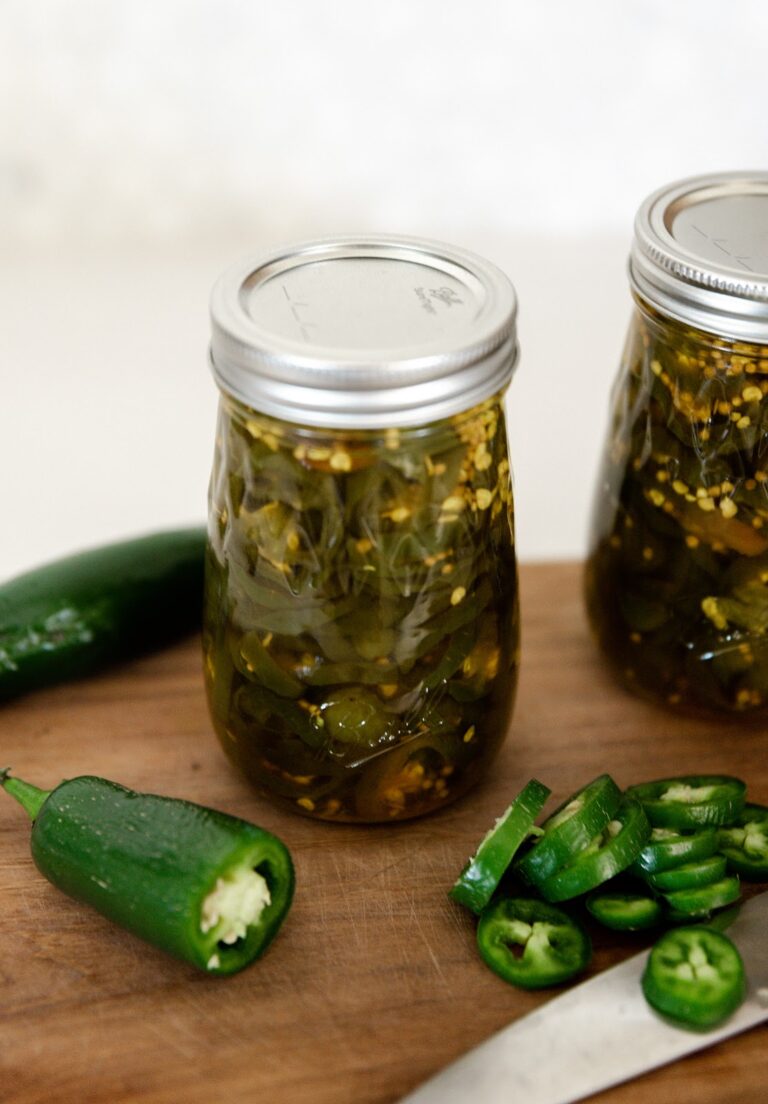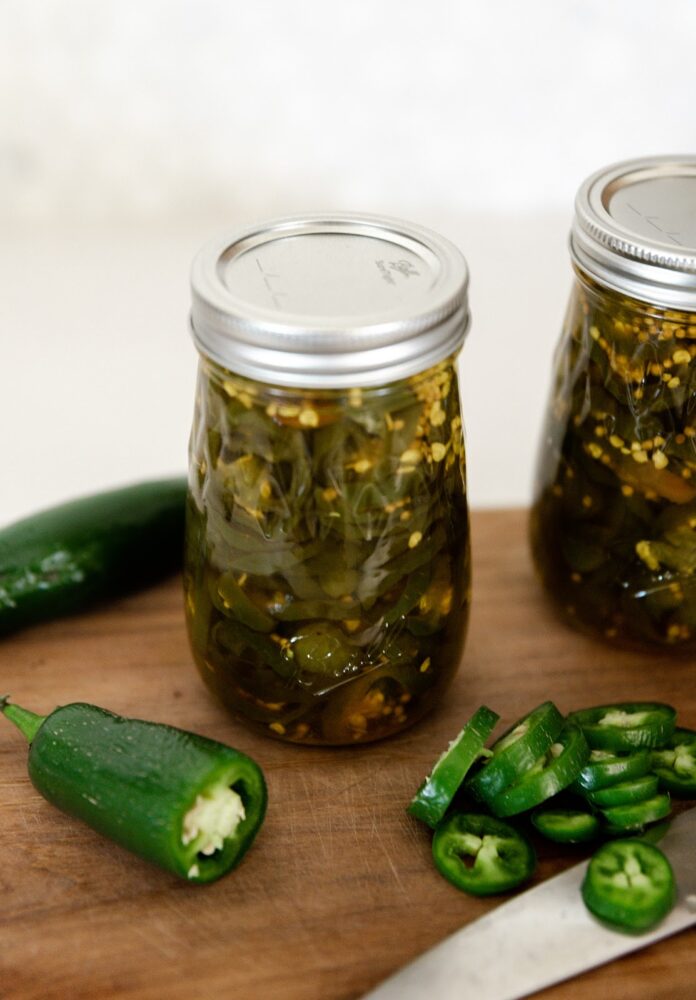 Candied Jalapeños
These candied jalapeños are one of the quickest to be eaten up recipes I've made in awhile! I have been having so much fun being a Ball® canning ambassador, having the opportunity to test new recipes each month and share them with you!
Each month I get to pick from a selection of featured canning and preserving recipes to test out and share with all of you! If you have been a reader for a while, you might remember we did the summer canning series last year where I shared low sugar peach jam, rhubarb chutney (a serious winner!), and apple pie filling!
This year I get to share even more recipes and tips and tricks with you! We started last month with peach and toasted almond jam. Did you have a chance to make it? We have completely eaten through our batch already.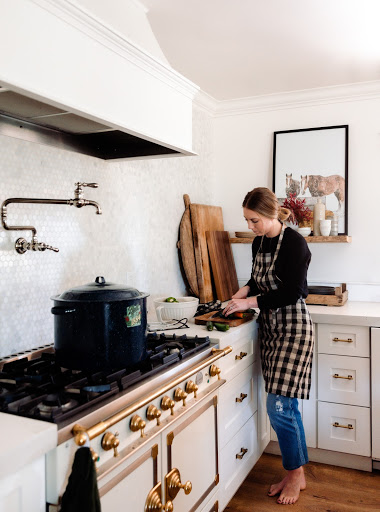 NEW TO HOME CANNING? HERE ARE SOME GREAT RESOURCES!
This month I've got a great way to enjoy your jalapeños! I feel that I should let you know, I don't eat jalapenos! I have zero tolerance for spice! But after eating an entire jar of peach and toasted almond jam to myself, I figured it probably wouldn't hurt to make something I wouldn't want to gobble up! Bathing suit season and all… ;) 
If you want to try more recipes for preserving jalapeños, try this delicious jalapeño jelly recipe!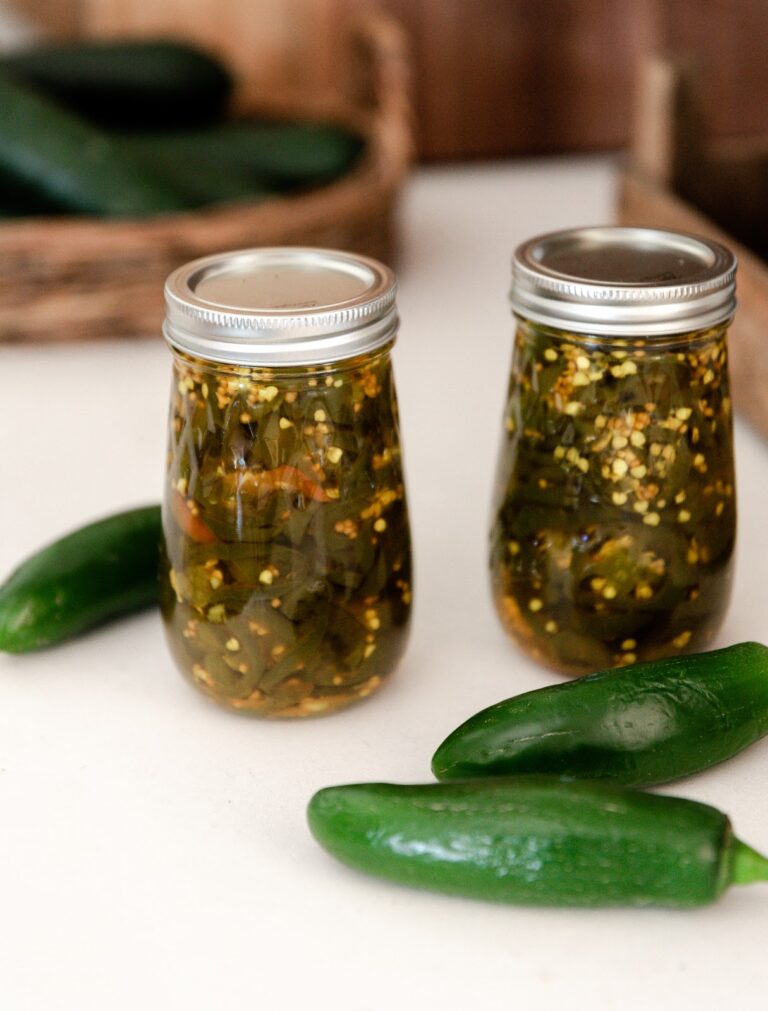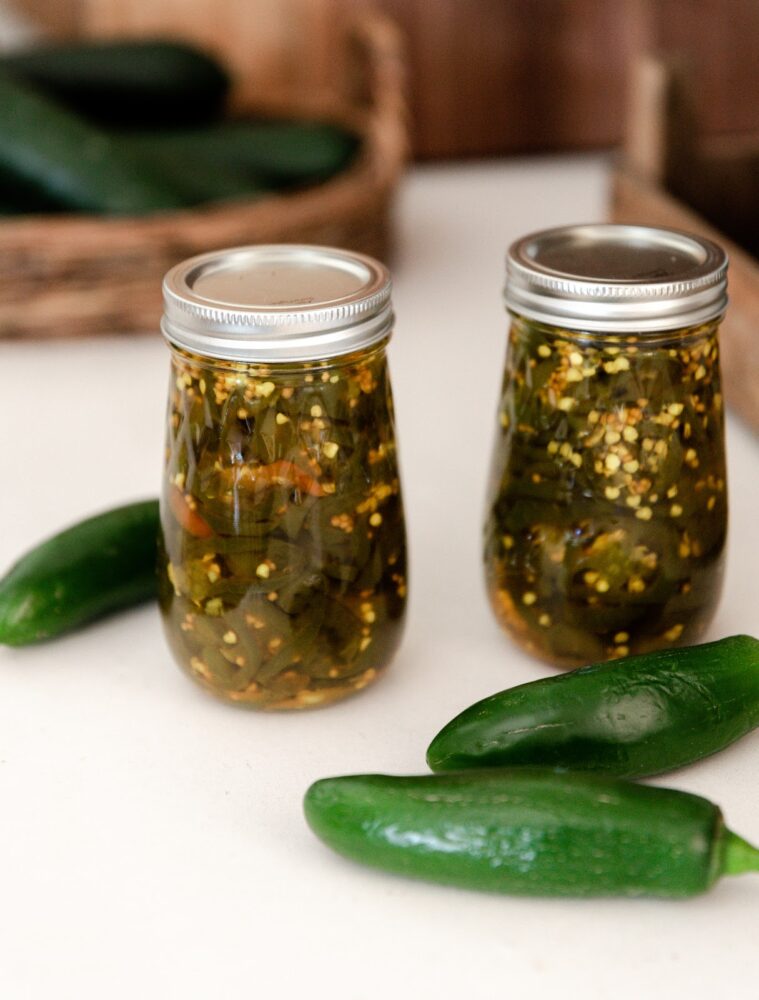 Plus, my husband, Greg, absolutely loves jalapenos. He eats them like they are apples! Each day at "dinner" (which is actually lunch), he eats a jalapeno with his meal. Dinner often consists of a protein and grilled jalapenos and onions. So when I saw candied jalapeños on the list of recipe options, I just had to give this a try!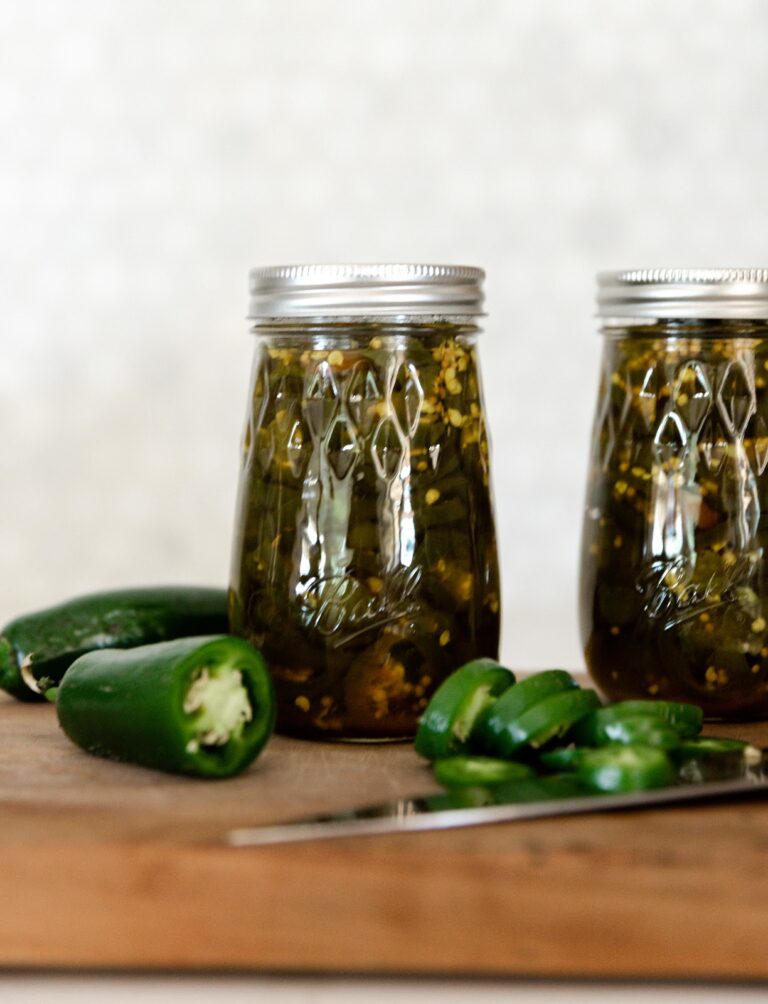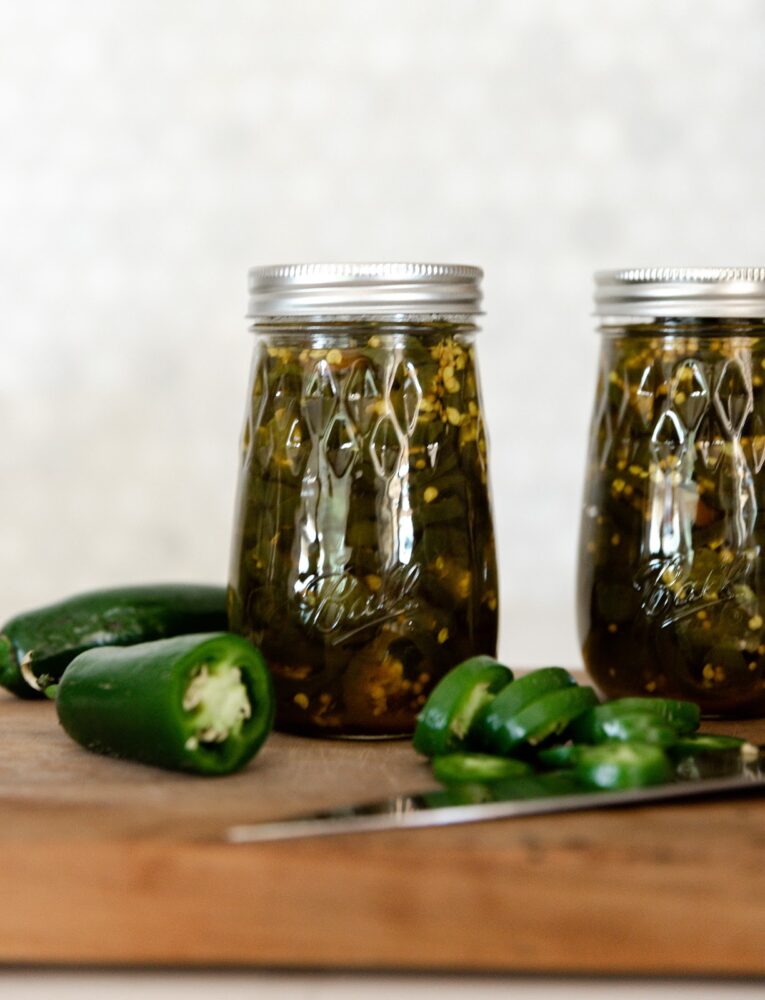 So what exactly are candied jalapeños?
Candied jalapeños are a sweet and tangy delight! Made with jalapeños, sugar, and vinegar! You really can't go wrong. This delicious snack is a sweetened up version of a traditional pickled jalapeño.
What ingredients are needed for candied jalapeños?
vinegar (apple cider vinegar or white)
salt
sugar
garlic
turmeric
cayenne powder
mustard seeds
jalapeños
How to enjoy candied jalapeños:
On A Homemade Burger
On Sandwiches 
On Charcuterie Boards 
As a pizza topping.
As a garnish with Mexican inspired dishes.
Anytime you need a little sweet and spicy garnish!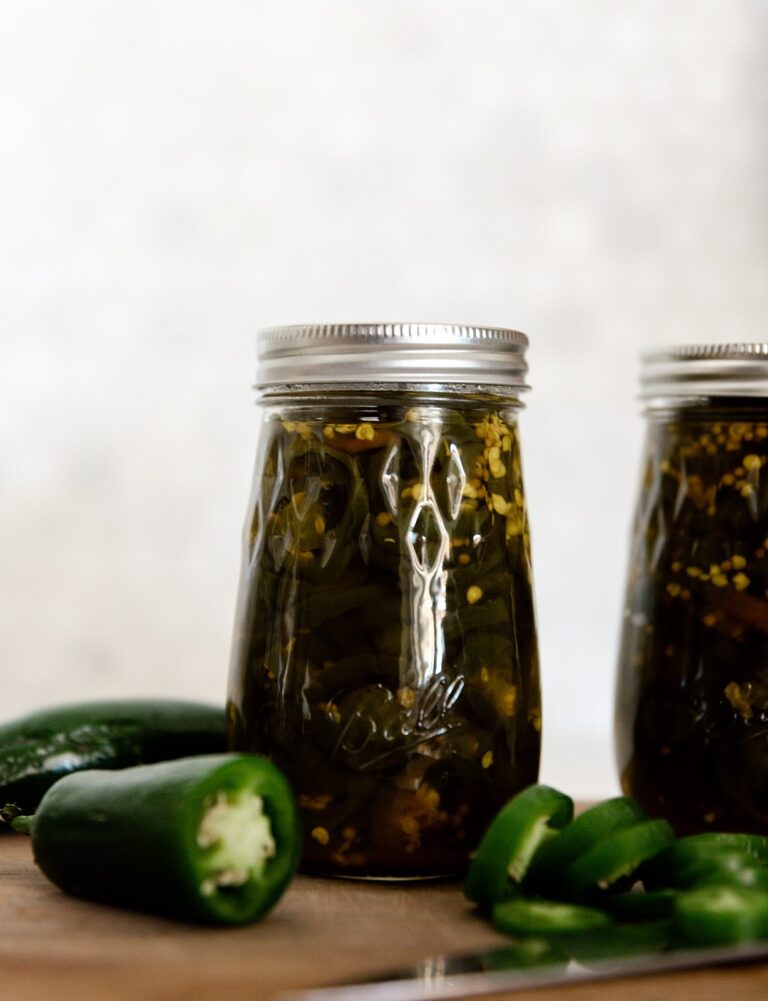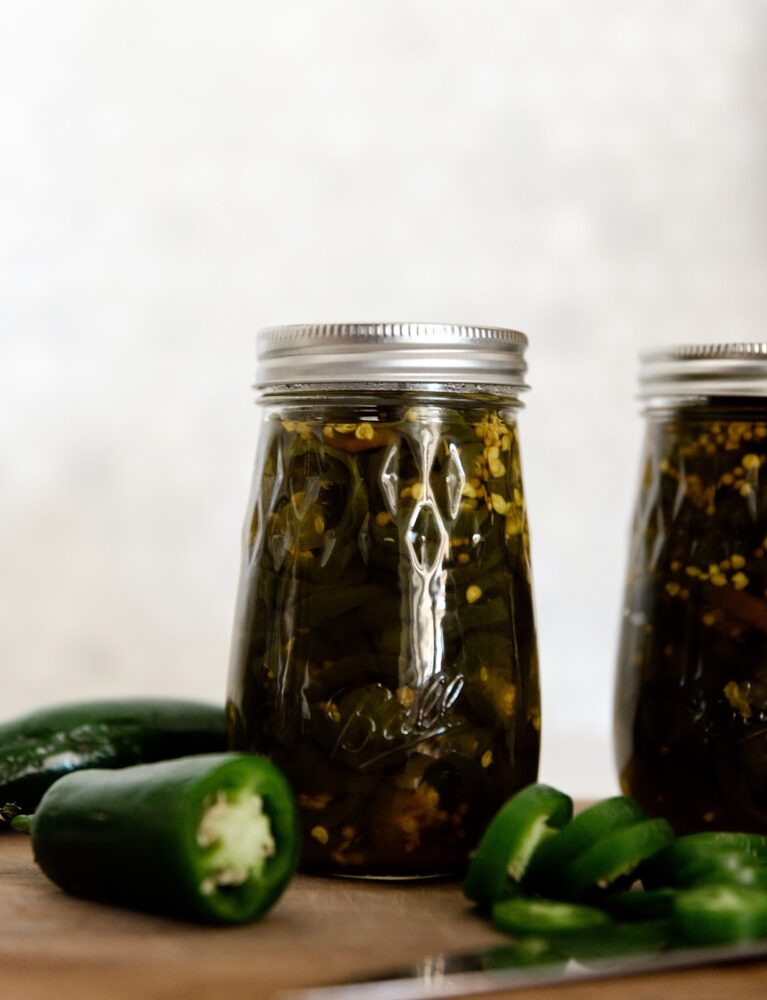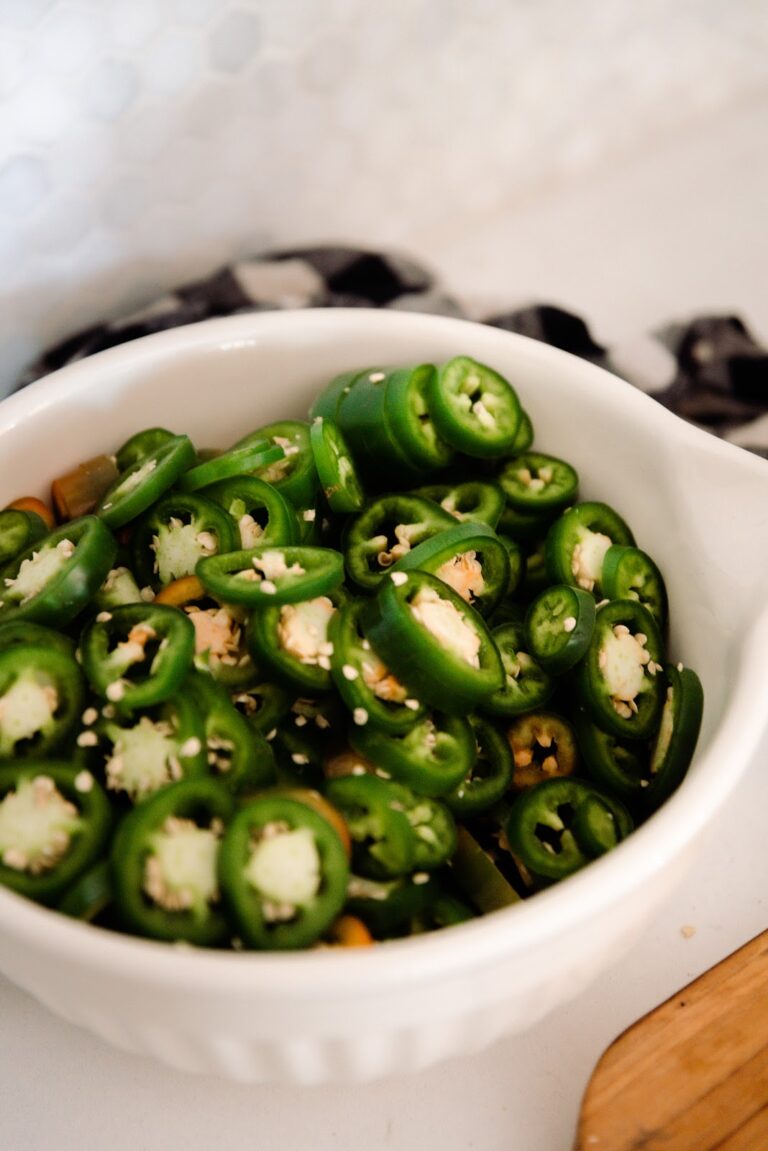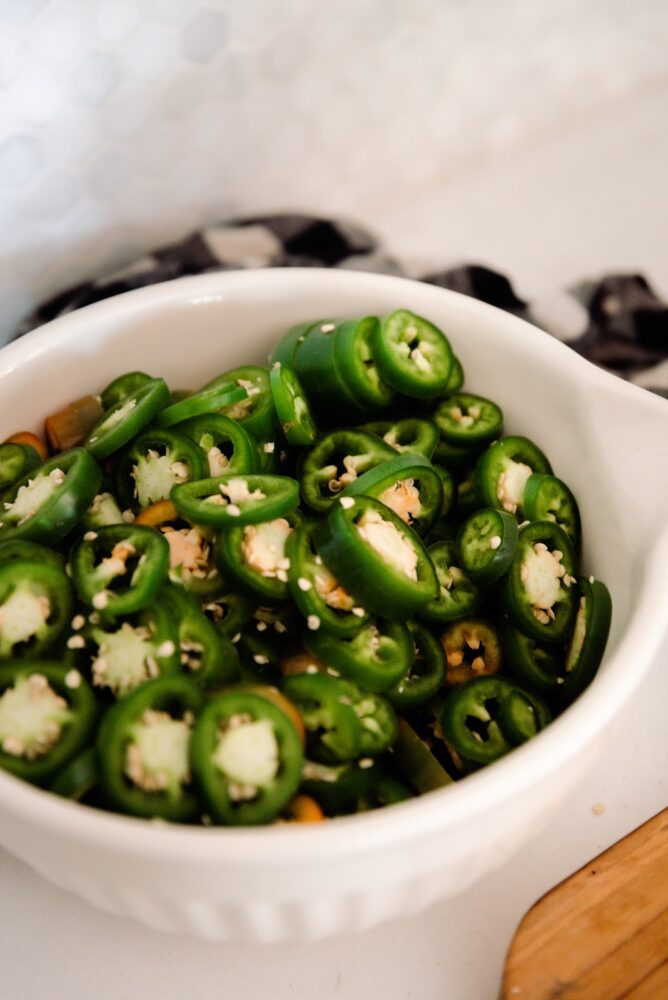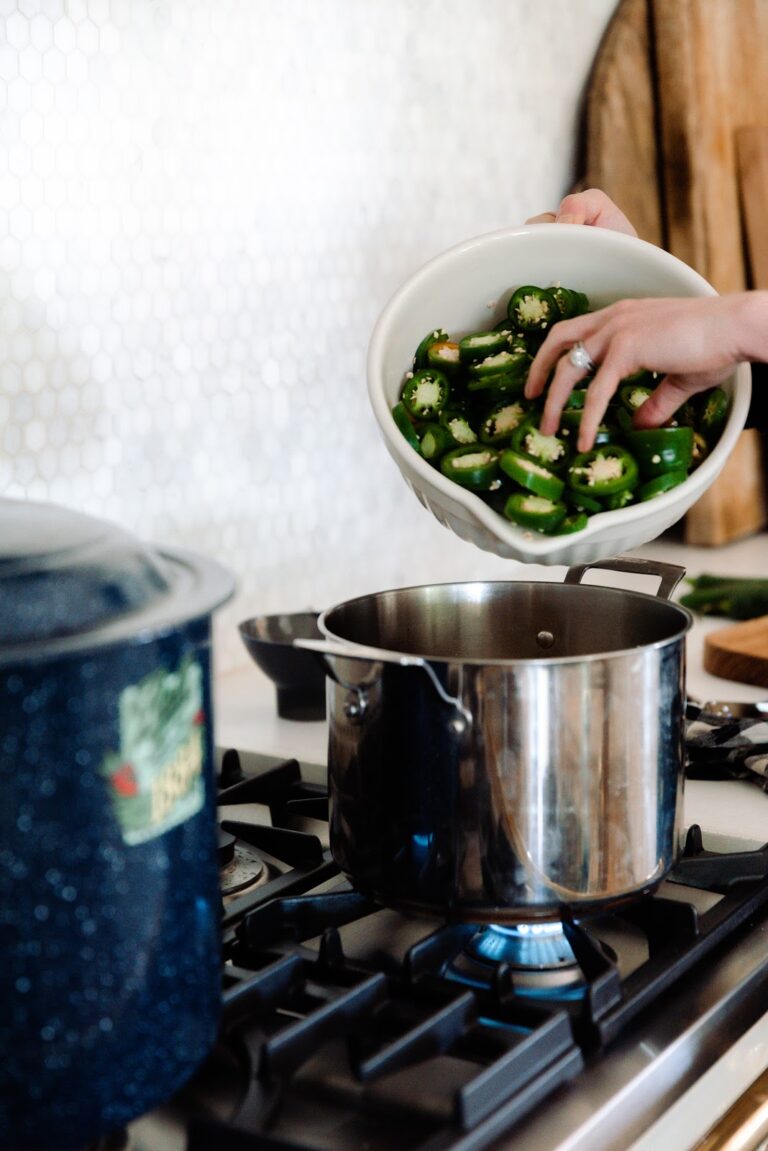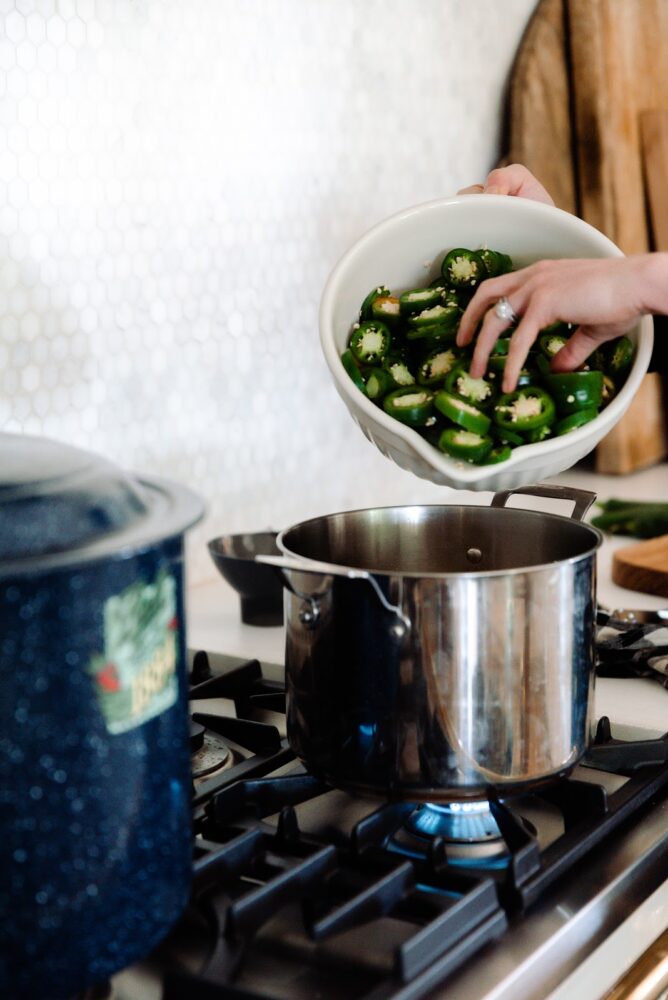 If you're new to canning, a pickling recipe is a great place to start! Pickling is really so easy, and the added vinegar makes safe canning a breeze! There's really just a few simple steps to this making candied jalapeños: 
Prepare the brine.
Simmer the sliced jalapenos in the brine.
Can it all up, and process!
Here's the full printable recipe for you to make this at home! For even more canning recipes, visit FreshPreserving.com!
The Recipe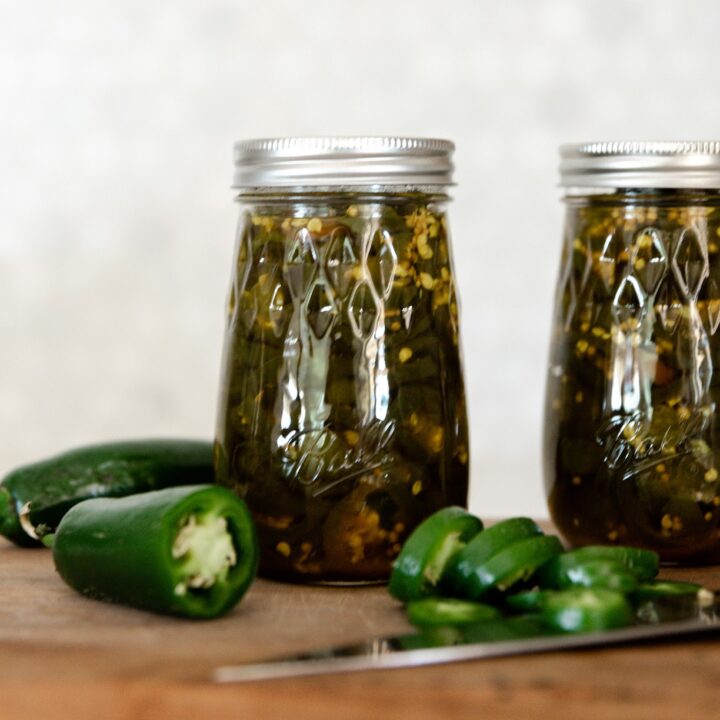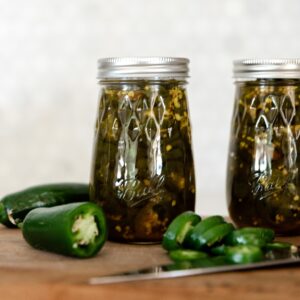 Candied Jalapeños Recipe
These pickled jalapeños, also known as candied jalapeños, deliver a real punch of sweet heat! Outstanding on sandwiches, nachos, in tacos and topping chili. These will become a pantry staple! 
Ingredients
3

cups

vinegar

ACV or white

2

tsp

salt

4

cups

sugar

6

cloves

garlic

sliced

2

tsp.

turmeric

½

tsp

cayenne powder

2

tsp.

mustard seeds

4

pounds

jalapeños

sliced into ¼ inch rings
Instructions
Prepare boiling water canner. Heat jars in simmering water until ready to use, do not boil. Wash lids in warm soapy water and set aside with bands. 

Combine all ingredients except jalapeños in a large saucepan and bring to a boil over high heat, stirring to dissolve sugar. 

Add jalapeños slices, lower heat to medium and simmer for 15 minutes, until jalapeños are dark green and have begun to absorb some of the brine. 

Ladle hot jalapeños into a hot jar leaving a ½ inch headspace. Pour hot brine over jalapeños, maintaining a ½ inch headspace. Remove air bubbles. Wipe jar rim. Center lid on jar and apply band, adjust to fingertip tight. Place jar in boiling water canner. Repeat until all jars are filled.

Process jars 15 minutes, adjusting for altitude. Turn off heat, remove bands, let jars stand 5 minutes. Remove jars and cool 12-24 hours. Check lids for seal, they should not flex when center is pressed.