Looking for a great recipe to preserve apples this year? This caramel apple coffee jam is a seriously delicious take on apple butter! If you have apple trees or an abundance of apples and you're wondering, what to do with all of those apples? This is a fabulous recipe to use them up!
This post is sponsored by Ball® Fresh Preserving.
Caramel Apple Coffee Jam
When I first saw this Caramel Apple Coffee Jam recipe I wasn't quite sure what to think of it. It sounded delicious, but it was much more unique than anything I'd tried…coffee jam??? Yet, I decided to give it a go.
I am SO HAPPY I did! I have devoured two jars of this caramel apple coffee jam this month. I will absolutely be making more. It is 100% delicious!
This jam has a hint of coffee with a delicious caramel flavor. Please just take my word for it, it's G-O-O-D gooooood! Much like Orange Marmalade, this is a wonderful home canning recipe!
It's actually quite similar to apple butter, but with the addition of coffee. I could honestly go on and on about this recipe. It's definitely a "make every year" type of thing. 
You can make this recipe with any type of apples you have. Unlike baking, the variety will not make a huge impact on overall flavor. The apples are pureed and baked down quite a bit, so feel free to use up a mixture of apples for this recipe!
My favorite apple recipes:
How to make caramel apple coffee jam:
Prepare a boiling water bath and heat jars in simmering water until ready to use (do not boil). Wash lids with warm soapy water and set aside.
Place 5 cups of diced peeled apples and 2 cups strong brewed coffee in a large pot and simmer until the apples are soft (about 10 minutes). Use an immersion blender to puree the mixture.
Stir in pectin and allspice and bring to a full rolling boil, then add sugar and stir to dissolve. Bring up to a full hard rolling boil and boil for one minute. Skim foam if necessary.
Ladle the hot jam into the prepped glass jars leaving ¼" head space. Remove air bubble and wipe rims. Add lid finger tight, and repeat with remaining jars.
Process jars for 10 minutes in the boiling water bath (adjusting for altitude). Turn off the heat and let rest for five minutes. Remove and cool for 12-24 hours – check the lids for a proper seal – they shouldn't flex.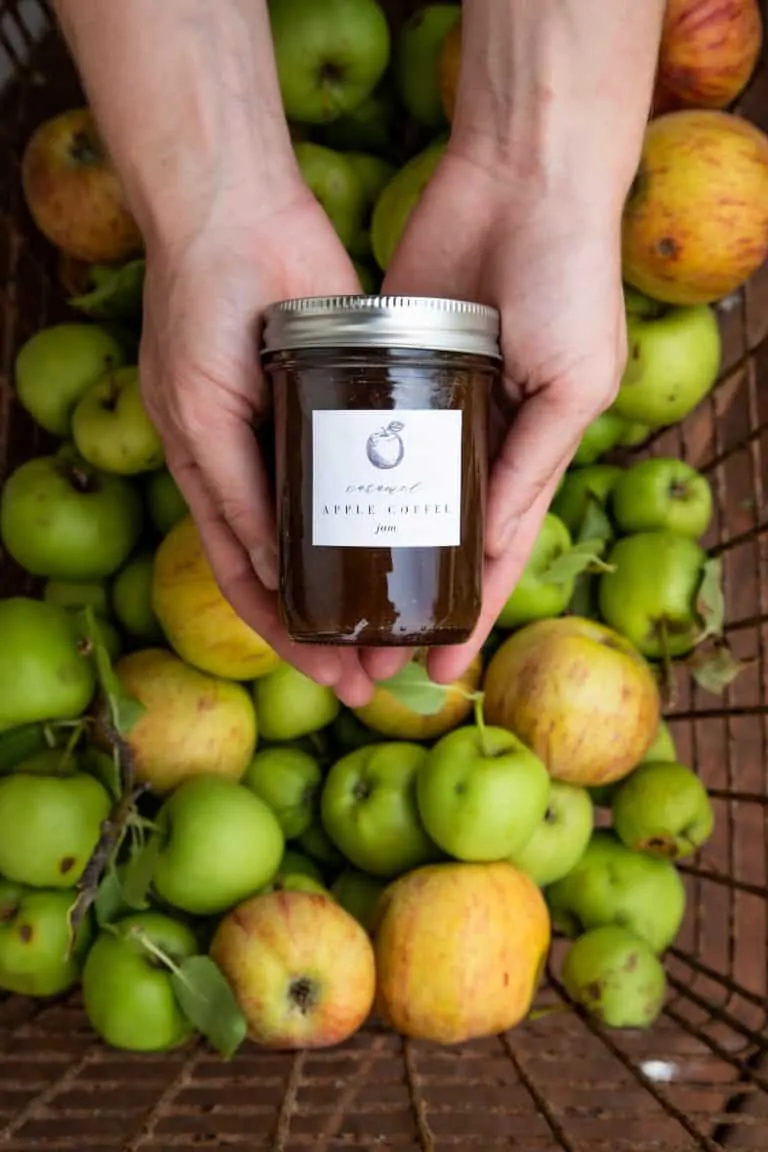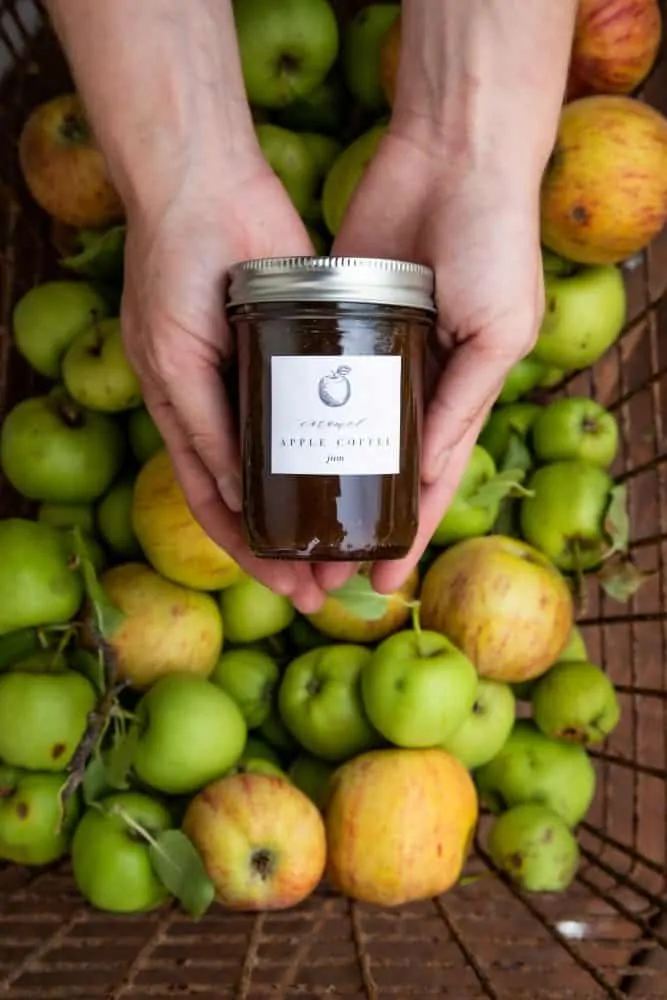 This is like a sweet caramel flavored grown up applesauce. The apples are pureed with a delicious mixture of rich coffee and sweet brown sugar.The molasses in the brown sugar pairs beautifully with the allspice and the bold coffee. It's truly spectacular!
I have eaten this jam with a spoon like applesauce as a little treat. It is so so so good. I can't encourage you enough to make this recipe! It's quite easy, and I've put together a little printable for you to download to add to jars to be able to give this jam as a gift to friends and family!
New to home canning? Be sure to download my free Canning Safety Printable!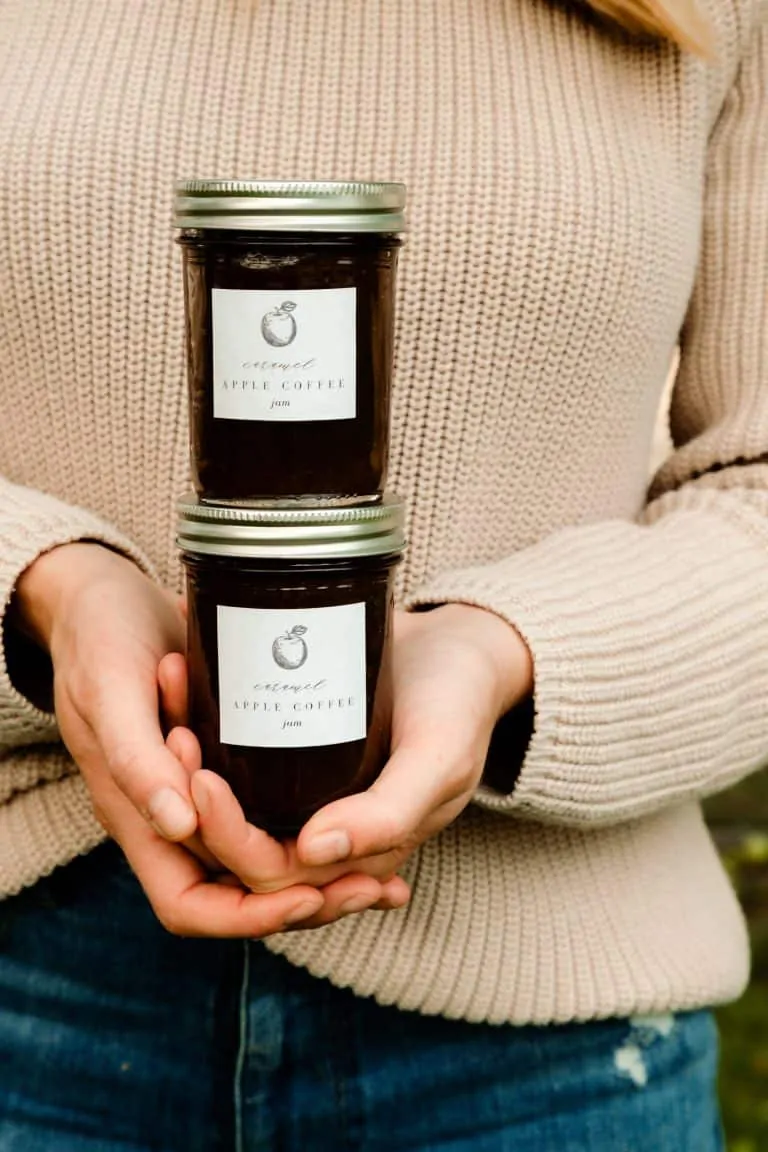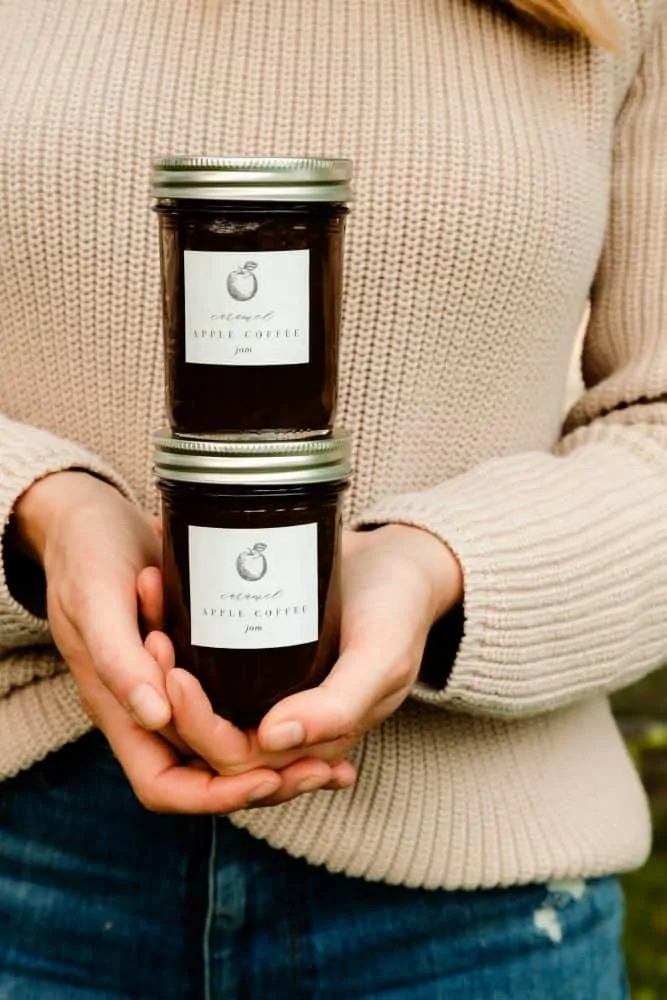 The Recipe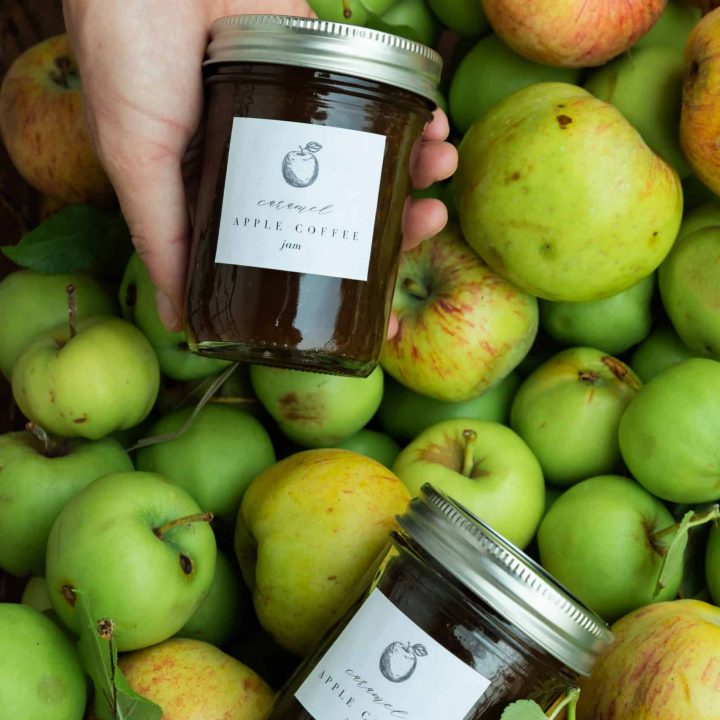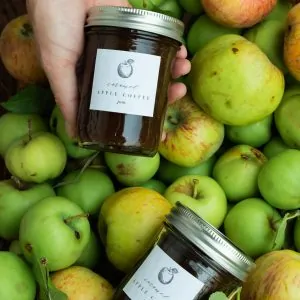 Caramel Apple Coffee Jam
Preserving Method: Water-Bath-Canning
Makes about 4 (8 oz) half pint jars
This delectable, modern jam may taste like caramel and coffee, but it's a quick-make apple jam that is perfect for morning toast or as a tasty ice cream topping. Try Ball®'s Caramel Apple Coffee Jam spread on hot cinnamon rolls or folded into scone batter before baking.

Ingredients
5

cups

peeled

diced apples

2

cups

extra strong brewed coffee

4

Tbsp

Ball® Classic Pectin

½

teaspoon

ground allspice

2

cups

brown sugar
Instructions
Step 1: Prepare boiling water canner. Heat jars in simmering water until ready to use, do not boil. Wash lids in warm soapy water and set aside with bands.


Step 2: Bring apples and coffee to a boil in a large stainless pot, reduce heat and simmer 10 minutes or until apples are soft. Puree apples with an immersion blender or in a food processor. Return to heat.


Step 3: Whisk in pectin and allspice. Over high heat bring mixture to a full rolling boil that cannot be stirred down. Add sugar, stirring to dissolve. Return jam to a full rapid boil and boil hard for 1 minute stirring constantly. Remove from heat and skim foam if necessary.


Step 5: Ladle hot jam into a hot jar leaving a ¼ inch headspace. Remove air bubbles. Wipe jar rim. Center lid on jar and apply band, adjust to fingertip tight. Place jar in boiling water canner. Repeat until all jars are filled.


Step 6: Process jars 10 minutes, adjusting for altitude. Turn off heat, remove lid, let jars stand 5 minutes. Remove jars and cool 12-24 hours. Check lids for seal, they should not flex when center is pressed.