You'll love making this easy apple pie ice cream! No-churn ice cream is the easiest way to enjoy a cool treat, and this apple pie flavor is sure to become a favorite!
No-Churn Apple Pie Ice Cream
Have you ever made no-churn ice cream before? It's beyond easy! Once you learn the basic method of making no-churn ice cream, you'll be hooked!
This easy ice cream recipe is made with sweetened condensed milk and whipped cream. To make the apple pie version, you'll add some crunchy pie crust and apple pie filling. It's deeeelicious!
We are lucky enough to have a few old apple trees out back. I recently put a table, chairs, and string lights in the middle of them, to create a little oasis. A nice place to read a book, have dinner, or enjoy the sunshine.
I really like this spot because the goats tend to spend their free-range time there, and whenever we are there, the chickens also come to relax. I think this is probably because there always seems to be a few freshly fallen apples, and lots of fresh grass, shade, and bugs for the hens.  
Our climate is fairly cold, and we occasionally get a late freeze that ends up killing most of our crop. This year was one of those years. When I didn't see hundreds of apples laying on the ground this August I realized that the trees only had a few apples on them. I was disappointed because I love picking the apples and using them in recipes throughout the season, but mother nature had other plans for me this year.
I did manage to head out and pick a few, which ended up being perfect for this no-churn apple pie ice cream. I have made no churn ice cream in the past, and at first, I couldn't believe making ice cream could be this easy.
I thought, "this isn't going to be as good as the real thing. There's no way." I can tell you though, that it is. Especially this recipe. I suppose you can't really go wrong when you combine sugar, apples, cream, and pie crust, but this, this is G O O D.
It's like apple pie à la mode, already in a la mode form. I couldn't stop eating it – which is a bad thing because I am really trying to cut back on sugar and carbs. Oh well, it was worth it. 
---
More apple recipes to love:
---
The Recipe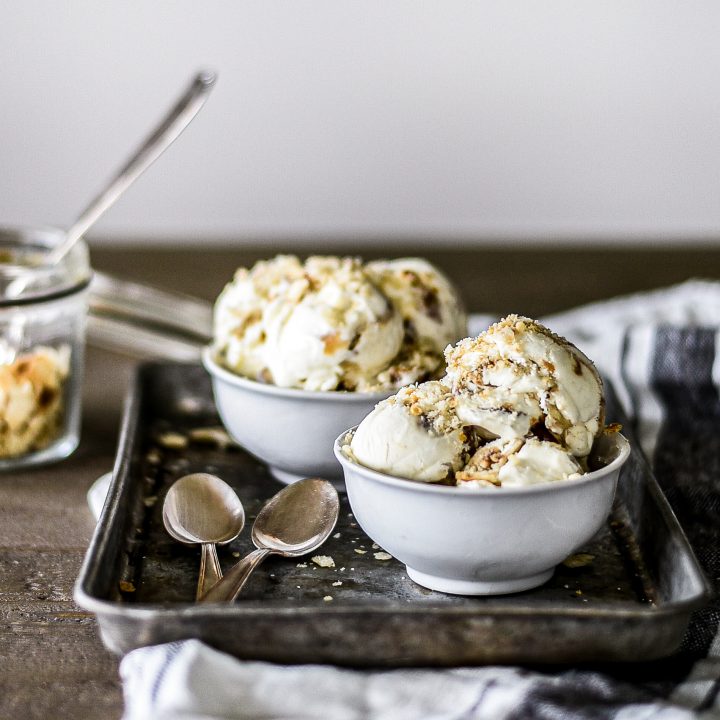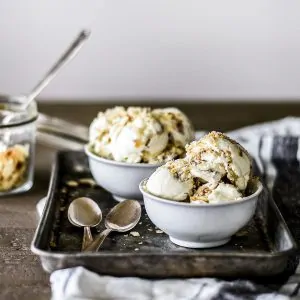 No-Churn Apple Pie Ice Cream
You'll love this easy fall dessert recipe! Apple pie ice cream is the perfect addition to all of your favorite seasonal recipes!
Ingredients
5

large apples

any variety

1

cup

+ 1 tablespoon brown sugar

3

teaspoons

cinnamon

2

teaspoons

vanilla extract

1

tablespoon

corn starch

1 9

″ pie crust

store-bought is fine

1

tablespoon

butter

melted

1 14

oz.

can sweetened condensed milk

2

cups

heavy cream
Instructions
Peel and dice the apples into roughly 1/4″ cubes.

To create the apple pie filling: combine diced apples, 1 cup brown sugar, 2 teaspoons cinnamon, and 2 teaspoons vanilla extract in a large pot.

On low heat, bring the apple filling to a simmer. Stir the ingredients until the sugar has dissolved, and continue to simmer until the apples are softened.

Alternatively: skip this step and use pre-made apple pie filling mix.


Meanwhile, prepare the pie crust: preheat oven to 400 degrees. Place the rolled out dough on a cookie sheet. Brush melted butter over the crust, then sprinkle with remaining brown sugar and 1 teaspoon cinnamon.

Bake the pie crust for roughly 15 minutes, or until it is golden brown.

While the crust is baking, dissolve 1 tablespoon cornstarch into 1 tablespoon hot water.

Add the dissolved cornstarch to the apple mixture and stir to combine. Continue to cook until the apple mixture thickens slightly.

By now, the crust should be finished – remove from the oven and set aside.

Remove the apple mixture from the stove, and cool completely.

Break up the pie crust into bite size pieces, and cool completely.

Once the crust & filling have cooled. Prepare the ice cream: whip 2 cups heavy cream until peaks form. Then, fold in 1 can of sweetened condensed milk, careful to not break down the cream.

Pour half of the cream mixture into a large baking dish. Drizzle half of the cooled apple filling over the cream, then use a spoon to swirl the cream and apples together. Sprinkle half of the pie crust crumbles on top.

Pour the remaining cream over the first layer and repeat step 11.

Cover the baking dish, and place in the freezer for 6 hours, or until frozen. Enjoy!