Orange Shortbread Cookies
This post may contain affiliate links, please read my disclosure policy.
Orange shortbread cookies come together with just a few simple ingredients! This classic cookie is perfect as a holiday gift when packaged up in a darling Ball® mason jar!
Buttery and delicious, shortbread can be made in a variety of ways. This specific recipe brings in the flavor of citrus season with fresh orange. If you love orange, then you will also love homemade orange marmalade and orange cake!
This post is sponsored by the makers of Ball® home canning products.*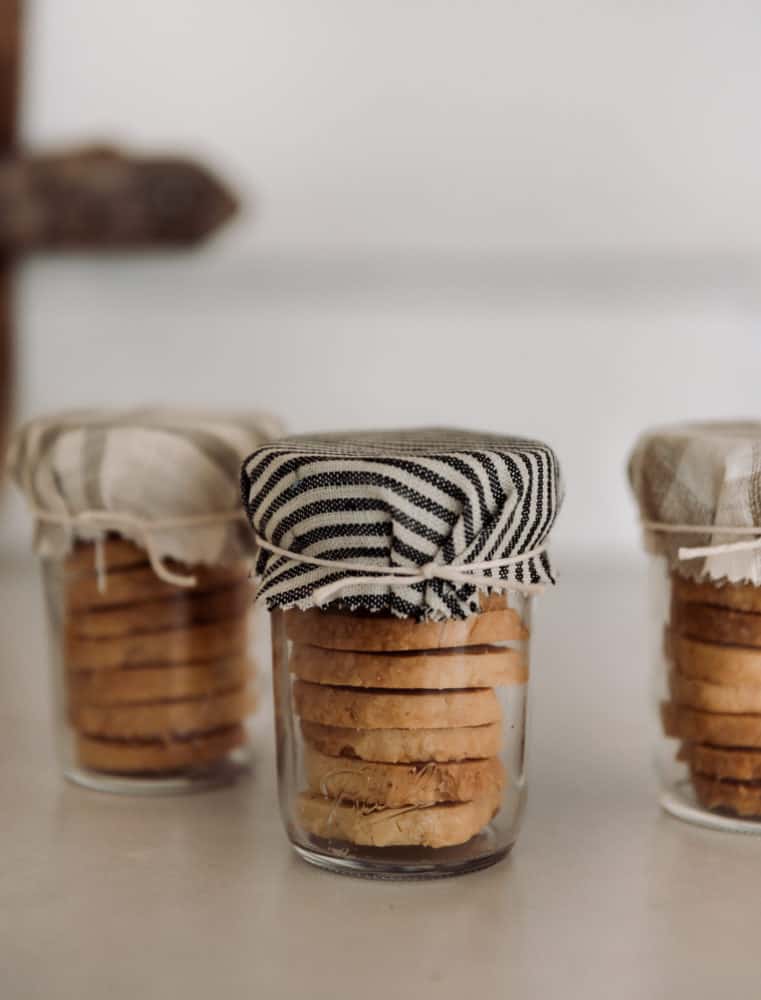 Orange Shortbread Cookies
Christmas cookies are one of the best parts of the Holiday Season! I have a few tried and true favorites that I go to year after year, as I am sure your family does too. Shortbread just so happens to be one of my favorite cookies to make, I love how crisp and buttery shortbread is. Such an irresistible treat!
Shortbread is not only delicious, but very easy to make. With just a few simple ingredients: butter, flour, and sugar, you can make shortbread! This shortbread cookie is flavored with orange zest and fresh orange juice. The almond extract and sliced almonds add flavor and crunch, I think you're going to love this cookie!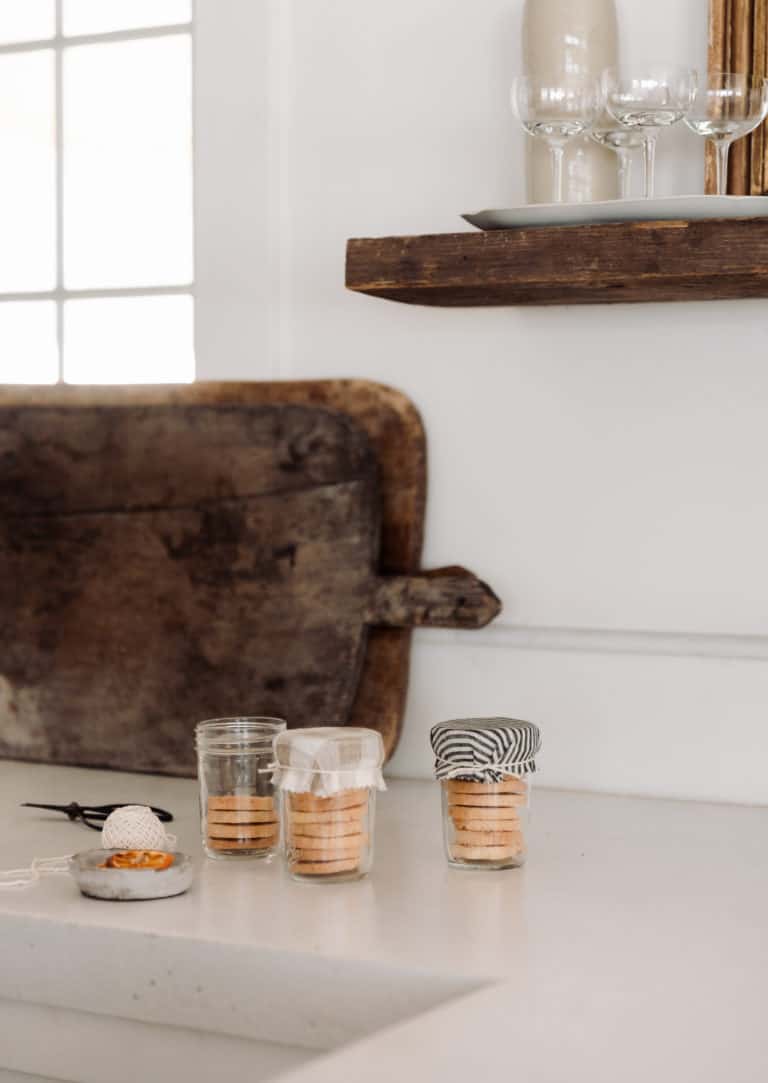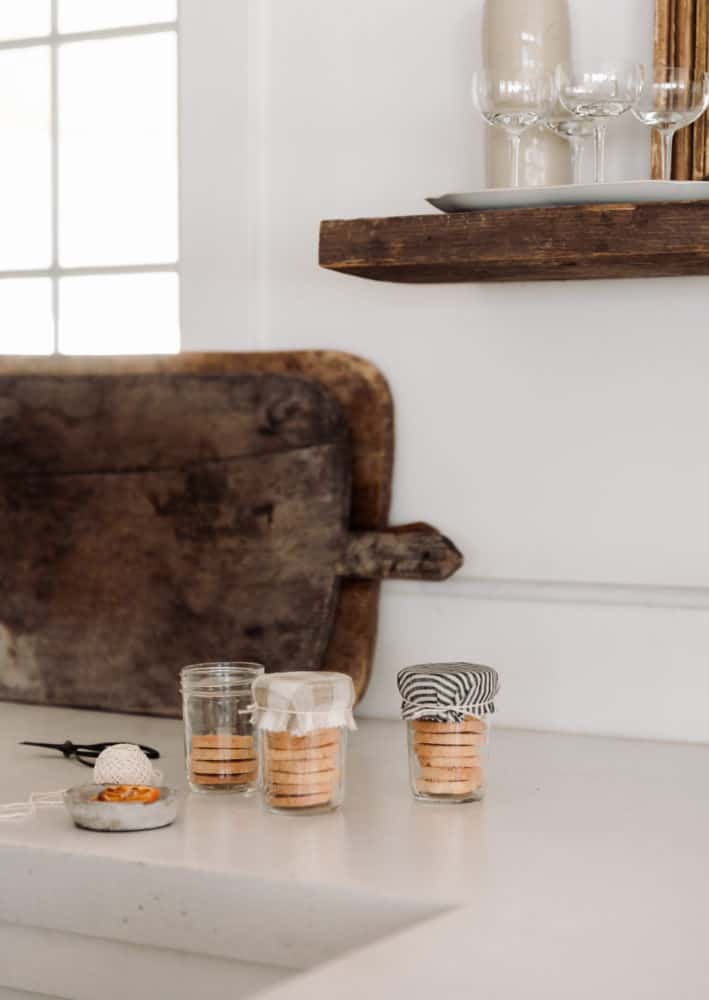 Tips for Making Shortbread
Low & Slow: Bake shortbread cookies at a lower temperature, 275F – 300F. This will help keep them light in color.
Chill the dough twice: Chill the cookie dough after shaping it into a log for at least 20 minutes. Then once again after slicing into rounds. The butter needs to be very cold in order to melt correctly in the oven.
Cream the butter and sugar really well, for at least 3 minutes up to 5. This will allow the butter and sugar to really come together in the dough. I use a stand mixer when making shortbread cookies for this reason.
Consistency in the dough is key! You want the dough to be that of snow, not sand. If the dough is too crumbly or falling apart, add a teaspoon of water.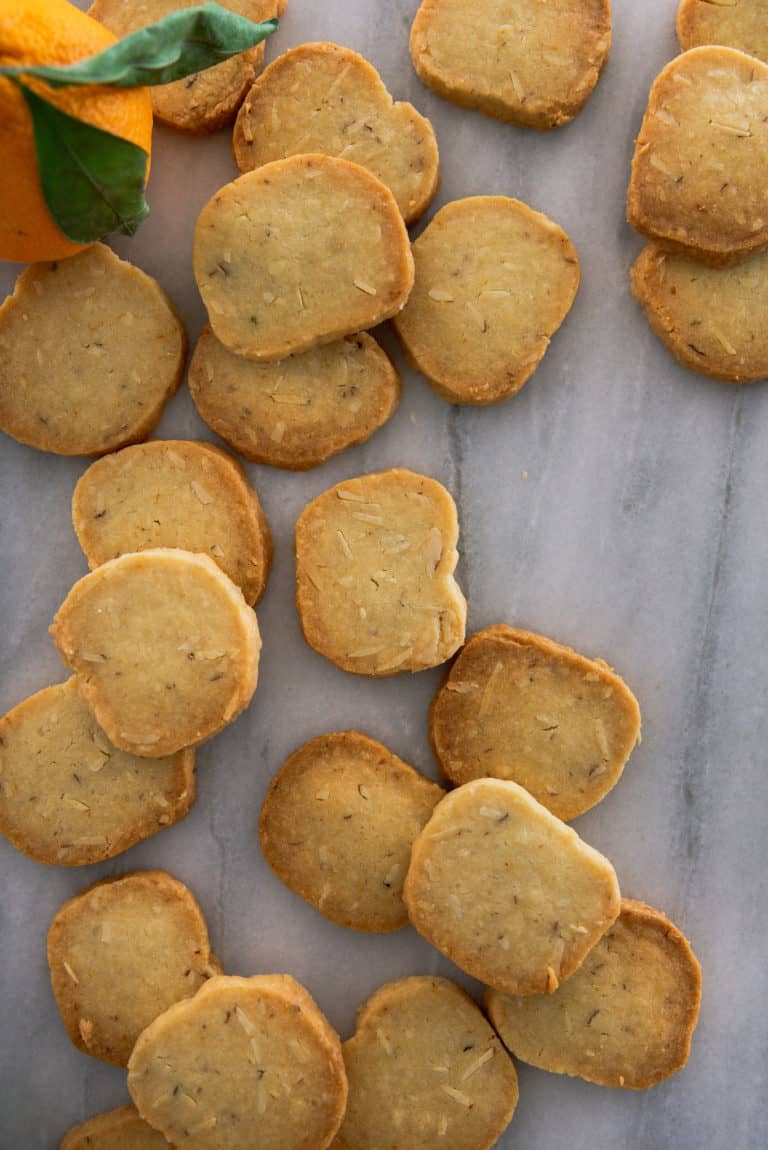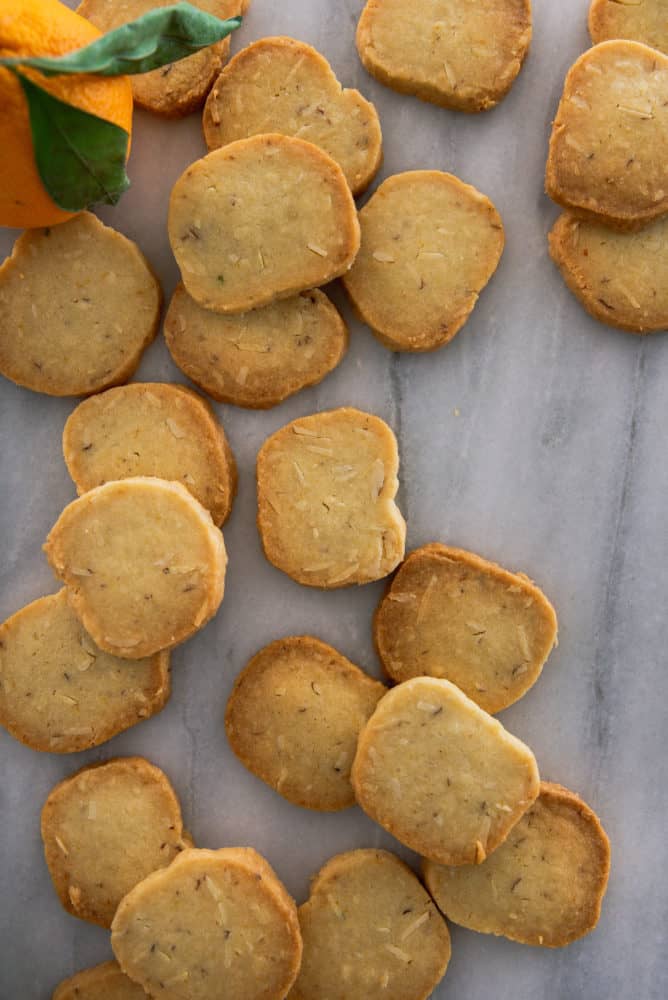 Shortbread Dough Too Crumbly?
If the dough feels too crumbly and you aren't able to shape it into a log, add a tiny bit of liquid. We're talking a teaspoon at a time.
Work the liquid into the dough – I like using a stand mixer best – until the dough becomes the ideal consistency. Then transfer to parchment paper and form into a log.
How to Package Cookies?
Cookies are a wonderful treat to gift during the holidays, if you're looking for a fun and sustainable way to package cookies, try gifting in a Ball® mason jar!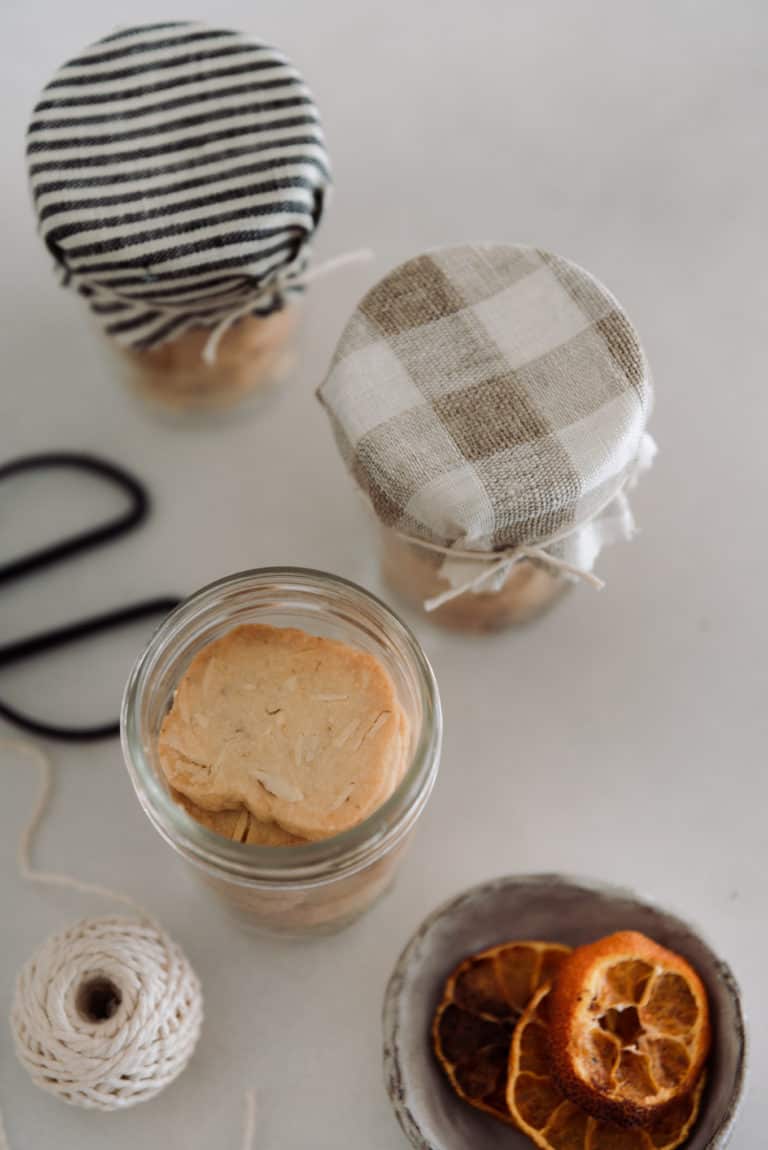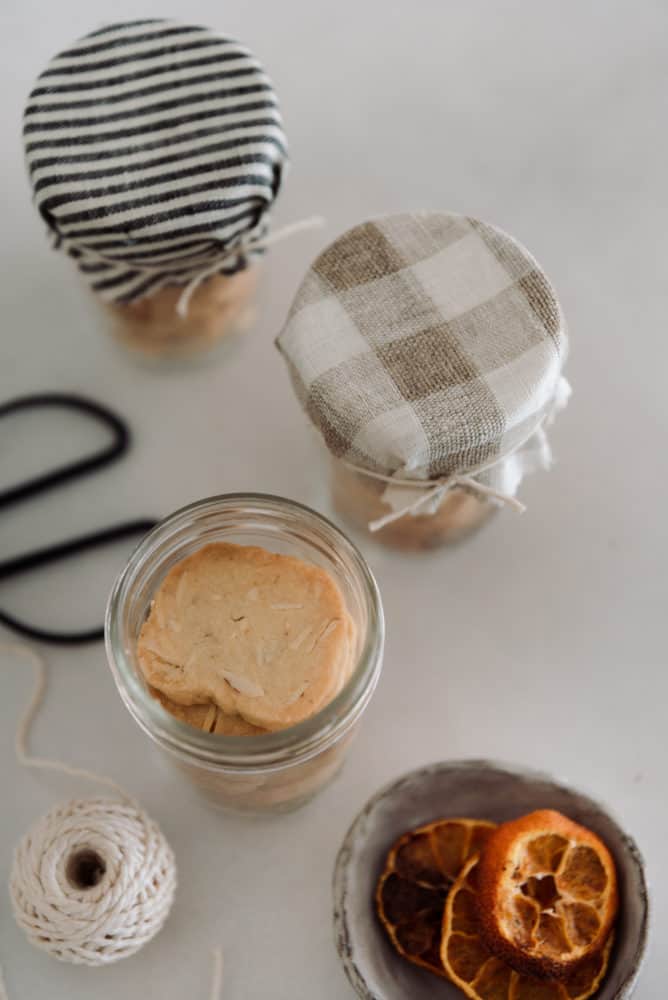 ---
---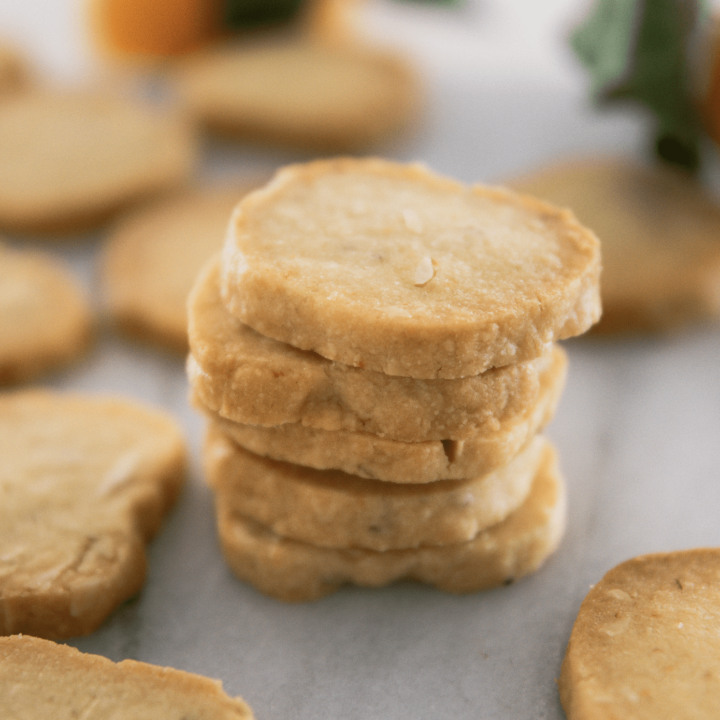 Orange Shortbread Cookies
Total Time:
1 hour
10 minutes
Orange shortbread cookies are made with fresh orange zest. They are crisp and just the right amount of sweet, the perfect Christmas Cookie!
Ingredients
1 cup unsalted butter (2 sticks), softened
¾ cups granulated sugar
½ teaspoon almond extract
2 teaspoons fresh squeezed orange juice
2 cups all purpose flour
½ teaspoon salt
zest from 1 orange
½ cup sliced almonds
optional: add ½ cup dried cranberries
Instructions
In the bowl of a stand mixer combine softened butter and sugar. Cream together for at least 3 minutes, scraping the sides as needed.
Add the almond extract and orange juice, mix until just combined.
Add flour, salt, zest, almonds, and cranberries if using. Mix until the dough resembles crumbly snow. Use a spatula to scrape the sides of the bowl.
Use your hands to test the dough, it should stick together like a snowball. If it is too crumbly, add 1 teaspoon of water and mix. You should only need 1-2 teaspoons liquid (if at all) to reach the desired consistency.
Transfer the dough to a piece of parchment paper. Use your hands to gently press the dough into a round log about 12" long and 3" in diameter. Fold up the sides of the parchment paper and roll until smooth round log is formed. Chill for at least 20 minutes. Alternatively, press thee dough into a cookie press and chill for at least 20 minutes.
Once chilled, remove the dough and slice into ¼" - ½" thick rounds (depending on how thick you like your cookies). You will end up with about 3 dozen cookies.
Place the unbaked cookies on lined baking sheets leaving about ½" space between cookies and chill for an additional 20 minutes. Preheat the oven to 300F.
Bake the cookies one sheet at a time for 10-14 minutes (depending on cookie thickness), the ideal shortbread is light in color, so remove before they become too golden.
Cool before transferring to an airtight container, such as a Ball® mason jar. The cookies keep for several days.
Notes
Salt is a personal preference, if you prefer a less salted cookies, drop to ⅓ teaspoon salt.
The ideal shortbread is light in color, I found that my cookies really only need 10 minutes in the oven. If your oven doesn't cook "quick" as mine does, or you sliced the cookies thicker, you may need an additional few minutes.
*This is a sponsored post that is part of an ongoing partnership with the Fresh Preserving Division of Newell Brands. They have provided jars, equipment and monetary compensation. All thoughts and opinions expressed remain my own.