LaCroix Cocktail with Pineapple Coconut Guava and Lime
This post may contain affiliate links, please read my disclosure policy.
LaCroix is a wonderful way to lighten up cocktails without sacrificing flavor. You'll love this pineapple, coconut, guava, and lime cocktail, it tastes like paradise in a glass!
This sweet and delicious cocktail is the perfect party punch or cocktail to serve a crowd! It's the best when enjoyed on a hot sunny day when you are dreaming of a tropical vacation!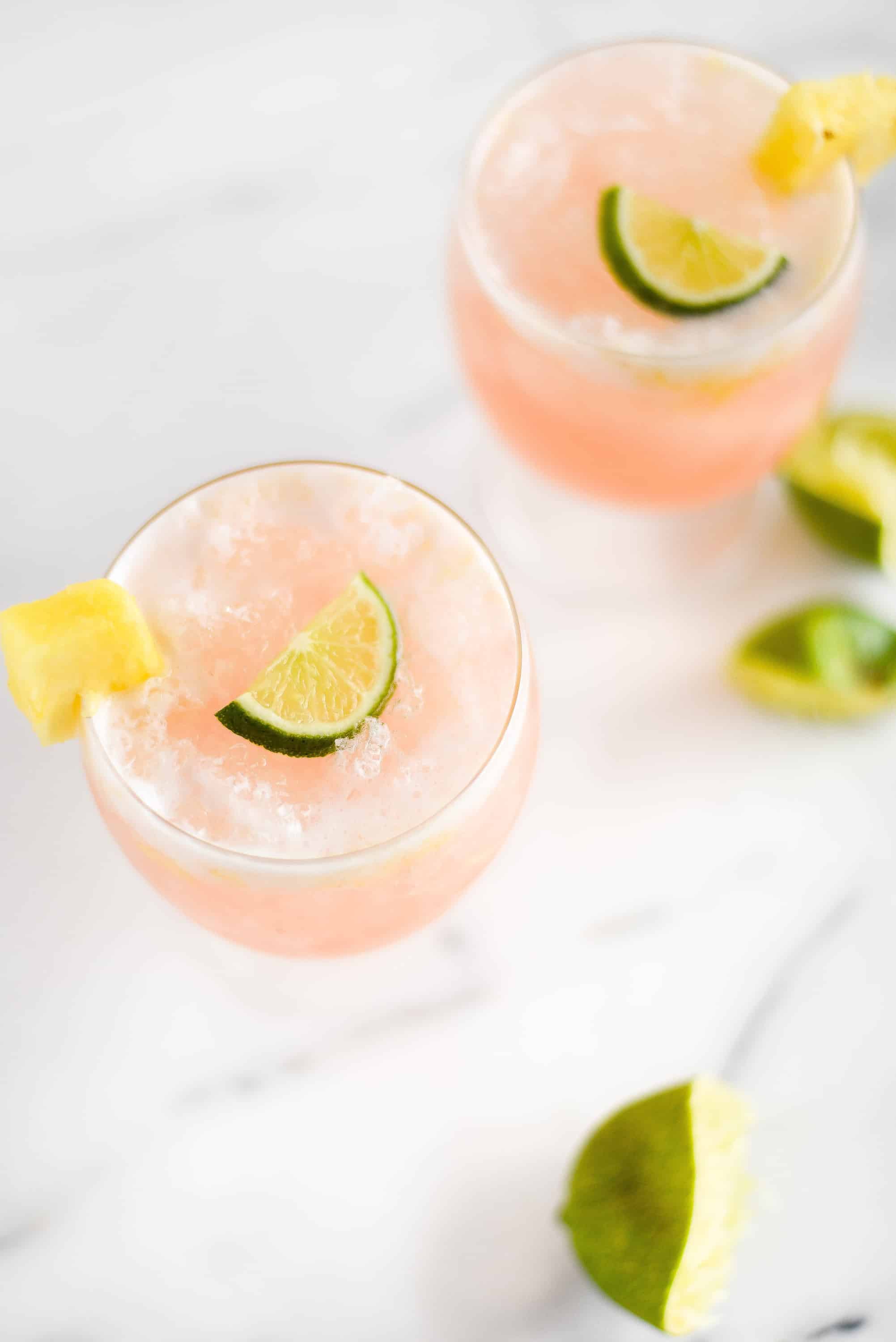 Using LaCroix is one of my favorite ways to make cocktails! I love adding a little flavor to drinks without adding too much sugar. In this cocktail, you'll find that coconut LaCroix pairs wonderfully with guava juice and crushed pineapple. The tart citrus from fresh squeezed lime juice is the perfect finishing touch!
Canned crushed pineapple is perfectly fine to use in this recipe, you'll find that it adds a nice bit of texture with the crushed ice and pulp from the lime juice! If you would like to use fresh pinapple, simply muddle fresh cut pineapple slices in your cocktail shaker before added the rest of the ingredients.
If you're hosting a summer BBQ, this bruléed lemon sour or refreshing peach cocktail is a delicious lemon LaCroix cocktail to serve with grilled beef kabobs or bacon wrapped asparagus!
more delicious lacroix cocktails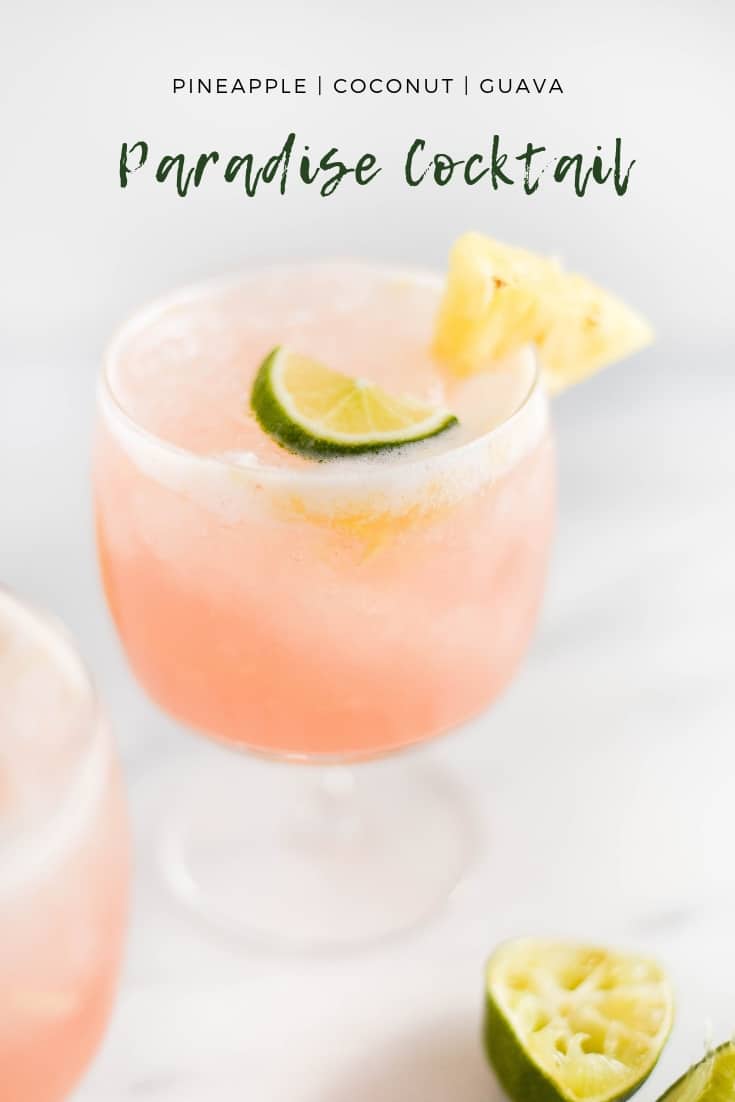 How to crush ice?
I love using crushed ice in cocktails! You can crush your own ice at home with a blender! Simply add ice to your blender and pulse a few times until the ice is broken down. You can also crush ice by placing the ice in a sealed plastic bag and using a mallet to break apart the ice cubes.
Where to buy guava juice?
Guava juice can be found in any grocery store near the other juices. Most commonly found in a soda can, the Kerns brand is my favorite! It is very sweet, so a little goes a long way when mixing it into a drink!
What is a LaCroix Cocktail?
LaCroix is a brand of sparkling water known for their delicious and creative flavors. LaCroix doesn't contain sugar or calories! It is a delicious drink to enjoy on a hot day!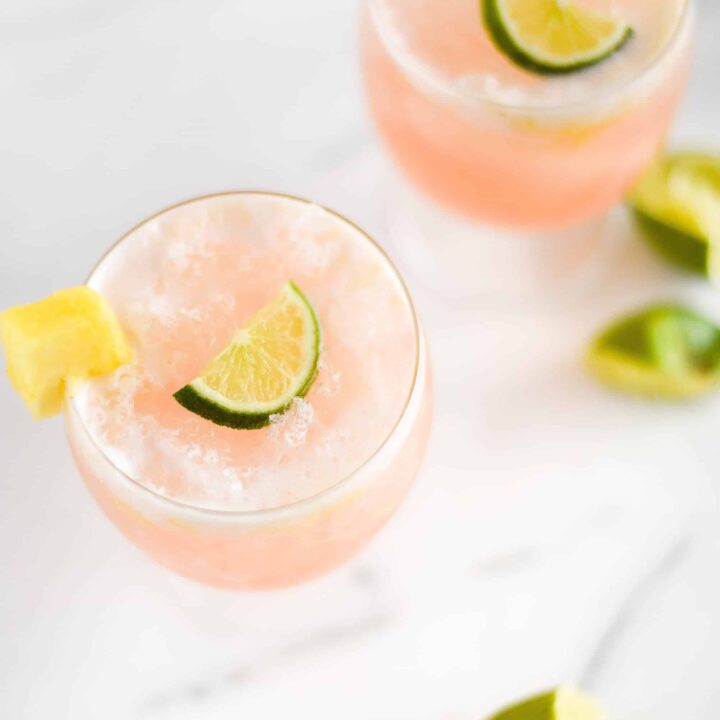 Delicious LaCroix Cocktail with Pineapple, Coconut, Guava and Lime
Coconut LaCroix is a delicious and light way to enjoy this guava & pineapple cocktail!
Ingredients
3 oz. Guava Juice
3 oz. Coconut LaCroix
3 oz. Coconut Vodka
1/2 cup Crushed Pineapple
Juice from 2 Limes
Crushed Ice
Instructions
Shake vodka, lime juice, guava juice, and crushed pineapple well over ice (30 seconds).
Fill two glasses with crushed ice.
Divide the vodka mixture into the two glasses.Top each glass with coconut LaCroix until full.
Stir.
Enjoy!