Peach and Toasted Almond Jam
This post may contain affiliate links, please read my disclosure policy.
A delicious peach jam recipe with toasted almonds and a hint of almond extract! An excellent easy home canning recipe to preserve peaches!
This post is sponsored by Ball® Fresh Preserving.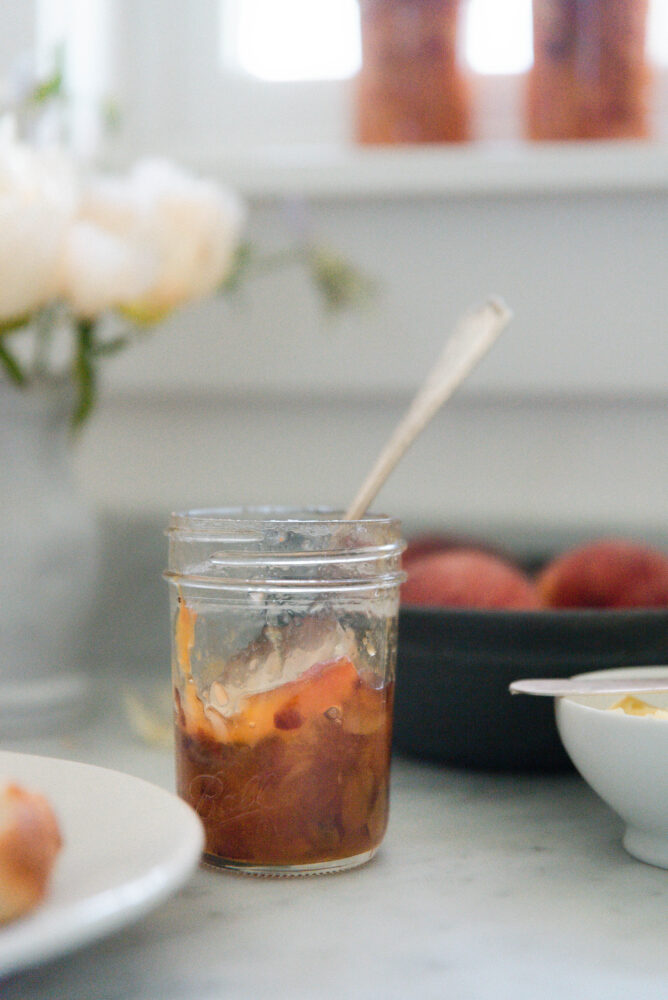 Peach and Toasted Almond Jam
I am a sucker for peach jam! Well, jam of any kind, but peach jam especially. The sticky, delicious taste instantly brings back every memory of canning and enjoying it!
If you are lucky enough to have peach trees in your yard or near your home, canning some will allow you to enjoy the bounty all year long! This particular recipe with toasted almonds added into the jam is a great gift for neighbors and friends! It can be enjoyed in so many ways!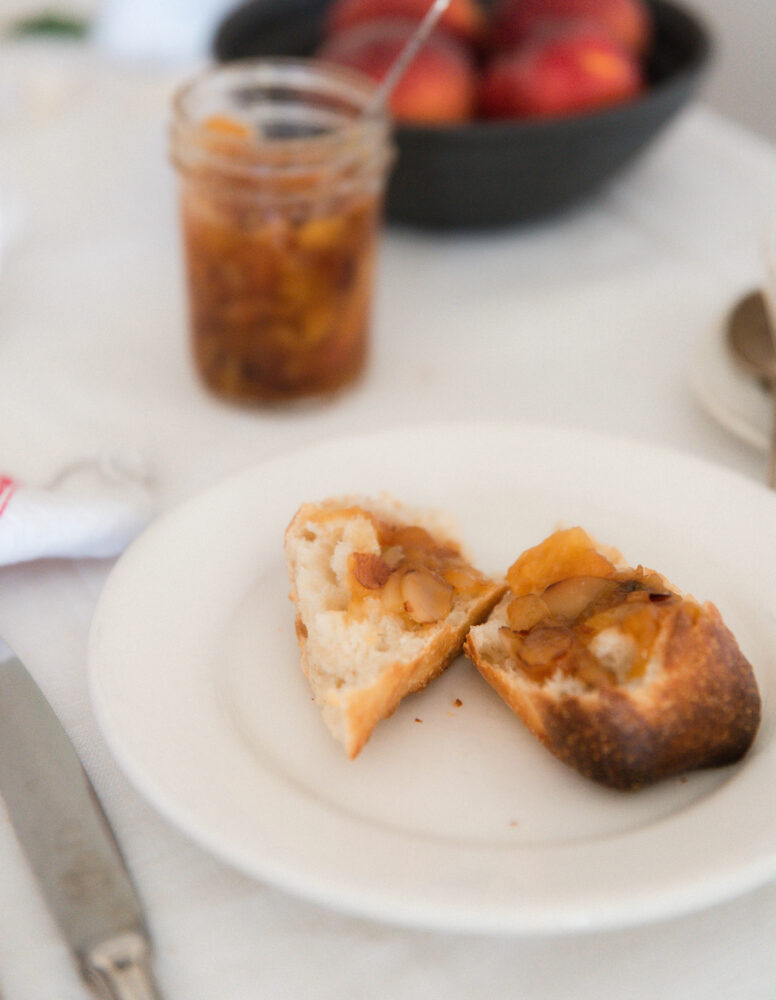 Making this almond jam recipe reminded me of last year, when I made low sugar peach jam with my aunt. Which we then used to make my great aunt's french fruit tart recipe. I love those moments spent in the kitchen which create memories that last long after the enjoyment of the food!
Today I am excited to share that this is the first recipe of many that I will be sharing with you in partnership with Ball® Canning! Throughout the year we will be canning every month! You can expect delicious, tried and true recipes, giveaways, and home canning tips & tricks!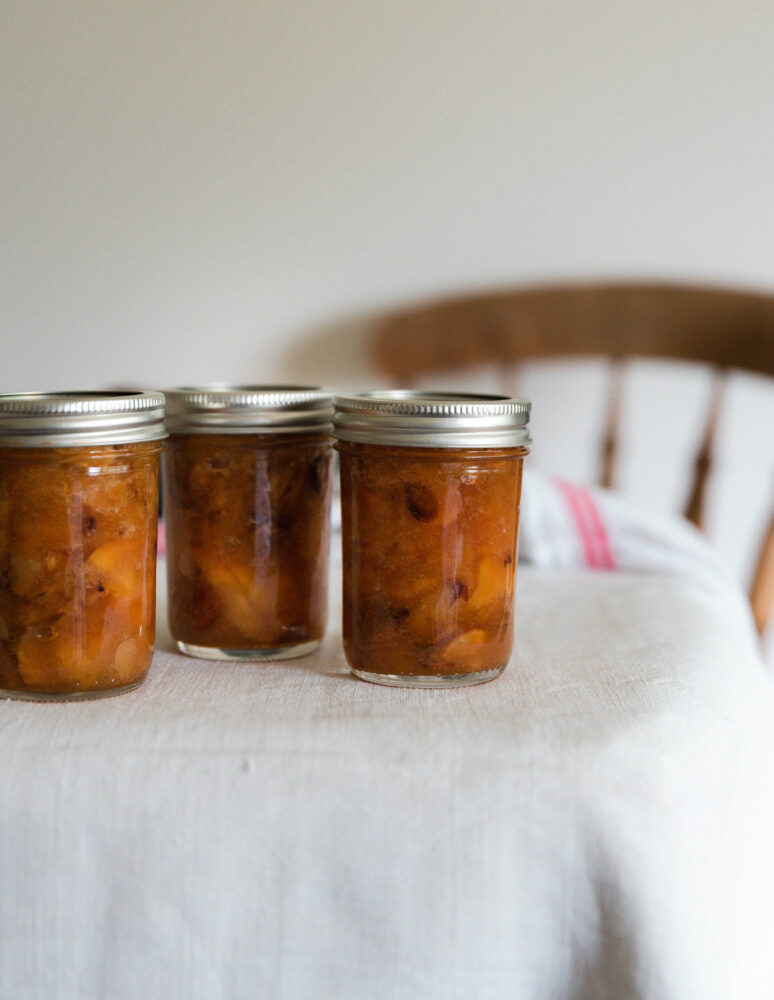 GET THE FREE PRINTABLE CANNING SAFETY GUIDE HERE
New to home canning? Here are some great resources!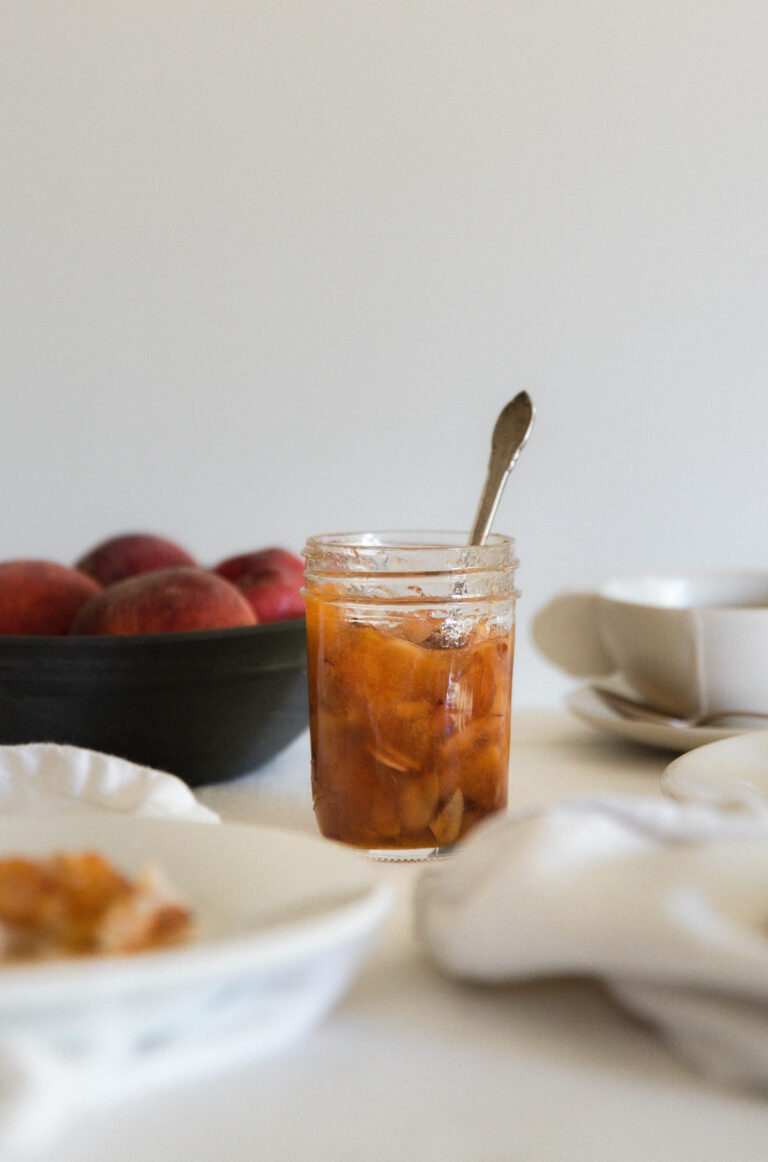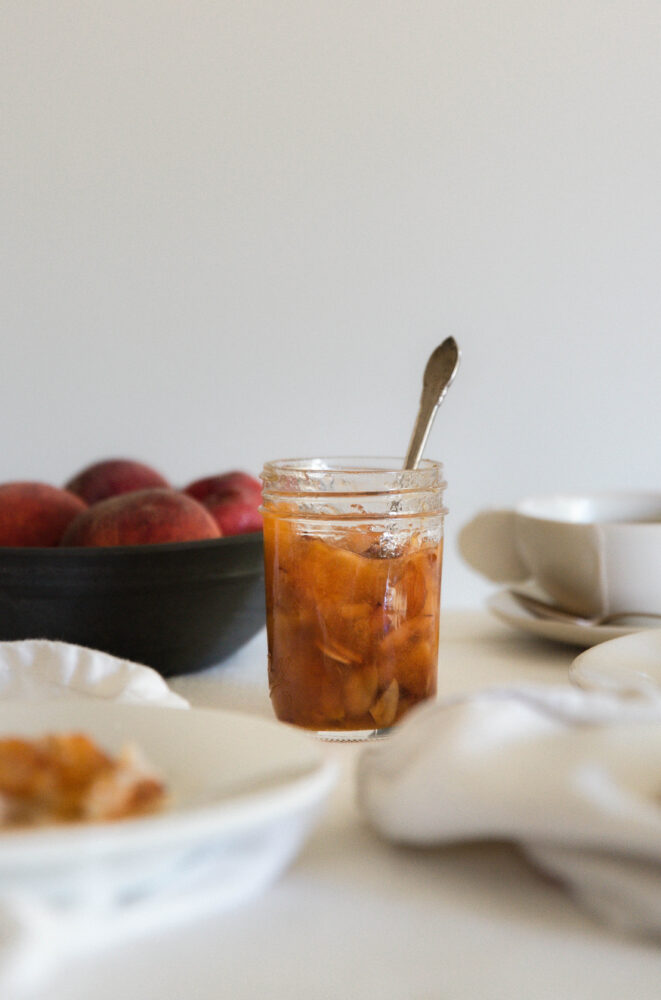 Peach Jam FAQ
Can you make peach jam without pectin?
Peaches are naturally low in pectin, so when canning them, you'll always need to add pectin or acid (sometimes both). This particular recipe calls for an added acid: lemon juice!
Can I use fresh squeezed lemon juice when canning?
Whenever you're canning, it's important to follow the recipes exactly. When a recipe calls for lemon juice, use bottled lemon juice. This is because bottled lemon juice has a specific pH which ensures safe canning!
Can peach jam be made with low sugar?
Absolutely! Click here for the low sugar peach jam recipe!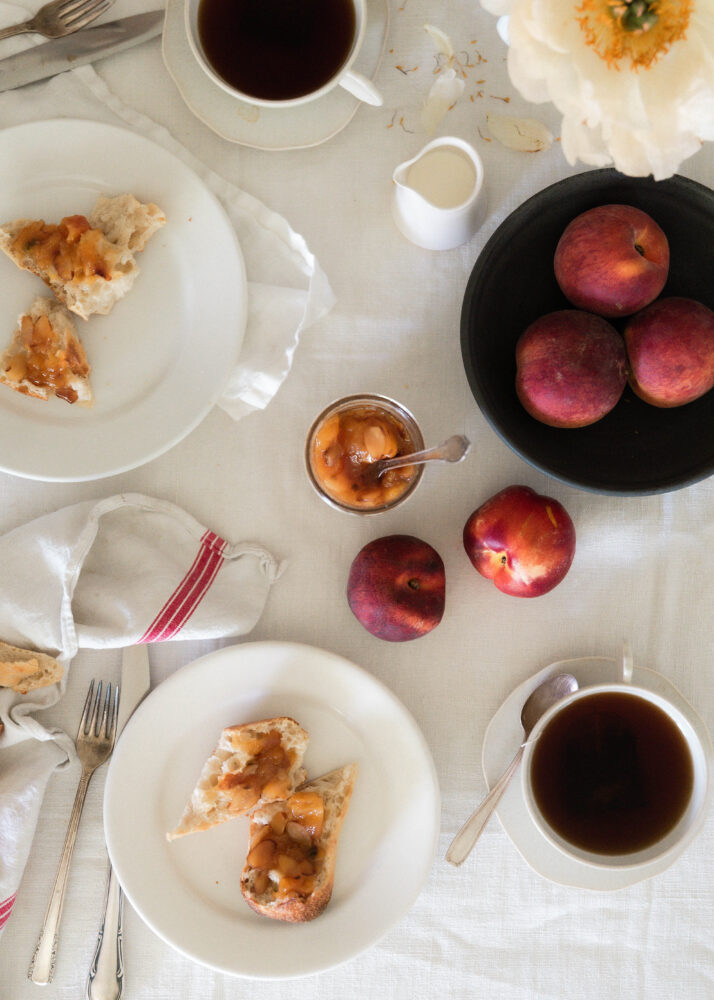 How to easily remove the skin from peaches:
With a sharp knife, slice a large X on the bottom of each peach.
Place the peaches in a large pot of gently simmering water.
Simmer for 30-60 seconds, or until the skin visibly loosens and splits (no more than 1 minute).
Remove with a slotted spoon and place into a cold water bath to stop the cooking process.
The skins will slough off magically! Use a paring knife to remove any stubborn peach skin.
Note: this process only works for ripe peaches.
How to enjoy this Peach and Toasted Almond Jam:
On crostinis with warm brie
Atop warm sourdough muffins
With ham and sliced cheese
Smeared over belgian waffles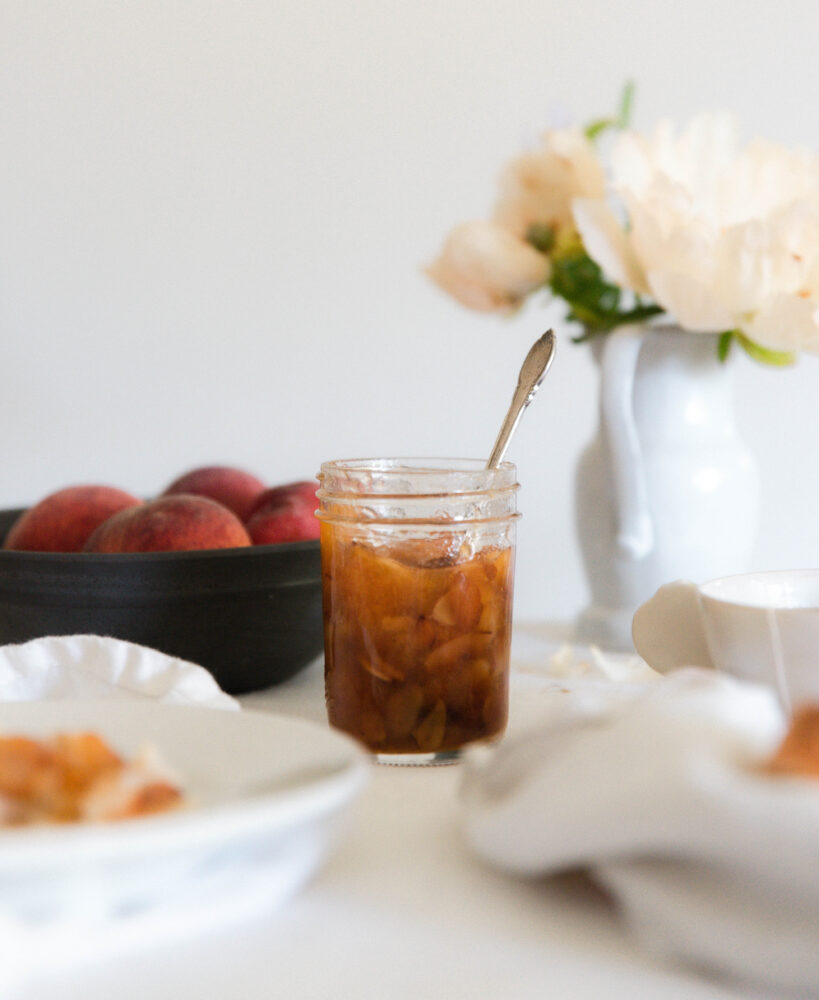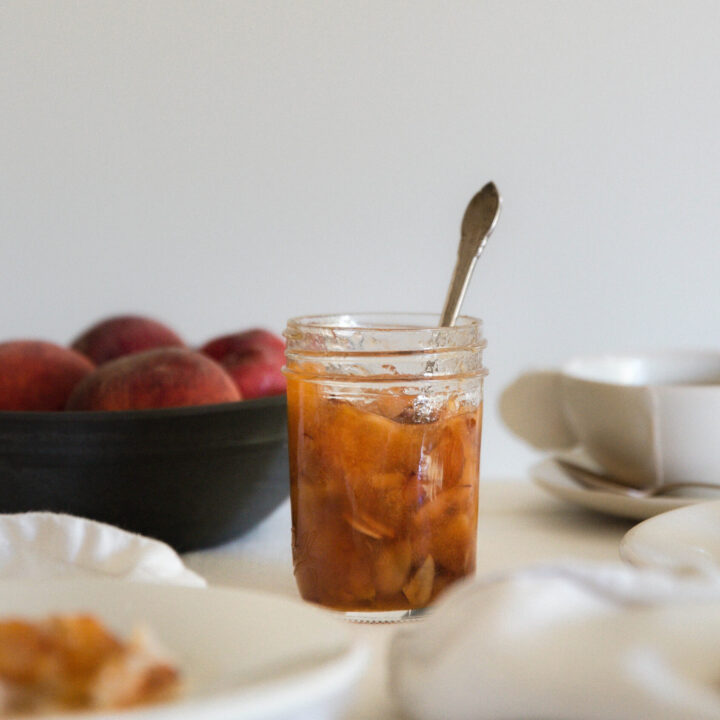 Peach and Toasted Almond Jam
Yield:
4 (8 oz) half-pint jars
A delicious peach jam recipe with toasted almonds and a hint of almond extract! An excellent easy home canning recipe to preserve peaches!
Ingredients
2 ½ pounds firm-ripe peaches, peeled and diced
2 Tbsp bottled lemon juice
1 tsp almond extract
3 cups sugar
3/4 cup sliced almonds, lightly toasted
Instructions
Prepare boiling water canner. Heat jars in simmering water until ready to use, do not boil. Wash lids in warm soapy water and set aside with bands. Place peaches in a wide heavy bottomed saucepan. Use a potato masher to gently break peaches down.
Combine all ingredients, except toasted almonds, in saucepan and bring to a boil over medium heat. Stir jam frequently until it thickens and reaches gelling point (220°), about 15-20 minutes. Stir in toasted almonds.
Ladle hot jam into a hot jar leaving a 1/4 inch headspace. Remove air bubbles. Wipe jar rim. Center lid on jar and apply band, adjust to fingertip tight. Place jar in boiling water canner. Repeat until all jars are filled.
Process jars 10 minutes, adjusting for altitude. Turn off heat, remove lid, let jars stand 5 minutes. Remove jars and cool 12-24 hours. Check lids for seal, they should not flex when center is pressed.
Notes
Preserving Method: Water-Bath-Canning
Looking for more home canning recipes?