Low Sugar Peach Jam Recipe with Ball® Fresh Preserving
This post may contain affiliate links, please read my disclosure policy.
There are few things as delicious as licking freshly preserved fruit off the spoon. Especially if you grew the fruit yourself! Waiting all summer for the fruit to ripen, and then finally getting to enjoy it is so rewarding. Today I am sharing some tips and tricks for preserving fruit without added sugar, enjoy! 
This post is sponsored by Ball® Fresh Preserving.
A delicious low sugar peach jam recipe, and how to use no or low sugar added pectin!
Do you have any family traditions that you savor? For me, it's being in the kitchen or craft room with my aunt. Most recently, making this low sugar peach jam!
My aunt is one of the women that taught me how to preserve. She has taught me many things like sewing, baking, and canning. We always have fun when she comes to visit; last time she visited, she taught me how to make authentic French crepes, a recipe she learned from her aunt. This time, we made this delicious low sugar peach jam and then used up a jar of it making a French fruit tart!
It is moments spent in the kitchen or craft room with my aunt that I know I will look back on and cherish forever. I am so grateful that she takes the time to pass on traditions that she learned from her aunt. On her most recent visit, we canned some low sugar peach jam, which we then used to make a peach tart!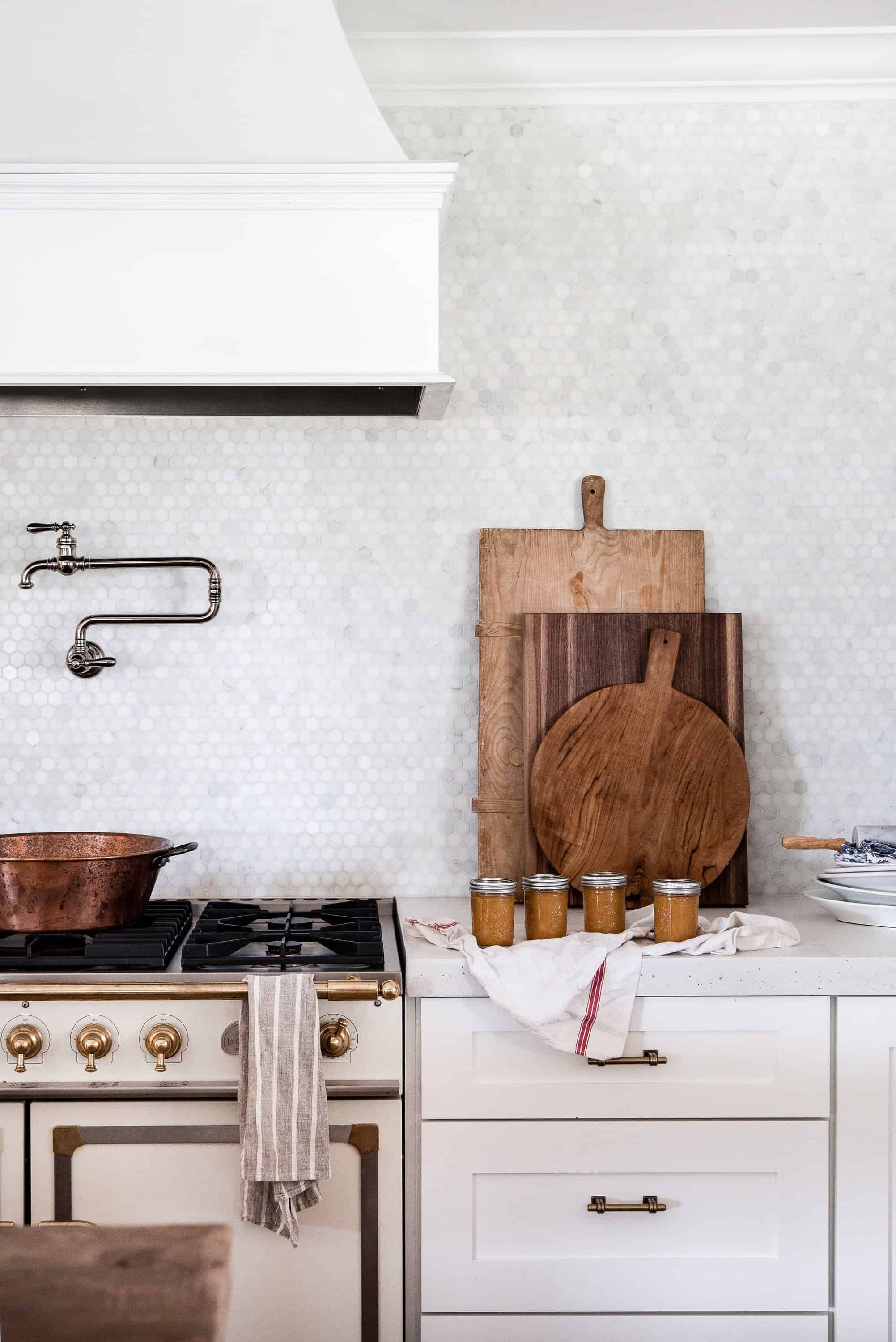 If you've ever made jam, you know just how much additional sugar is added. Typically jam and jelly recipes call for about a cup of sugar for every cup of fruit, which can add up quickly!
One of the benefits of canning at home is being able to control the ingredients that go into your recipe! You may have wondered if there's a way to reduce the sugar, yet still produce wonderful jam? The answer is, yes!
While some fruit will gel without added sugar, most will either need added sugar or pectin to gelify. By using a low/no sugar pectin in a jam or jelly recipe, you will be able to create the same jam recipes you know and love, but without all of the added sugar.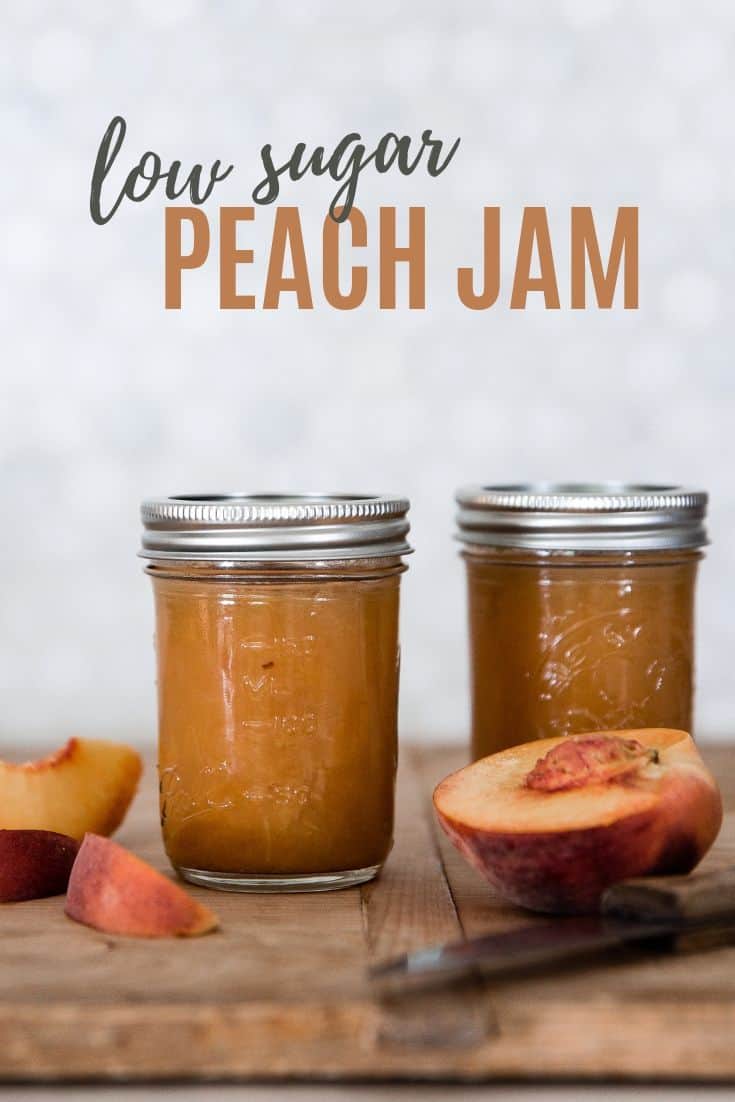 What is pectin?
Pectin is naturally found in fruit like apples and berries. When heated together with sugar, the pectin found in fruit reacts and thickens, creating jelly!
Some fruit contains enough natural pectin that added sugar isn't necessary to create a gel-like consistency, but most fruit requires added sugar in order to create a thick jelly!
For example, Apples contain a lot of natural pectin, but strawberries, peaches, and plums have very little natural pectin. So most peach, plum, or strawberry jam recipes will call for quite a bit of added sugar.
If you'd like to skip the added sugar, you're in luck. Low or No-Sugar Needed Pectin is available for you to add to jam and jelly recipes to create thick jelly without the added sugar.
Just be sure to find a tested low-sugar recipe. Ballhomecanning.com has lots of wonderful low-sugar recipes for you to try out!
How to use pectin?
In order to successfully gel the preserves with added pectin, you'll need to bring the mixture to a full rolling boil (meaning, the jam does not cease to boil when stirred) for exactly one minute. Less than one minute will not be sufficient, and over one minute can break down the pectin.
It is not advised to double a recipe that calls for added pectin because consistent heat distribution throughout the ingredients is very important!
New to canning?
This Ball® Preserving Starter Kit includes all of the necessary tools for canning (excluding common kitchen equipment) and a recipe card with step-by-step visual and written instructions that make learning the canning process as easy as possible!!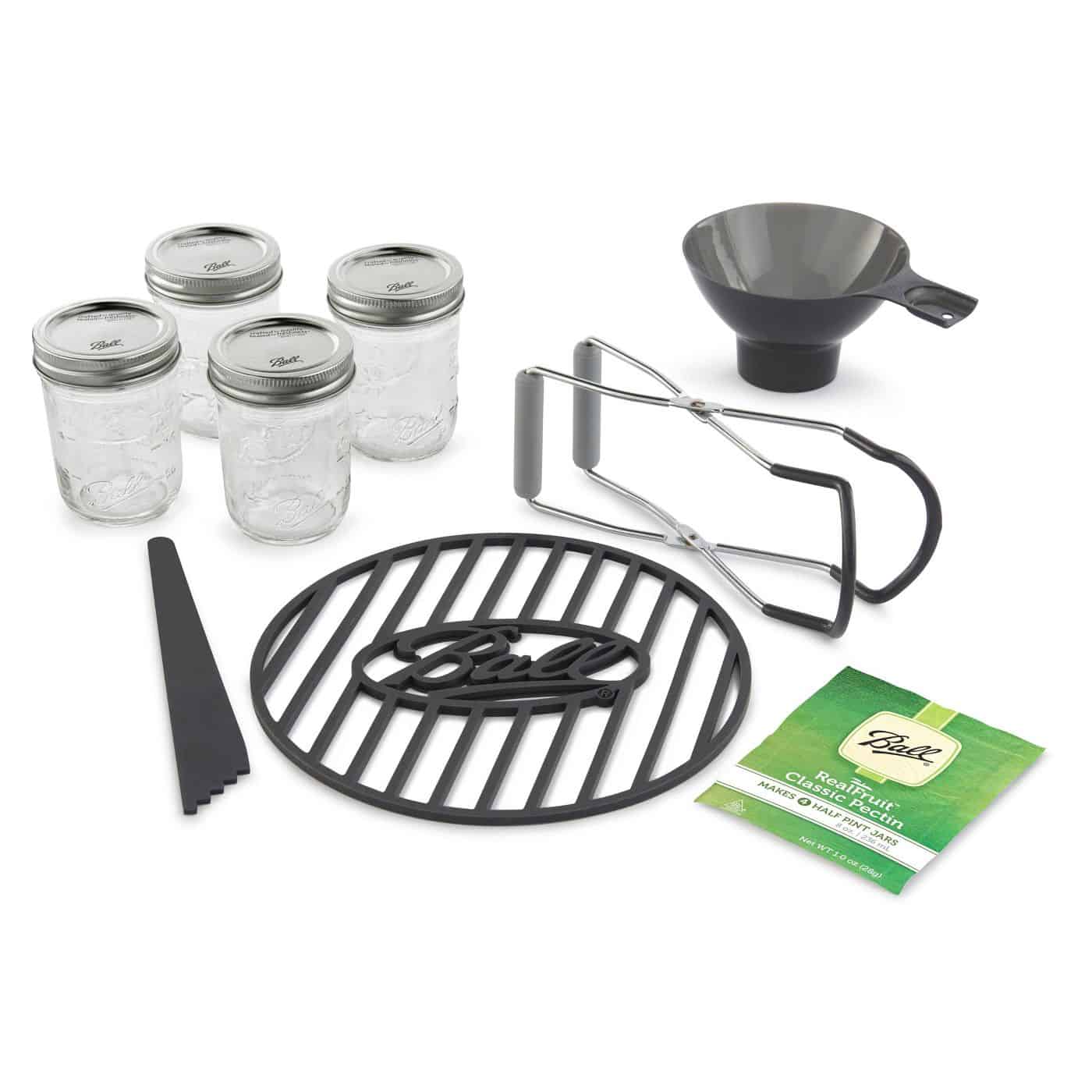 The starter kit includes: 4 half Pint jars, a preserving rack, real fruit classic pectin, jar lifter, headspace/bubble remover tool, and jar funnel, step-by-step instructions, and a coupon for 12-pack mason jars!
Visit BallHomeCanning.com for new, seasonal recipes from Ball® Fresh Preserving, as well as to find new promotional offers throughout the summer!
Want to try out low or no sugar added pectin? Here's a wonderful peach jam recipe you can make at home without adding sugar!
This recipe is delicious, I was licking it off of the spoon as we made it. I hope you enjoy!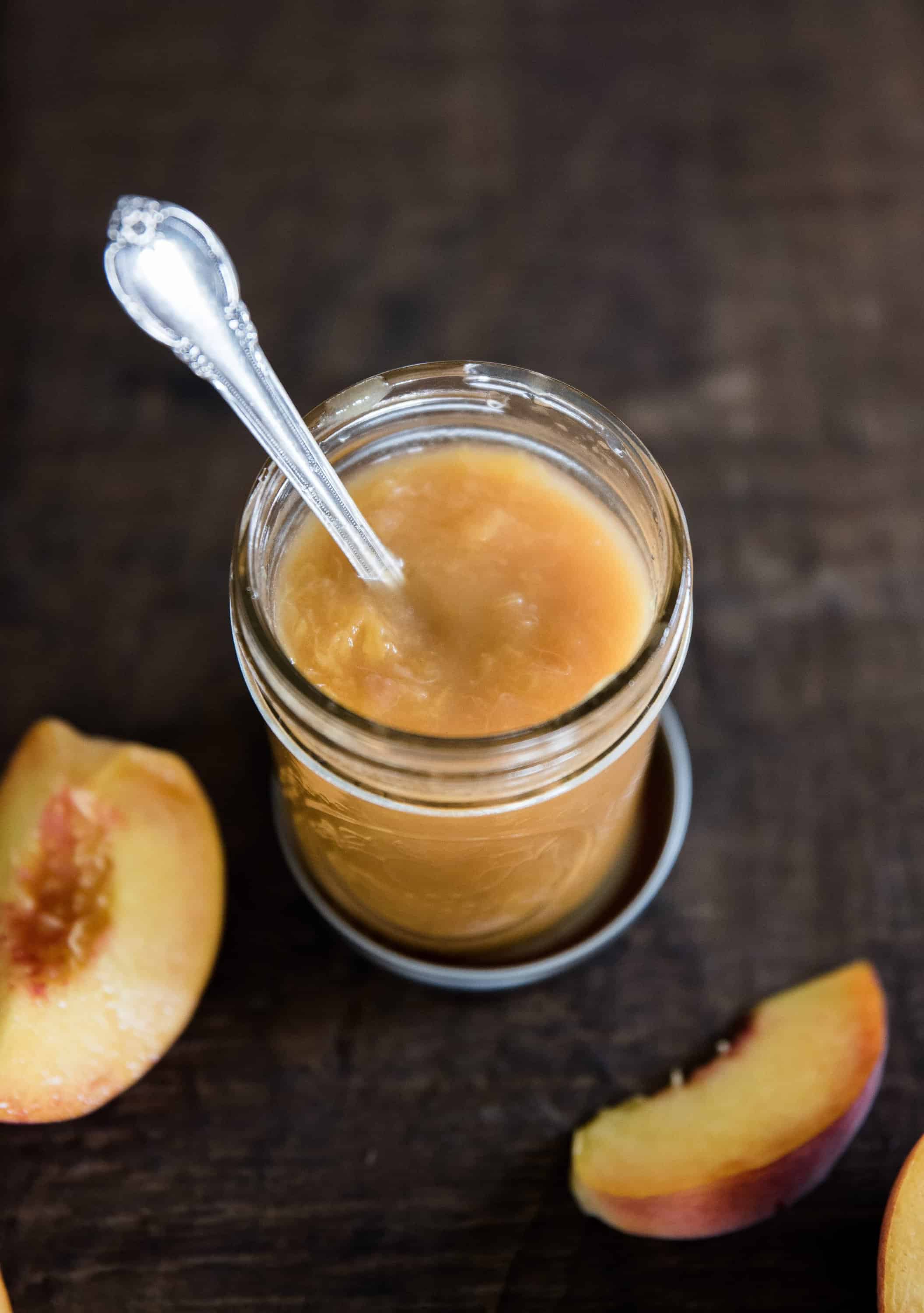 ---
 DOWNLOAD THE HOME CANNING TIPS FREE PRINTABLE
Preserve safely at home with these easy tips! Click here to print.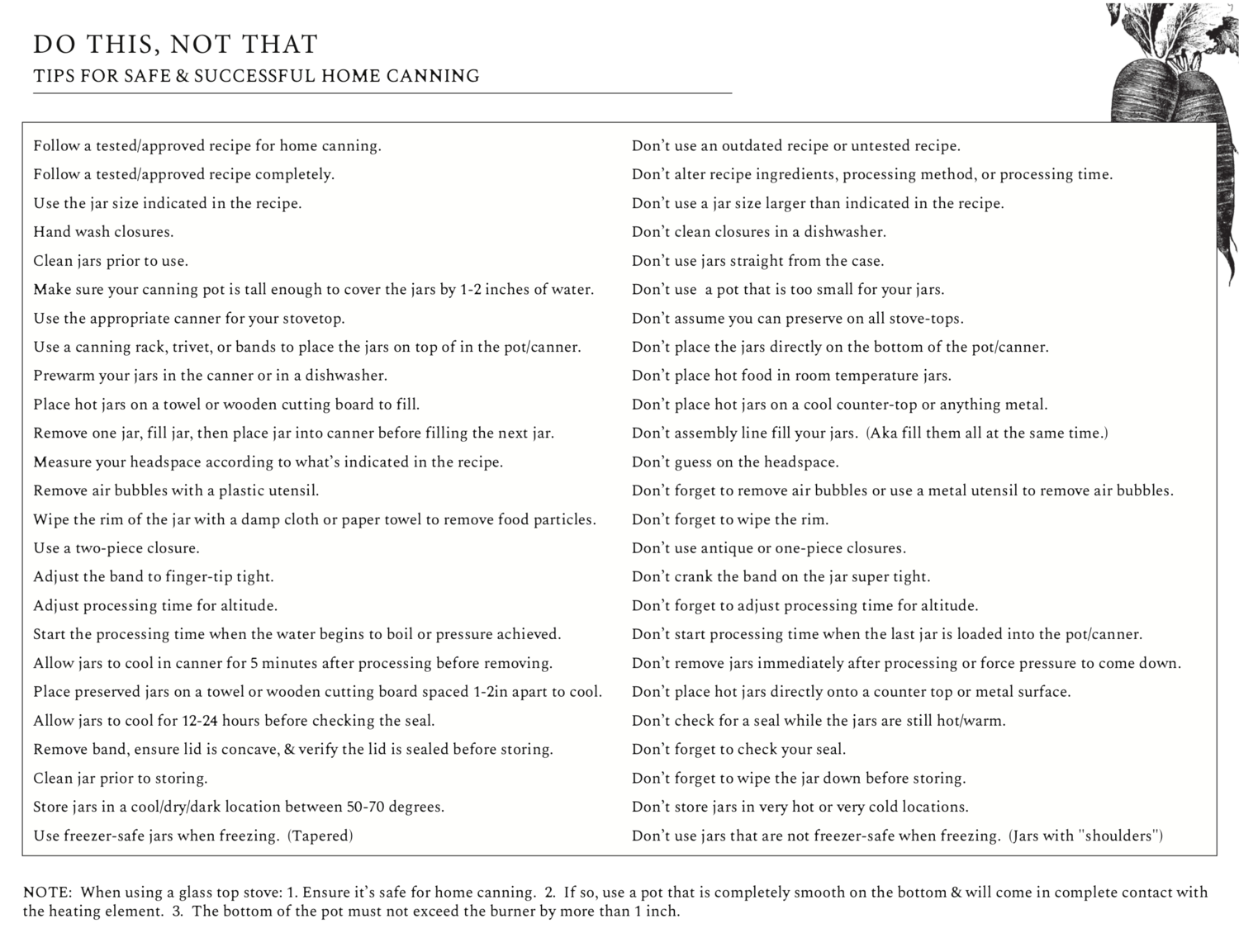 Love preserving? Try making orange rhubarb chutney!
---
Low Sugar Peach Jam Recipe with Ball® Fresh Preserving
Additional Time:
10 minutes
There are few things as delicious as licking freshly preserved fruit off the spoon. Especially if you grew the fruit yourself!
Ingredients
3-2/3 cups crushed peaches (about 2 1/4 lbs. or 7 med)
3 Tbsp. Ball® RealFruit™ Low or No-Sugar Needed Pectin
2 Tbsp. bottled lemon juice
1/2 tsp butter or margarine
Up to 1 cup granulated sugar, sugar substitute, or honey
Instructions
Wash, peel, and pit peaches. Coarsely chop peaches, and then crush with a potato masher. Measure required quantity of crushed peaches and remaining ingredients for your recipe; set aside.
Sprinkle pectin evenly over bottom of the Pot fitted with the Stirrer. Add crushed peaches evenly over pectin. Pour lemon juice evenly over peaches. Add butter/margarine to help reduce foaming.
Press Jam button – the cook time will automatically default to 21 minutes. Press enter.
Wait 4 minutes for appliance to sound 4 short beeps indicating that it is time to add sweetener. Add sugar, sugar substitute or honey gradually while Stirrer continues running. Place the Glass Lid on the Pot.
The Appliance will continue to automatically stir your ingredients while it cooks. Stay within earshot of the Jam & Jelly Maker, the appliance will beep again at the end of the process signaling jam cooking is complete. Press cancel, unplug the appliance and immediately remove Glass Lid.
Remove Stirrer using a pot holder. Skim foam, if necessary, from top of jam.
Preserve the low sugar peach jam immediately