Serene & Eclectic Bathroom Design
This post may contain affiliate links, please read my disclosure policy.
Need some bathroom design inspiration? This serene bathroom design will help guide you!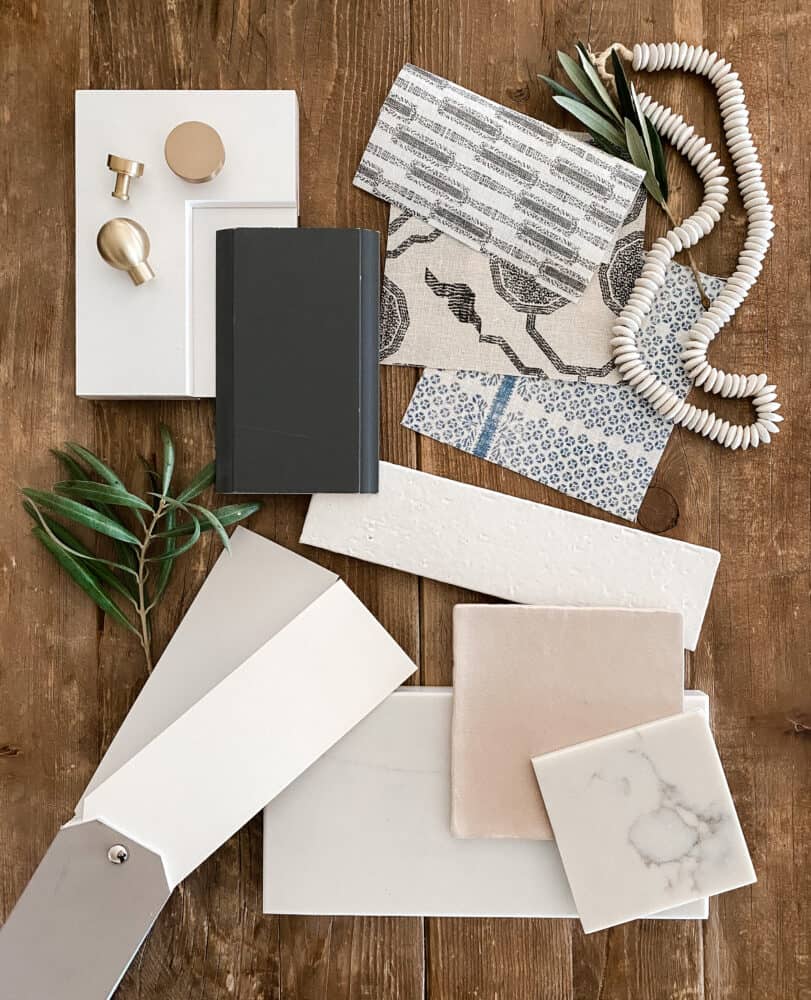 Recently, one of my friends on Instagram suggested I start doing design boards to share with you! So I have decided to start a series here to share these mood boards and design boards. For free!!!
These are the exact design boards and mood boards I prepare for clients. I feel like I have so many of these designs in my mind, and I am excited to share them with you all! Consider this your free interior design service!
It's my hope that as I share these more often, you will be able to come to my site to get inspired for any decorating or renovation project you have!
With sharing these, you can help me by pinning the images! This helps me tremendously! Please feel free to pin and share anything that inspires you. I also would love for you to utilize the links I provide in this post. I receive a small commission (at no cost to you) from the vendors linked here should you choose to purchase anything for your project!
In addition to pinning the images and using my links, sharing on your other social media outlets or simply telling a friend – old school sharing ;) – can help me more than you know! Thank you so much for being a reader and supporter of my site!
If you love these, please consider signing up for my newsletter (at the bottom of this post).
Enjoy! xo -Chloe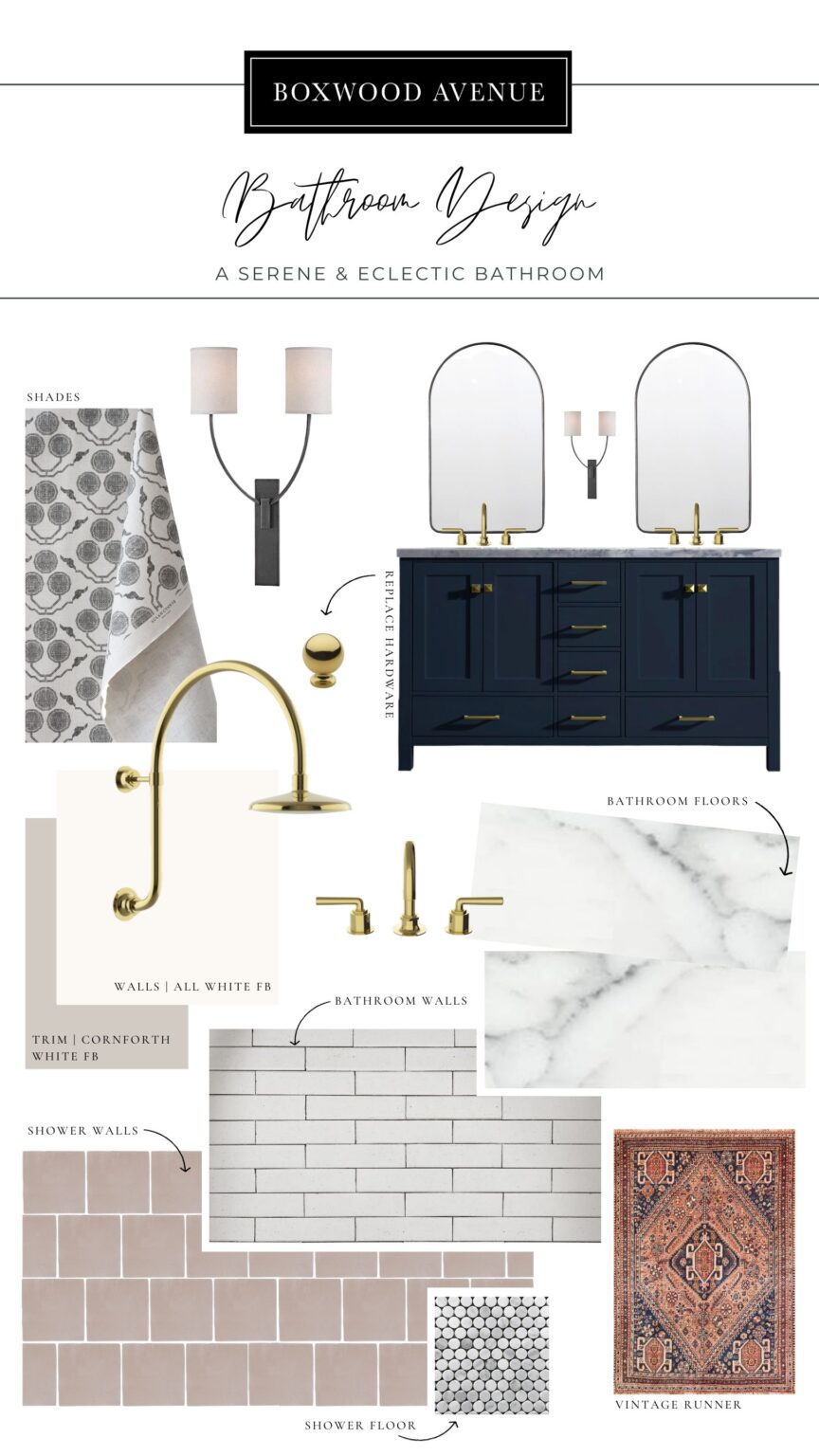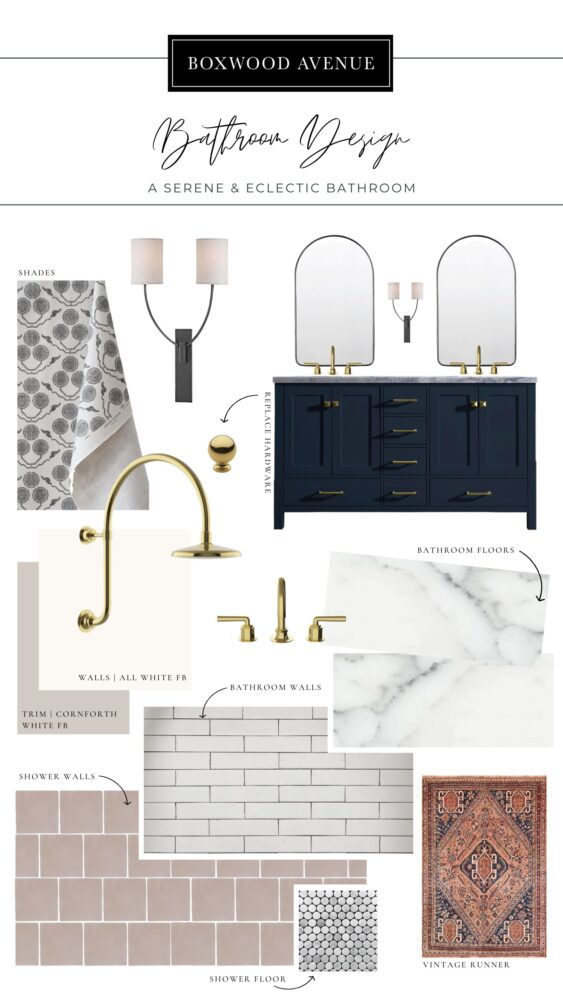 Whenever I design something, I start with a source of inspiration, it can be a specific tile, textile, photograph, piece of art, color, etc… Just something to get the juices flowing!
This design board was sparked by my affection for the mauve tile shown here. Unfortunately, they no longer make it! However, Cloe tile is very similar, I've linked it in the tile section below.
When I work with clients, we often have a custom vanity made, but here is a pre-made vanity that would look great in this space (go with something charcoal or navy).
Tip: When I purchase a ready-made vanity, I will always swap out the hardware.
Paint & Vanity
I pulled my inspiration for this design from the mauve tile, so I wanted to keep things minimal in terms of paint colors. The combination of white & grey pairs fabulously with the marble accents! I think a pop of darker trim would be so elegant!
Shown: All White walls with Cornforth White trim, both made by Farrow and Ball.
One of my favorite color combinations is pink & blue! This design is so light and airy, I think adding a dark colored vanity would really ground the space and add beautiful depth overall.
Plumbing & Hardware
Unlacquered brass adds a sense of tradition to this bathroom design. If I were designing this for a client, I would use a mix of unlacquered brass and black metal tones.
I love the curve of these mirrors – I think curves are having a major moment right now! They have a way of softening everything up so beautifully!

Tile
This entire design board was sparked from the mauve handmade tile shown here, unfortunately they no longer make it! Such a bummer! However, the Cloe tile is very similar! I think it would be so beautiful used as a shower wall tile! Try it in the pink or the white to get this look!
The Cloe tile is a fabulous inexpensive tile that looks excellent with many different tiles, but I especially love it paired with marble! In this design, I would pair penny tile mosaic and large format marble tiles to compliment the Cloe.
I placed Cle's thin glazed brick into this design board as well because it just looks so dang good! If you need an additional tile (say, for the walls) this would be an excellent option!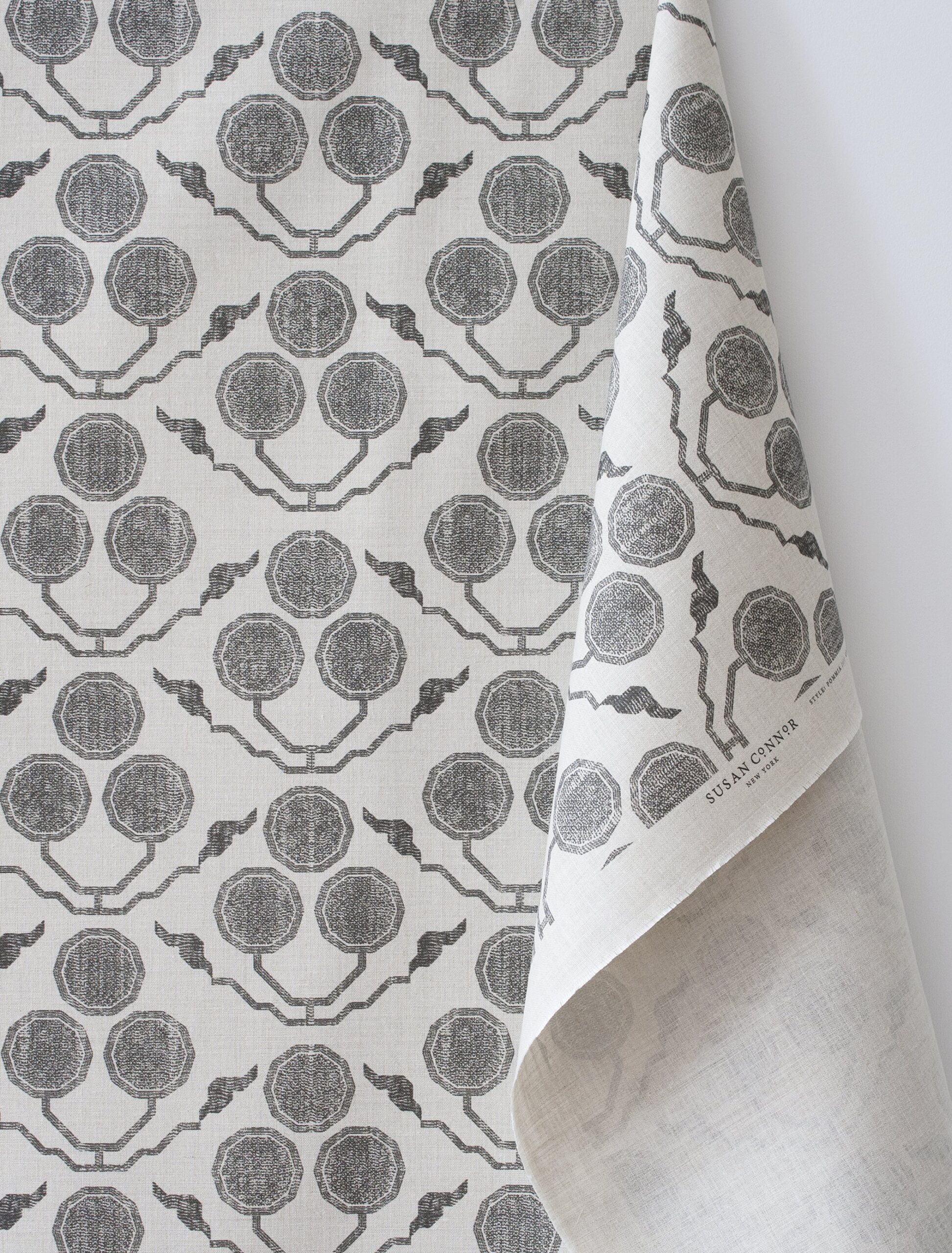 Textiles
I am smitten with Susan Connor's designs, and especially this particular pattern! It pairs beautifully with the mauve tile, marble accents, and a vintage rug!