Looking for some small kitchen design inspiration? You've come to the right spot! Today I am sharing a peek into our tiny kitchen at Boxwood Avenue Mercantile!
All of the details in this space are functional and beautiful, and I hope to inspire you whether you have a large kitchen or small kitchen! Each item can be implemented in a variety of spaces with timeless touches that make a space feel welcoming and warm.
If you're in the area (Reno!), visit us in person at Boxwood Avenue Mercantile! You can always visit us online, we ship nationwide and have great customer service to help you with your project. We also offer both full service and virtual design coast to coast! Ready to see the shop kitchen? Let's go!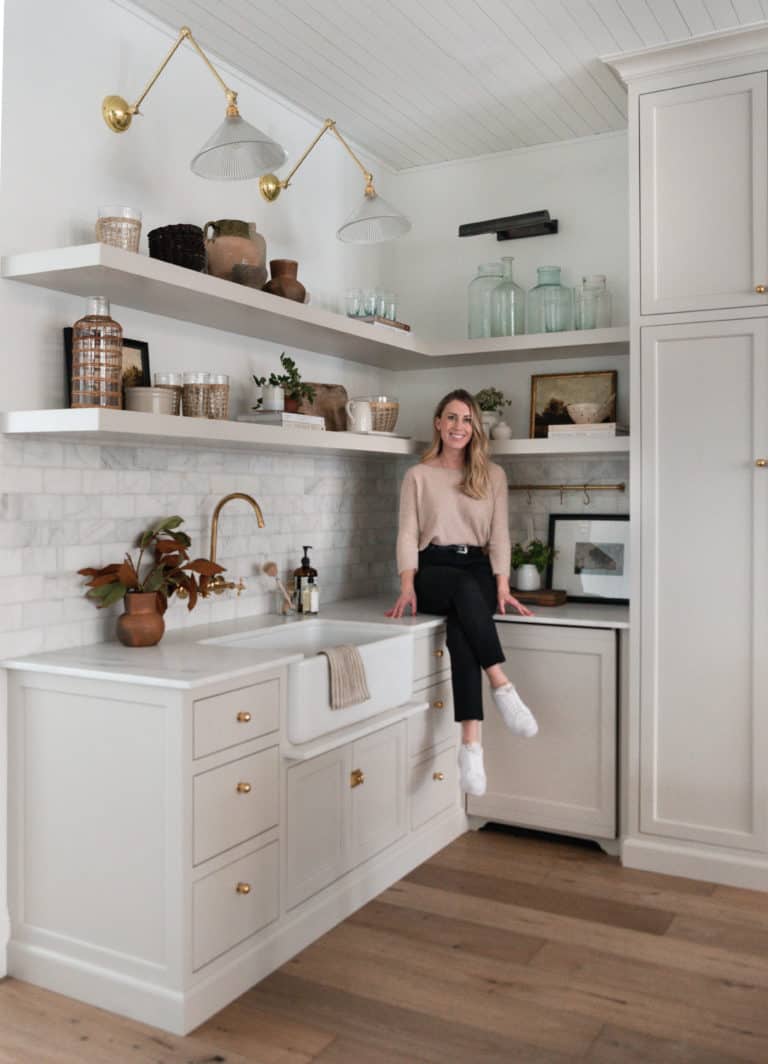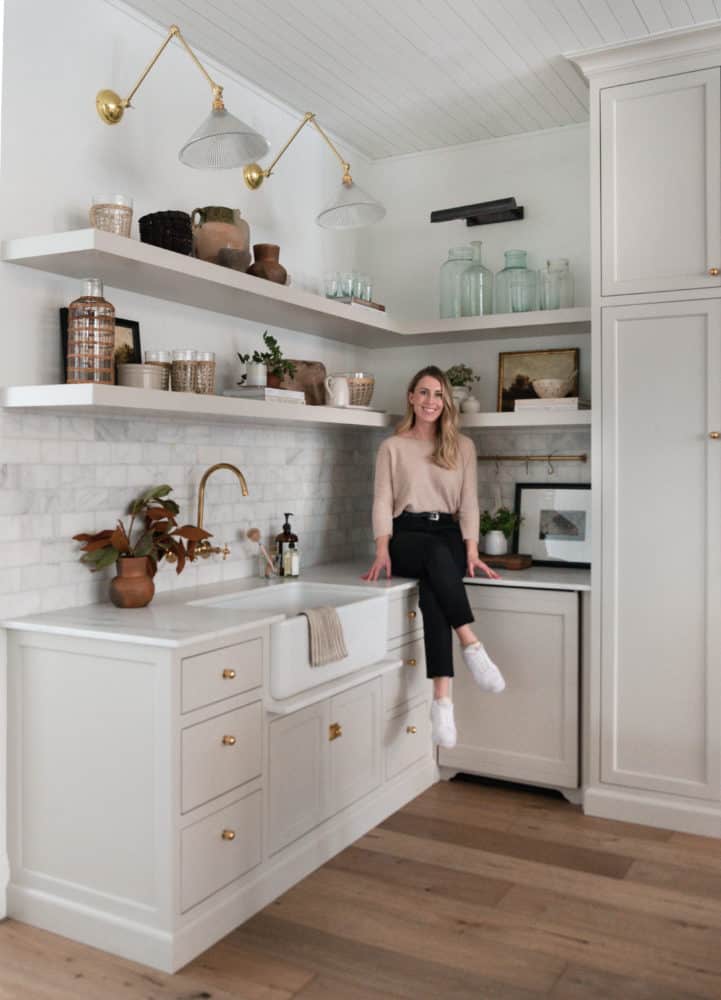 Small Kitchen Design Fundamentals
If you are working in a small space, function is of the utmost importance. Layering elements that can be multipurpose is key. We love utilizing open shelving to display pretty pieces, but also dishes and everyday items. Mix and match new with old for a layered and curated look!
You may ultimately opt for cabinetry (hello storage!), but keep in mind that open shelving will help make the space appear larger, especially if you have low ceilings.
Adding a railing system as we did can serve as a beautiful way to organize everyday items. Below you'll see all of the details of this space, and grab sources for anything you'd like to add in your own home!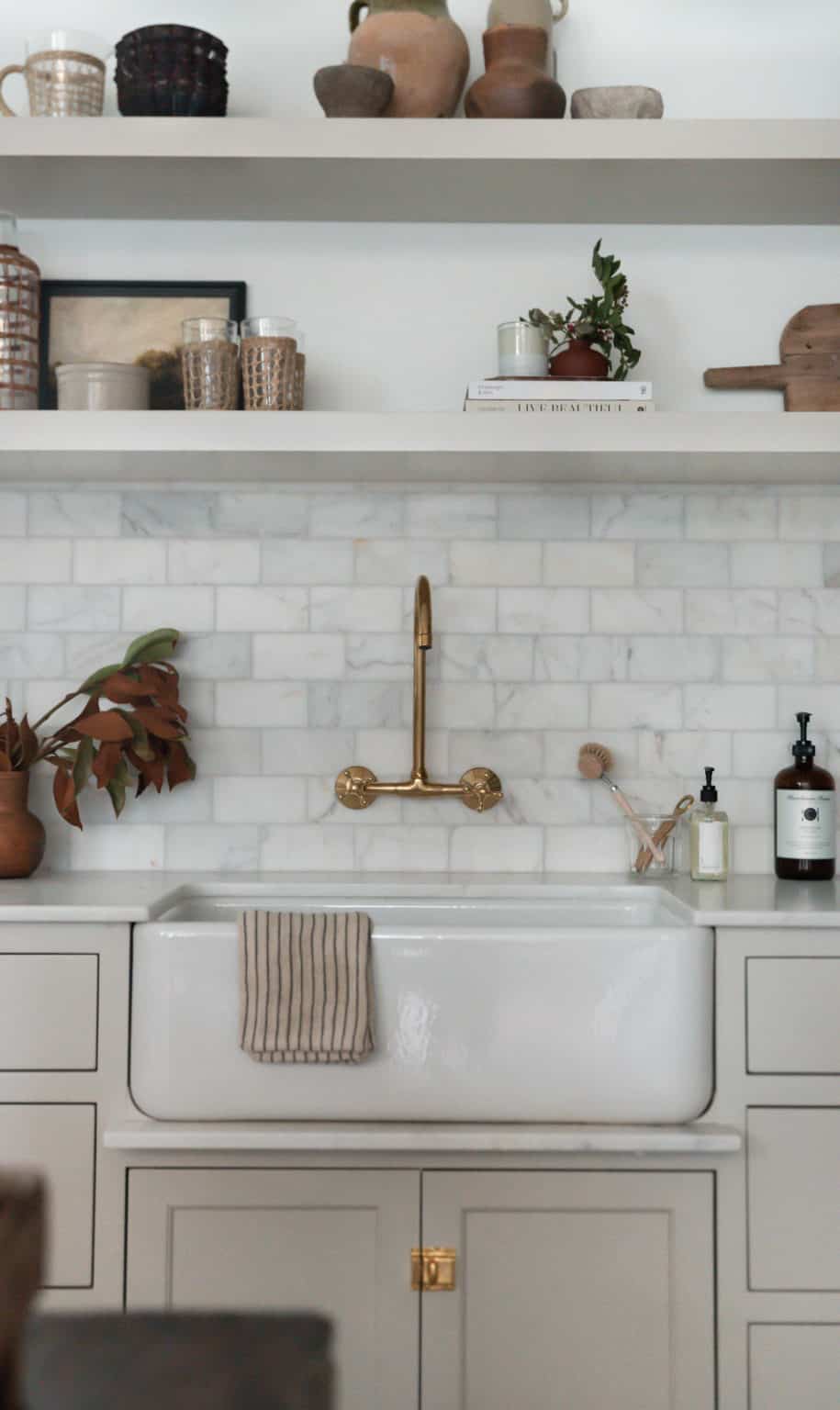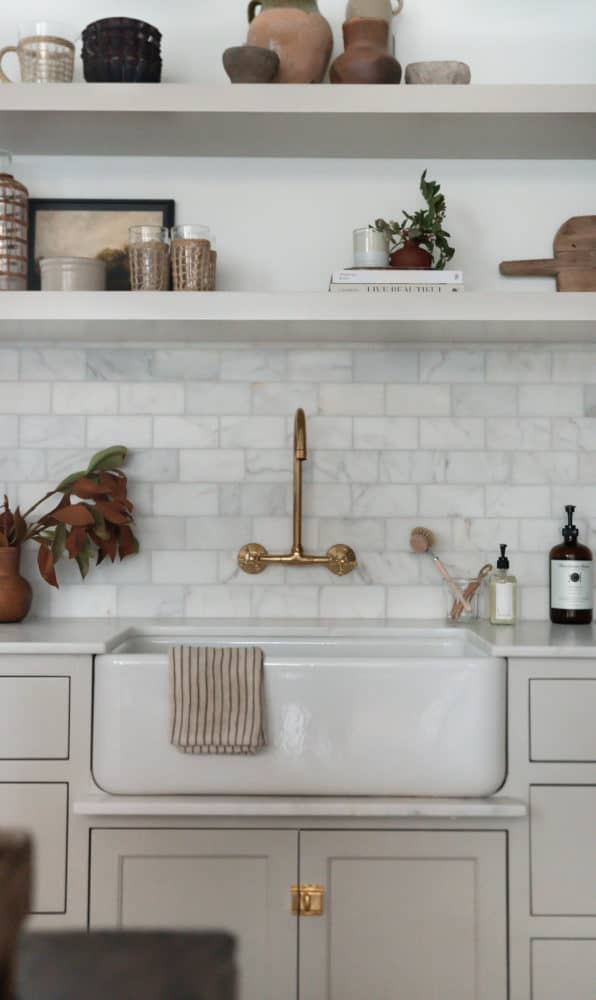 The Farm Sink
For my personal design style, I knew there was no other choice than a beautiful Shaws sink. The timeless elegance of Shaws is unmatched.
One of our values is simplicity, and I love that Shaws sinks are handcrafted, signed by their maker, with a lifetime warranty and Certificate of Authenticity.
It was a total splurge, but I love it so much.
Marble Drip Ledge
You'll also notice the marble drip ledge below the sink, this is a piece of marble slab that we added below the sink to catch water drops. While it is a beautiful design detail, it serves a purpose to preserve the floors from water damage.
We designed the piece to sit under the sink, which needs to be accounted for before templating for the countertop or sink cut. It is about 4″ deep, and the back of the sink rests on another small piece which isn't visible after installation.
I am sharing the images below that show how exactly we did this because I couldn't find examples when we were designing this detail! We engineered it to the best of our ability. It was important to me that the ledge thickness matched the countertop thickness. I think those little details make a design feel very thought through and cohesive.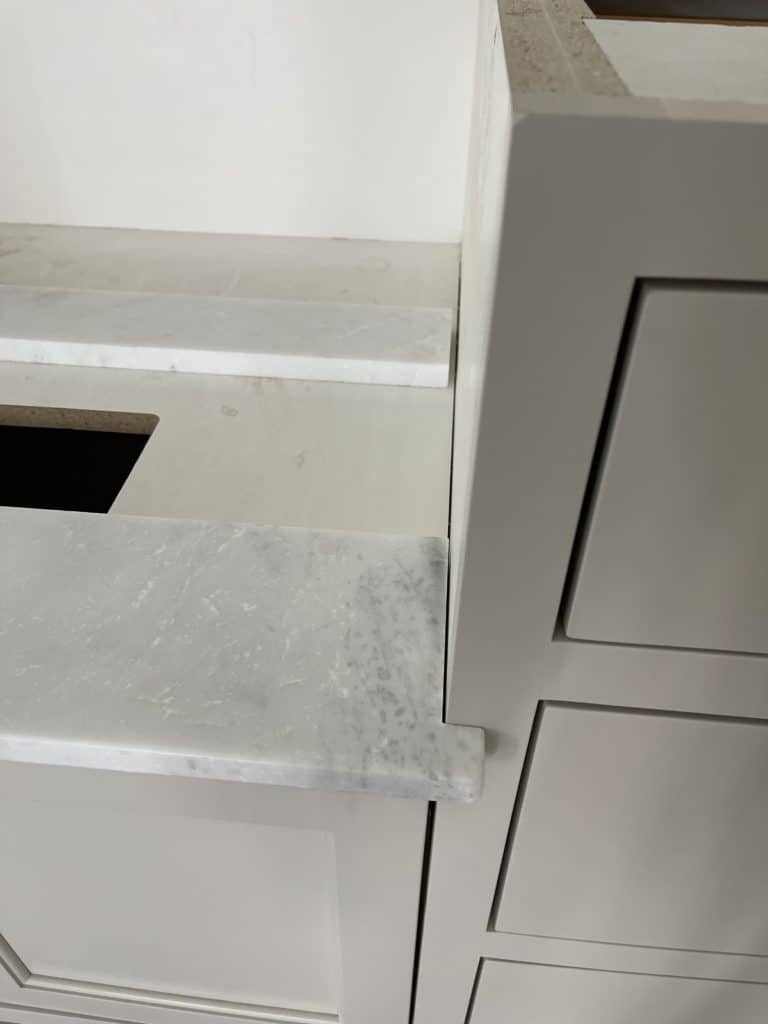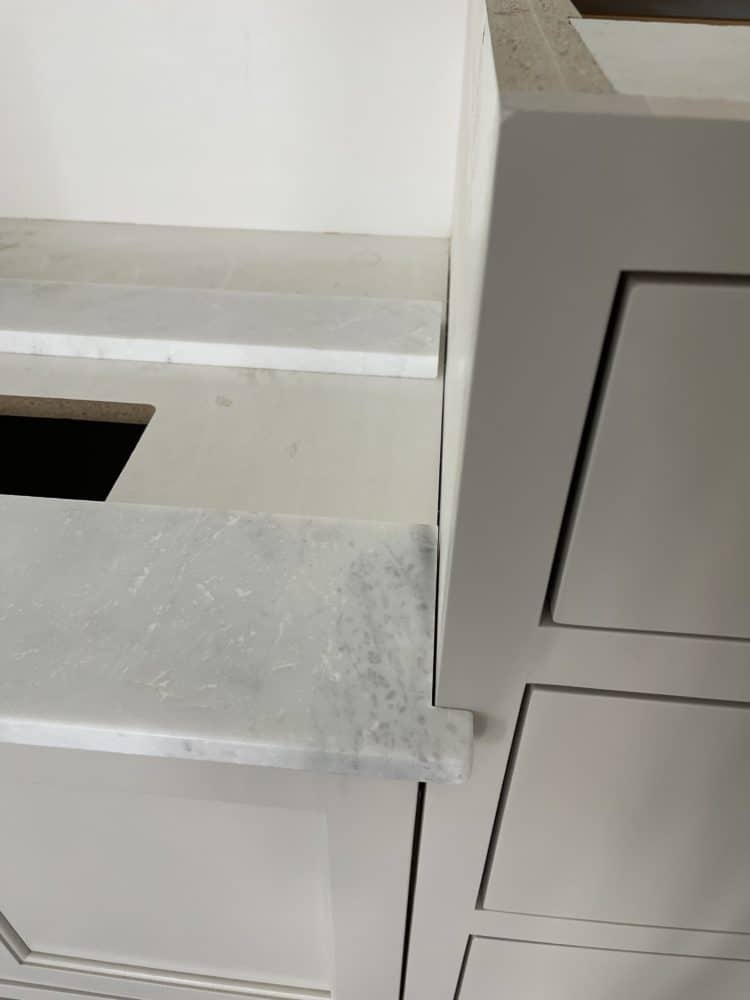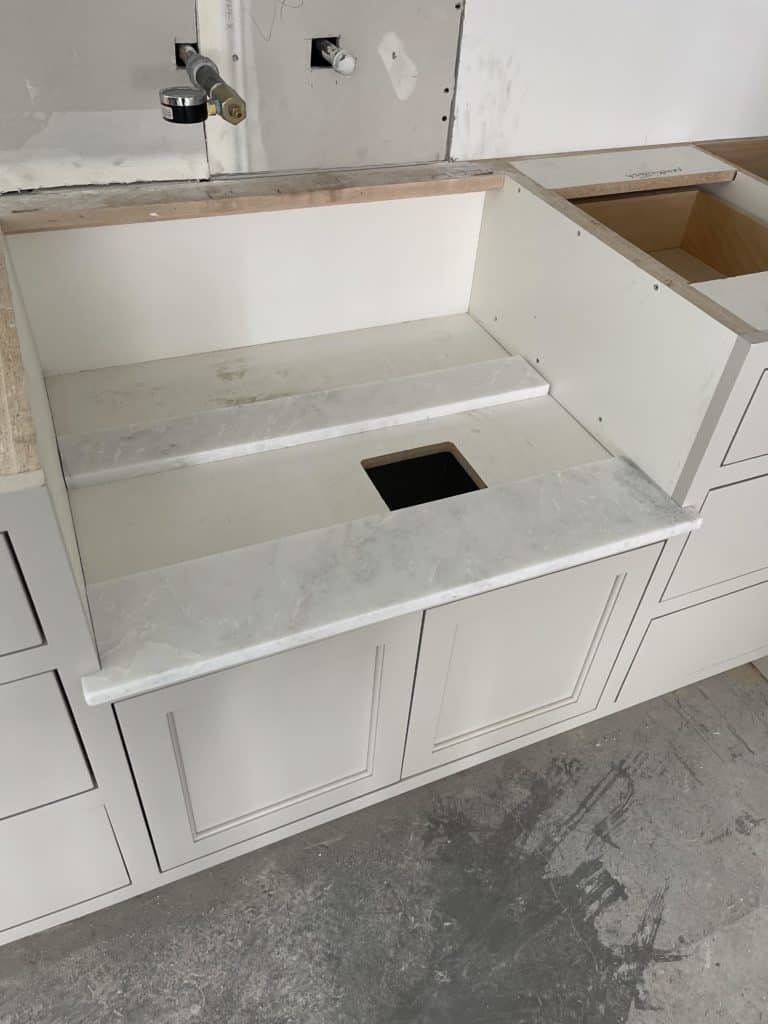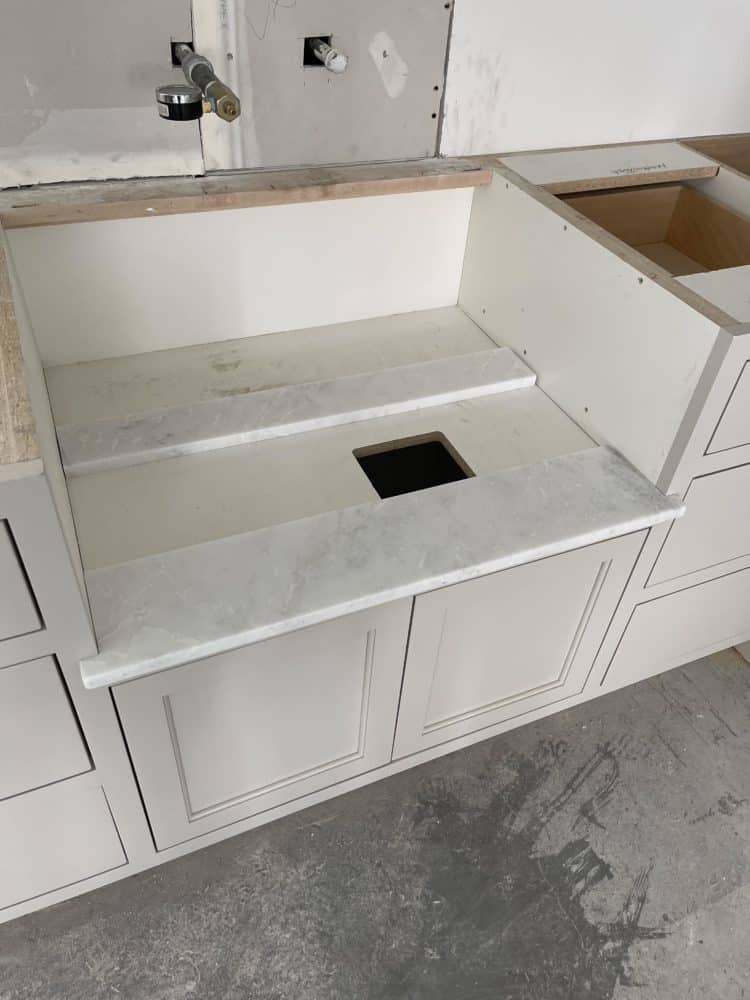 Countertop Details
I am a marble girl through and through. I am not afraid of its imperfections (read more about my concrete countertops). I have pieces of decades old furniture that show gentle imperfections from use over time. We went with Glorious White from Bedrosians, a favorite light colored marble – we wanted something simple.
The marble is also sealed, and will be yearly, to help preserve it and prevent stains.
We also opted to have the slab placed directly atop the cabinetry. This means there isn't a subtop, and the edge of the cabinetry is not laminated, so it appears as a true 2cm piece. You can do this with either 2cm or 3cm countertops, but it isn't recommended on an island as the support of a subtop is necessary.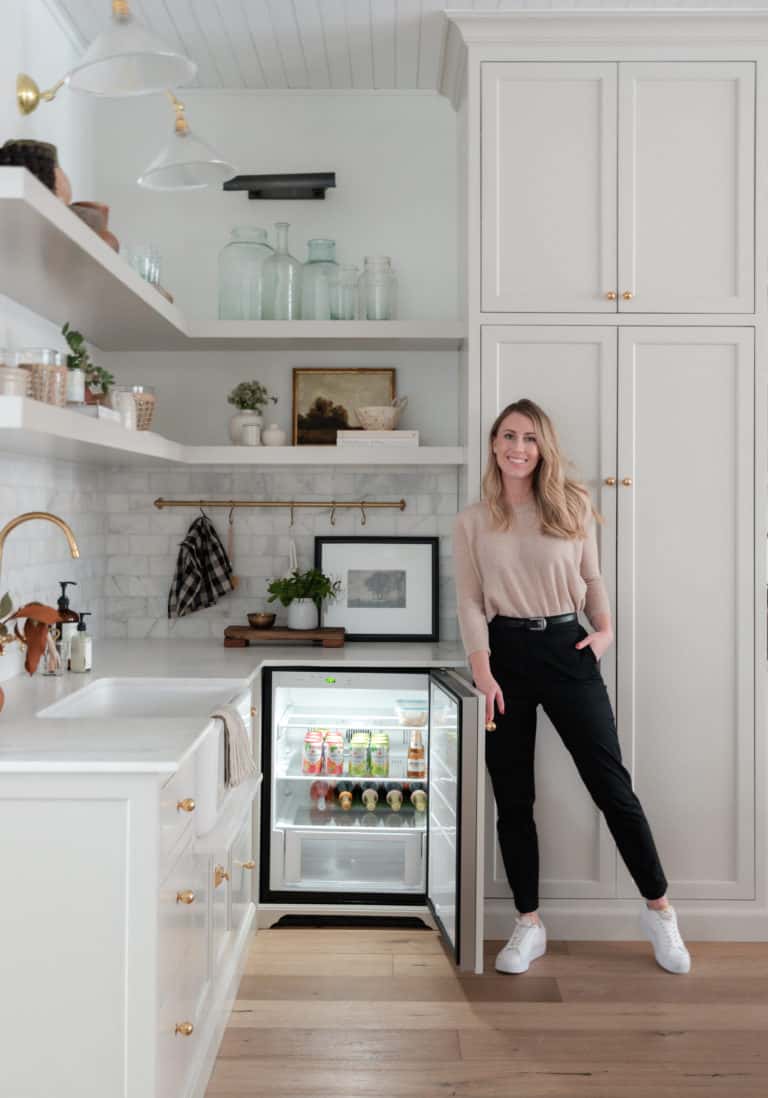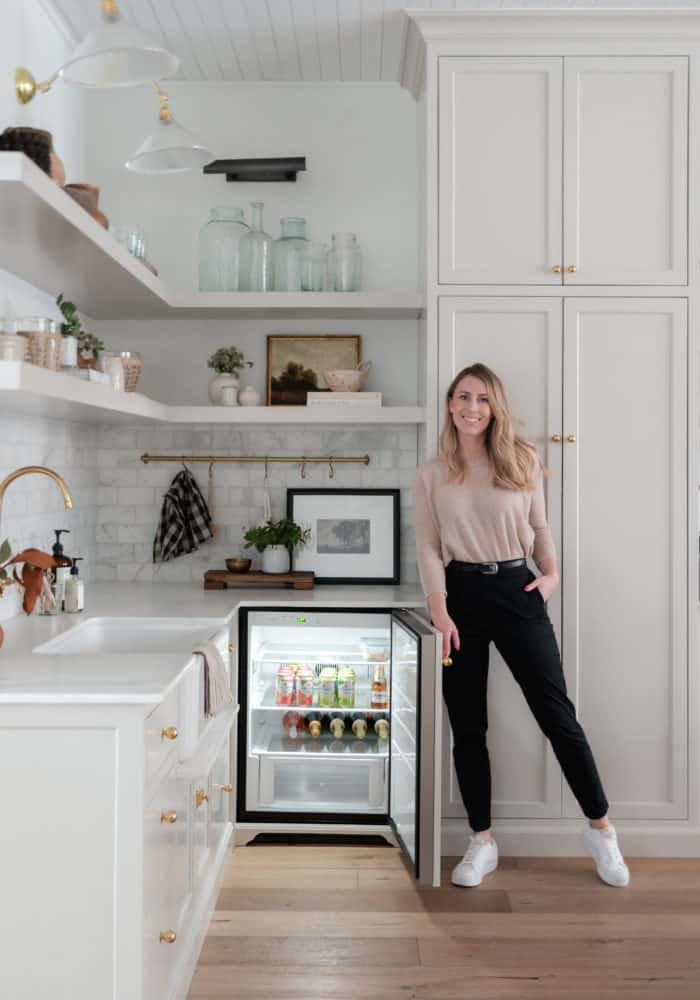 Panel Ready Refrigerator
When we were finalizing the cabinetry design, I knew we wanted to tuck away a refrigerator somewhere in the shop for those working to be able to store food, and of course champagne for clients!
I turned to Monogram appliances for their beautiful and functional designs. We selected the Fresh-Food Refrigerator Module, which is perfect for the shop.
The panel ready option looks beautiful, you'd hardly know it's there! We even designed a special toe kick with our cabinetry maker. Isn't it cute?
If you are a design professional, Monogram offers a great trade program which I highly encourage you to check out! If you aren't in the design industry, but are in the market for appliances, Monogram is a go-to for us! Their beautiful designs blend in with any aesthetic, while maintaining function, key in a kitchen.
I love Monogram's ranges, refrigerators, and other products. I personally have a Monogram dishwasher (also panel ready) in my kitchen. I know it sounds funny to love a dishwasher, but it's been such a workhorse. It is an exceptional dishwasher, I recommend it wholeheartedly to anyone that will listen! Ha!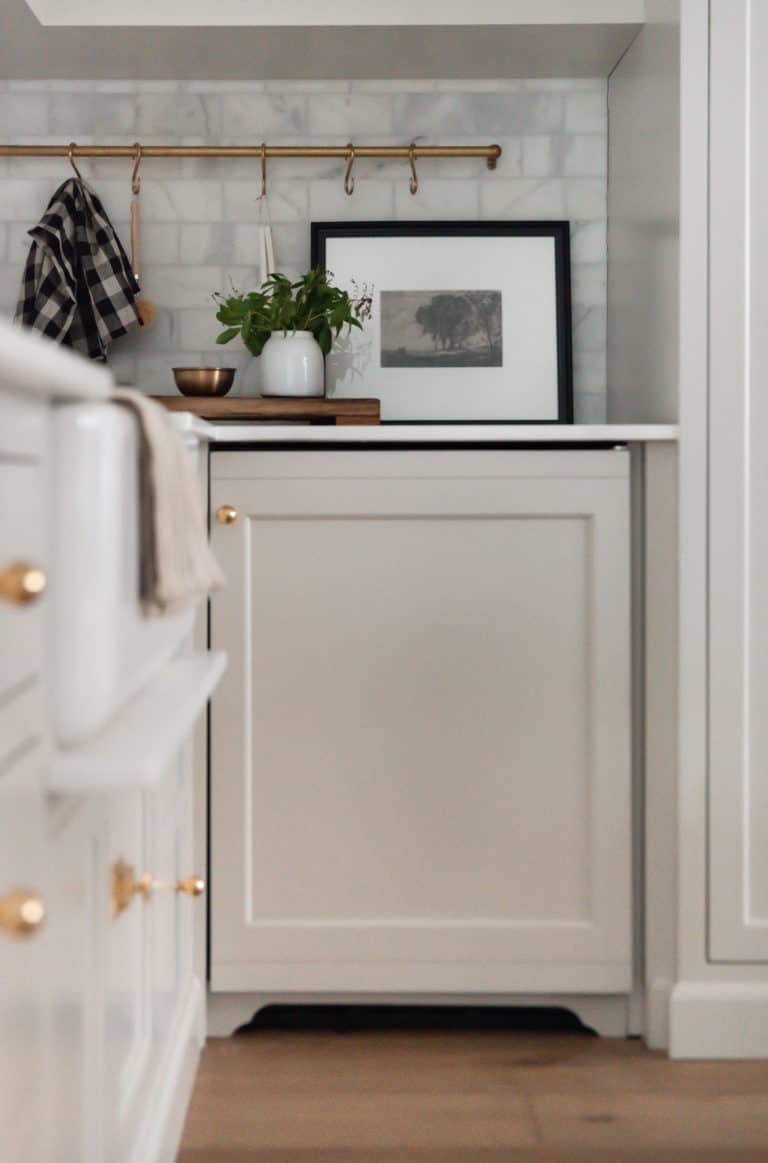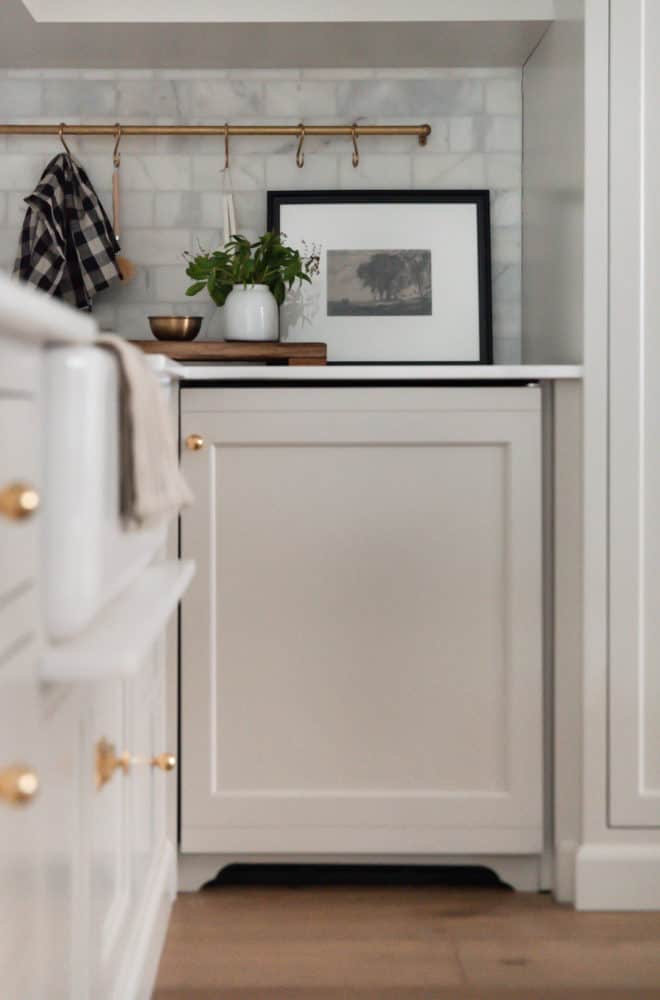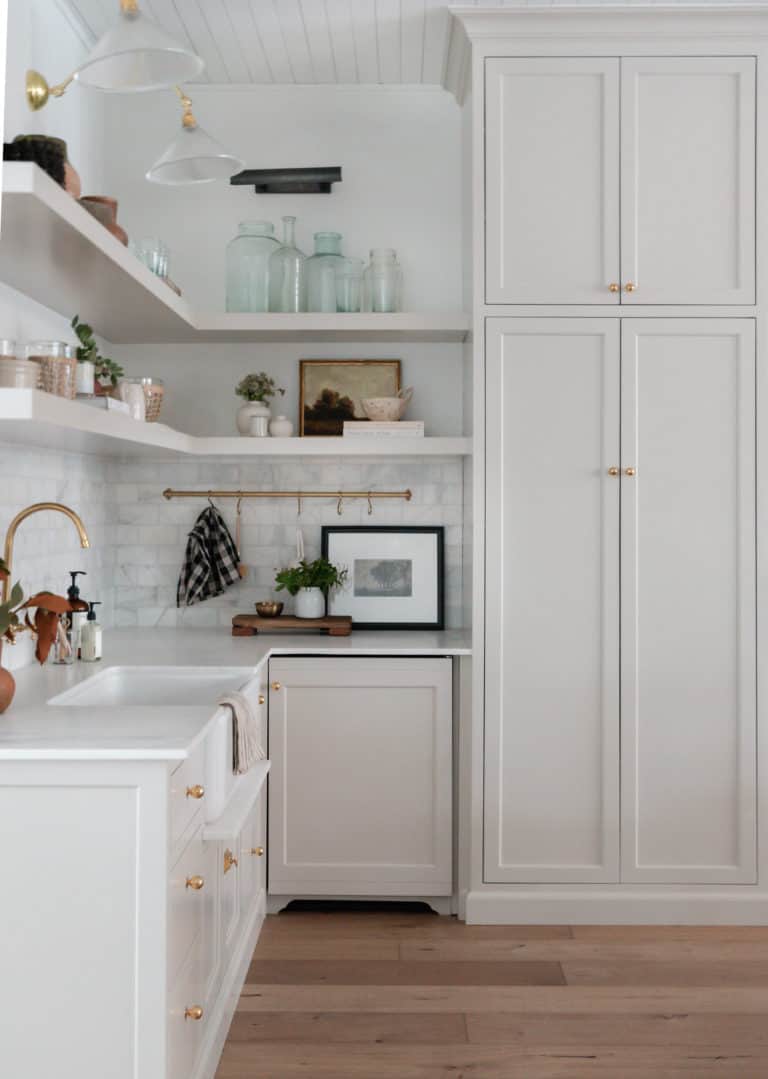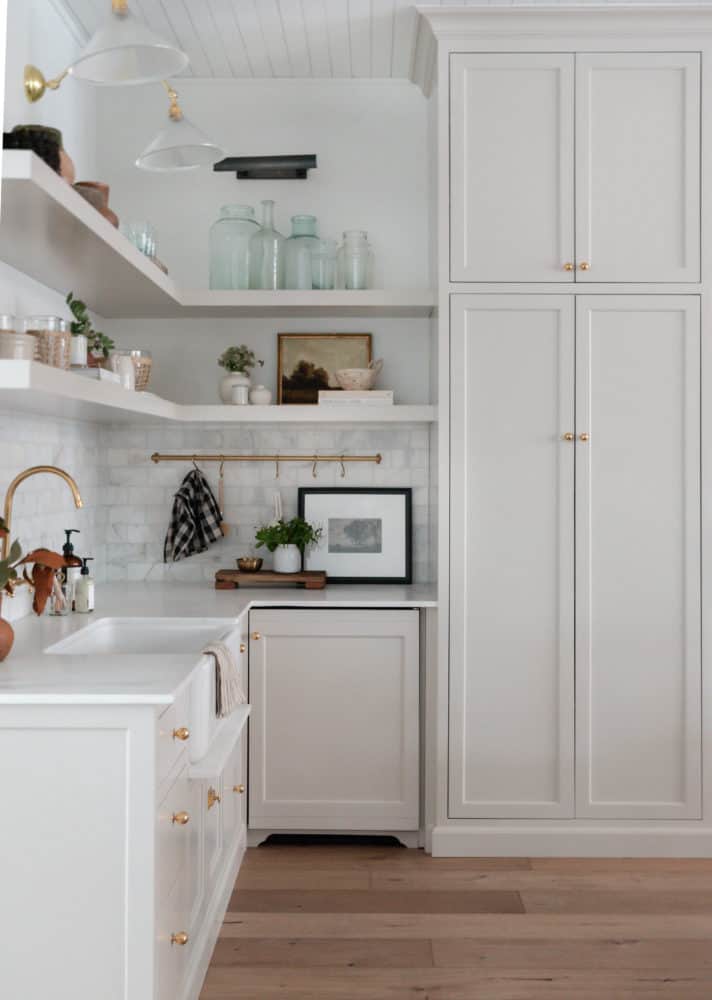 Cabinetry Color
I think we may have discovered the perfect grey cabinet paint color! Not too grey and not too beige, it's the goldilocks of grey paint.
GOSSAMER VEIL by SHERWIN WILLIAMS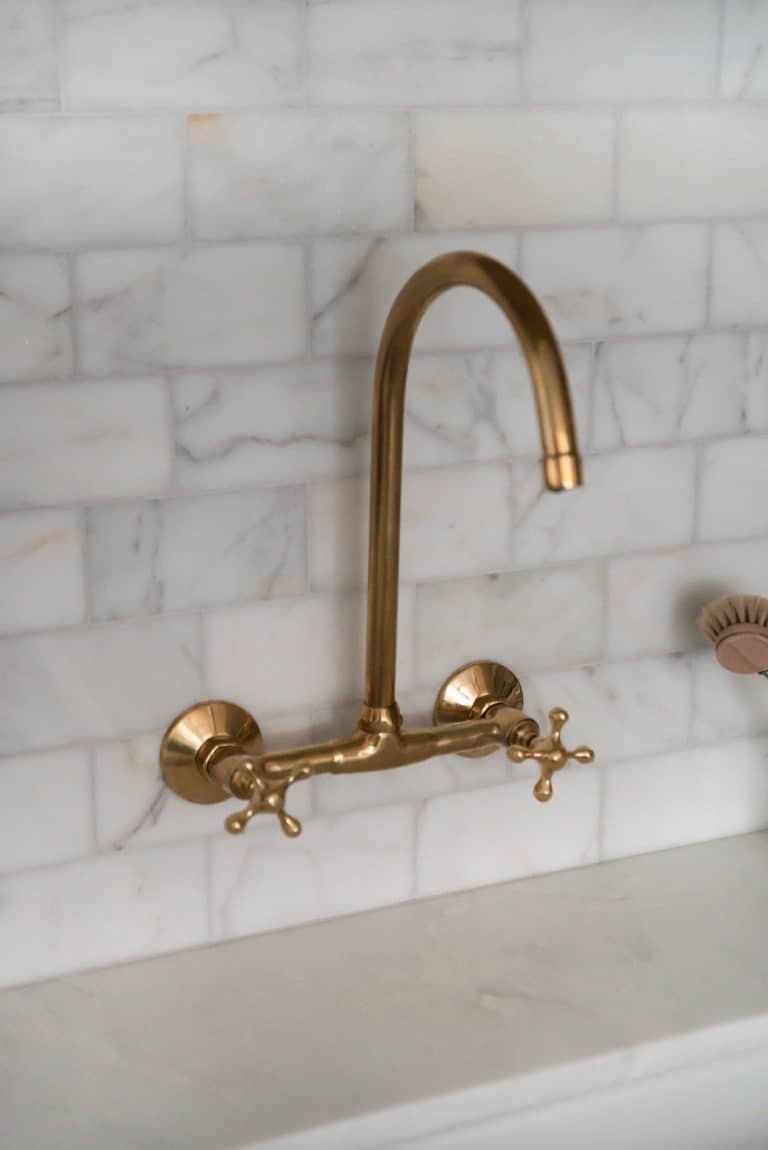 Brass Faucet
We had this beautiful brass faucet custom made from Morocco. I love the handmade nature of it, and that it doesn't feel mass produced.
Tip: You can order this with a side spray, and be sure to check the depth of the faucet / sink clearance.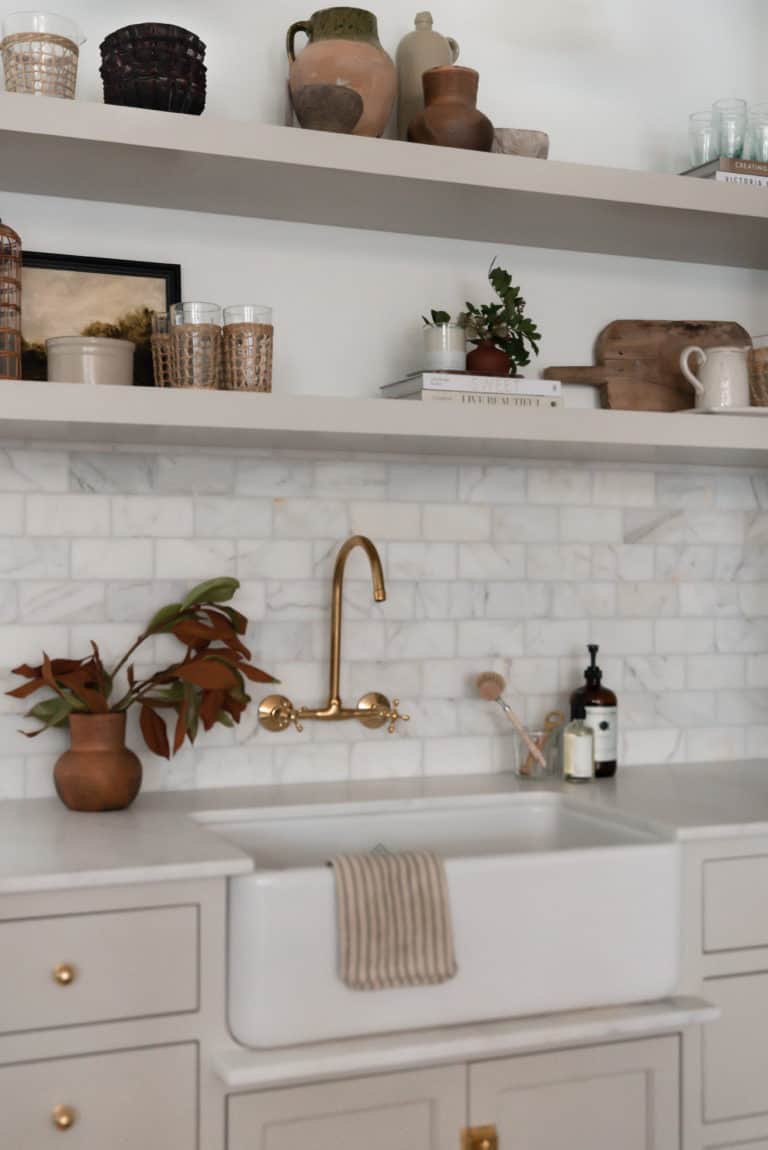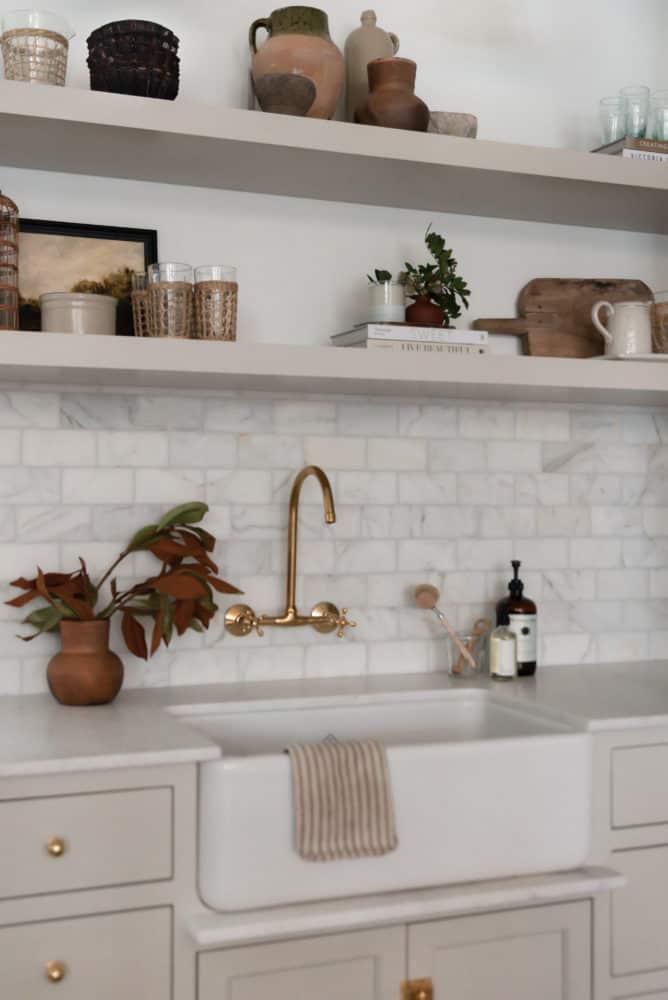 Marble Subway Backsplash
I went back and forth between Cle tile (zellige) and marble subway backsplash. I think both are so beautiful. Ultimately, I felt the marble subway was a touch more timeless.
Frankly, when it came down to it, many designers I love and admire had recently used zellige in their own homes, and I wanted to do something different.
Learn more about picking the perfect backsplash.
---
SHOP SOURCES
Hardware (unlacquered brass) | Knobs, Latch
Marble Countertop: Glorious White from Bedrosians
Brass Lights (available at the shop, call to order)
Picture Light (available at the shop, call to order)
Cabinetry Color Gossamer Veil by Sherwin Williams
---