My Top Rated Cookbooks-Updated
This post may contain affiliate links, please read my disclosure policy.
My top-rated cookbooks for a well-rounded kitchen – from the classics to dessert, and everything in between, here are my favorite books for excellent recipes!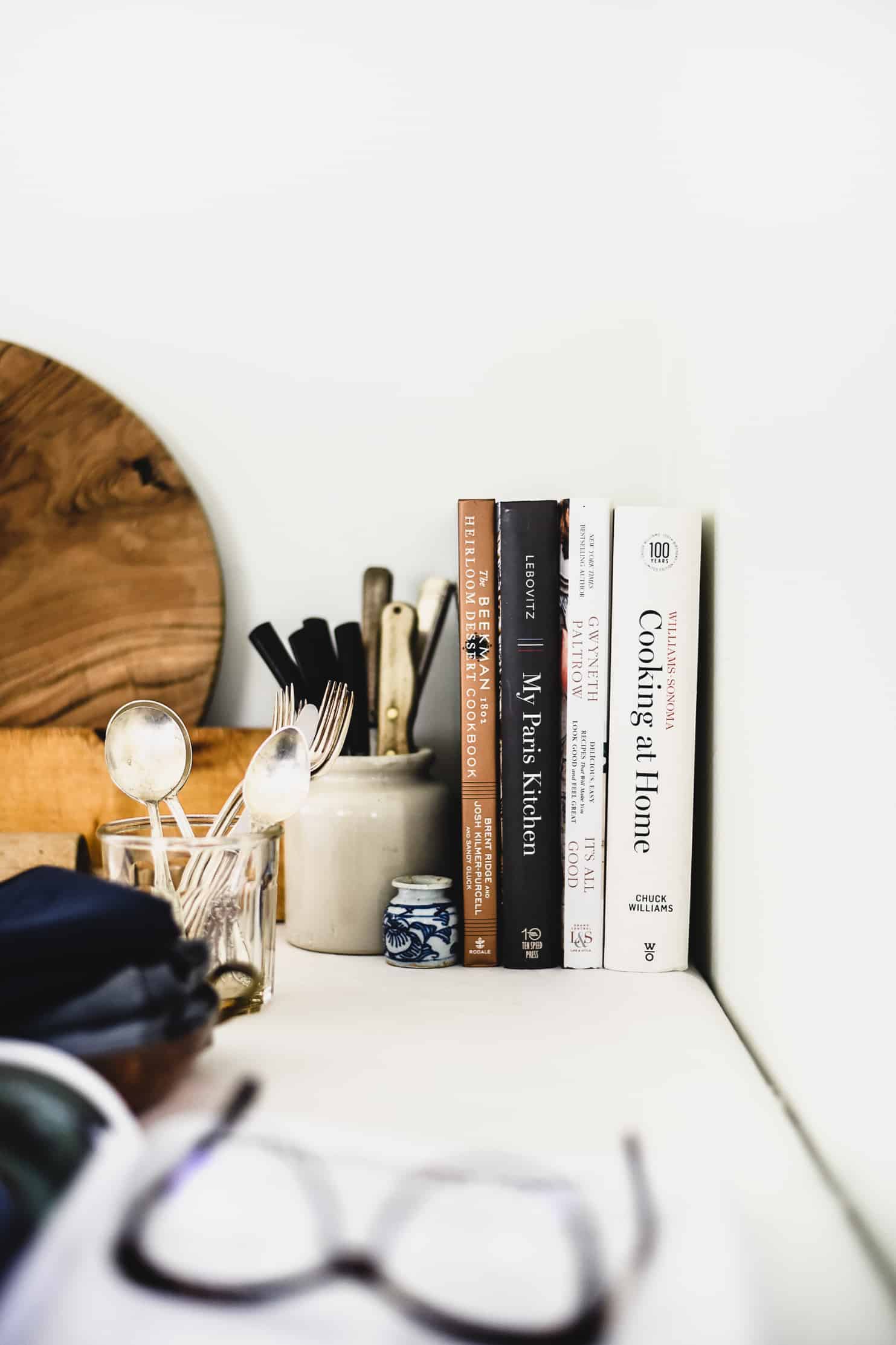 I guess you could say I am a bit of a cookbook fanatic. I absolutely love everything about cookbooks. The beautiful photography, the passion within the lines of the recipes, and the weight of a hardback book in your hands. There are few things better than a beautifully composed cookbook.
For my bridal shower, I asked my guests for cookbooks rather than lingerie, and while I still received beautiful lingerie, I also received a variety of incredible cookbooks. I find myself referencing them on nearly a daily basis, and have discovered new techniques and recipes along with beautiful food styling ideas. Although I could add hundreds to this compilation, I wanted to share some of my very favorites with you. If you find only one to add to your list, I highly suggest Joy of Cooking.
THE CLASSICS
Tried and true, tested and trusted, these are some of my favorite cookbooks for weeknight meals, classic dishes, and traditional recipes. Above all other cookbooks, I find myself referencing these three the most often. Be it a white wine sauce from Joy, or a simple cake recipe from Martha, my kitchen wouldn't be complete without these books.
Roasts features the best traditional recipes for meals like Sunday beef roast or a rack of lamb. It also teaches you how to source and prepare all kinds of meat. This will be a great go to for any special holiday meals for years to come.

AROUND THE WORLD
My favorite cookbooks for food inspired from around the world. I must honor my French heritage here and include Dinner in French, French Country Cooking & A Kitchen in France.
Near & Far is a favorite because it includes recipes from many cultures, and Made in India is a wonderful cookbook for approachable Indian cooking with authentic flavors.
HEALTHY
Some of my most favorite recipes have come from Gwyneth's cookbooks (herbed chicken breasts & avocado salads), and while they aren't always easy (a deviation from the title), they have always turned out spectacularly for me. My roasted carrot recipe is adapted from hers, and most of my favorite dressings have come out of these books.

FARM TO TABLE
Who doesn't love fresh vegetables grown from your own garden in meals? Nothing is more satisfying than eating food you've grown with your own two hands beautifully prepared into a healthy and delicious meal. The Malibu Farm Cookbook is a great resource for that farm to table lifestyle we all strive to have.
From Scratch also teaches you how to make your own pasta, grow your own tomatoes, and even how to make your own homemade cheese like mozzarella and ricotta. You can select from easy or more complex recipes to customize your experience and make a meal you're proud to share with your loved ones.
Cook Beautiful teaches how to artfully plate your food and is organized seasonally. Not only do you you get award winning recipes but it also shows how to create a nature inspired tablescape along with entertaining tips.
DESSERTS
Oh, dessert – I love you. If I could, I would eat sweet sugary cakes and pies all day, every day, for the rest of my life. But, my health gets the best of me, so I try to limit my intake of my favorite meal. I love the heirloom dessert cookbook – it's full of interesting recipes (like s'more potstickers), and the Blackbirds Pie Book is a great classic for pie perfection. Food52's in-house cookbooks are always favorites of mine, and their baking book is no exception. Simple Cake teaches you well, simple cake recipes that quick and easy that you can easily dress up for special occasions or basic for an everyday treat. Sweet features gorgeous and inspirational desserts with unique flavor profiles like fig, and saffron.

A FEW MORE FAVORITES…