Thinking of renovating your house? Here's where to spend your money on renovation projects to see dramatic changes in your home!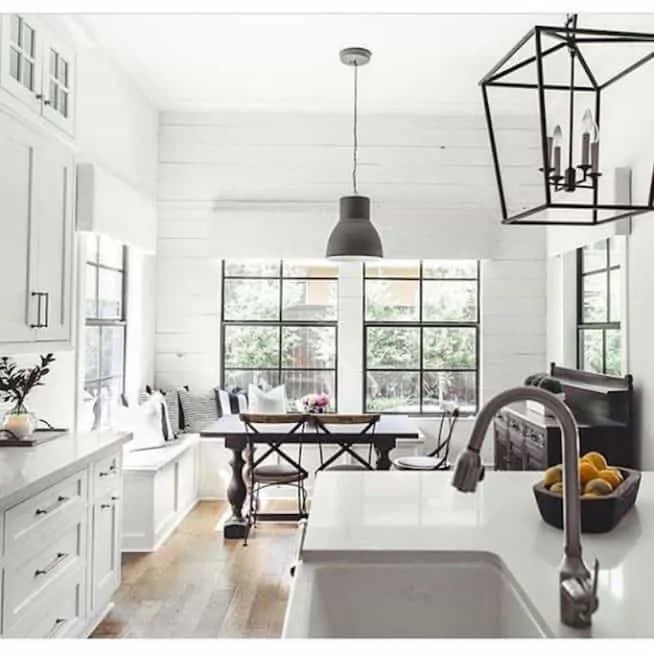 I wanted to write this post to share some of my insight on renovation projects. I think it's fun to watch major renovations of people's homes where everything is swapped out for prettier and newer things; however, we don't always have a budget for a such a large renovation.
If you've saved up a bit of a budget, and you'd like to put it back into your home, this post is all about where to spend that money make a dramatic change.
Of course, a major overhaul of a home is going to look great, but what do you do when you don't have a giant budget to complete the renovation of your dreams? Where do you spend your money to get the biggest bang for your buck?
I also so often hear that someone really wants to renovate, but just doesn't know where to start, or who to contact! If you aren't in the world of construction and design, a renovation can be daunting and scary, but it doesn't have to be!
Updating your home doesn't have to include major architectural changes, you can work in a strategic manner to update what you currently have! For example, our dining room still has old, dated windows & trim, but a fresh coat of paint and beautiful drapery hide them wonderfully; an inexpensive fix!
Keep in mind I am writing this post in terms of aesthetics, not return on investment. Kitchens & bathrooms are always a great investment for adding value to your home, but what if you want to spend a bit of money on your home just to make it more 'you'?
I love the pop of color in this bathroom from Kate Marker Interiors. Even though I am a fan of neutrals, color can be used throughout a home, and using it in small spaces like bathrooms is one of my favorite techniques!
No. 1: Paint
Paint is a magical magical thing. If you have a small budget for a quick sans construction renovation, paint would be the first update I would suggest! Before we were at a point that we could renovate our home, we used white paint to hide the wood paneling in our living room and entryway. It turns out, wood paneling looks really great once painted, and we decided to leave it in our entry!
I always suggest classic paint colors for the main living spaces of your home: grays, whites, or muted neutrals. If you're updating a small space like an entryway or bathroom, I think you can have some fun with the paint colors – navy, emerald, or slate blue are some of my favorites; wallpaper is a great small space option too! I
f you are heavily against light-colored walls and would like to add some color, Farrow & Ball and Portola Paint are my go-to paint company for classic colors. 
I love the pink we used in our dining room – it ties in so well with our black entryway and white kitchen. Selecting a muted or pastel color is key. Avoid saturated or bright colors, and instead use accessories to add pops of color.
Of course, color is always amazing when done right (see Brian Patrick Flynn's work for example), but I think it has a way of becoming dated quickly. If you are working on a budget, the last thing you want to have to do is repaint in a few years when you're sick of the orange wall in your living room.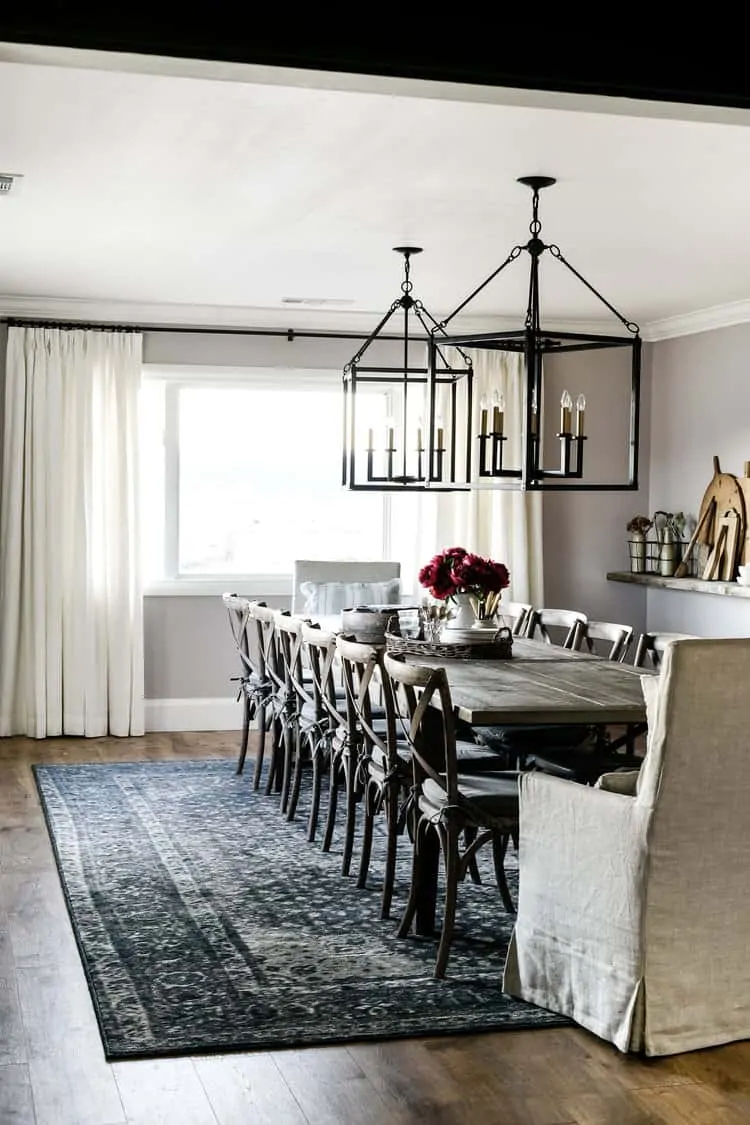 New paint can also be applied to cabinets, dated tile, and linoleum floors. You can hide a lot with paint! If you aren't at a place to renovate a dated kitchen, try painting the cabinets and replacing the hardware.
If the tile is terrible, you can paint it! You can even paint a linoleum floor to make it feel a bit more like home! I truly believe professional painters are worth the money, they will get the job done quickly, efficiently, and it will be done professionally.
I love Behr paint from Home Depot, but I also love certain colors from specific paint brands (ex: Bistro White is Valspar, and as I mentioned above, I love all of Farrow & Ball's colors), so I usually ask Home Depot to color match for me.
This saves me money, and gives me very rich looking colors! I generally reach for a matte finish (semi-gloss for bathrooms & trim) unless I intentionally want something to appear glossy.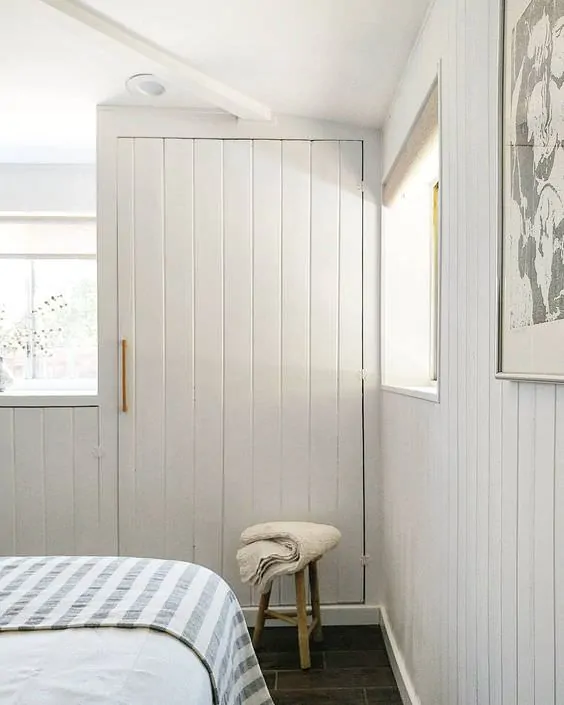 This bedroom is from The Ranch Uncommon, she updated a '59 ranch house that has been featured in many publications. I love the simple paint update on this paneling! Even the hinges look original to the house, I think she simply painted, and updated flooring & hardware. Click the link above to follow her!
No. 2: New Flooring
This is a very costly investment, but new flooring will change your entire home. Replacing carpet with wide plank flooring will change the entire feel of your home! I am a huge fan of wood flooring – wood floors make a home seem crisp and vast!
You can also opt to have current wood floors sanded and re-stained. If you go that route, check out Woca Oil. It is expensive, but their colors are amazing!!! I see a lot of homes with wood floors that contain a very orange undertone, sanding the finish down and retaining with Woca Oil will help update the existing flooring without replacing it!
If you're thinking about replacing your flooring, but aren't quite sure where to start, consider engineered hardwood. It is nicer than laminate (which is what we have in our house), but not as costly as a true hardwood. We recently used this engineered hardwood in a home, and I love the light oak color (2000 SF is just over $7,000).
With that said, we love our laminate, so if laminate is what your budget will afford, go for it! However, looking back, I wish we would have gone with engineered, simply because I know our floors are laminate…you probably wouldn't be able to tell unless I told you though!
Be sure to order lots of samples and google lots of pictures if you're going to order wood sight unseen! Also, be sure to have a professional install your new flooring. Having someone know where to add detail cuts (ex: stairways & fireplaces) is a very nice touch! See Studio McGee's post with their hardwood flooring favorites.
No. 3: Baseboards
New baseboard make a world of difference in a home. Once you've checked painting and flooring off your renovation list, baseboards would be my next investment. This is especially true if your current baseboards are short, scuffed, or dinged.
This is a large investment in your home, baseboards are not cheap. However, new baseboards are a luxury that is seen throughout your entire house. I always tend to select a very thick baseboard because I feel that it elevates the design. Somewhere around 6″ is my ideal! Typically you wouldn't select something that tall if you have 8 foot ceilings, but I am a rule breaker.
You can see what we did in our house below. Even though we only have 8 foot ceilings, we went with 6 1/4″ baseboards. I think they look very intentional and add a sense of luxury. I like a crisp white baseboard in a satin or egg shell finish, Bistro White continues to be my go-to white.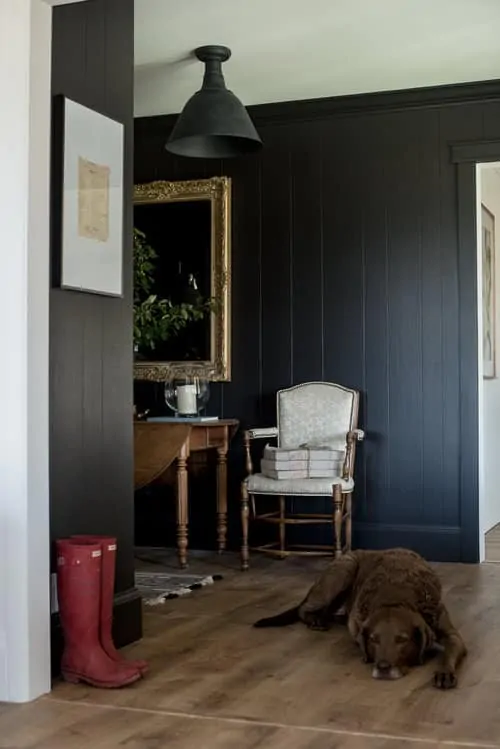 The wall texture here is original form the 60s – beneath the black paint (Midnight Stroll by Clark & Kensington) is orange, shiny paneling. We removed the original slate, and added baseboards & door trim. see more >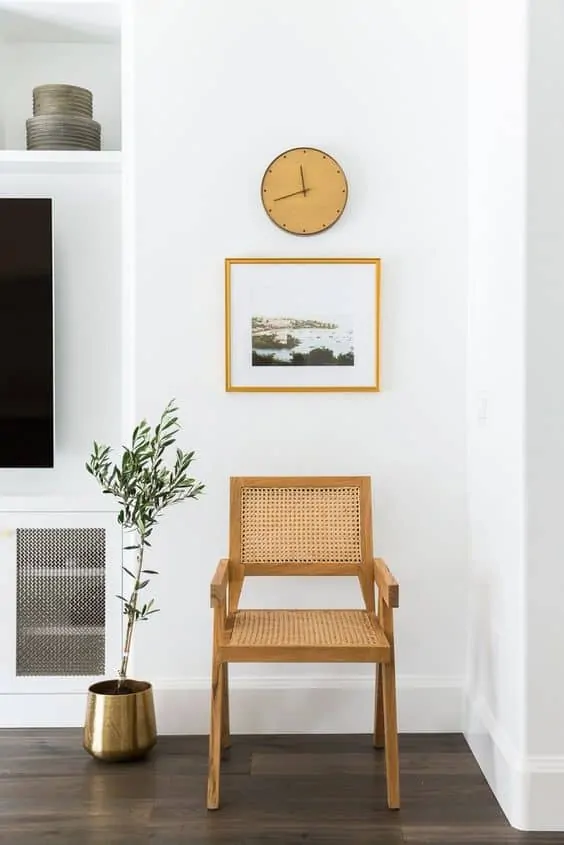 I love the tall baseboards painted white to elongate the walls from Studio McGee.
No. 4: New Doors
So many homes unfortunately have builder grade interior doors that date the house. Sometimes I walk into a house and wonder who selected the doors, and why? Doors are one of those things that we don't think to update, but they make a really really big difference aesthetically.
If you have the budget for new doors in your home, it is an investment worth its weight in gold! New doors will change so much about your house.
I would suggest calling a local door company and asking someone to come out to see if they can order doors to fit in your current jamb to save money. If you are able to replace the doors only (leaving the existing jambs), this project really isn't that expensive – say $150/door.
Your contractor may want you to order pre-hung doors because it is easier for them to install, but that requires them to remove the trim, and knock out the current jamb. It is more budget friendly to have them hang a slab door in an existing jamb. This is why I suggest going through a door company specifically!
I currently love shaker style interior doors, this is my favorite style. This is my favorite farmhouse exterior door at the moment.
Tip: see if they'll cut you a deal if you order everything (doors, hardware, & installation) through them!
No. 5: Trim
Right up there with baseboards is trim. Millwork in general elevates a home instantly. New trim, baseboards, and a fresh coat of paint will dramatically change the feel of your home. Especially if you can swing new floors & doors!
A fresh coat of paint on your existing trim can mask a dated design until you can/want to freshen up the trim. Adding crisp door & window trim is a beautiful addition and will make your home look and feel new! Even simple 1×4 or 1×6 trim is a great option.
I also love paneling, wainscoting, and crown molding. In our home with 8 foot ceilings, I have found 5.25″ crown to be my favorite height. I stick with Metrie for our molding because their designs are so lovely – I usually go to my local hardware store and ask them to order it for me, which saves me on shipping!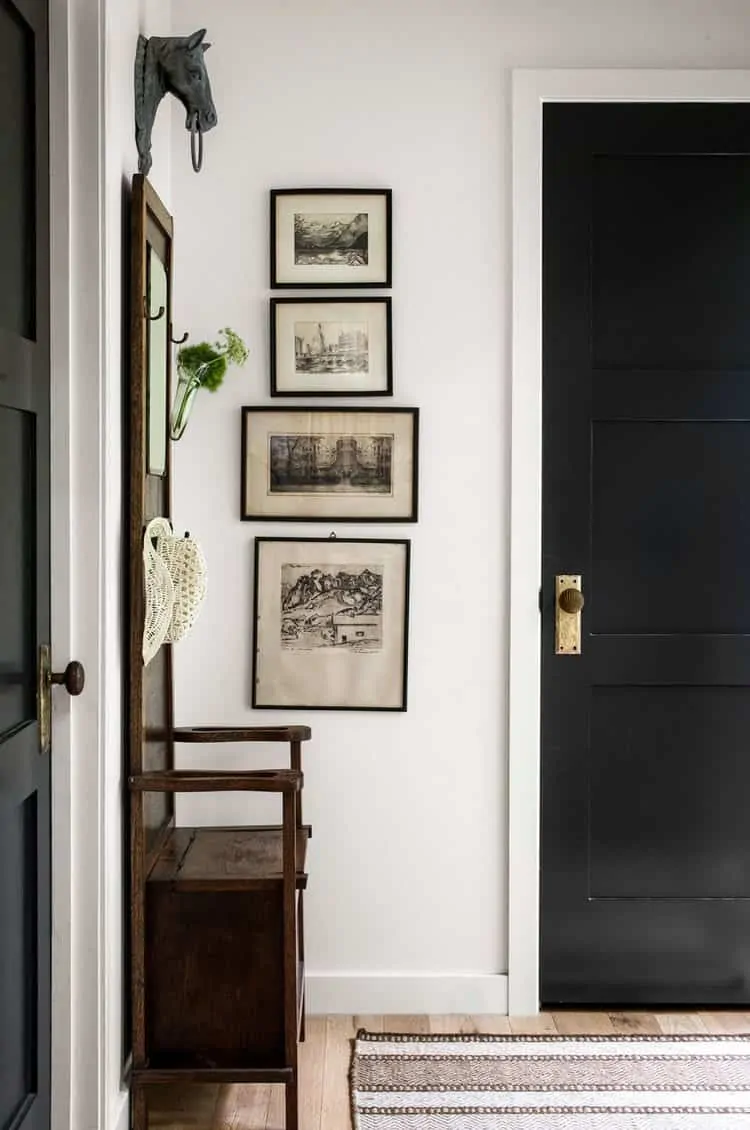 The simple baseboard and trim here is so crisp, and I love the shaker style door with a pop of black! This space is designed by Lauren Liess, via Country Living photographed by Helen Norman.
No. 6: New Hardware
If you have dated cabinets, but aren't quite ready for a brand new kitchen, you can hire a paint company to come spray your cabinets for you. This will not be cheap necessarily, but they will do a quick and professional job that is worth the money!
New hardware is also a great way to upgrade cabinets and doors! I love Emtek products for doors, and I love Home Depot's Martha Stewart collection for hardware. All Modern also has some really wonderful and inexpensive options!
No. 7: Light Fixtures
Light fixtures are a very easy way to update a space without having to spend a ton of money. My favorite way to shop for light fixtures is to head to my favorite splurge sites like Restoration Hardware or McGee & Co. where I spend some time browsing to find my dream light fixture.
Once I've nailed that down, I then hunt to find something similar, but less expensive. I can find a similar fixture for a third of the price nearly 100% of the time! All Modern, CB2, and Lighting Connection are a few of my favorite websites for finding affordable fixtures.
New lighting can make a dramatic change to your home, especially in the case that your home is very dated and has original fixtures!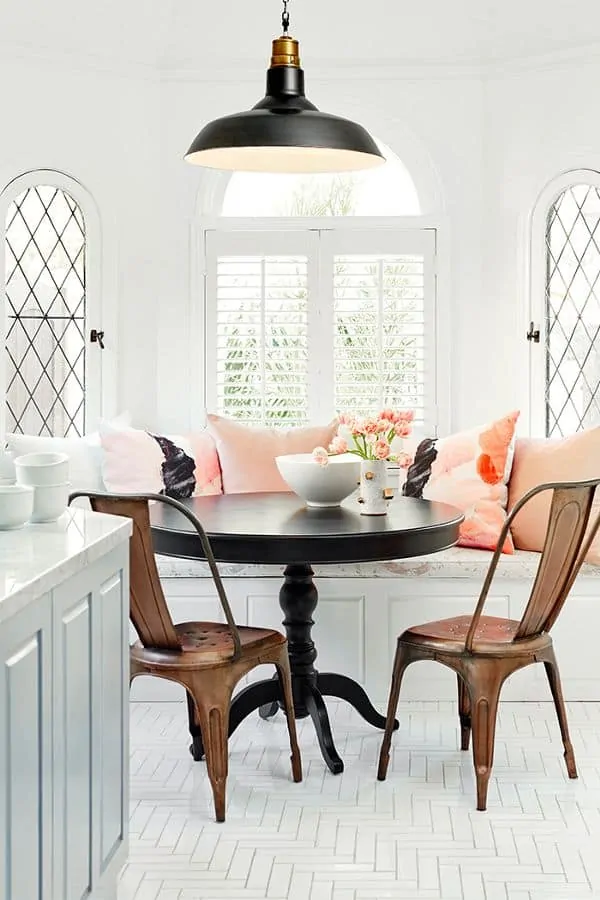 photo by Chris Patey for My Domaine
Fewf, this post turned into more of a book than I originally intended, but I hope you find it helpful!! If you have any questions or tips of your own, please leave them in the comments below! I'd love for you to follow along on instagram & pinterest!