This delicious smoked salmon tartine is beyond simple to put together! Impressive and easy, you'll love this yummy combination of flavors on crunchy sourdough underneath a bed of fresh garden veggies, bonus points if they are from your own home garden!
Our friend and favorite personal chef Andreya from Mortar Pestle Cooking is sharing the recipe with us today, scroll down for the quick and easy steps!
This is a great meal to serve outdoors while entertaining with an assortment of other fun and easy appetizer snacks. Keep the crunchy bread theme going strong with this delicious 3-ingredient artichoke dip or this baked brie. Just add some amazing cocktails to the mix and you have yourself a great little party!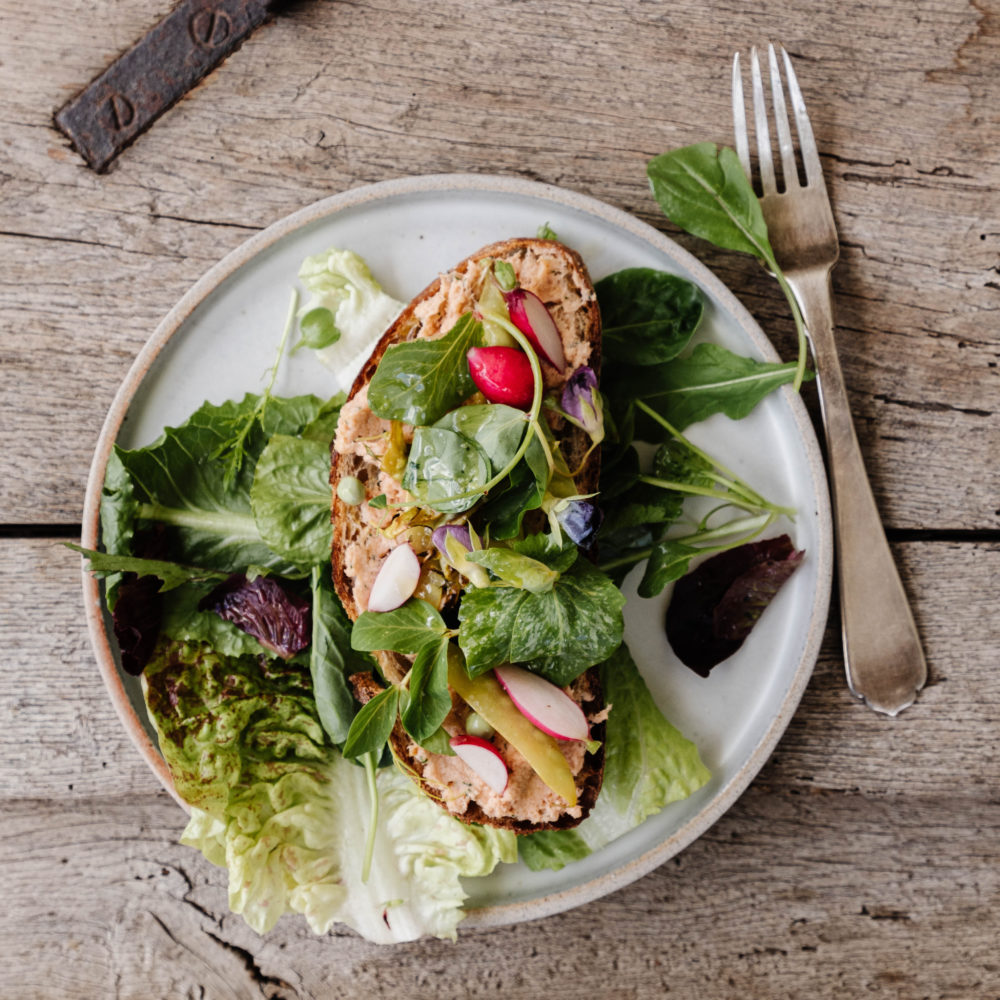 Simple Smoked Salmon Rillette
When I say simple, I mean simple! This rillette only uses 3 ingredients to make a creamy and delicious spread to top a perfectly toasted slice of sourdough bread. All you need is smoked salmon, butter, and lemon zest. You can blend them together using your food processor or a stand mixer until you get a fluffy paste-like consistency.
You can make it in advance and store it in a jar for up to a week in the refrigerator. Or you can make it right before serving in case you don't trust yourself to not eat it all.
Rillettes can be made from any soft and pliable cooked meat such as braised duck or pork but using a smoked or slow-roasted fish lightens it up and makes it much quicker to prepare.
Pro Tip: Adding a squeeze of lemon or a pinch of salt can really help flavor and brighten any meal, make sure to always taste as you cook and add as needed.
A big thanks to Andreya of Mortar Pestle Cooking for sharing this delicious recipe with us, if you're in the Tahoe area (or wine country and beyond) and need a personal chef, she's fabulous! You will love her fresh take on farm to table!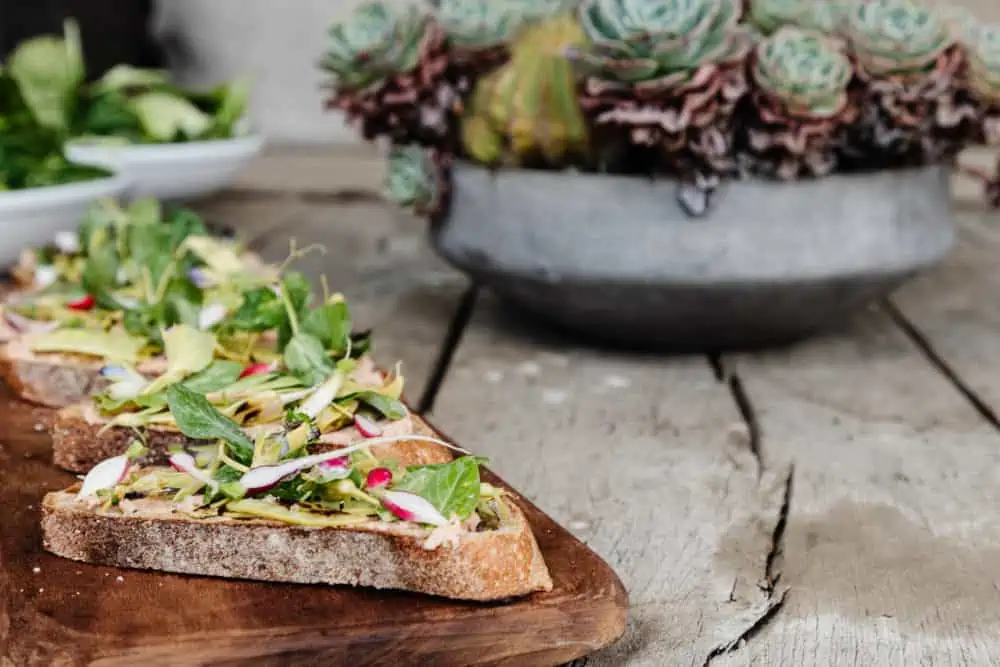 The Secret for the Ideal Tartine
Tartine is the French term for an open-faced sandwich. This might be one of the best ways to eat bread with toppings if you ask me. It's such a versatile meal that you can top with nearly anything.
The key ingredient to making a memorable meal is choosing the best bread possible. A favorite choice is a sourdough made with Khorasan wheat that's fermented overnight to bring out a nutty and wild flavor.
Another trick is to use bread that is a few days old so that you get a nice crunch on the toast while keeping a bouncy center. It's all about texture!
All you need to do is slice the bread about ½" thick, evenly coat it in olive oil on each side, and add a sprinkle of salt then place it on a sheet pan in a preheated 425-degree oven and toast until golden brown, about 8-15 minutes.
Once the bread is toasted, set it out to cool slightly, then spread on the smoked salmon rillette and top with all sorts of fresh veggies and herbs. Lastly, sprinkle on some sea salt and a drizzle of olive oil, and enjoy!
Fresh Greens for Topping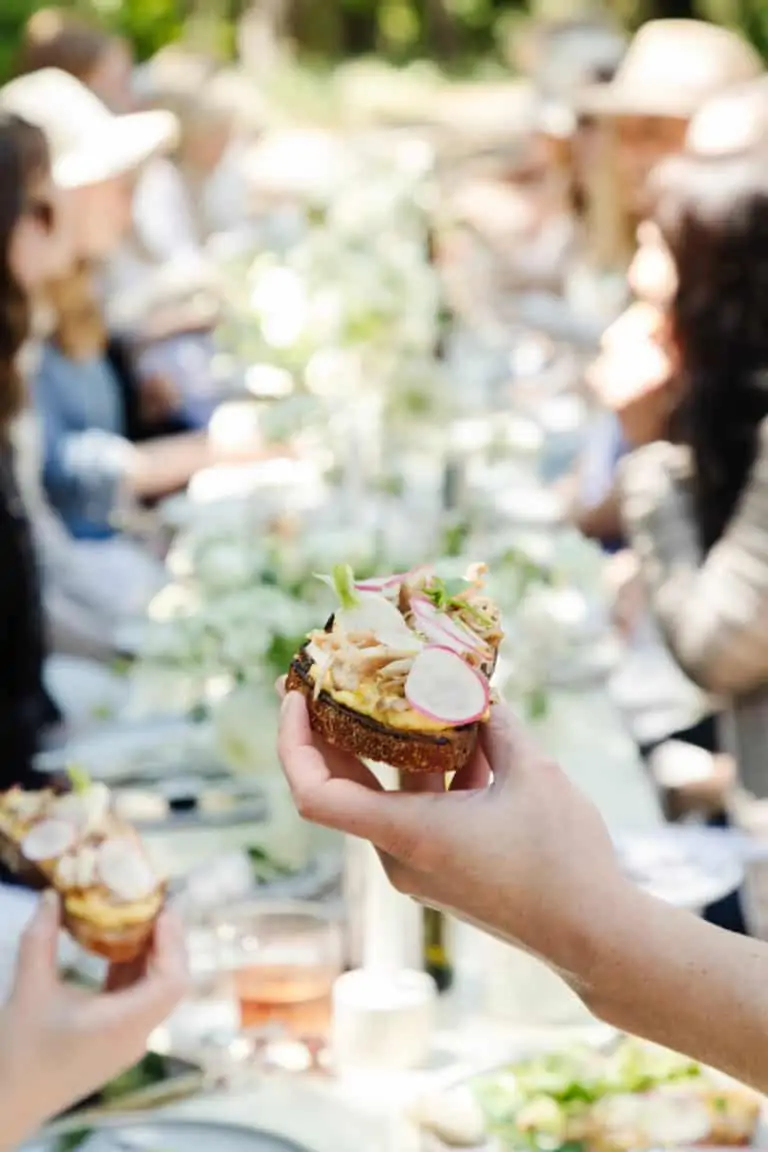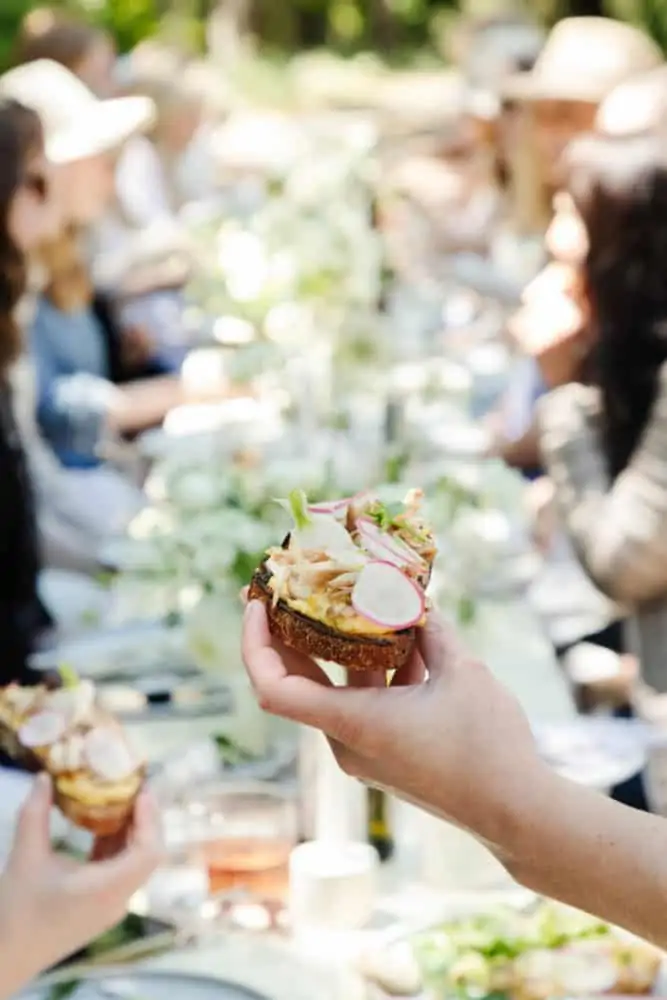 This is where you can get creative and use anything from your garden or the local market that's currently in season. If you're new to gardening and want to get started here's a quick lesson so you can start growing your own delicious veggies and herbs.
A few great options are:
sliced radishes (or you can make these sweet pickled radishes)
pea greens and blooms
snap peas
blistered pole beans
nasturtium
chive blooms
sliced tomatoes
pickled red onions (here is a quick pickling recipe if you need one)
Fresh herbs like chervil, fennel fronds, dill, parsley, and chives are also all great additions.
You can create an "add your own toppings" bar for your guest so they can pick out their favorites to customize their own smoked salmon tartines.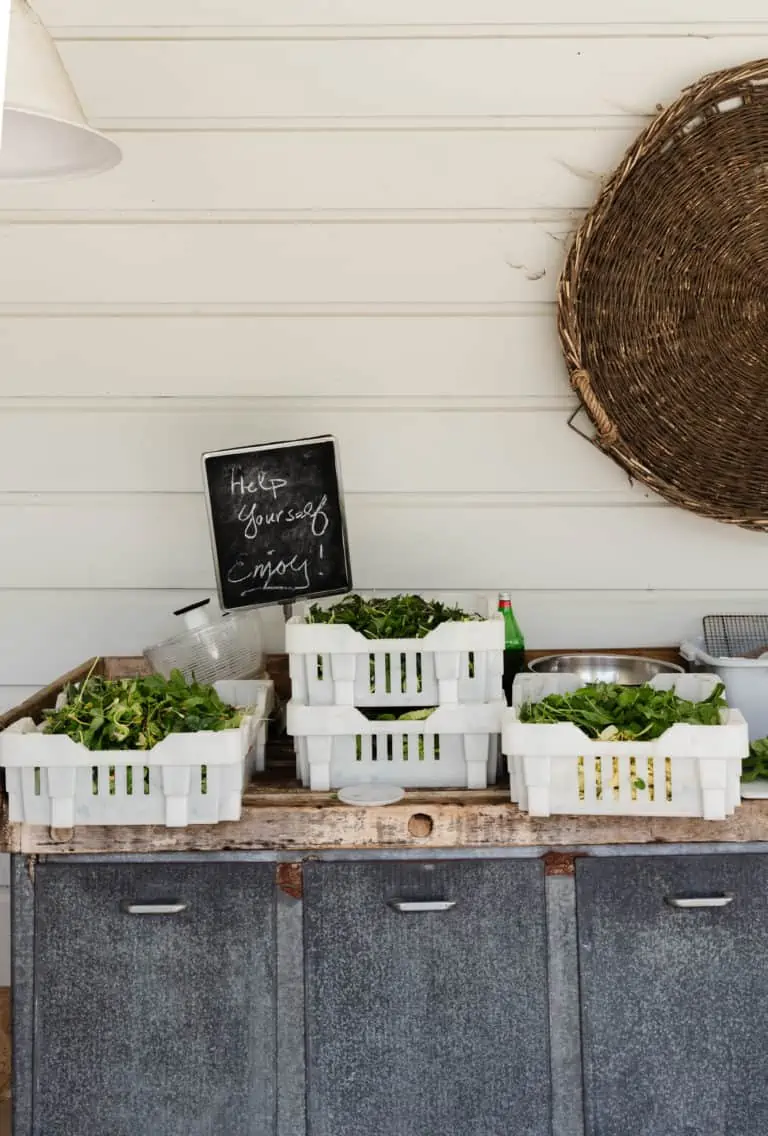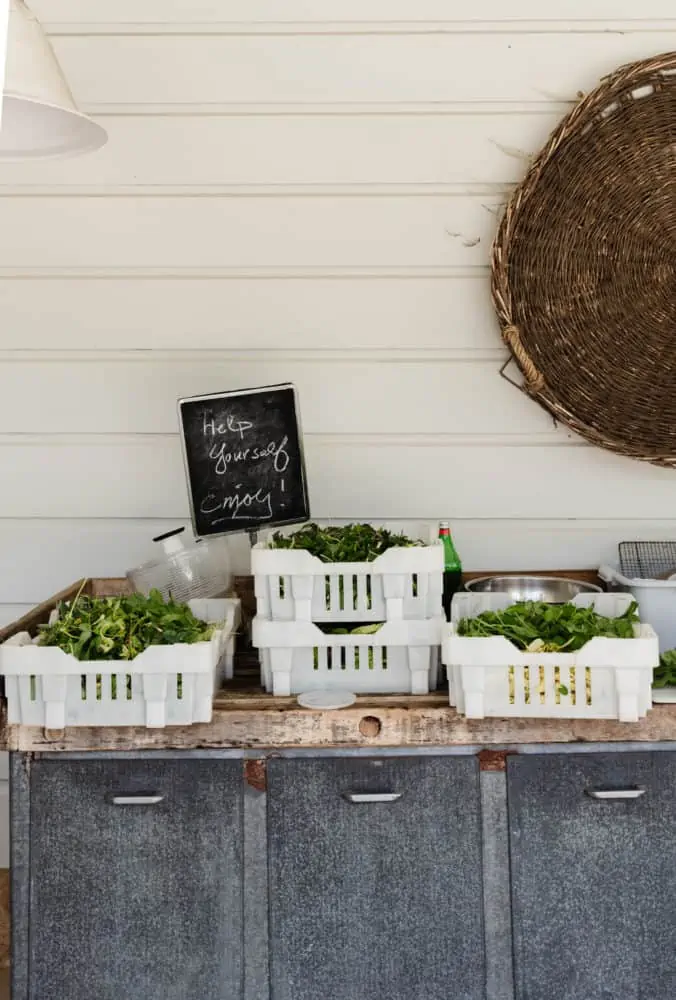 Doesn't this plate just scream fresh to you? It's a great healthy and light meal that's perfect to be enjoyed while dining alfresco with a summer cocktail or mocktail. Make sure to save this recipe for later, you won't be disappointed!
The Recipe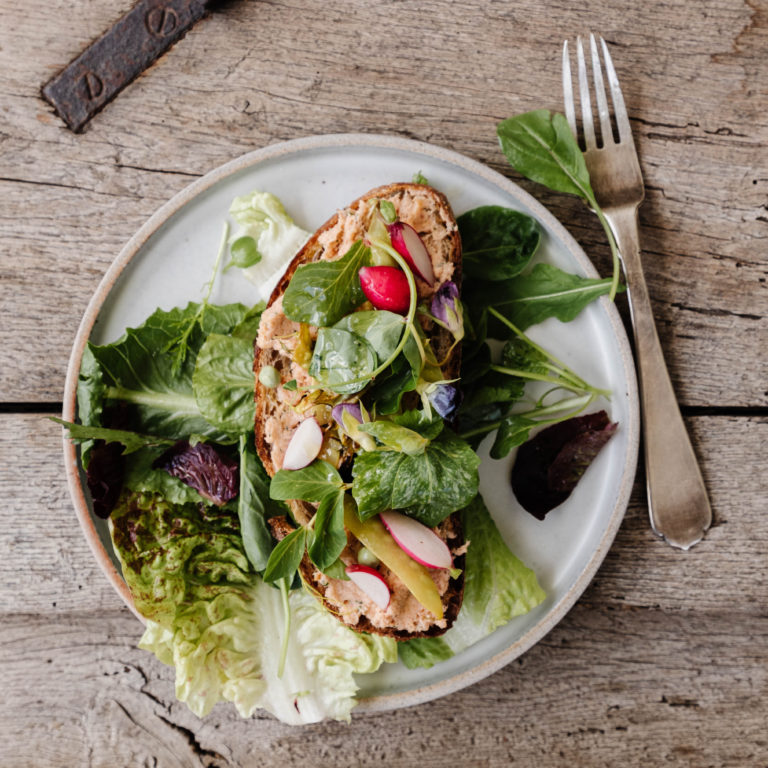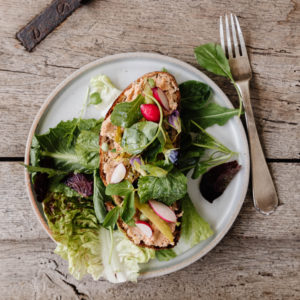 Smoked Salmon Tartine
A simple tartine with a creamy smoked salmon rillette topped with fresh greens.
Ingredients
Smoked Salmon Rillette
8

oz

Smoked Salmon

4

tbsp

Butter

Zest of 1 Lemon

Salt

to taste
Tartine
Loaf of Sourdough Bread

sliced ½" thick

Extra Virgin Olive Oil

Salt

to taste

Fresh Greens/Herbs

for toppings
Instructions
For the Rillette:
You can use a food processor or a stand mixer with the paddle attachment to make this. Add the package of smoked salmon, butter, lemon zest, and salt to taste in the bowl and blend.

If you're using the stand mixer, let it run on medium until the fish starts to smooth out and gets fluffy. If you're using the food processor, let it run for a minute and then pulse making sure to scrape the bowl sides down until it comes together.

It should take about 5 minutes and the end result should look like a paste with some small flecks of meat. Make sure to taste as you go and add salt or a squeeze of lemon. The lemon juice, or any acid, will help brighten the flavor.

Put the mixture into a jar and refrigerate for up to one week if using later, or leave at room temp to make your tartine.
For the Tartine:
Slice your bread roughly ½" thick, if working with a baguette or thin loaf make sure to cut at an extreme angle to make the slices longer.

Coat both sides of the bread evenly with olive oil and a sprinkle of salt then lay them in a single layer onto a sheet pan and into a preheated 425° F oven. Toast until golden brown, about 8-15 minutes.

Let the bread slightly cool on a cooling rack and then spread an even layer of the rillette and top with fresh greens and veggies. Great topping options include sliced radishes, pea greens, snap peas, pole beans, chive blooms, sliced tomatoes, pickled red onion, or delicate herbs (dill, parsley, chives, fennel fronds, etc)

Lastly, sprinkle some flaky sea salt and ground sumac (if you have it) plus a generous drizzle of olive oil on top, and serve.
Notes
Pro Tip: Use the best possible bread you can find (or make!) Your bread doesn't have to be fresh from that day, in fact, bread that's a few days old works best so it toasts up with more of a crunch while still maintaining a bit of bounce.
You can talk to your local seafood department about getting smoked salmon trimmings, they tend to be thicker and can save you some money vs the packaged smoked salmon.