Needing a new bag? This tote bag pattern is so simple! This DIY leather tote bag will become your new favorite accessory!
Tote Bag Pattern for A Handmade Leather Tote
Making your own accessories and clothing can be intimidating, but it doesn't have to be! This pattern is so easy if you are just getting started and a quick project for a seasoned sewer!
Materials for the Leather Tote Bag Pattern
1 yard of leather fabric (or faux leather)
sewing machine
fabric/leather glue
leather needles for your sewing machine (don't skip this!!)
marking pen
ruler
exacto blade (or if you're cooler than me and know how to properly use a rotary cutter…)
painters tape
I bought my leather from a local fabric store, I am pretty sure I used faux leather since it was only about $12/yard.  
Here are some other fabrics I found from the web that I think will work for this project:
Materials for the Leather Tassel
gold or sliver chain & jump clasp
1 'pocket' piece from pattern
scissors
ruler
marking pen
leather glue
Time needed: 2 hours
How to Sew a Homemade Leather Tote Bag
Tape four pieces of printer paper together to form a large rectangle.

This will be your pattern.  Place the edge of your pattern on the fold of your fabric and outline with a marking pen. Cut two 3″x3″ squares on each of the corners on the fold.  This is what will create the bottom of the bag. 

Cut the outlined piece.

Use an exacto blade, or scissors if you're brave, to cut the outlined piece. This is your bag. 

Use painters tape to mark the straps.

I simply cut along the edge of the painter's tape which made for perfectly straight edges.  Cut two straps on the fold so that you really end up with four strap pieces. 

Use leather glue to glue each strap together.

For one full strap, you will use two pieces from what you've cut. Glue the wrong sides together, then sew along the edges.  I used a pretty large margin, and then used scissors to trim the straps after I sewed them.  

Take your 'bag' piece and fold it so that the right sides are together.

Pin each side of the bag, and stitch.  I used a 5/8″ margin, because I liked the look of having a visible seem.  

Pinch together the bottom of the bag (where you cut the little square out of).

Pin so that the two edges are perfectly aligned (it should resemble a triangle).  If you're confused about this step this is a great tutorial on it.  I found that I needed to cut a little bit larger of a square to get the size bottom I was going for, before you sew, make sure you like the size! Once you're happy with the size, straight stitch along the edge. 

Add your straps.

The placement is going to be up to you, try pinning first, and making sure you like the placement.  Once you've decided on a great place, use your machine to sew them on.  I like to backstitch like a mad man on this step so that my straps will hold up to a large load.  I placed my straps on the inside of the bag and straight stitched on either side of the strap, you can't really see my stitching from the photos, but I had 8, 1 inch long straight stitches in total. 

Add a pocket.

If you'd like to add a pocket to the inside, take one of your 'pocket' pieces (save the other for the tassel). On the wrong side of the fabric glue little strips of scrap leather along the edges and one up the center.  

Add a pocket, part 2.

Once that glue is dry, add glue along the edges (on top of the pieces you just glued down), and glue into place inside your bag. 
How to Make the Tassel
How to Make the Tassel
Step 1: Using your other 'pocket' piece and a ruler, mark vertical lines every 1/8 inch. The thinner the lines, the better your tassel is going to look!
Step 2: Cut along the lines, leaving about an inch margin at the top.
Step 3: Use a little scrap piece of fabric to form a small loop and glue it to the top left hand corner.
Step 4: Apply fabric glue along the inch margin, and tightly roll up your tassel! Hold into place until the glue dries.

Step 5: Use a bit of beading chair and a jump clasp, and secure the tassel to the tote.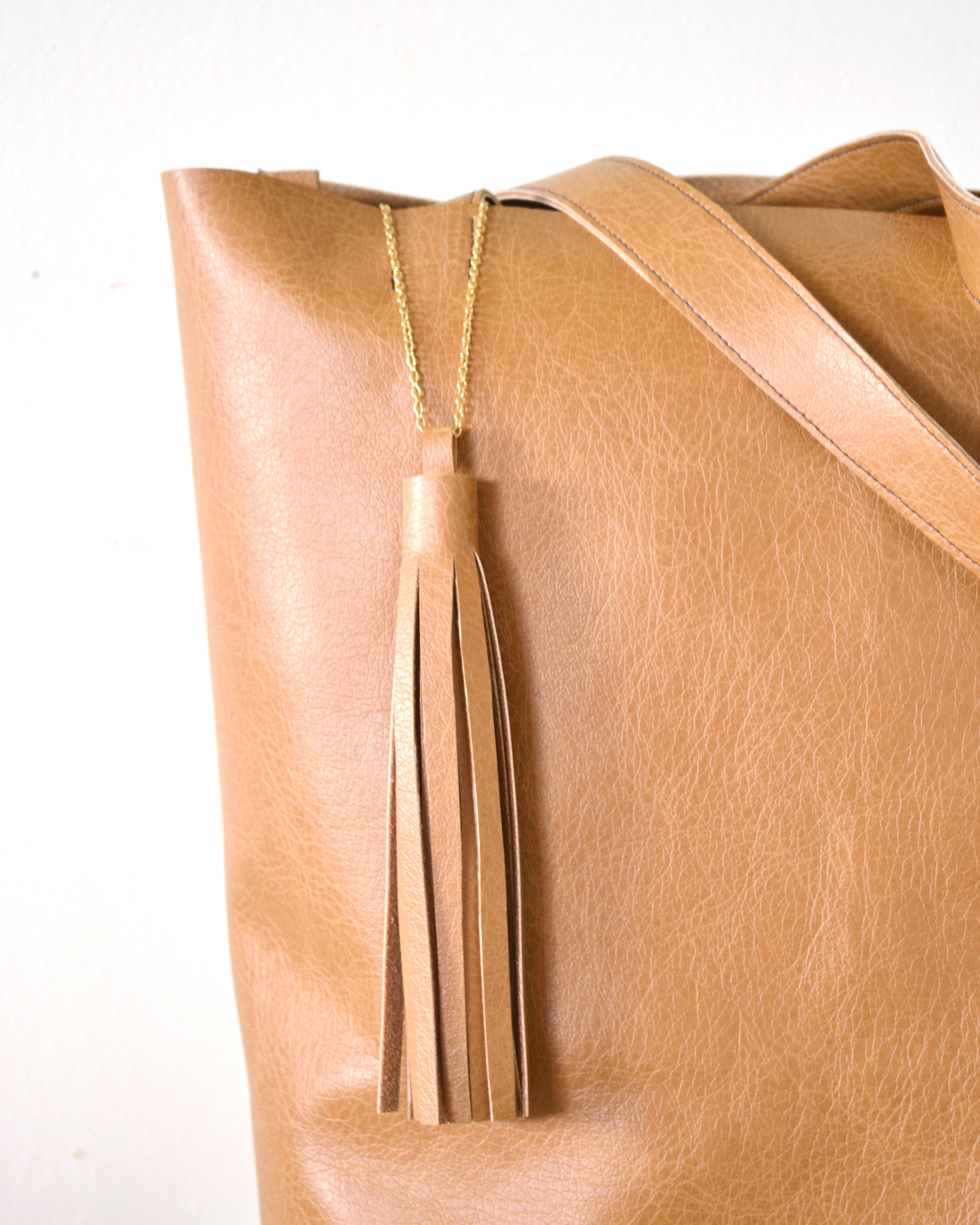 Fewf! I know this was a long tutorial, but well worth it right!? Will you be buying a Mansur tomorrow? Or is that not your style? I'm hoping to snag one of the bucket bags, but if I don't, I am loving this Chloe cross-body bag!
This weekend, I am off to Nashville for one of my best friend's weddings! I finished this bag in perfect time for airport travel. If you have any questions, or if you give this tutorial a shot, tag me in a finished photo! I'm on instagram, twitter, and Facebook!