Easy tips and tricks for creating a beautiful, welcoming fall tablescape with natural elements like greenery, veggies, and simple fabrics.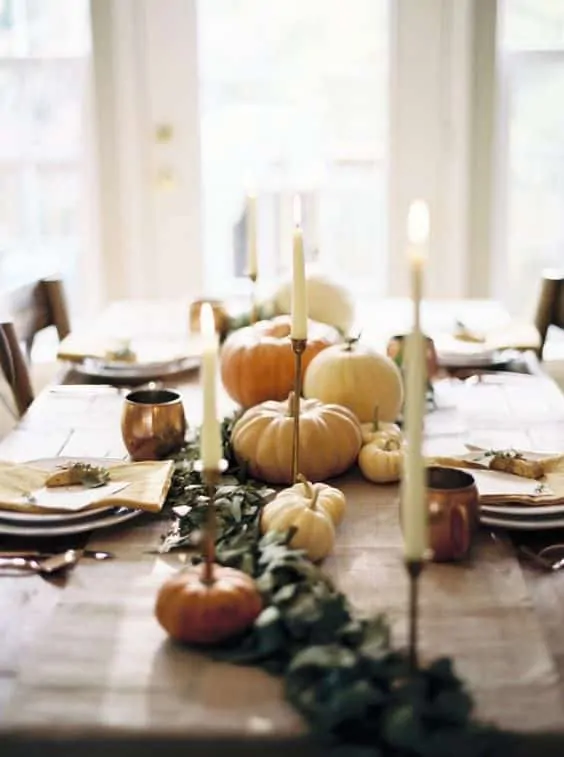 via SMP living | photo by: josh deaton | styling by: taylor-rae
I love to have friends over for dinner. Whether it be planned or last minute, having the chance to connect over a meal is so fulfilling. Each fall, we have a friendsgiving celebration where everyone comes over to celebrate each other's friendship. It's always a blast, and I always have so much fun getting the tables ready for it.
There's a fine line between creating a stuffy, unapproachable tablescape, and creating a welcoming and warm table. On one hand, you want friends and family to feel extra special, but on the other hand you don't want them to feel like you're putting on a huge show. Here are some of my tips and tricks for dressing up a table for the holidays to create the perfect place to break bread together.
Keep things Simple
It is my opinion that tables are most beautiful when kept simple. Actually, I apply this to most things in my life. I don't like a lot of stuff. Nick-knacks are not my friends. I think that creating a small, but carefully selected collection of items is much more welcoming than having heaps and heaps of things on a table. Plus sitting down at a table with a mound of pumpkins or gourds in your face makes dinner much less enjoyable than sitting across from a best friend and having great conversation with her.
Keep it simple by selecting a few colors that you'd like to incorporate on the table, then lightly layer them. Some of my favorites are brown+green+white, navy+gray+black, and amber+burgundy+green.
How beautiful is this idea below? Julie Blanner is the queen of minimal tablescapes – she does them so well. This is especially great for smaller tables when you don't want to overwhelm the space. For the full tutorial click here.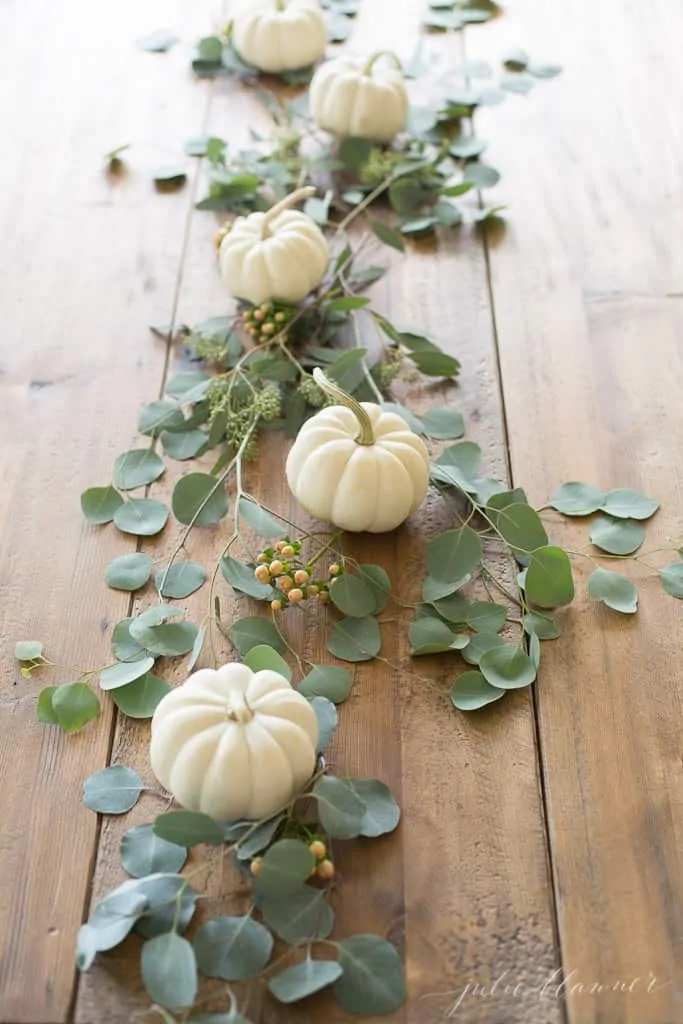 use organic elements
I am always drawn to tabletops with organic elements. Even the simplest of things…Heather Bullard placed a rock on our placemats in France, and it was so lovely. I think using what nature gives to us adds a little whimsy and makes guests feel welcome.
Try using fruits, veggies, and fresh greenery. Persimmons are a beautiful and unexpected pop of orange, and the purple in blooming artichokes is absolutely amazing! Head out to your yard and see what you can find – fallen leaves, smooth rocks, feathers, fresh herbs, branches… you can really get inspired from what is all around you!
Then, dress it up a little. The rock on the placemat was beautiful because it was a soft shade of white. Select leaves that form a unique collection when displayed. Try to find fruit without blemishes, and branches with interesting structure.
I also love to use dried wreaths in a tablescape – they form a perfect centerpiece to go off of. You can place them on a tray and then add candles or pumpkins which makes a beautiful focal point on the table.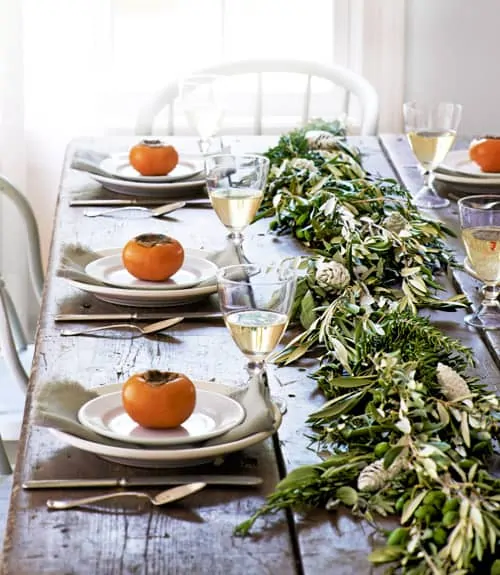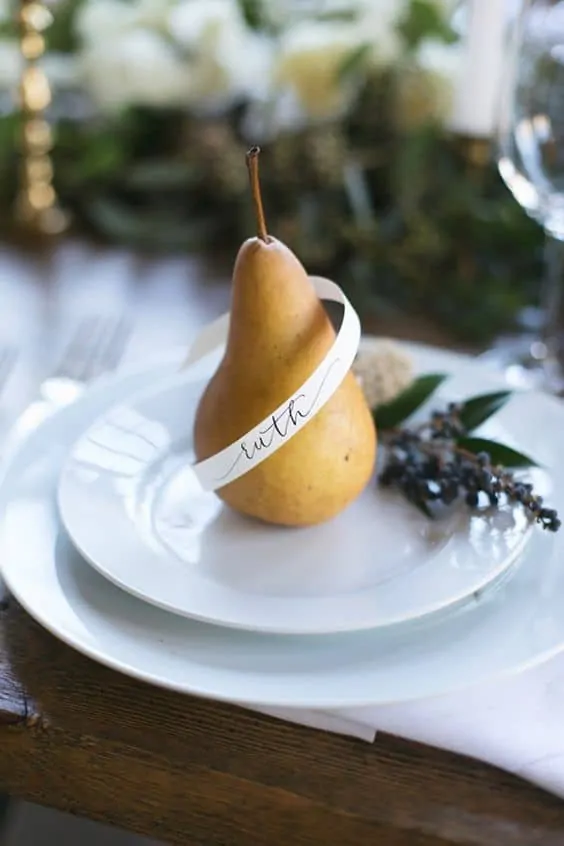 1 || via Country Living | florals: studio choo // 2 || via magnolia rouge | calligraphy: the weekend type | photo: lexi vornberg
A little fun: fabric & paper
Aside from using organic elements, I love to layer different shades and textures of non-organic elements too. My recipe is: stick with a neutral linen tablecloth, add a pop of pattern, and a nice heavyweight paper.
Since tablecloths are generally expensive, especially if you invest in a great linen option, my advice is to go with something transitional and timeless. Linen is durable, and can be passed down for generations. You don't have to buy white or cream though – try something with a subtle pattern or even a dark color (navy or dark brown are beautiful!).
I like to get a little more creative with napkins. Less expensive, I can justify swapping these out each year. Sometimes I like to mix and match, and sometimes I like to keep things streamlined, but adding pattern and color here is easily done without being overwhelming.
Lastly, I always seem to add a splash of paper somewhere at the end. High quality paper is my kryptonite and I think there is something so intentional about writing out a friend's name and carefully selecting where they will sit at the table. Pin name tags to fruit, or make a small wreath from a sprig of herbs… nothing is off limits! This will always make your guests feel extra special, and it is one of my favorite things to add to a table. If you keep things simple and organic, place settings won't feel stuffy. :)
However, if you aren't one to include guest's names on your table – printing out a quote or dinner menu is also a nice way to add paper to the table. There are so many beautiful fall & thanksgiving printables out there, why not try one of them this year?
As always, thank you for stopping by, I hope you are having a wonderful autumn, and I hope you are inspired to create a simple and approachable fall table for all of your special occasions this year!
---
beautiful tablescape products
---
Neutral Table linens
perfect for a fall table that can easily transition to winter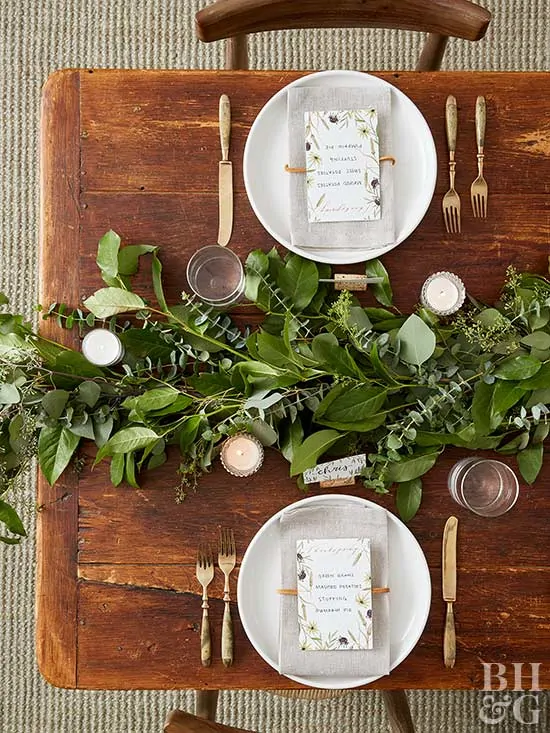 via BHG
---
Trays, Bowls, & Decorations
perfect for corralling pumpkins and leaves, or for serving food