Earthy Farmhouse Living Room Design Plan
November 26, 2019
I've dreamt of updating our living room for years, and now it's finally happening! Today I'm sharing the design plan with you including all of the sources!
Thank you so much for stopping by! This post contains affiliate links, I receive a small amount of compensation if you choose to purchase from my links (for example – as an Amazon Associate I earn from qualifying purchases). I only link to products that I know and love!
My Living Room Design Plan
Earthy farmhouse? Is that a thing? That's the vibe I am going for as I update our living room with some new furniture and accessories!
This won't start coming to life until the new year, but I am so excited about it all, that I couldn't resist sharing with you now!
Today I confirmed our partnership with Sixpenny to swap out our current couches, and I am over the moon excited! Sixpenny is an awesome furniture company with a great price point. Their quality is fabulous, and I love the variety of styles they offer! One of the things I love most is their return policy; they offer 30-day no hassle returns if you don't love the item.
I love so many of their designs, but ultimately ended up ordering the Amelia. The Neva and the Gabriel were both contenders, but I liked the size and finished look of the Amelia.
My Process: How I Design a Room
Developing a color palette is one of the first things I do when I begin designing a room. Typically, I'll start with some sort of inspiration piece – be it a location, piece of art, current furniture piece, or textile. From there, I will start to pull together other source of inspiration and create a cohesive color palette.
I think this is often an overlooked step in the design process if you're DIY'ing your own design. It is immensely helpful to be able to refer back to the color palette when selecting items for the room.
For our living room, I based our color palette off of some of the current pieces I know we will be keeping: the rug, the coffee table, and the fireplace masonry.
When considering the color palette, I think about the feeling and mood I want to evoke with the design. Do I want it to feel crisp and cool? Cozy? Warm and welcoming? I ask myself what I want the room to communicate through the design.
Personally, I love an old world look with a contemporary twist. So for my living room, I want it to have a very earthy feel with touches of farmhouse (since we do live on a ranch after all). I want the room to have traditional elements with pops of modern touches.
Drawing from the rug, wood tones in the room, and masonry – I put together a Earthy color palette with rich, warm colors.
living room color palette

Once I have a cohesive color palette, it's easy to begin selecting the furnishings and accessories. The fun begins!
I start by developing a design board with the pieces I know I will be using. This includes any furniture or accessories that I will reuse in the updated design.
For this type of design, I use photoshop, but there are many different software platforms for you to use if you are doing this yourself at home.
I started out with the coffee table and rug, which I knew I would be keeping in the new design, this is my blank slate to start building from!
The Blank Slate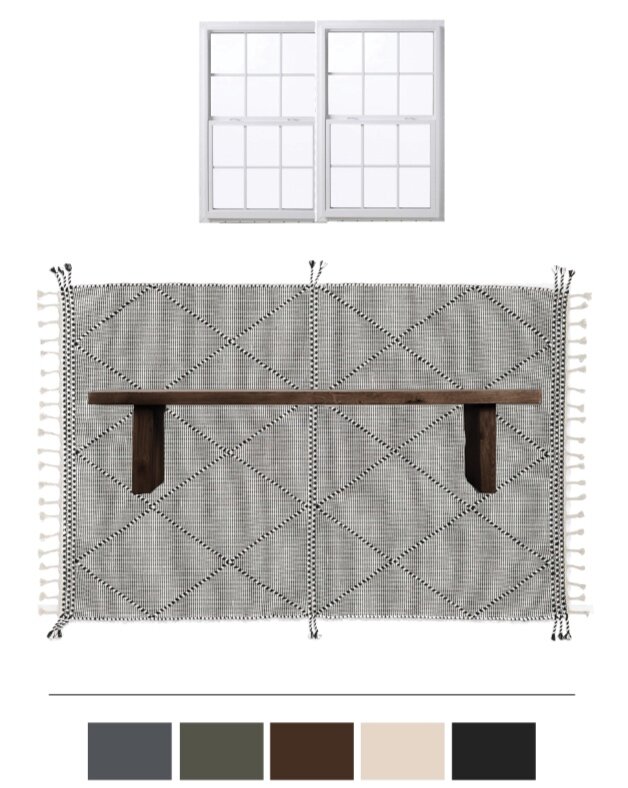 From here, I start adding in elements I know I want to use. Maybe there is a couch I've had my eye on, or a chair I'd love to weave into the design. I start layering them onto the mood board to see if they will work in the space.
For our living room, I knew I wanted to use a Sixpenny couch, specifically the Amelia for its size and polished look. However, I wasn't quite sure of the color.
I started by ordering some of their fabric samples to narrow down the selection. It came down to the lightweight linen in cracked pepper or the classic linen in oat flour.
Couch Choices
When I am designing, and come to a decision like this, I don't worry about making the choice right away. I keep designing and let the room come together, because the right choice will usually reveal itself as the rest of the space comes to life.
Next, I wanted to select the chairs that will face the couch. I had a couple of chairs in mind for our living room. I have had my eye on these chairs for awhile, but worried they might feel too traditional, so I wanted to bring in a few other options before I made my selection…here are some of my options:

I love love love this chair, it would be so perfect, unfortunately a little out of my budget.
I love this chair as well, but ultimately it felt a little too modern.
I am smitten with this chair, and it was a close second choice, but ultimately I ended up loving this one the most.
---
It was tough to decide on a chair, I love the look of the leather because I felt that it added another beautiful element to the room, but I also loved the traditional look of these chairs.
With the main furniture pieces selected (or nearly selected), it's time to start thinking about textiles. It's truly amazing what textiles do for a space, and I can't encourage you enough to spend the time selecting this.
It might feel easier to head to Pottery Barn or TJMaxx to grab a few pillows, but your room will look so much more put together if you put thought into the textile accessories. This is so true for curtains too.
Curtains are expensive, but for good reason. They make a dramatic improvement in a room. In my opinion, custom made curtains trump almost everything else in a space. They make that much of a difference.
If you aren't able to invest in custom drapery, which of course isn't always in the budget – opt for high quality linen curtains and use drapery hooks to hang them which will provide a custom look without the price-tag. Here is a great DIY tutorial for making Ikea curtains look custom.
For this room, I would love to add some drapery to really pull the whole space together. I have been inspired lately by beautiful rich, dark textiles so I am tempted to add dark, Earthy curtains to this room, which I think will make the whole space feel incredibly cozy. However, I could also stick with neutrals to keep things light and airy…what do you think?
---
Curtain options
---
Are you with me here? I am so heavily leaning towards the dark and rich colors at this point! So I am going to nix the oatmeal colored couch and light curtains.
I have been dreaming of adding an olive tree to our living room, which I think is the Earthy farmhouse version of a fiddle leaf fig tree.
The finishing touches
Now that the design is coming together, I need to select some artwork for the wall next the curtains. I can't decide if I'd like to add some vintage looking oil paintings or one of my horse photography prints…
I may have enough space here to add a small armoire or chest of drawers. I think this would help balance out the weight of the room since the fireplace is on the other corner of the room and is quite heavy.
I don't have the budget to purchase a chest of drawers or armoire yet for this corner, but I am going to add it to my design now in case I find something great while buying for my shop!

Finally, I will add lots of beautiful pillows and accessories with Earth tones and organic elements. I will mix and match terra-cotta, ceramics, metal, and wood accessories to tie the entire design together. The finishing touch is a few pops of greenery and vintage pillows. I have linked to some of my favorites below!
Pillows

Accessories

On my Christmas list… an antique olive jug from Turkey.
---
The Finished Design Plan
There we have it, the finished design plan for my living room! I am so excited to bring this vision to life, and can't wait for my beautiful new couch to arrive! Until then, I'll be hunting down the prettiest accessories and collecting a slew of vintage pillows!