Redecorating your home? Here are my tips for shopping like an interior designer so you can find the best products at the best price!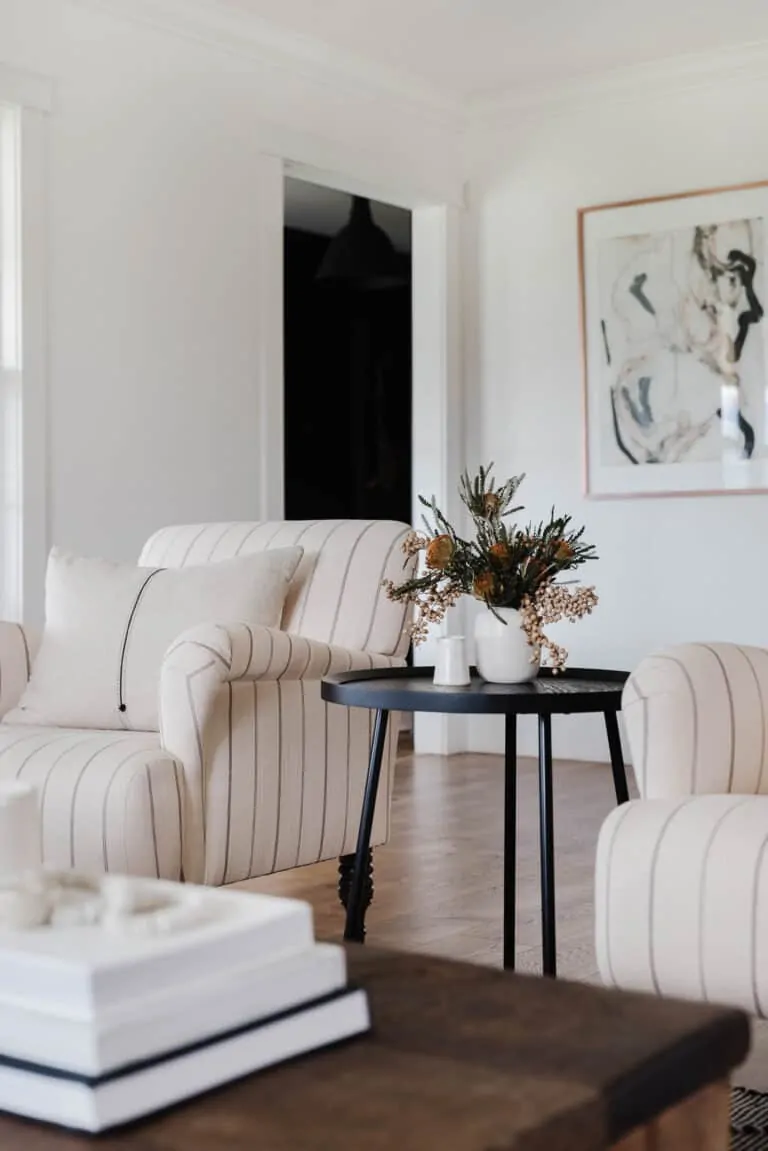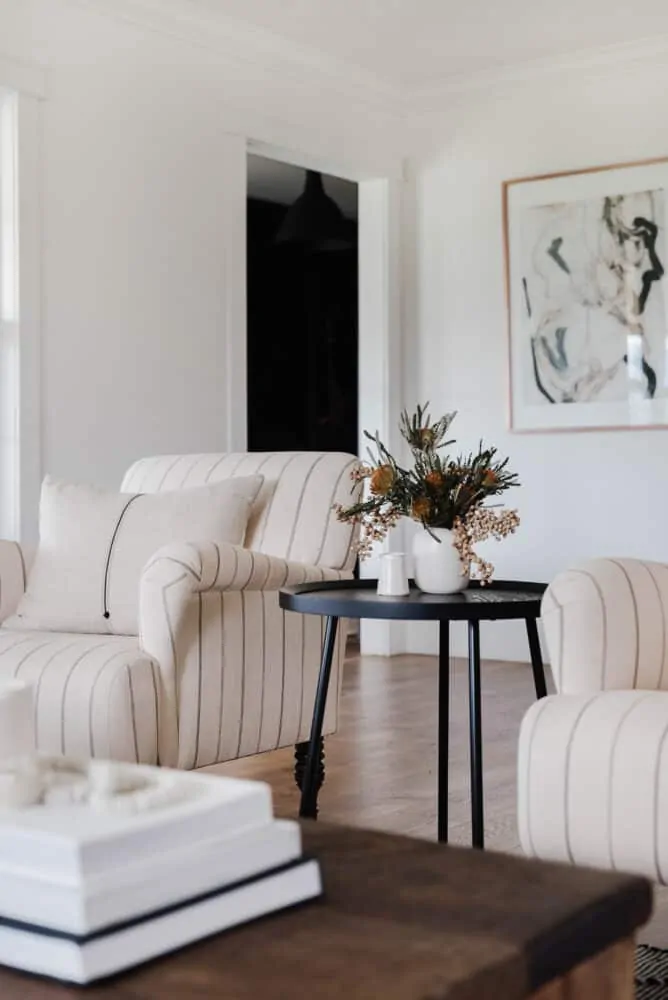 How to shop for furniture like an interior designer:
Since learning more and more about the interior design and furniture industry, I have discovered some insider information that I feel you should know when furniture shopping.
Pour yourself a cup of coffee, and let's dive on in…
Let's paint the picture: You set out to decorate your living room. You start visiting a few blogs to get inspiration, you create a pinterest board with ideas, and have a saved section in Instagram full of beautiful spaces.
Maybe you're dreaming of a beautiful gallery wall or a cozy reading nook… Once you have a good idea of the overall design you want to create in your space, you start shopping, trying to find the best quality product that fits your style and budget.
You probably visit some of your favorite retailers such as Pottery Barn, McGee & Co., and Restoration Hardware. Perhaps you notice that a lot of these furniture stores are selling the same table or same couch? Here's where things get interesting for you as a consumer.
The majority of retail furniture is produced by a few number of manufacturers. These manufacturers sell mass quantities of furniture to retailers, then these items are resold through retail store fronts or online stores.
I think as a consumer, we have certain understanding of brand hierarchies. I will go out on a limb and say we assume Pottery Barn has higher quality furniture than Wayfair, and that Restoration Hardware has higher quality furniture than Pottery Barn.
Why do we assume this? Because of value based pricing systems. If something is more expensive, it must be better quality, right? Not so fast.
You see – Most brands are importing and sourcing a lot of their furniture from overseas using similar (if not the same) vendors and manufacturers.
My point here is that as consumers it's very hard to determine true quality based on pricing structure or source. Do not assume that because the coffee table costs more or came from a lower or higher perceived value brand, that it is of higher or lesser quality.
example: the same coffee table sold at many different retailers

Now that I have attended markets like High Point and The Las Vegas Market, I have discovered really interesting manufacturers and brands that produce high quality products. I have also discovered popular brands that produce stylish products that are honestly not as well made, yet charge more because they're more marketable and on-trend!
This is where one of the biggest benefits of hiring an interior designer comes into play. Designers attend these shows and see the furniture up close and personal and know the manufacturers and processes of each individual piece. Designers have the inside knowledge to tell you what is worth investing in, and what is worth passing on.
However, if you're not working with a designer, there are some ways you can filter through the junk and find diamonds worth investing in. Here's how you can furniture shop like an interior designer.
Read more: How to Hang Curtains Like an Interior Designer
Time needed: 1 day
How to shop for furniture like an interior designer:
Measure the Space!

The first step is to measure the space and create a furniture layout plan. You can easily do this on graph paper, each square represents one foot.

Prepare a mood board.

Once you have a layout plan, you'll come up with a mood board that consists of one or two inspiration images and a color palette. This mood board may also include artwork, photography, or textiles that will serve as a compass when shopping.

Create a furniture plan.

Finally, create a furniture plan. This is a list of every item you'll need in the space: 1 96″ sofa, 2 accent chairs, 1 9×12 rug, etc…

Start shopping!

Now you're prepared to start shopping like an interior designer!
Where to shop for furniture?
While I do enjoy Restoration Hardware (I really like their lighting selection), Pottery Barn, and even Target or Ikea, I think it's important to know what to invest in and what to save on. Here are my tips:
Shop interior designer's online stores. Many interior designers now offer online stores that make it possible for you to shop items they use in their projects. This is essentially free design advice from them saying "this is the good stuff". Plus it supports interior designers!
If you see a product available on many sites, it's probably imported. Not necessarily a bad thing, but just know it's not a custom item and don't over spend on it.
Shop sites that offer customization or that have proprietary products. Sites like Lulu & Georgia, McGee & Co., Annie Selke, Amber Interiors, and even Serena & Lily are all great options. You can find items that are custom made, probably a bit more expensive, but of exceptional quality.
A lot of designers don't love big box stores because often the unique nature of the items gets lost and it feels mass produced. Your home should be unique, so don't feel the need to get an entire furniture set from one store because you have a 20% off coupon and they offer "free design services".
Mix and match highs and lows. There's no need to spend an arm and a leg on every piece of furniture in your home…unless you have an endless budget. Utilize the design forward brands available at Target or Ikea to mix more affordable pieces into your home.
Invest in things you won't buy again for a long time. Things like chairs, sofas, beds, and rugs. Also, be sure to get the scale right with the correct dimensions for coffee tables, sofas, and all other furniture and decor!
Save on things you'll want to shake up after a few years: pillows, throws, side tables, coffee tables, and accents.
Look at the materials used to make the product, and where the product was made (Made in USA, kiln dried wood, hand crafted, and customizable pieces will be of better quality).
Look for interesting lines, unique fabrics, and cool shapes. When I am shopping for something I like to look at the curves and the lines – I evaluate how thoughtfully they are designed. Sometimes you can find something really amazing at Ikea or Target, other times you find something jaw dropping on craigslist. I skip items when it is apparent that there was little thought put into the details such as the leg color/shape/scale, fabric, or finish materials.
Some of my favorite pieces I have had my eye on for awhile, a mix of high and low!



Design secret: Sometimes I am shopping on sites, and I see a lamp pop up again and again, yet each site calls the lamp something slightly different. If I want to know the manufacturer of the lamp, I can easily figure it out by either doing a google image search, pulling unique keywords from the description, or visiting Burke Decor (which lists the manufacturer of their products in the description). Once I know the trade source, I can find the best price possible online by googling the manufacturer's name for the product!
I hope that this post was helpful as you put your home together! I want to emphasize that it doesn't matter where your furniture comes from, as long as you love it! I hope you feel empowered to purchase furniture knowing that just because the product costs more, it doesn't necessarily mean it is going to be of higher quality! Have fun, and happy shopping!