Handmade Christmas Gift: Stove Top Potpourri
This post may contain affiliate links, please read my disclosure policy.
Use simple seasonal ingredients to make this handmade christmas gift; an easy stove top potpourri recipe that packs a serious punch!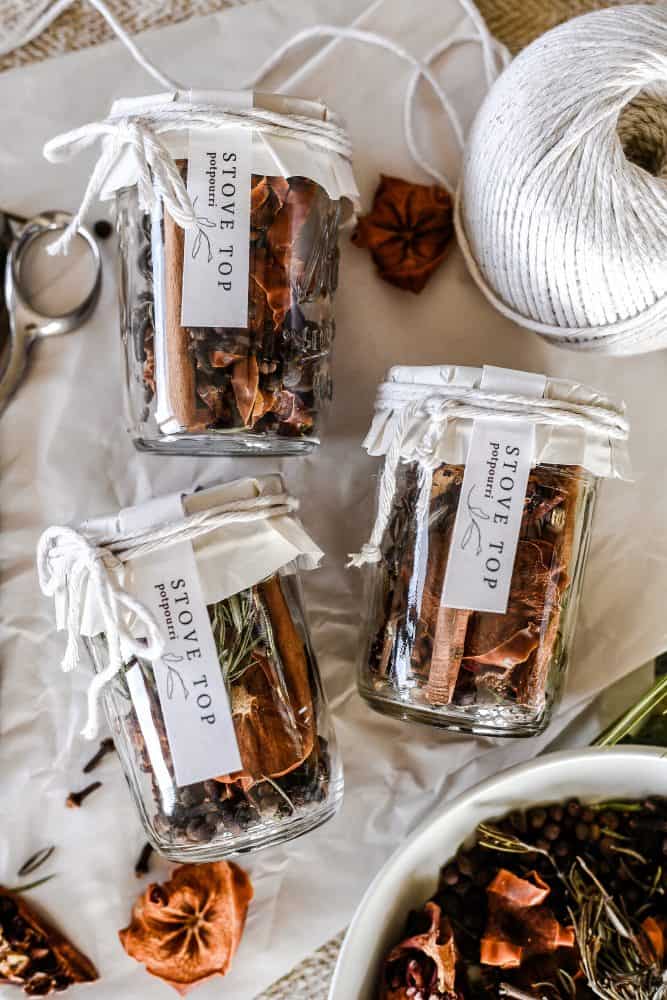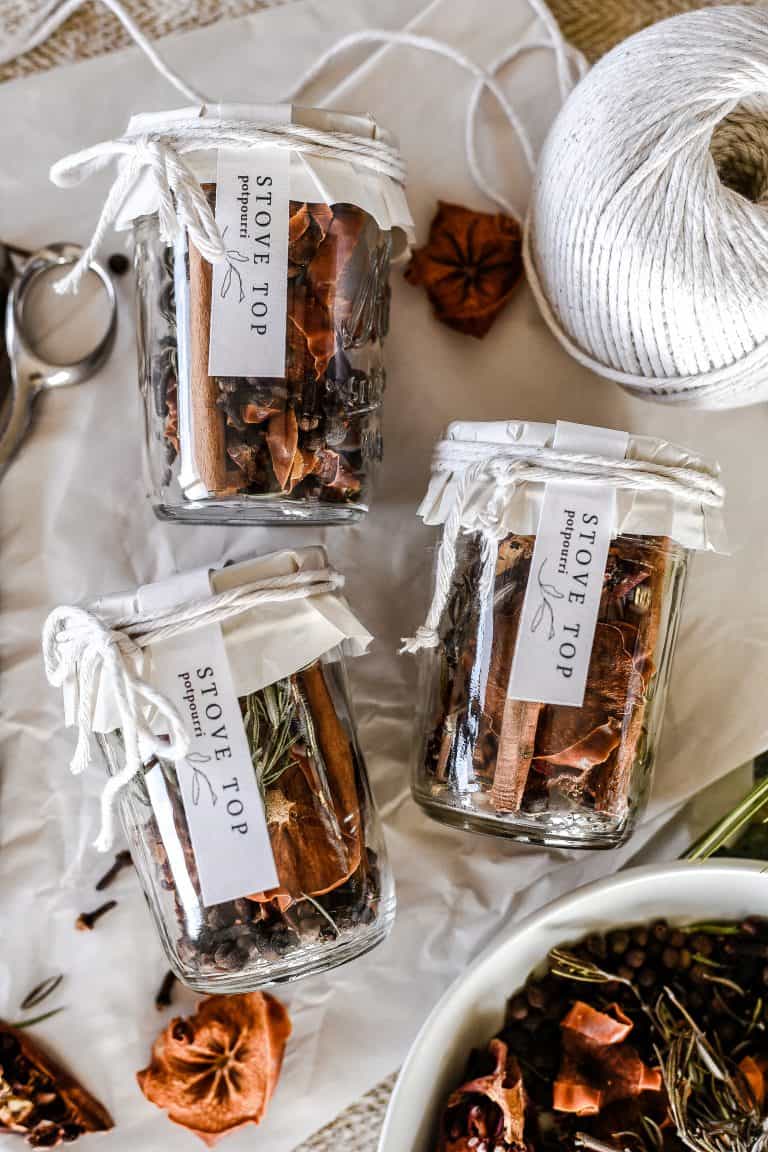 Homemade Stovetop Potpourri Recipe
Learn how to make your own stovetop potpourri to give as a beautiful handmade Christmas gift! Download my free printable gift tags to go along with this lovely holiday gift!
What ingredients are in stovetop potpourri?
The beautiful thing about making your own homemade stovetop potpourri is that you can customize it with an array of ingredients!
I like to use seasonal fruit, herbs, and spices to make a blend that smells amazing! Some of the best spices to use are cinnamon, cloves, and allspice! These spices produce a wonderful aroma that naturally makes your home smell just like Christmas!
Some ingredients to try in homemade stovetop potpourri:
Cinnamon
Whole cloves
Allspice
Dried citrus
Dried cranberries
Dehydrated apples
Dried rosemary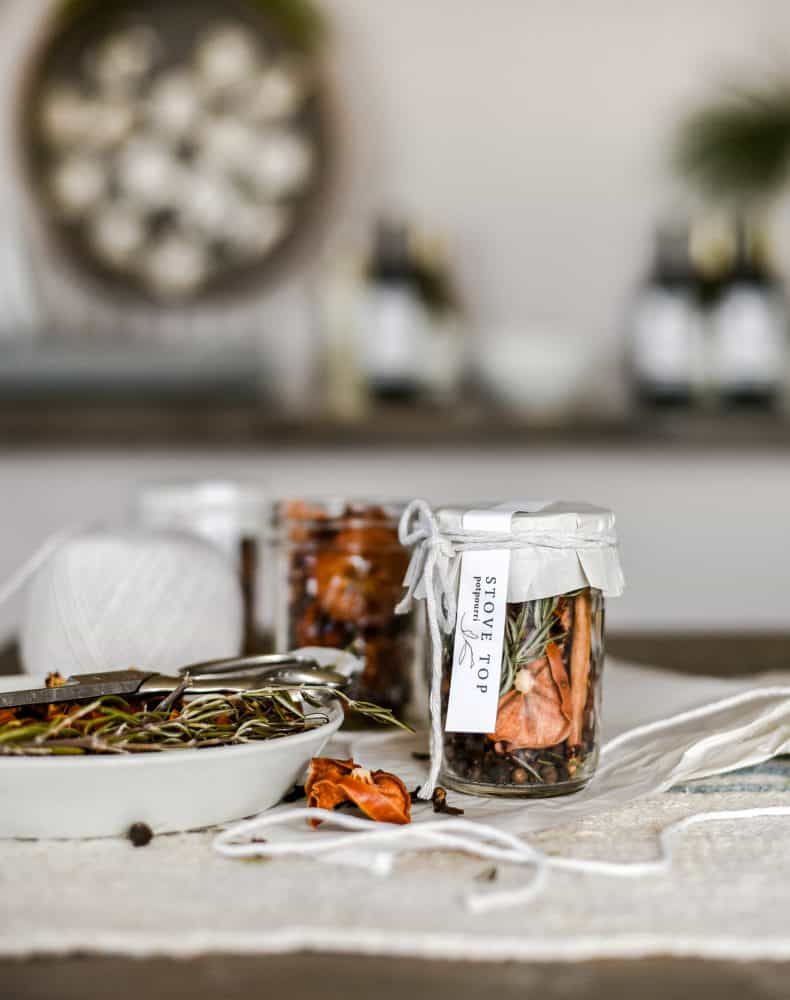 The last time I visited Chateau Sonoma, I left with baskets full of pomegranates and persimmons, and while I was able to use some of them up in syrups and pureés, I still had quite a few left over, so I decided to dehydrate some in my oven to create a colorful homemade potpourri for Christmas gifts.
I had never dried fruit in my oven before, and honestly just sort of guessed on how to do it – but the results were fantastic. I simply sliced the fruit into uniform pieces, and then placed them on Silpat baking mats in my oven. I set my oven to the lowest setting, and let them dehydrate all day long.
Each time I opened the oven I was hit with humidity from the fruit – proving that the magic was happening. After roughly 6 hours, the fruit was dry, and ready to use. I let it cool and then placed it in a container to use later.
You'll see some recipes call for just a few hours to dehydrate fruit; however, I have found that it isn't quite long enough. It's very important to fully dehydrate everything so that mold cannot grow!
If you're not up for dehydrating your own fruit, you can always buy dehydrated fruit! 
Or, if you want a simple simmering stovetop potpourri recipe that doesn't require any dehydration you can always skip the dehydrating and simmer right away, it just doesn't keep for gifting!
*Note: if you live in a very humid climate, it may take you longer than 6 hours to dehydrate the fruit.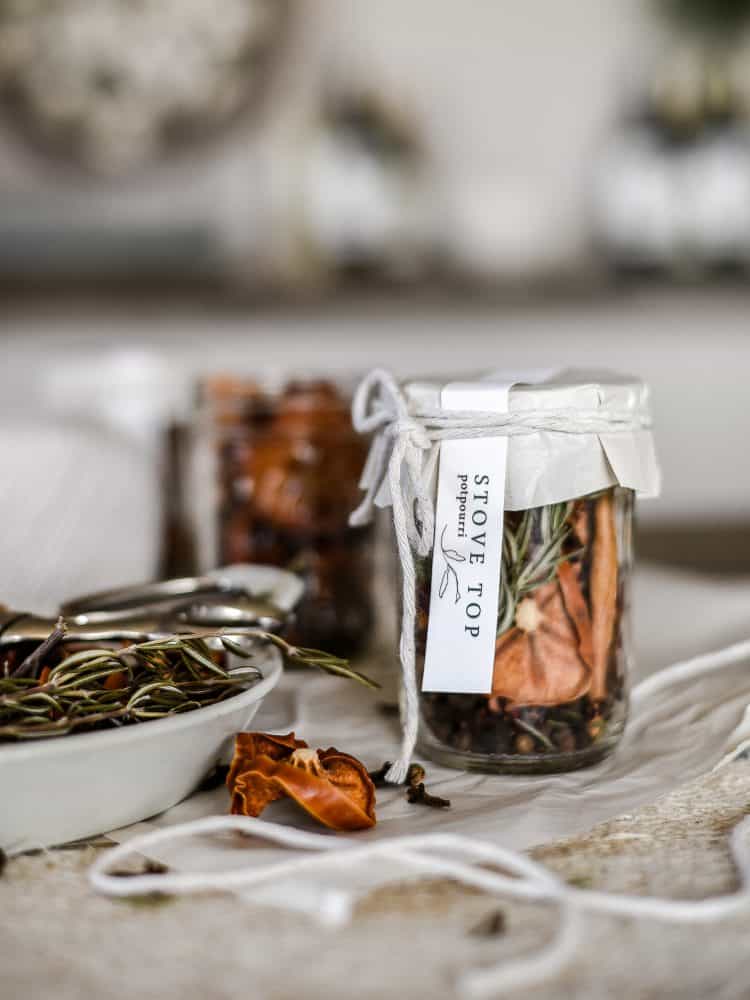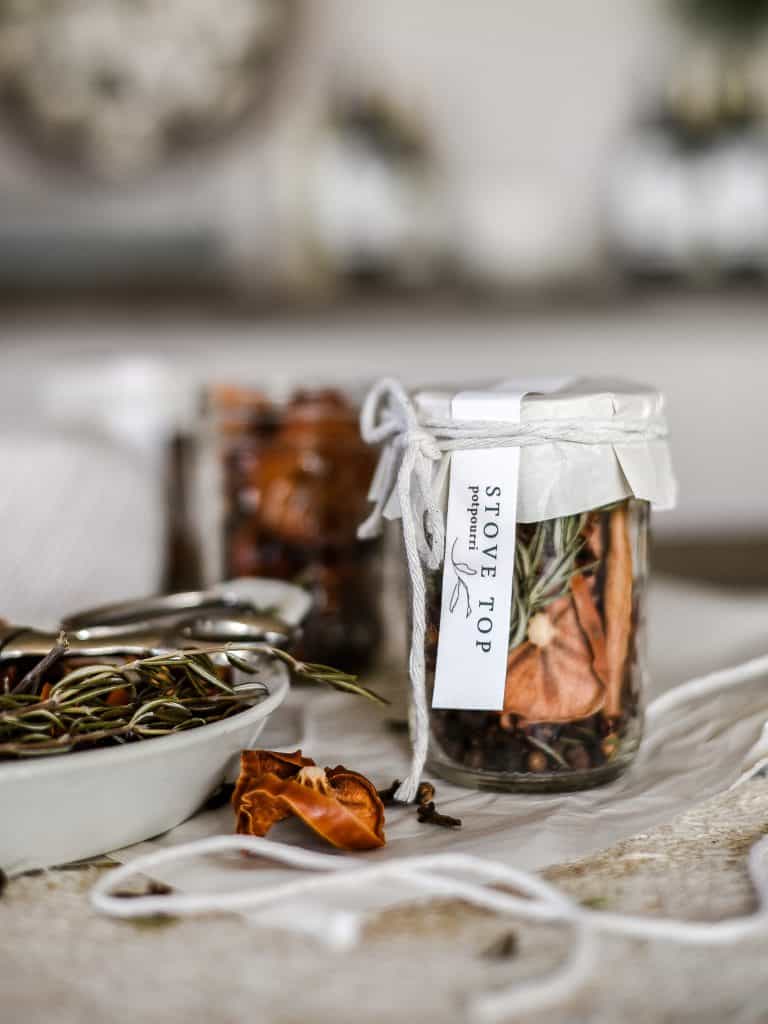 I really, truly love making things. Making my advent calendar this year was one of the highlights of the season, and creating this easy and beautiful gift seconds it. Compiling the fruit and spices into little glass jars with darling little labels was a gift to myself all on its own.
When making this recipe, I initially thought that since the ingredients were dry, they wouldn't be as potent as my fresh stove top potpourri recipe. Well, I was very very wrong.
This recipe is truly fantastic, and just as wonderful as a fresh recipe. I was amazed by the lovely scent that has lasted for days. I let my potpourri sit for a few days before tossing it, but by day two it doesn't look as pretty, but it still smells just as nice!
I cannot wait to give these as gifts. They are toxin free, which is a huge bonus, and they are very inexpensive to make. I plan on pairing them with turkish tea towels and a Christmas note. I hope you enjoy making these for your neighbors and friends! Don't forget to save a batch for yourself!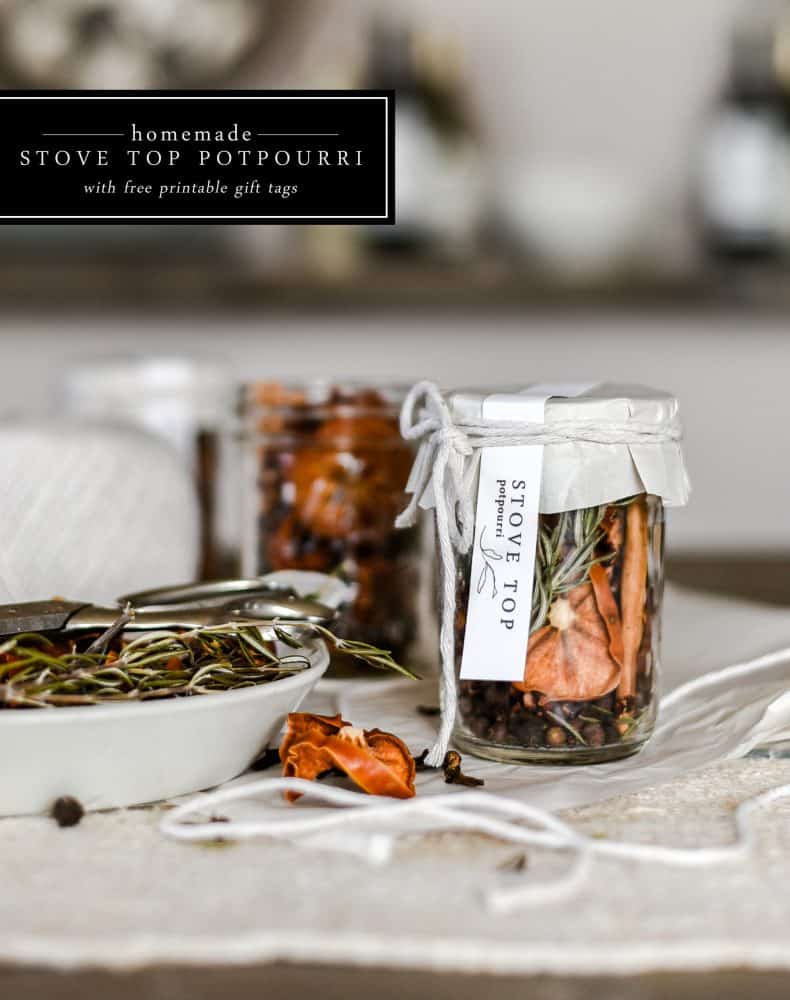 Dried Stove Top Potpourri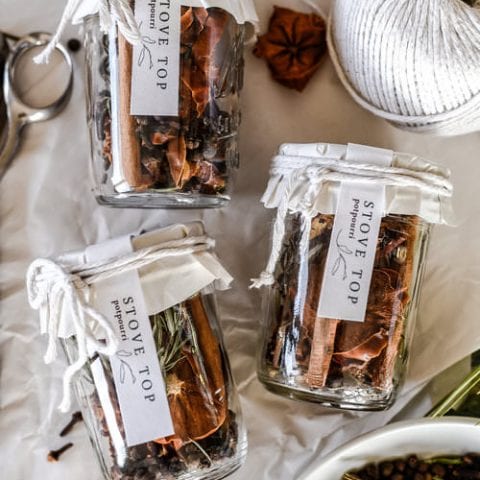 Handmade Christmas Gift: Stove Top Potpourri
Make this stovetop potpourri recipe as a great homemade Christmas gift idea! Dried fruit, herbs, and spices smell divine and look beautiful all jarred up!
Materials
5-6 seasonal fruit such as persimmons, citrus, or pomegranates
1 bundle herbs such as rosemary, thyme, or sage
1 jar whole all-spice
1 jar whole cloves
1 jar whole cinnamon sticks
8 oz mason jars
card stock (optional)
free printable tags (optional)
Tools
paper trimmer (optional)
kraft paper (optional)
glue dots (optional)
twine (optional)
Instructions
Prepare the Potpourri: Slice fruit into uniform pieces. Place sliced fruit and herbs onto a lined baking sheet. Make sure to spread the fruit out so that it is not stacked on top of itself (as if you were making cookies), otherwise it may not dry completely. The fruit must be 100% dehydrated to prevent mold growth once it is jarred up!
Turn your oven to its lowest temperature, and dehydrate the fruit & herbs for 6-8 hours (Maybe even a bit longer if you have a lot of fruit or fruit that contains more moisture!). Make sure the fruit is 100% dry because mold can grow if there is moisture still present.
Remove from the oven, and save until you are ready to assemble the jars. You can expect the listed ingredients to make about 5 jars (possibly 6). I like to add 3 cinnamon sticks in each jar combined with dried herbs and the other ingredients!
Prepare the Jars: Print out the free labels, and using a paper trimmer, cut the strips of tags.
Place a varying amount of dried fruit, herbs, cinnamon sticks, and spices into small glass jars until full.
Cut rounds of kraft paper roughly 1″ larger in diameter than the glass jars. Use a glue dot to secure the kraft paper to the lids.
Use another glue dot to secure the tag to the kraft paper, and then add twine and other festive accessories to the jars. Enjoy gifting these to neighbors and friends!
Notes
If you want to speed up the process and skip drying your own ingredients, simply purchase already dehydrated fruit and herbs!