I can confidently say this is the best Sangria recipe I've ever had. Your guests will love this delicious Christmas sangria, and will be asking for the recipe by the end of the night!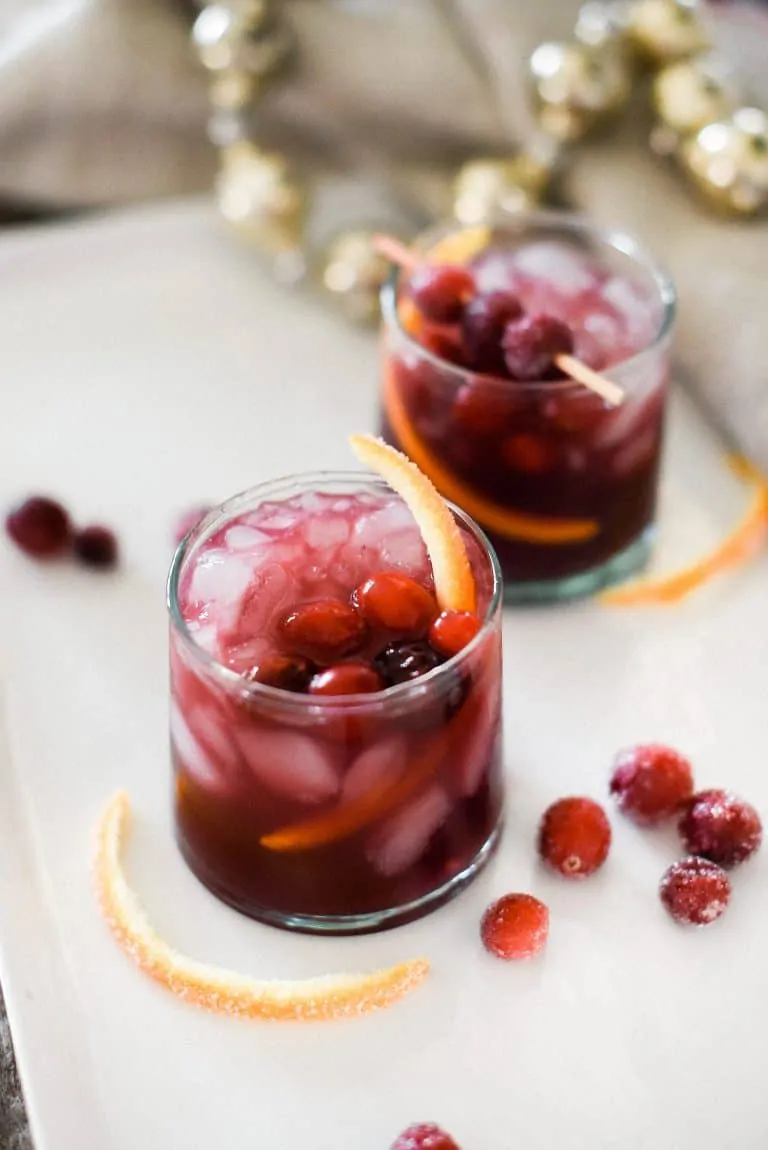 Christmas Sangria Recipe
Party Punch to Serve a Crowd!
Not only do the holidays give me an excuse to eat more treats that I care to admit, I also seem to whip up more batches of party punch that I do any other time of year…especially this Christmas sangria recipe!
Throughout college, I got pretty good at coming up with punch recipes on the fly – using whatever was in the fridge. My best friend Katie is the master at it, and taught me everything I know about making a great party punch!
If you're here because you clicked over from Katie's original secret sangria (seriously the best white sangria of all time), then you're in for a treat because this is the best red wine sangria of all time. I'm not just saying that either, it's really the best I've ever had.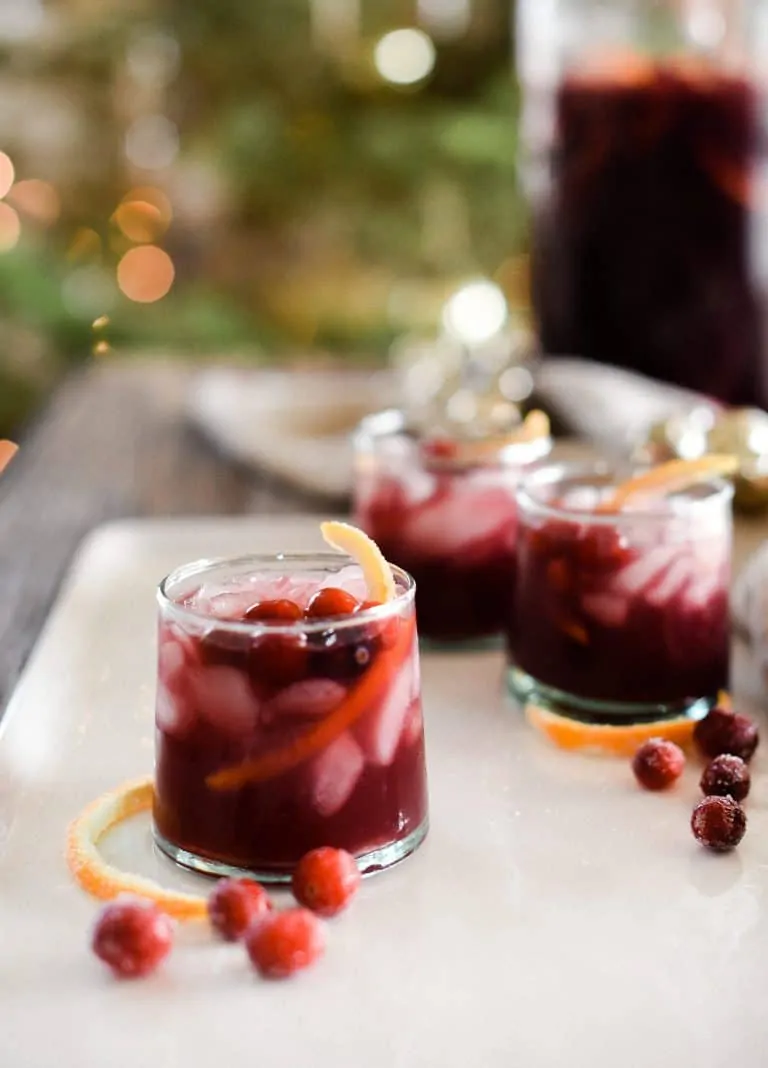 The Story Behind the Secret Sangria…
Throughout our friendship, my best friend Katie has made her 'secret sangria recipe' for every get-together calling for a great party punch. It's everyone's favorite!
So when I asked her if she'd be willing to share the recipe on my blog, I was a little nervous that she might be offended that I'd even asked! To my delight, she agreed, but requested that I refer to it as "Katie's Secret Sangria". Since then, it's become THE most popular recipe on my website. It went viral on Pinterest and brings people to my site all year long.
Earlier this year, I found out that Katie's secret sangria recipe was actually a remix from Mia's secret sangria recipe!! The truth came out at Katie's bridal shower, and we all spent a long time laughing over the fact that she had coined Mia's recipe as her own. While Katie's recipe calls for champagne, Mia's original secret sangria recipe calls for Carlo Rossi red wine.
We've shaken it up a little bit and suggest just using any bottle of red wine you have on hand. Plus a little vodka (citrus flavored would be great), and some fruit juices.
I hope you enjoy this sangria recipe, at Christmastime or not. Not only is this sangria a great party punch recipe, it's a recipe that brings people together. Many memories have been made while enjoying this sangria, and I hope by sharing it with you, you will make your own memories with the people you love the most!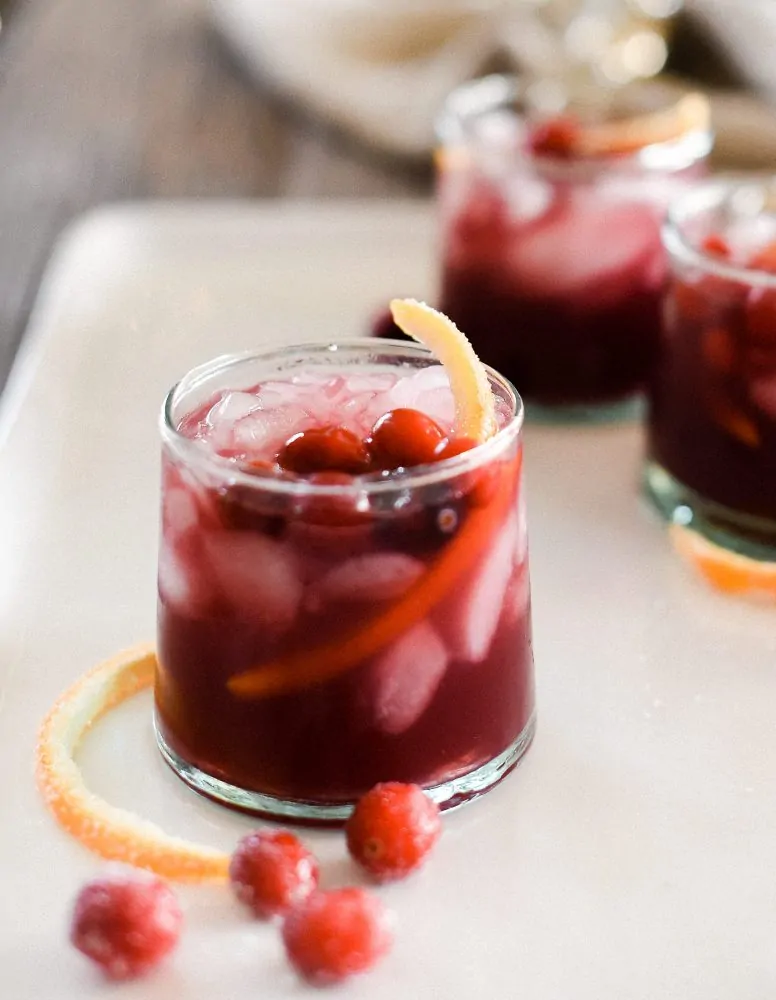 Ingredients for Christmas Sangria
Red Wine – any of your choice!
Vodka
Fresca Soda
Limeade
Frozen Orange Juice Concentrate
Lime Soda Water (Lacroix or other brand)
Oranges
Cranberries
Limes
How to Make Christmas Sangria
To make this Christmas sangria, you'll start by slicing up the fruit and adding it to a pitcher with the vodka so that the fruit can rest in the alcohol for a bit. This is a key step. Let it chill in the fridge for at least an hour.
Once the fruit has chilled, you'll add in the remaining ingredients. To make the best version of this recipe, use a can of frozen orange juice from concentrate (the kind you're supposed to mix with water). However, if you don't have any on hand, 2 cups of regular orange juice will work (extra pulp is the best)!
Whether you're looking for the perfect Christmas sangria recipe for your holiday party or just need a great go-to party punch, this red wine based sangria will become a crowd favorite! Serve this sangria over ice, well chilled. It is delicious and goes down like water so please drink responsibly!
The Recipe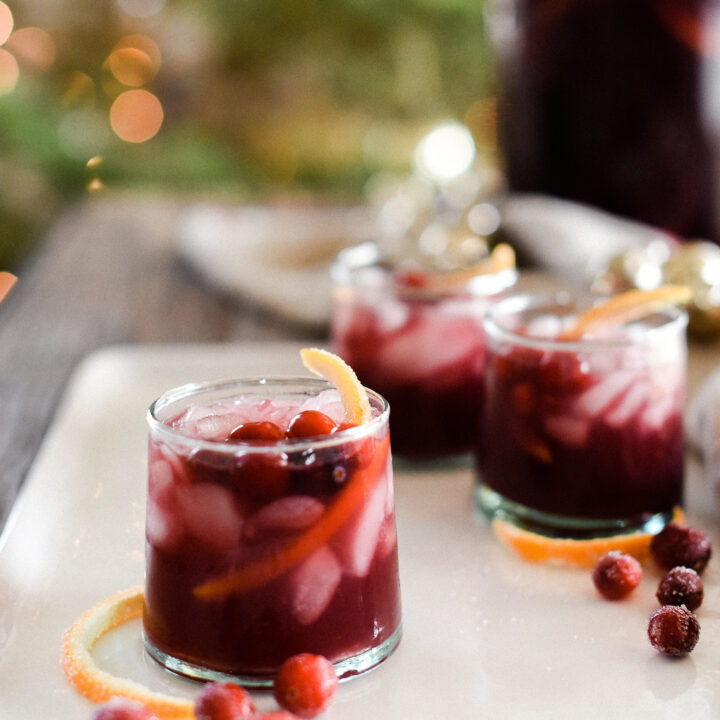 Easy Christmas Sangria Recipe (The BEST Sangria Ever!)
I can confidently say this is the best Sangria recipe I've ever had. Your guests will love this delicious Christmas sangria, and will be asking for the recipe by the end of the night!
Ingredients
1

bottle Red Wine

2

cups

Vodka

3

cups

Fresca Soda

2

cups

Limeade

12

oz

Frozen Orange Juice Concentrate

36

oz.

Lime Soda Water

lacroix or other brand

3

Oranges

1

cup

Cranberries

3

Limes
Instructions
Slice oranges & limes. Combine sliced fruit, cranberries, and vodka in a large pitcher. Let this rest in the fridge for at least one hour.

Once the fruit has "rested" in the vodka. Remove it from the fridge. Add Fresca, orange juice concentrate, and limeade. Stir well to combine.

Pour in 1 bottle of wine. Stir well.

Top with 36 oz. lime flavored soda water.

Serve chilled, over ice. Enjoy!
Notes
Serves about 10, 12 oz glasses.