How to Pick the Perfect Grout Color for Your Tile Project
This post may contain affiliate links, please read my disclosure policy.
Wondering how to pick the perfect grout color for your tile project? This in depth post written by our interior design team will help you gain the confidence to selecting the perfect grout color every time!
Most of the time we spend a ton of time selecting the perfect tile, but then forget about picking the perfect grout color. While tile may be the star of the show, grout color plays a very important supporting role in any tile project.
Did you know that your chosen grout color can greatly affect the overall look of the whole project? No pressure! Let's dive on in.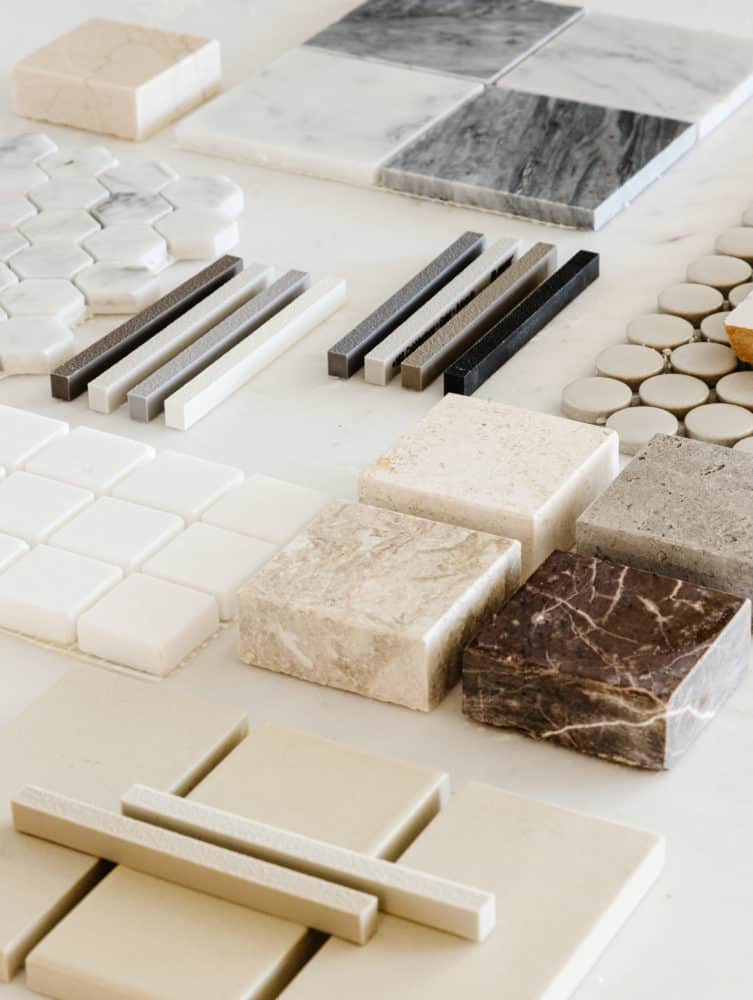 Tips for Choosing Grout
Know what kind of tile you have: Porcelain, cement, ceramic, or natural stone can all appear differently once grouted. Some tile features a more organic edge and others more finished.
Look at photos online and in magazines for inspiration: See what grout color you are most drawn to from your inspiration photos. Do you like a contrasting look or more of a neutral look?
Consider whether or not you want a contrasting color or a neutral shade; do you want to add drama or balance things out?
Match Grout Color to Tile Color
Many wonder, should the grout match the color of the tile?
Matching tile and grout color is the "safest" option because the grout will simply blend in with the tile. For example, white subway tile paired with white grout is a classic and timeless combination.
Expert tip: There are several shades of white, so be sure to consider the shade and color when selecting grout color.
If the tile is cool in color, it will have blue undertones. In this case, select a cooler white grout color.
If the tile is warmer in color, it will have yellow undertones. In this instance, opt for a warmer white grout color.
Selecting a Neutral Grout Color
When installing a tile that you'd like to be the focus, such as zellige, select a neutral grout color that matches and fades into the background.
A trick for seeing which option blends best is to take a black and white photo of the grout samples next to the tile to see which color blends the best.
You can also squint your eyes to blur the colors together. Which grout color blends best? This is a super simple trick that can help you select the perfect color!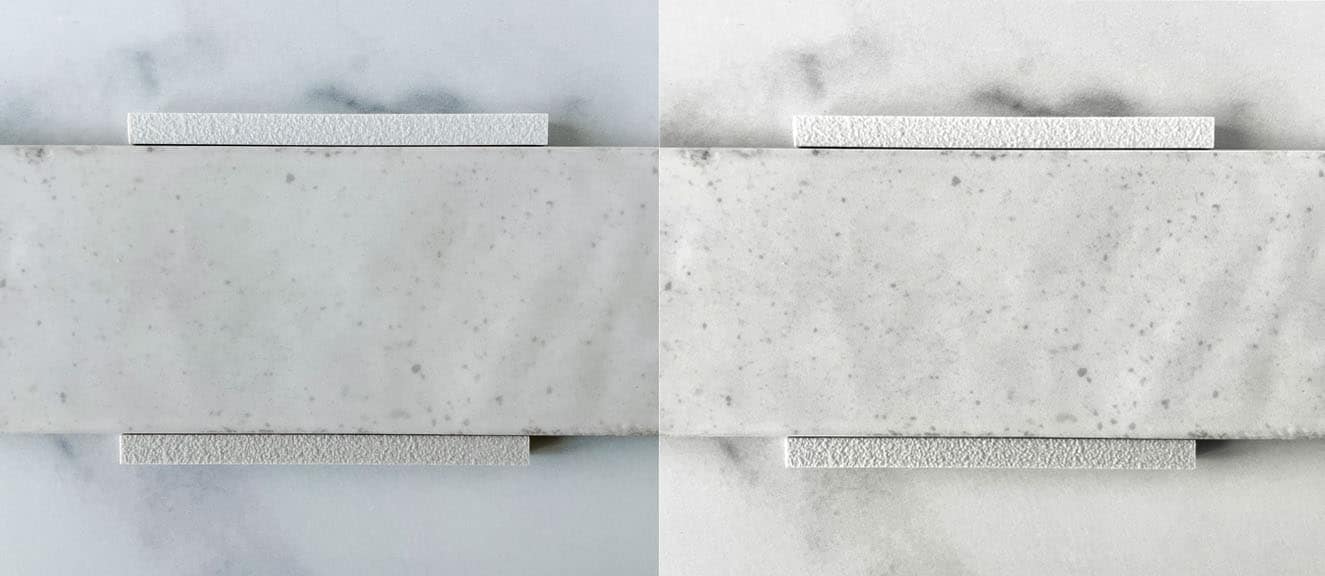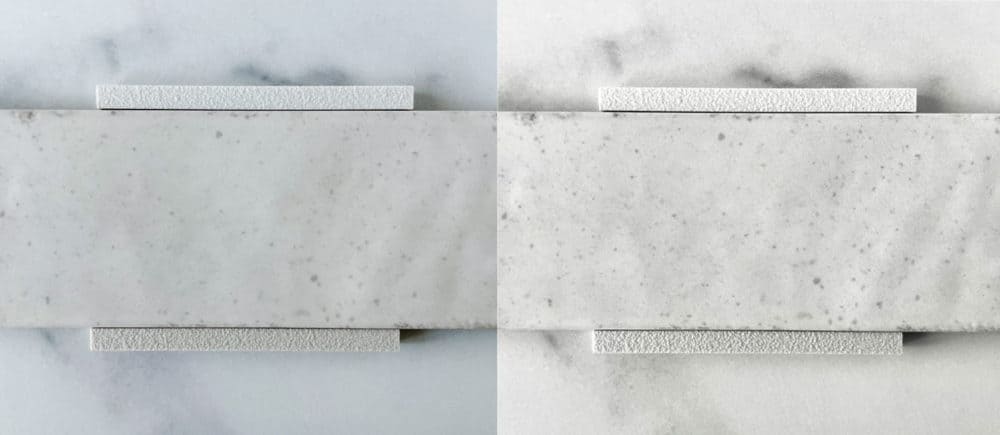 Contrasting Grout Color to Tile Color
What if you don't want the grout to blend in with the tile? This is called contrasting grout. Contrasting grout adds a playful design element to the tile project.
Contrasting grout is best when you like a bold look or prefer pattern over simplicity.
Take a look at these two images showing the same patterned tile. One uses contrasting dark grey grout against the white tile and the 3D element to this design really pops out at you. Whereas the other shows white grout with the white tile and the pattern is much more subtle.
When to use contrasting grout? This is best for a bold look with dramatic pattern.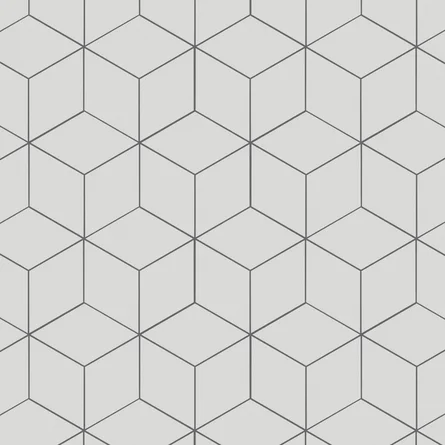 Design Tip: Think of the space overall and select one or two statement features to avoid a visually cluttered space. Contrasting grout is definitely a statement feature, so if opting for this style, allow it to shine by selecting less visually busy elements for the rest of the design. Your eyes will always be drawn first to the highest contrasting element in a room but they also need a space to rest.
Consider the Tile Material
Tile can be a variety of material such as ceramic, cement, porcelain, or natural stone.
Many natural stones and ceramic tiles feature more organic edges. In this case, I recommend opting for a grout color that blends in to allow the beautiful imperfections of the tile to blend into the overall space.
If the tile is more organic in nature, chances are the spacing will be slightly uneven. A contrasting grout isn't a great option for this type of tiles because your eyes will automatically be drawn to the imperfections.
You will also need to think about the surface of your tile. If you're using a textured surface tile such as a glazed brick or crackle then please be aware that the contrasting grout could stain the surface of those tiles and call attention to any cracks or pits on the surfaces.
Consider the Use
You'll also want to think about how the tiled area will be used. A high traffic area or shower pan will benefit from a slightly darker grout color to hide stains and everyday use. This will help hide dirt and make cleaning easier.
What Size Grout Joint?
Generally, most tile manufacturers will recommend a grout joint size specific to the tile.
If they don't specify what size grout joint is best then you can make that choice for yourself.
A general rule of thumb is that larger tile requires a larger grout joint to accommodate settling and shifting with use.
As a designer, I tend to prefer a smaller grout joint. I generally ask tile installers to use the smallest grout joint they feel comfortable with.
The thicker the grout, the more attention will be drawn to it. You can make it a design feature to separate tiles without adding another tile to the mix.
The thinner the grout line the less visible it will be in the overall project. This photo is a great example of both thin grout lines and thick grout to create a modern design feature.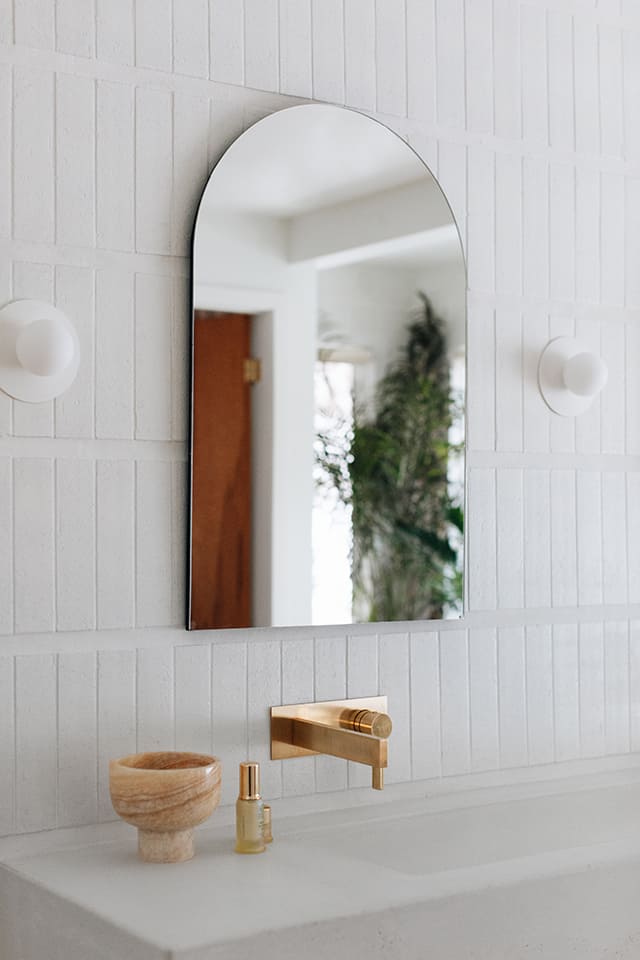 Multi-Colored Tile Grout Color
What if you have a few different colors of tile in your project? How do you pick the best grout color match?
In this case, focus on the tones of the tile and match a neutral grout that blends with the main color. For example, marble tile generally contains multiple tones of grey and white. When selecting grout, opt for a color that blends in with all of the tones, generally a mid grey color.
What about multiple tiled surfaces in one area, such as a bathroom? Select individual grout colors for each tile. In general, the same color grout won't be used throughout the entire space. For example, you may have marble tile in the shower, but are using blue tile on the floor. Pick the best color grout for each tile area separately.
How to select grout color for mosaic tile? If you have 2 or 3 different tiles in the same location, like a mosaic, then pick a grout that works for all of the tiles together. Here's a photo showing an example of how the grout color changes the overall look:

Grout Color for Bathrooms
Bathrooms are generally a high-use area of the home so picking the best grout to hold up throughout the years is an important consideration!
Bathroom and shower floors are both areas where selecting a darker grout is a smart choice. Unless you love scrubbing floors with a brush, in that case, you do you! ;)
The best color to hide wear and tear long-term for floors with grout is going to be a medium-darker mid-tone like grey or taupe. Honestly, think of the color of dirt.
Grout Color for Kitchen Backsplash
Kitchen backsplashes are a huge focal point in kitchen design. Selecting the right grout color will bring your design to life!
Follow the same recommendations above for matching grout color to the tile you select. My favorite tile backsplash is marble. I recommend a soft grey to blend into the tile.
Are you looking to add some character to plain white subway tile? Think about the tile you've selected and the design impact you want it to have in the space. Contrasting grout will add a pop of color, but make sure to consider your cabinet colors too!
Grout Color for Shaped Tile
Are you considering using a shaped tile like penny rounds, hexagons, or river rocks? Most of these shaped tiles come on mesh sheets (mosaics). In this case, you are unable to control the grout spacing.
Mosaics often show spacing imperfections, unless an expert installer completes the job. To help hide any imperfect installations, I recommend selecting a color that's close to the tile color, otherwise, the contrasting color will really draw attention to any uneven seams.
Is Grout Necessary?
The short answer to this question is yes, grout is necessary for tile installations. Here's a list of reasons why there are several benefits to grout:
It adds strength and support to your tile installation
It prevents dirt from getting under your tile or in between
It gives your tile installation a finished appearance
It keeps moisture out of your substrate
It prevents tiles from rubbing against one another and cracking
There are four basic types of options when it comes to the type of grout you can use for your project.
Unsanded Grout: This is used for wall tiles with grout joints of 1/8″ or less. This is a very smooth texture but can shrink and crack over time.
Finely Sanded Grout: This is used for floor tiles with grout joints between 1/8″ to 3/8″. This has a gritty texture to help prevent cracking but can't be used on seams less than 1/8″.
Quarry Type Grout: This has a courser grain sand than the sanded grout used for grout joints that are 3/8″ to 1/2″. The courser grain helps support the thicker joints to help prevent cracking.
Epoxy Grout: This is a mix of epoxy resin and hardener. It is highly resistant to stains and chemicals with great bonding strength but is more difficult to install with faster drying times. Another benefit is that this is the only type of grout that does not require any sealing since it's waterproof.
Other Tile Resources
Hopefully, all of this information helps to make your upcoming tile project a little less intimidating. If you need more tile information check out these other posts: