A lavender cocktail is the perfect botanical drink to enjoy all summer long. Filled with the fresh aroma of herbs, it is truly a garden party in a glass.
This cocktail was inspired by my summer flower pots, filled with rosemary, lavender, and roses. I wanted to "bottle it up"…and thus, this cocktail was born.
This delicious refreshment is made using rose water, lavender, and rosemary. I think you're going to love this yummy drink – it is just the right way to kick off garden season!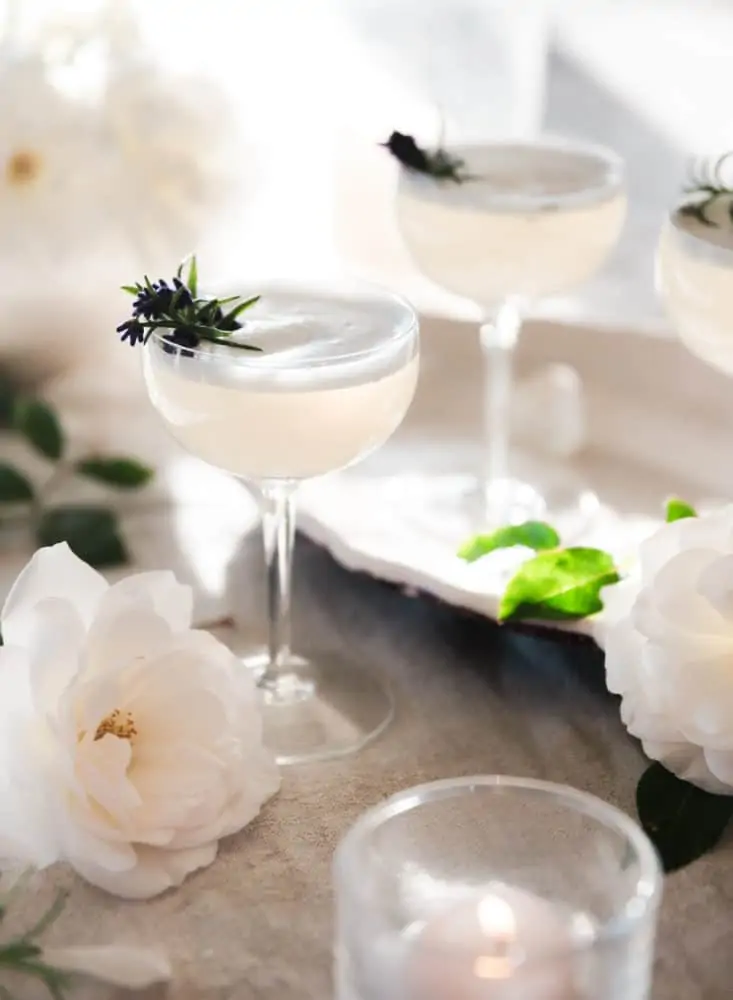 Lavender Cocktail
This year I have been enjoying the gorgeous white spray roses (icebergs) and their lavender and rosemary companions, I truly wanted to "bottle it up". On a Saturday night I set out to clip a few sprigs of the lavender and rosemary to enjoy in a cocktail.
Then I remembered that I had some rose water in the pantry. Why not add a splash?
To take things up a level, an egg white too. To create a delicious foamy fizz!
Have you ever had a fizz? They're delicious! Made with egg whites, they create a light and fluffy drink that is beautiful to boot! The top layer of the cocktail becomes a decadent foam infused with all of the flavors of the cocktail.
Of course, if you don't want to add an egg white you can skip it altogether. The egg white makes the drink have a layer of foamy goodness on top, so if you skip it expect the cocktail to be more of a spritz than a fizz.
This cocktail is made by combining the egg white, vodka, lavender syrup, with a few fresh herb and lavender clippings into a cocktail shaker over ice. Shaking for a full 15 seconds makes a yummy foamy fizz that is strained into cocktail glasses and topped with soda water (I used Topo Chico). The results? A light and refreshing cocktail you'll be drinking all summer long!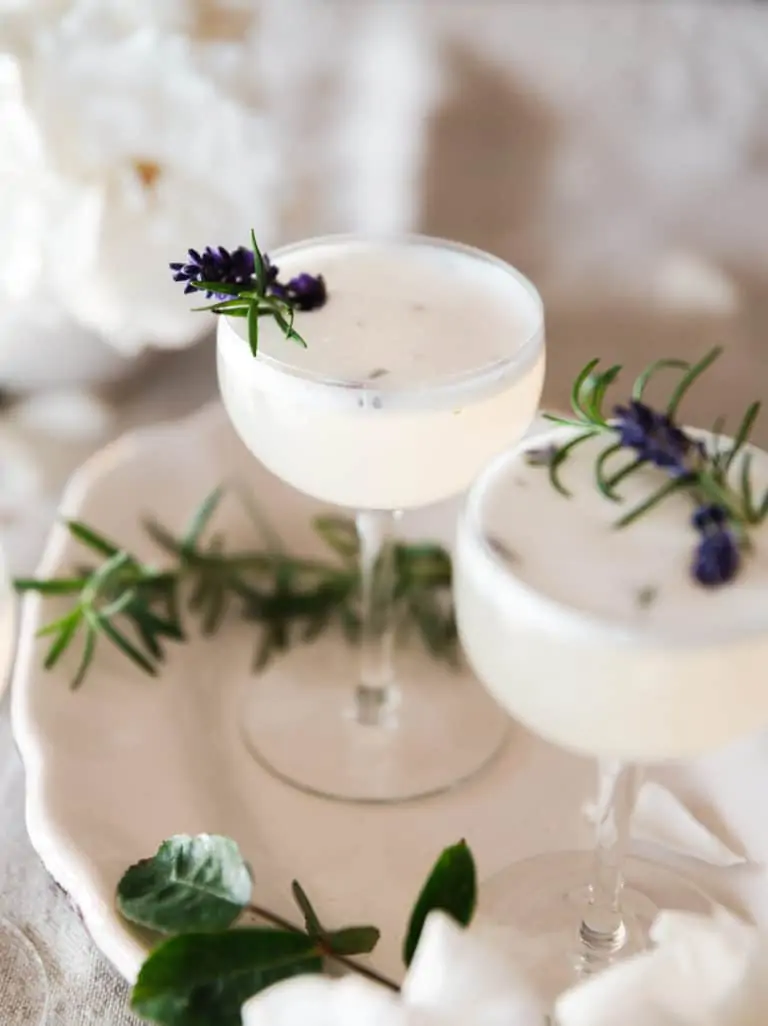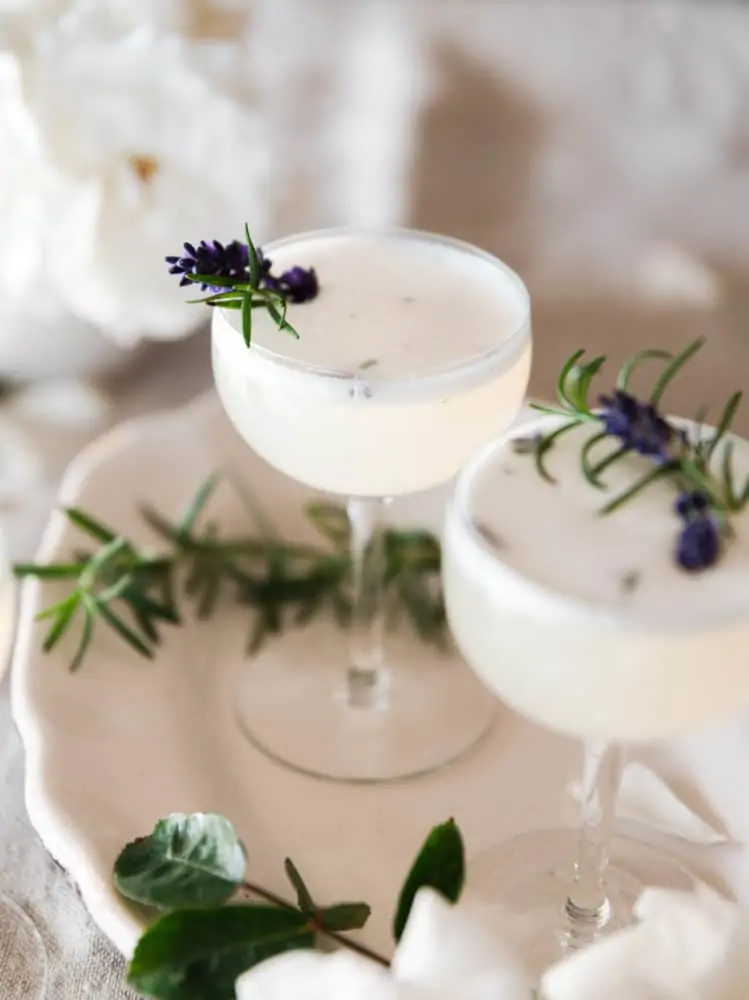 Ingredients for the Lavender Cocktail
Lavender Syrup: Makes this cocktail full of wonderful lavender aromas!
Rose Water: Adds a lovely botanical flavor to the drink!
Lemon Juice: Balances out the sweetness of the lavender syrup.
Vodka: A light and refreshing alcohol.
Egg White From One Egg: Helps the cocktail "fizz".
Lavender and Rosemary Sprigs: Flavors the drink with a delightful herbal taste.
Soda Water: Top off the cocktail with some soda water to balance out the flavors.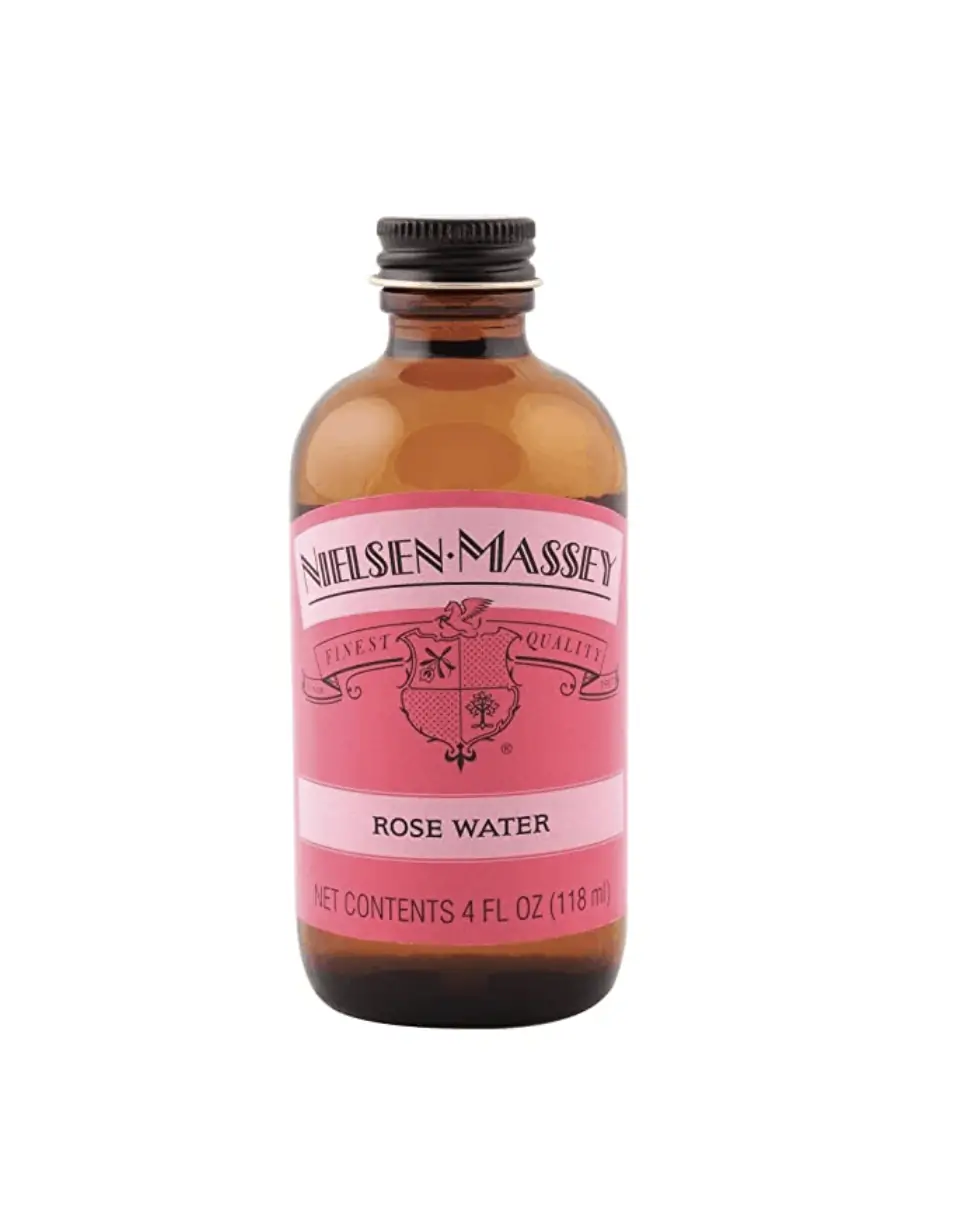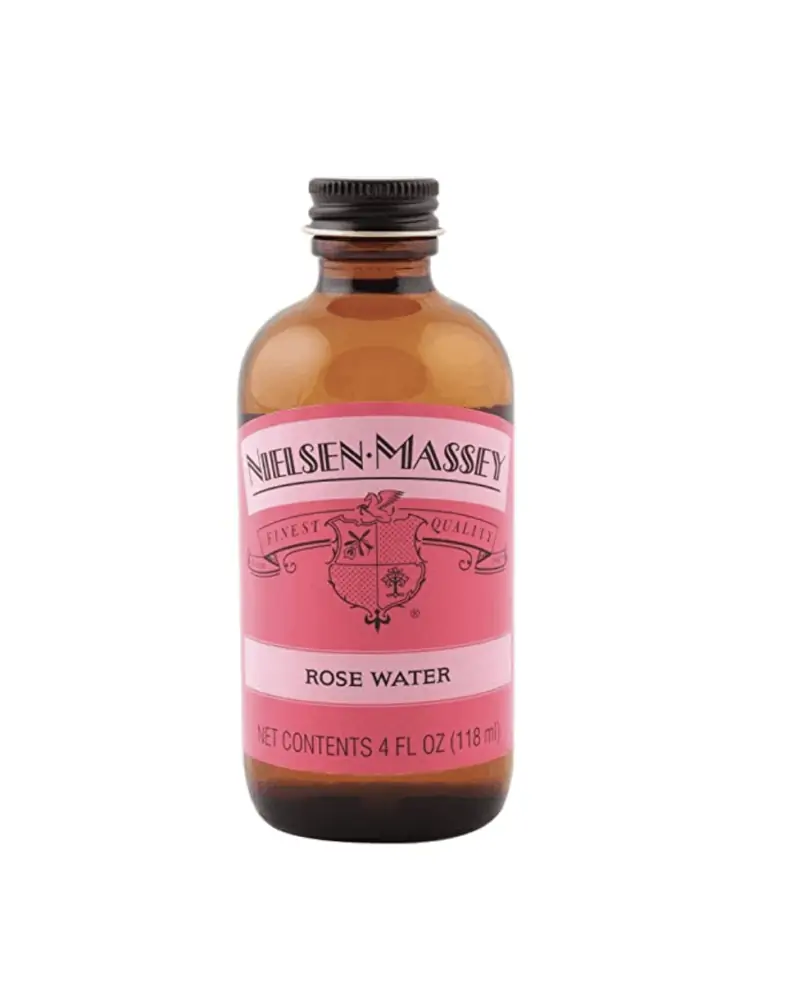 What is Rose Water?
Rose water is made from distilling rose petals in water. The wonderful aromas from the petals are infused into the water.
Rose water is used in perfumes, skincare products, and some cuisines. Much like an extract, it is quite potent, so a small amount is enough to create a botanically flavored drink!
This recipe calls for 1/4 teaspoon, and is just enough!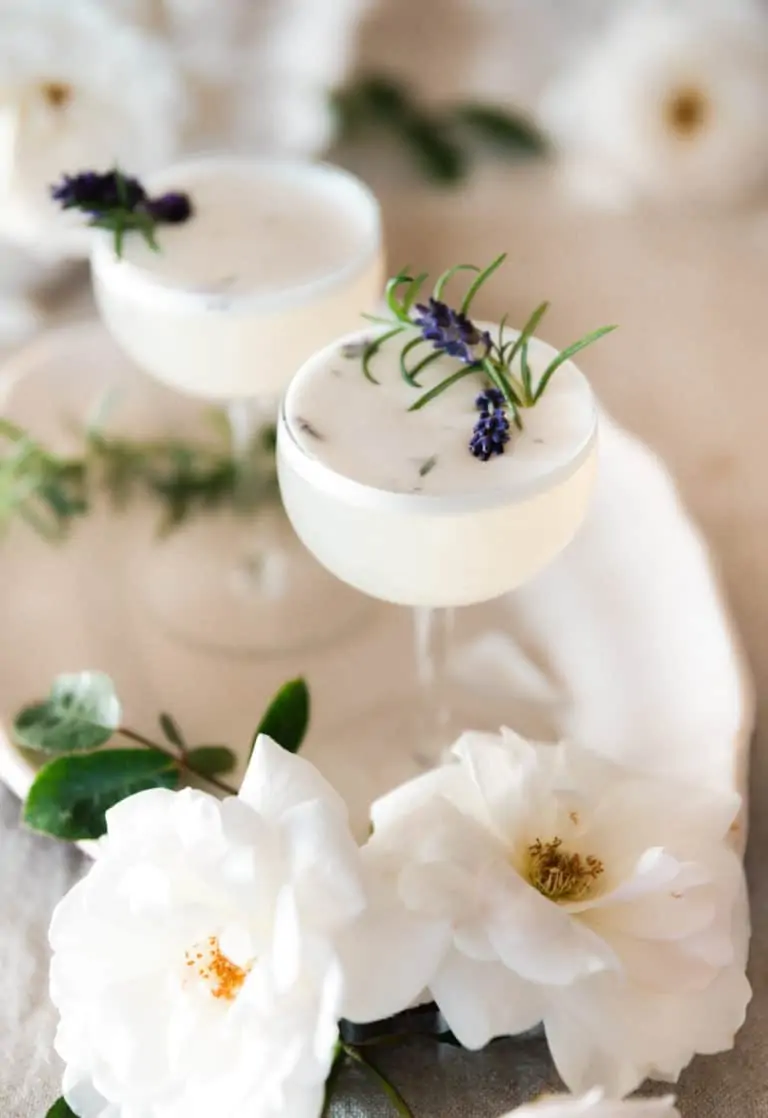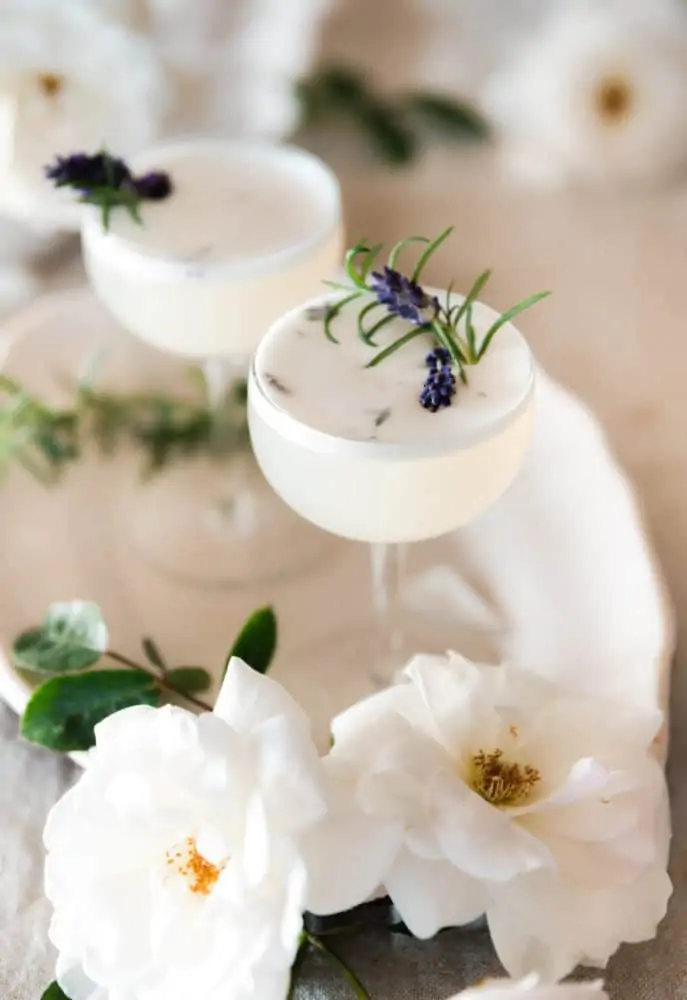 How to Make Lavender Syrup
Lavender syrup is very simple to make! Just like rosemary syrup, it comes together by infusing the herb in a basic simple syrup recipe.
To make the syrup combine equal parts water and sugar in a small sauce pan. Warm the syrup over low heat until the sugar dissolves. About five minutes.
Pour the entire contents into a glass mason jar and chill. You will have leftovers, for more cocktails or even a lavender latte the next morning!
---
More Delicious Cocktails to Try
---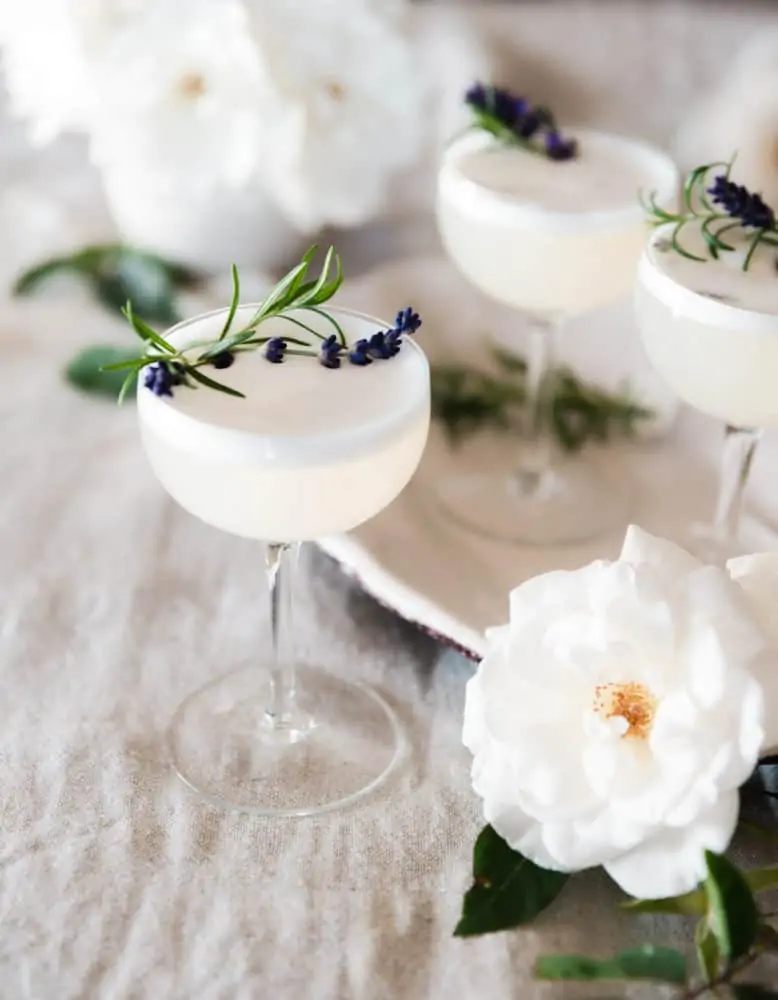 What is a vodka fizz?
A vodka fizz, is just like a gin fizz just made with vodka instead of gin. The "fizz" comes from shaking an egg white in a cocktail shaker. The egg white "fizzes" up and turns into a delightfully light and fluffy drink!
The egg white is raw, so some may opt to skip it. You certainly can. However, you can expect the cocktail to be less fizzy. It will still be delicious! Simply top the cocktail with a bit more soda water!
If you love this cocktail recipe, please come back to leave a 5-star review! It gives others the confidence to try something new!
The Recipe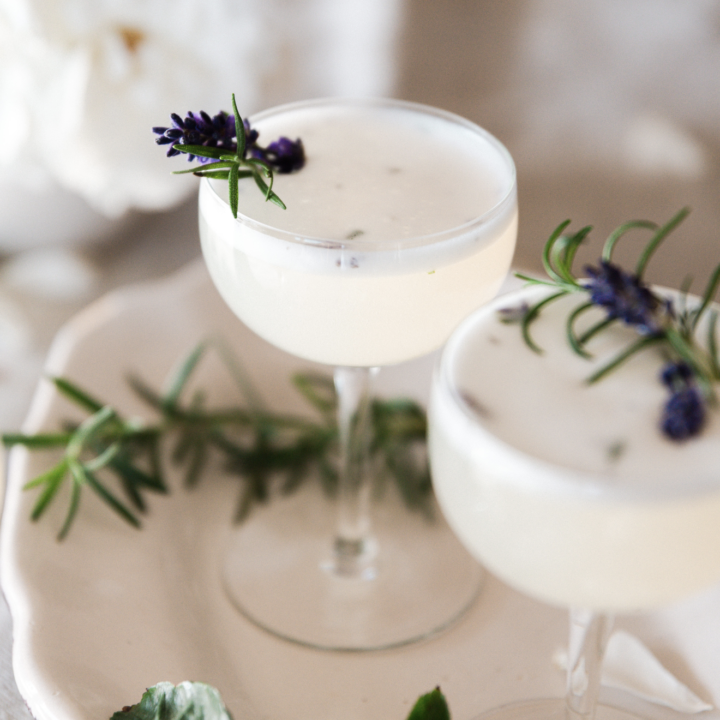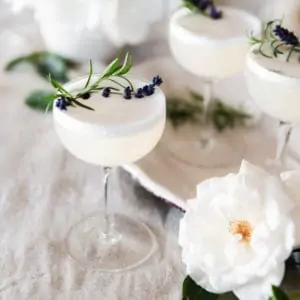 Lavender Cocktail
This delicious lavender cocktail is a refreshing vodka fizz infused with rose water, rosemary, and lavender! It's a garden party in a glass!
Ingredients
Lavender Cocktail
1

Ounce

Lavender Syrup

recipe below

1/4

Teaspoon

Rose Water

Juice from 1 Lemon

3

Ounces

Vodka

Egg White From One Egg

2-3

Lavender Sprigs

2-3

Rosemary Sprigs

Soda Water

Lavender Sprigs for Garnish
Lavender Syrup
1

cup

water

1

cup

sugar

3-4

sprigs lavender
Instructions
Prepare the lavender syrup: combine the ingredients in a small sauce pan and warm until the sugar dissolves. About 5 minutes.

Pour the contents into a glass jar and chill for at least 30 minutes.

In a cocktail shaker combine 1 ounce lavender syrup, 1/4 teaspoon rose water, lemon juice, 3 ounces vodka, egg white from one egg, and a few lavender and rosemary sprigs.

Add a handful of ice cubes to the shaker. Shake well for a full 15 seconds.

Double strain the cocktail into 2, 6 ounce glasses.

Top each glass with soda water (pour slowly, the drink will fizz up!). Garnish with more rosemary and lavdner sprigs.
Notes
The soda water will cause the cocktail to fizz up. Add slowly to prevent the drink from overflowing.
The lavender syrup recipe will make about 1 cup of syrup, so you will have leftovers. Refrigerate and use for lattes or more cocktails!
If you would like to skip the egg white, you certainly can. It will create a less fizzy cocktail, but will still be delicious!