Tomatillo salsa is simply a taste of summertime with every bite! Enjoy this delicious salsa with a variety of meals or simply as an appetizer with chips!
This yummy salsa verde has a nice earthy and herbal taste. Like mango salsa and peach salsa, tomatillo is a different flavor of salsa. The taste is more herbaceous and fresh, and simply put: green! Read below for tips and tricks for making your own homemade tomatillo salsa verde!
This post is sponsored by the makers of Ball® home canning products.*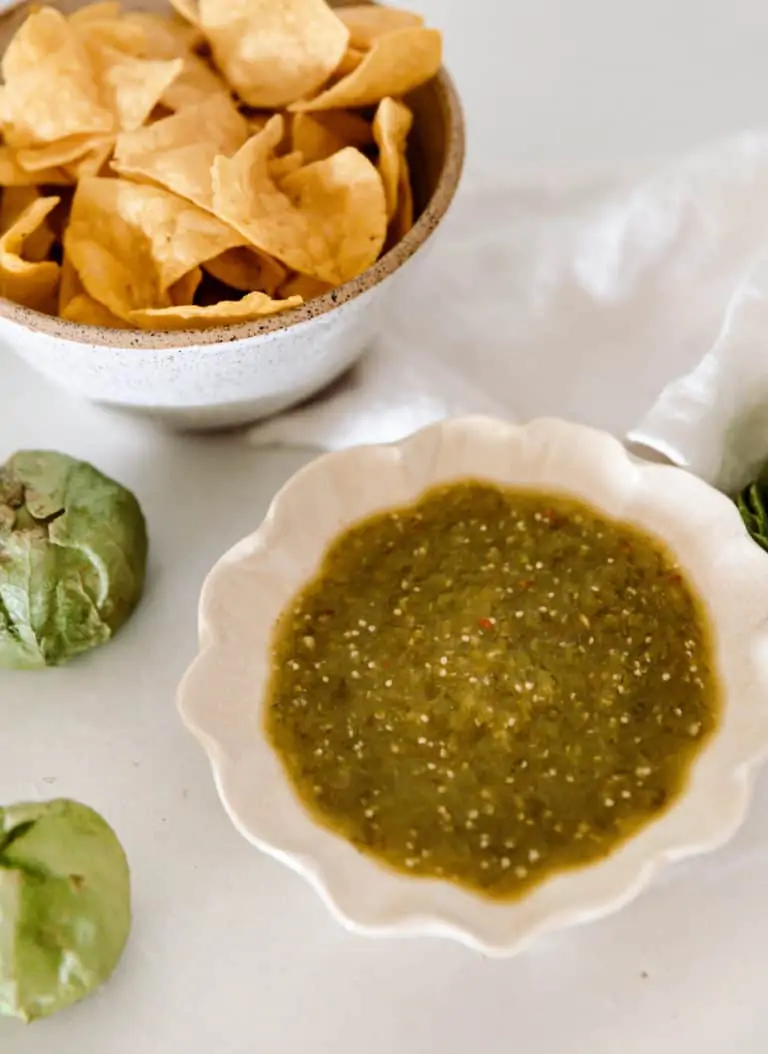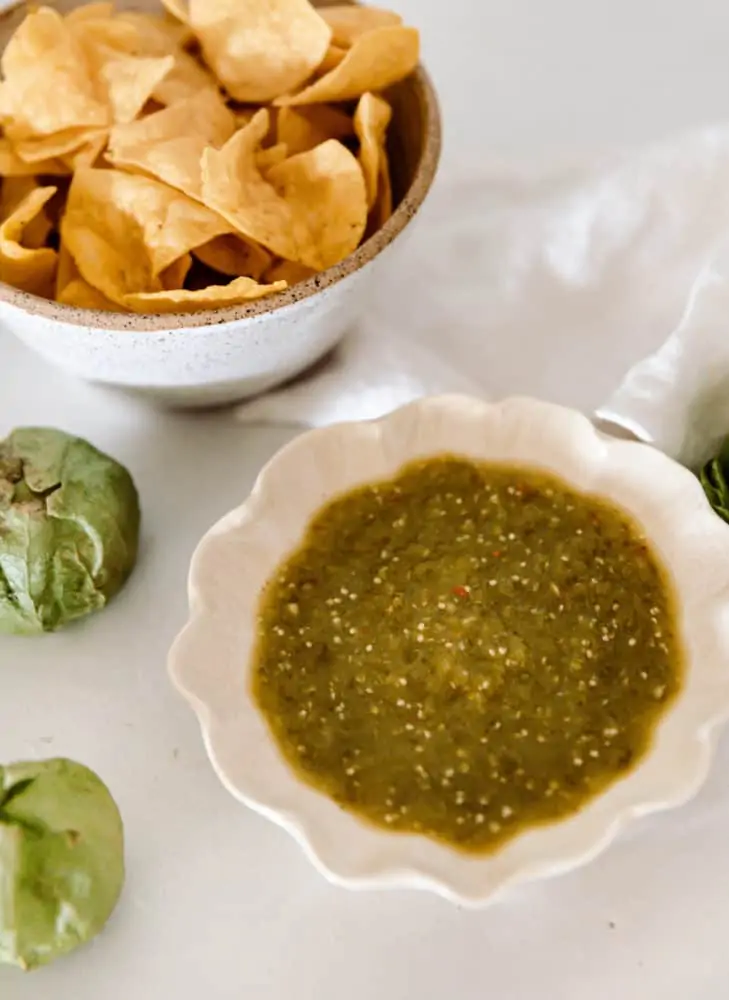 Tomatillo Salsa for Canning
This is a wonderful salsa to make homemade preserves with. It's quite easy to put together with just a few simple ingredients. While regular salsa contains tomatoes, this salsa is made with tomatillos. You'll also need onions, green chilies, garlic, cilantro, cumin, salt, red pepper flakes, vinegar, and lime juice.
Once all of the ingredients are combined, the tomatillos should be cooked. Many recipes call for roasting the tomatillos prior to making the salsa, but this recipe calls for cooking the salsa after all of the ingredients are brought together. In my opinion, this is quicker and easier!
If you're wondering what is the difference between tomatillo salsa vs salsa verde, they are the same thing!
How to enjoy this yummy salsa:
Green enchiladas!
Chips & Salsa: This is where you will most enjoy the full flavor of this delicious salsa.
Nachos
Quesadilla
Roasted Pork Tacos with Tomatillo Salsa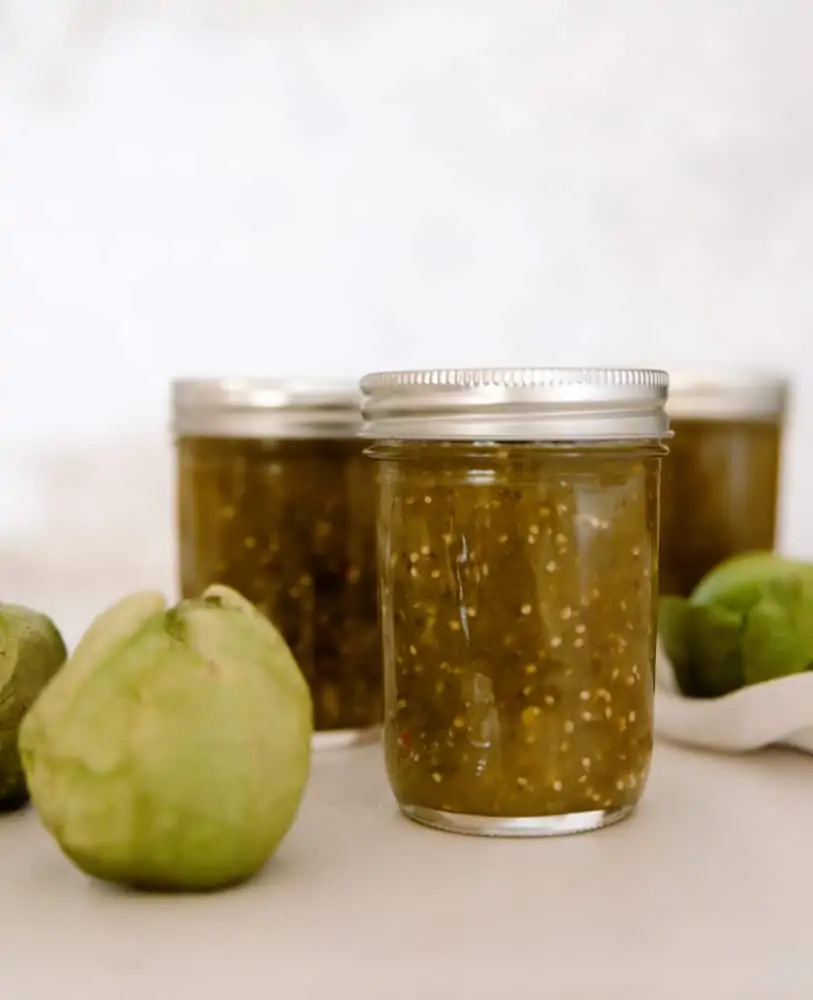 ---
Tomatillo Salsa FAQ
Is tomatillo salsa spicy?
This varies on the type of chilies you add to the recipe.
Can I use a food processor?
Yes, this makes making tomatillo salsa a breeze! I love using a food processor to combine the ingredients. If you don't have a food processor, just use a knife to chop the ingredients into your desired consistency.
Is tomatillo salsa bitter or sour?
Tomatillo salsa is not bitter or sour. It has a nice green and earthy flavor like a pesto, but unique to Mexican cuisine.
---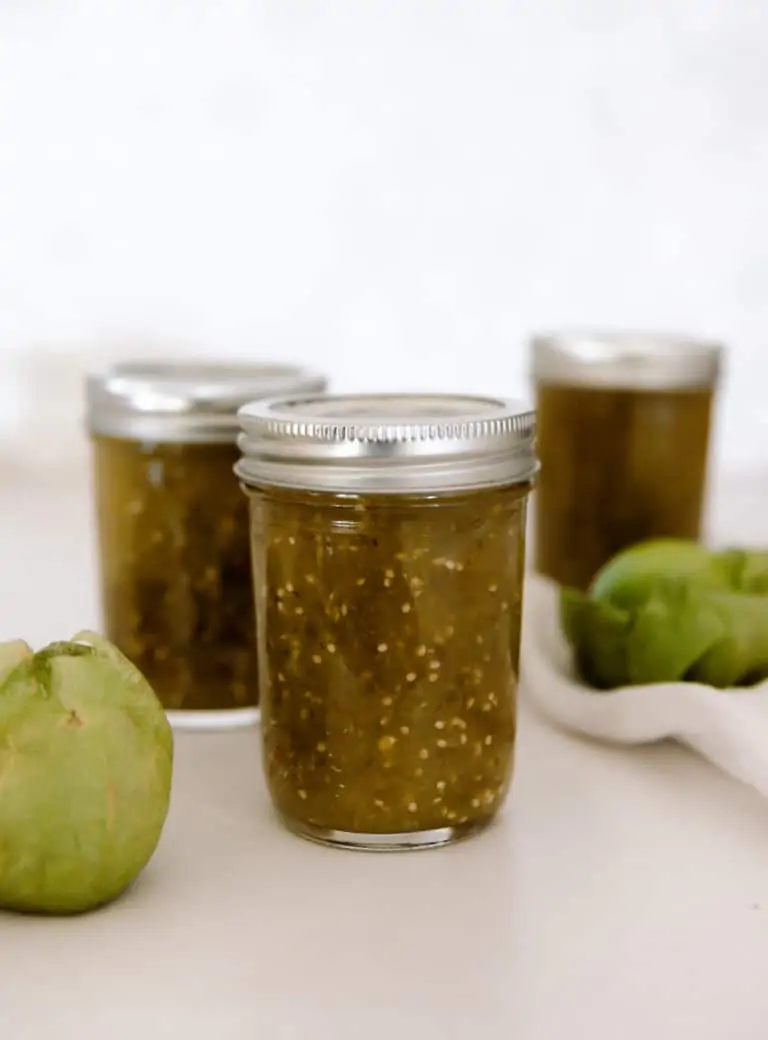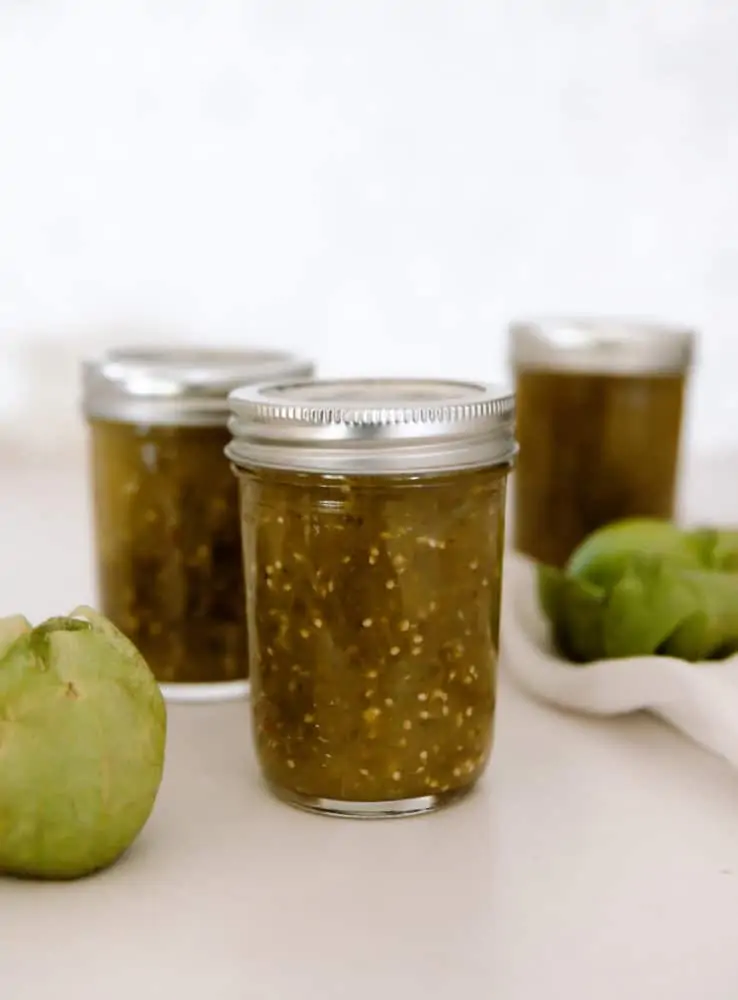 If you love home canning, be sure to check out some of my favorite preserving recipes! Orange marmalade is a reader fave, and the caramel apple jam is one of my all time favorite recipes! Or if you have more jalapeños than you know what to do with try candied jalapeños, jalapeño jelly, or pickled jalapeños!
The Recipe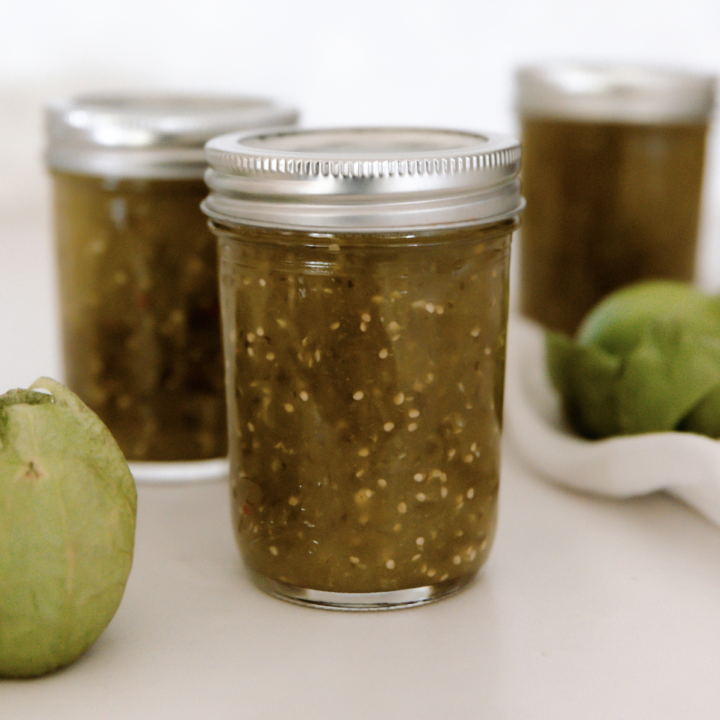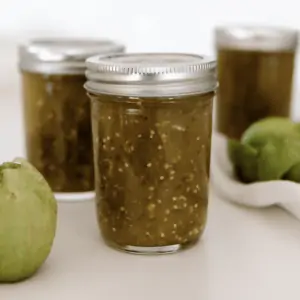 Tomatillo Salsa
The combination of tomatillos, chilies and cilantro creates a salsa with authentic Mexican flavor. In addition to making a great dip for tortilla chips, this salsa pairs perfectly with fajitas, burritos and quesadillas.
Preserving method: Water bath canning

Makes about 4 (8 oz) half pints

Equipment
Ingredients
2

lbs.

tomatillos

husks removed, washed, cored and chopped (about 5-1/2 cups)

1

cup

chopped onion

1

cup

chopped green chilies

4

cloves

garlic

minced

2

Tbsp

minced cilantro

2

tsp

ground cumin

1/2

tsp

salt

1/2

tsp

red pepper flakes

1/2

cup

vinegar

4

Tbsp

lime juice

4

Ball®

8 oz half pint glass preserving jars with lids and bands

Optional: Ball® freshTECH Electric Water Bath Canner + Multicooker
Instructions
Prepare boiling water canner. Heat jars in simmering water until ready for use. Do not boil. Wash lids in warm soapy water and set bands aside.

Combine all ingredients in a large saucepan. Heat to a boil. Reduce heat and simmer 10 minutes.

Ladle hot salsa in to hot jars leaving 1/2 inch headspace. Remove air bubbles. Wipe rim. Center hot lid on jar. Apply band and adjust until fit is fingertip tight. Place jar in boiling water canner. Repeat until all jars are filled.

Process jars for 15 minutes, adjusting for altitude. Turn off heat; remove lid, and let jars stand 5 minutes. Remove jars and cool. Check lids for seal after 24 hours. Lid should not flex up and down when center is pressed.
Notes
Quick tip: When cutting or seeding hot peppers, wear rubber gloves to prevent hands from being burned.
*This is a sponsored post that is part of an ongoing partnership with the Fresh Preserving Division of Newell Brands. They have provided jars, equipment and monetary compensation. All thoughts and opinions expressed remain my own.