Welcome to the modern rustic dining room design at our recently completed interiors project. In this post, I'm sharing details and design tips to create your own moody space.
As a designer, I love a more formal dining room, many open floor plans prevent a truly formal space from feeling cohesive. To create a bit of drama and intention in a space, paint color will go a long way. In this space we used millwork and a nearly black paint color to make the dining room feel special.
We blended a rustic reclaimed wood table with timeless vintage chairs for depth. While the palette is darker, it remains neutral. The green and navy colors pair wonderfully with the white oak floors with beautiful contrast.
I hope you enjoy this dining room space we recently designed. Read below for sources and tips on how we created this modern rustic look.
If you like this style, be sure to check out the other rooms of this home: a European farmhouse kitchen and transitional living room!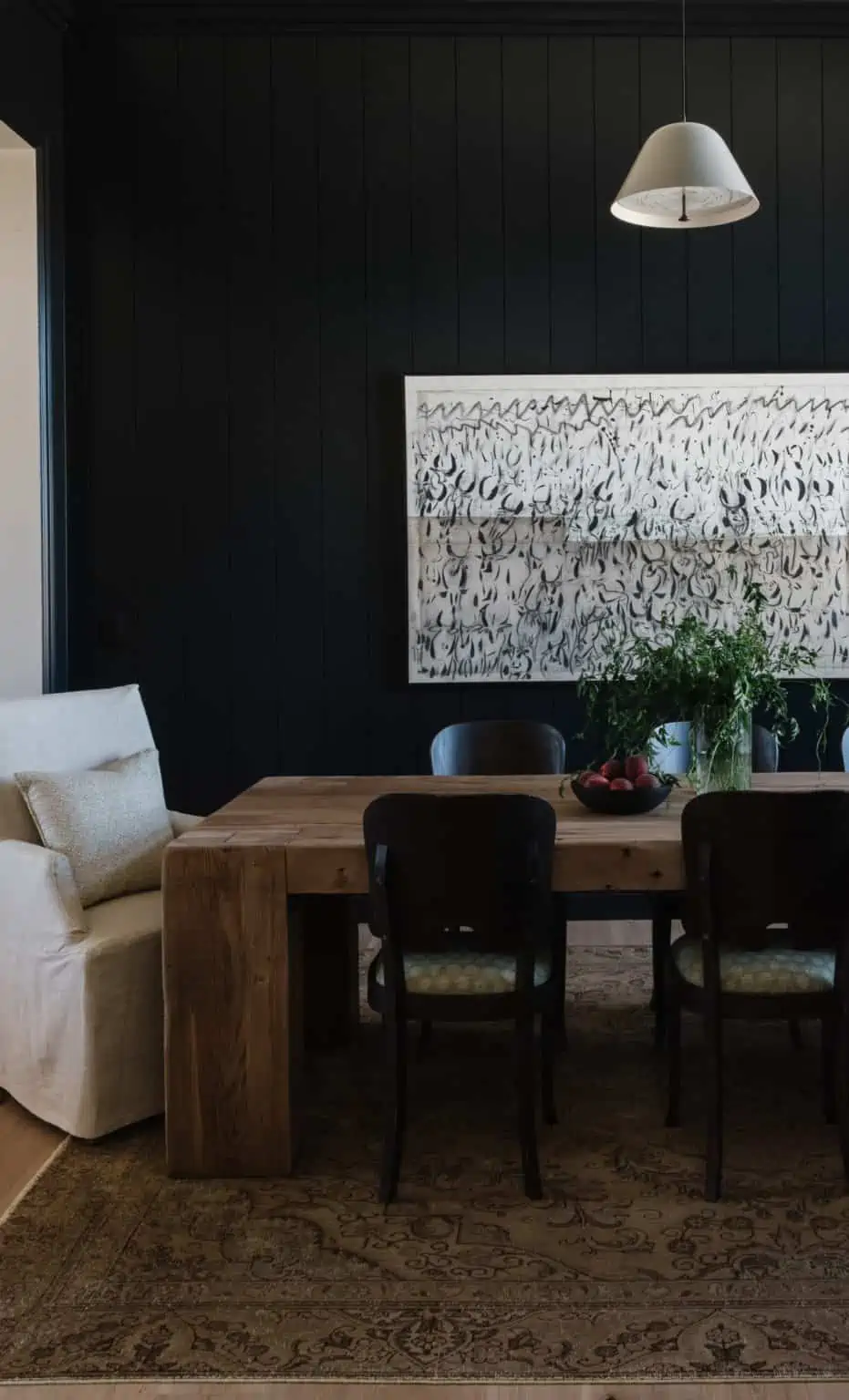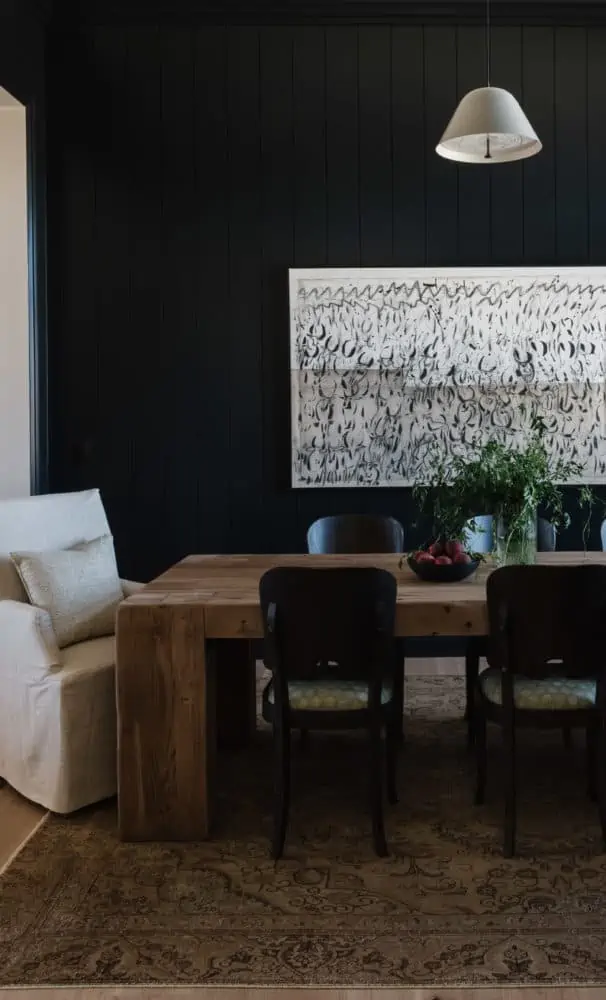 Table of contents
When thinking of furniture for this space, I wanted to create a delicate balance of visual weight. We talk a lot about visual weight in design, and I feel it is very important to include a variety of weight in the finishes and furniture.
You'll see the table is quite visually heavy, so I kept it very light in other areas such as the pendant. This was an intentional choice to trick the eye and trigger a moment of pause.
Modern Rustic Furniture Sources
The furniture piece that truly sets the tone for the room is the table. The stunning reclaimed English beam dining table is the anchor of the room.
The wood is salvaged from decades-old warehouses in England that were carefully hand-selected and lightly sanded by artisans keeping the original distressing intact. I love sourcing reclaimed wood furniture because it brings character and history into the space.
As I mention in the video, I wanted to add some levels with the chairs. Rather than selecting a matching set, I opted for slip covered head chairs.
This is a style I find myself turning towards most of the time when designing dining rooms. I love the height that slip covered chairs bring.
The chairs are a vintage set from Belgium, and as I write this, I'm hanging on to them for my own home. I love them so much, here is a similar look.
One of the special touches we added is the gorgeous fabric on the chairs. The fabric is from James Showroom. I think it is so important to add pattern to a space. I know it's tempting to go neutral, but I encourage you to add a bit of charm through prints!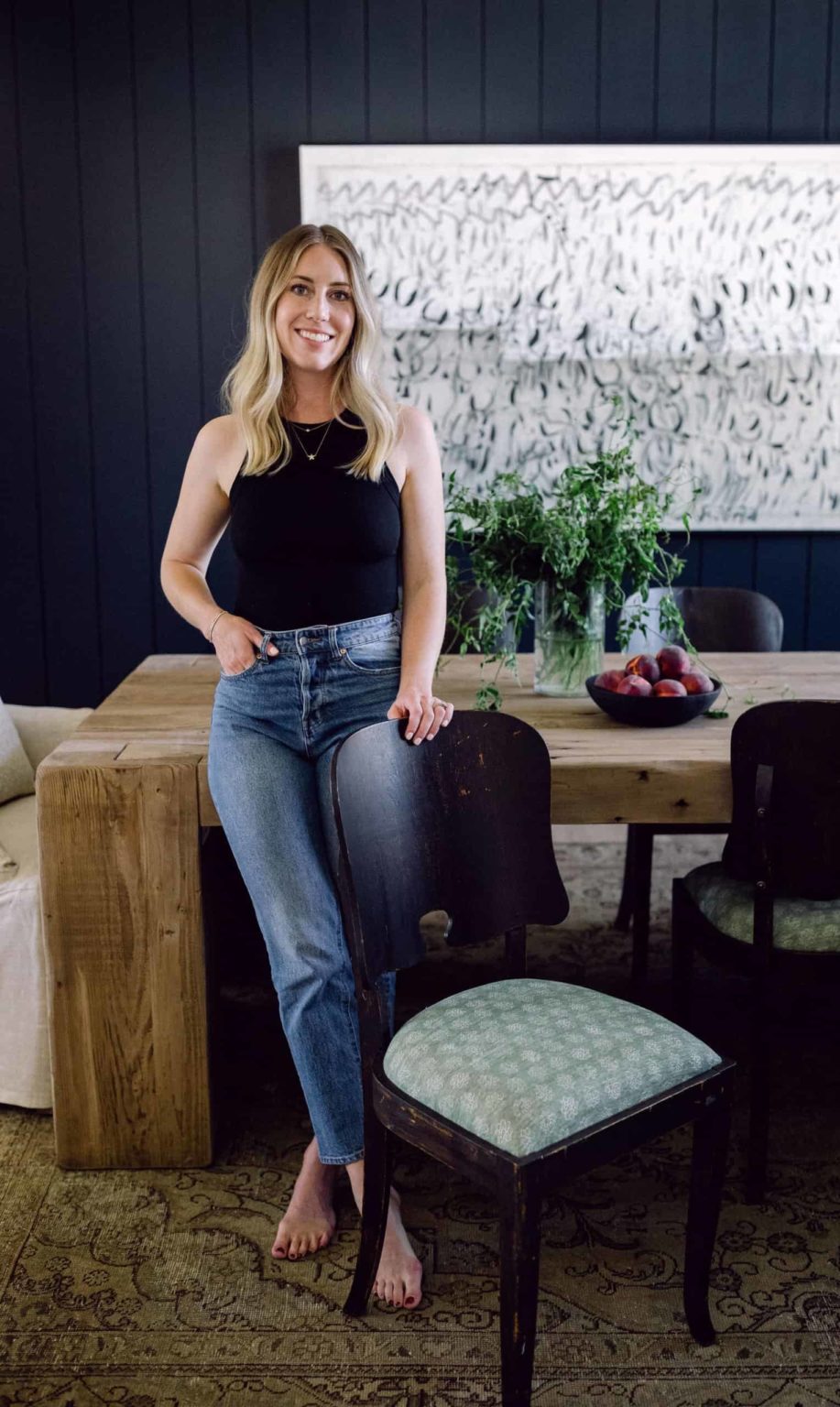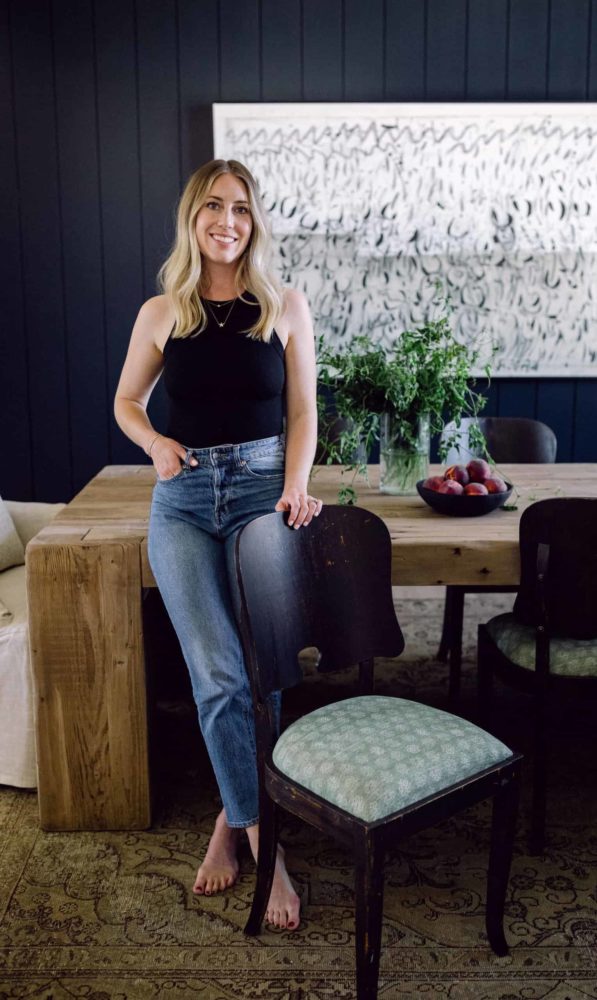 Modern Lighting
This classic pendant effortlessly floats in the air above the table. The clean lines of the aluminum shade paired with a glass diffuser on the bottom and a simple brass knob at the center bring a modern touch to the room offering a soft glow to the space at night.
Design Tip: Mixing and matching rustic elements and modern lines helps elevate the overall aesthetic. I like to avoid having too much of one style to create a curated look.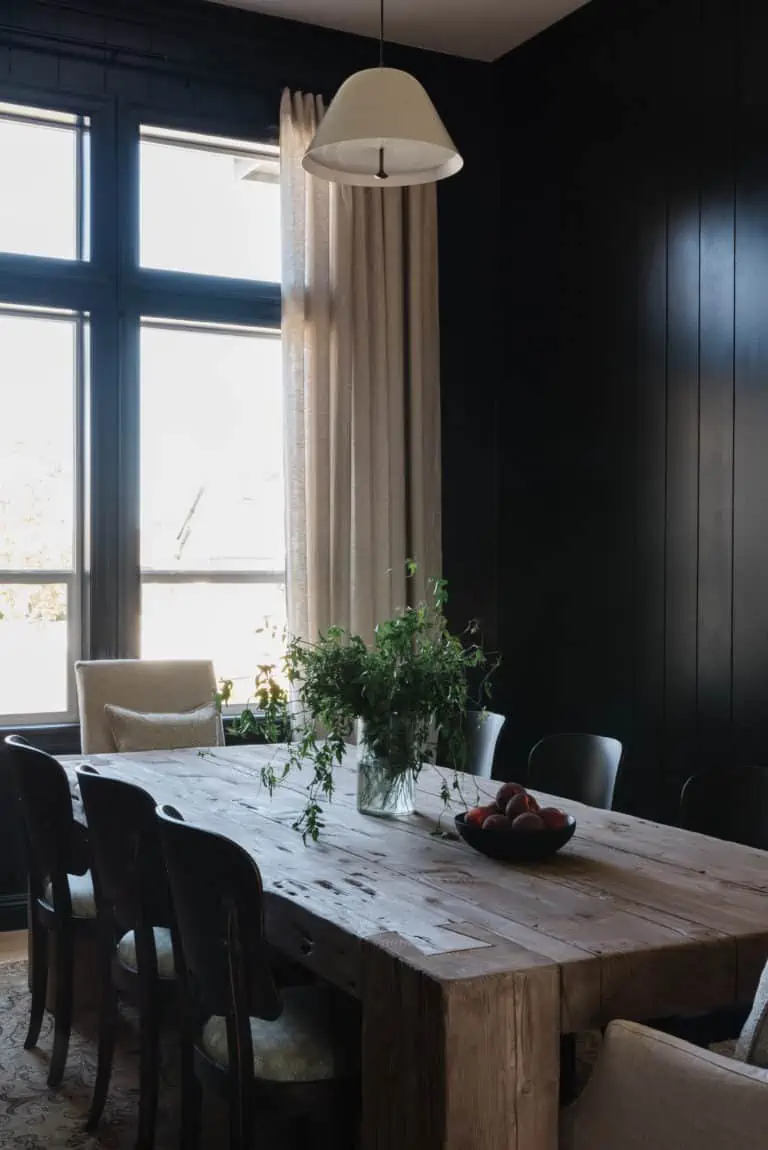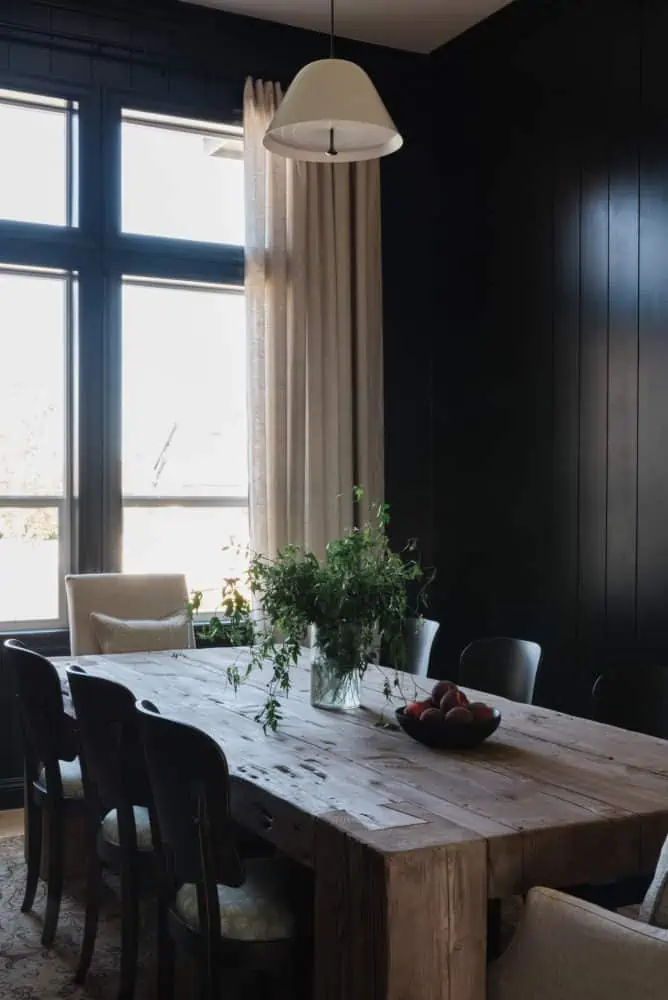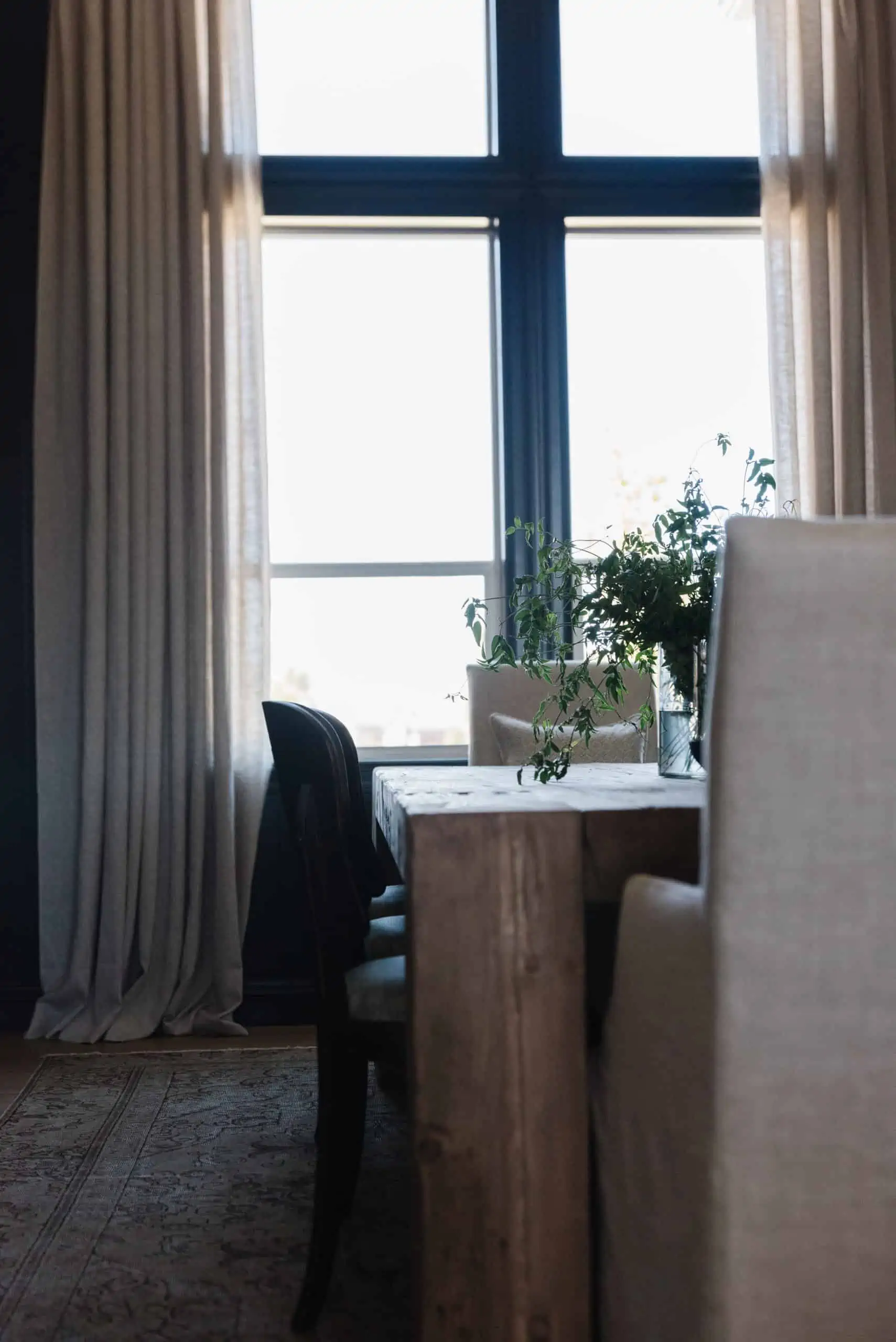 Rustic Accessories
Artwork helps bring the room to life and is what transforms a cold space into a welcoming environment. Additionally, it's how you can infuse your personality into your home. I find selecting artwork to be one of the most personal aspects when designing for clients.
Design Tip: Check out this guide for how to hang artwork at the perfect height.
Adding a rug underneath the table will instantly soften the feel of the dining room. Rugs are another way to introduce more color and pattern while also helping to absorb sound.
Let's not forget about drapery either. Undoubtedly, curtains instantly diminish the hard lines of a room and help with acoustics.
Finally, accessories on the table are another way to turn an ordinary room into a well-designed space. You don't have to do anything fancy, a simple bowl with fruit and a vase with some fresh backyard cuts make gorgeous centerpieces.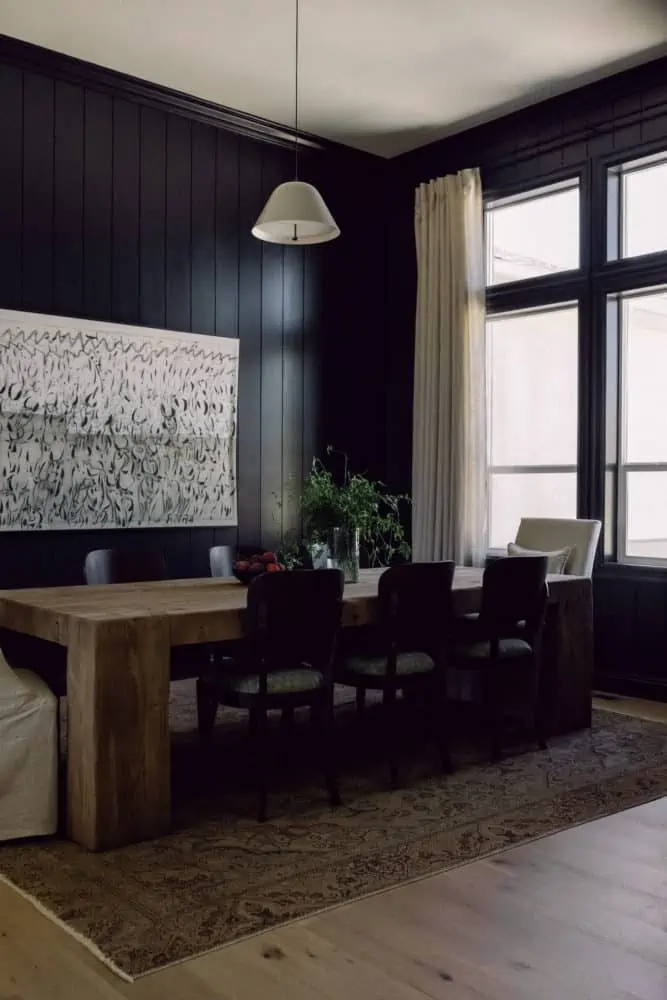 Moody Paint
Originally, we were planning on painting the walls in the dining room Alabaster by Sherwin Williams (like the rest of the home).
After seeing the space during a site visit, I decided this room with its incredibly tall ceilings and tongue and groove paneling called for something more dramatic.
I ended up choosing inkwell in a gloss finish by Sherwin Williams and honestly, I couldn't be happier with that decision.
The trim was painted to match so there wasn't a sharp break between the walls and the floor. Dark walls really offset the light tones in the flooring, drapery, lighting, and art.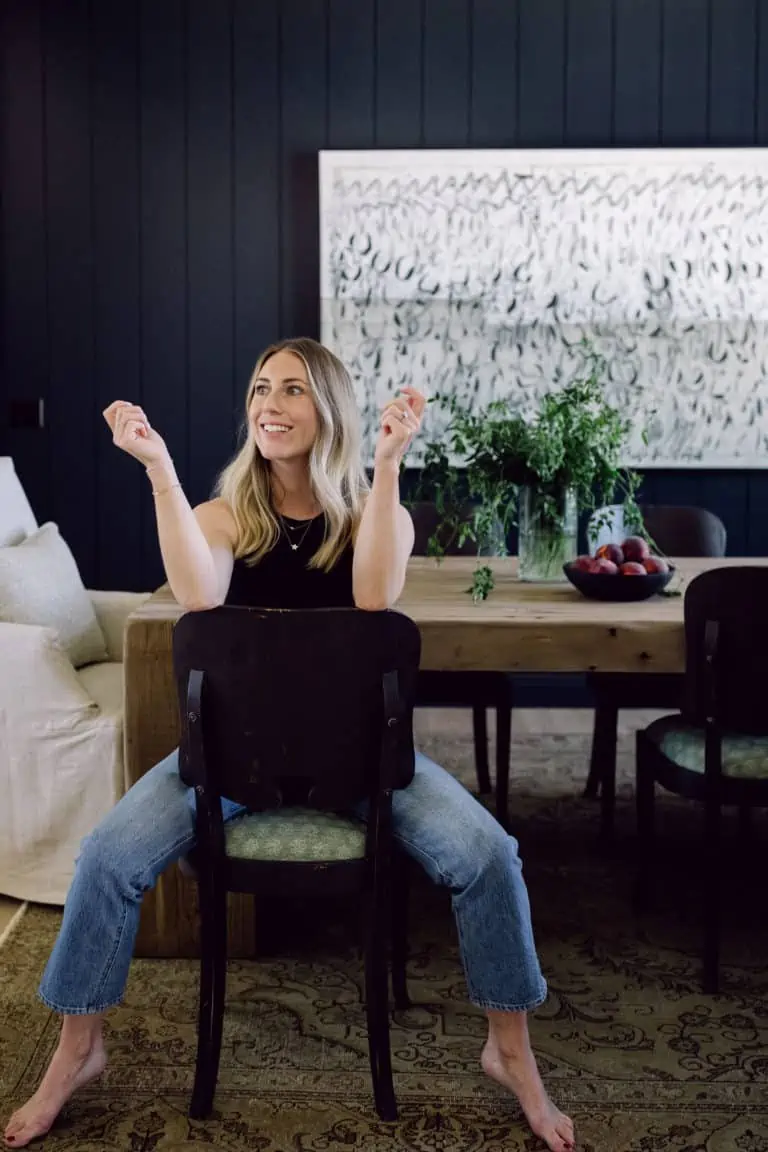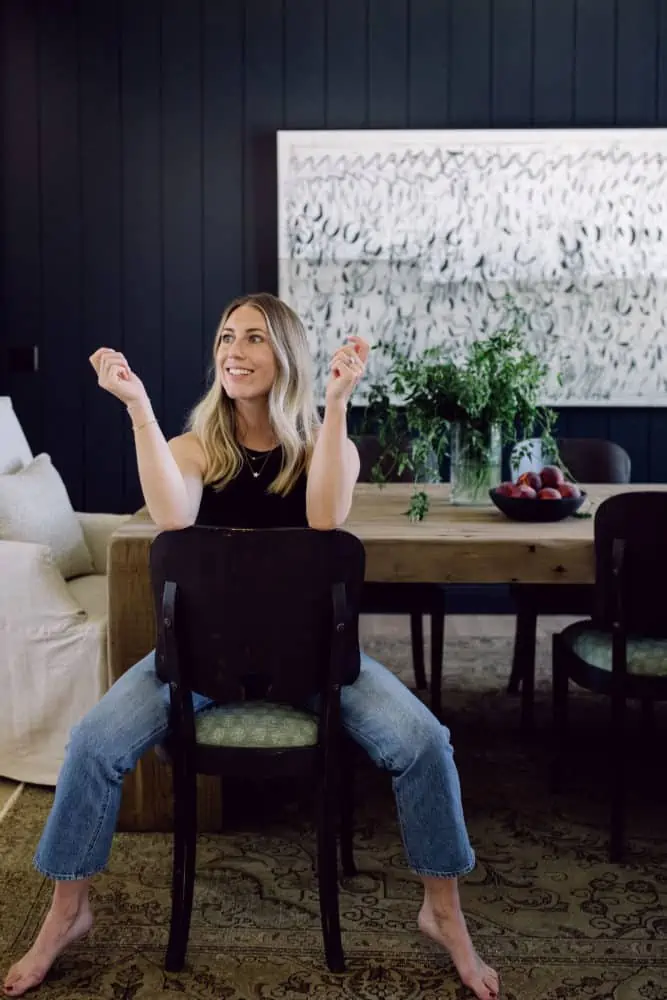 The Full House Tour
Modern Farmhouse Kitchen Nook
Reach out to our design team if you would love some help pulling together your home or business.