Vintage Modern Laundry Room Reveal
This post may contain affiliate links, please read my disclosure policy.
Today we are diving into the vintage modern laundry room design and sources from our Rocky Terrace project. I know we aren't supposed to play favorites, but how can you not instantly swoon upon seeing this laundry room painted in bold green?
We used a monochromatic color scheme and added vintage design elements to create this space. The cabinets, walls, and trim are all the same color: dried thyme by Sherwin Williams. Laundry is no longer a tedious task when it's done in this gorgeous room!
I'm breaking down all of the details for this spec home so you can incorporate your favorite features into your own home.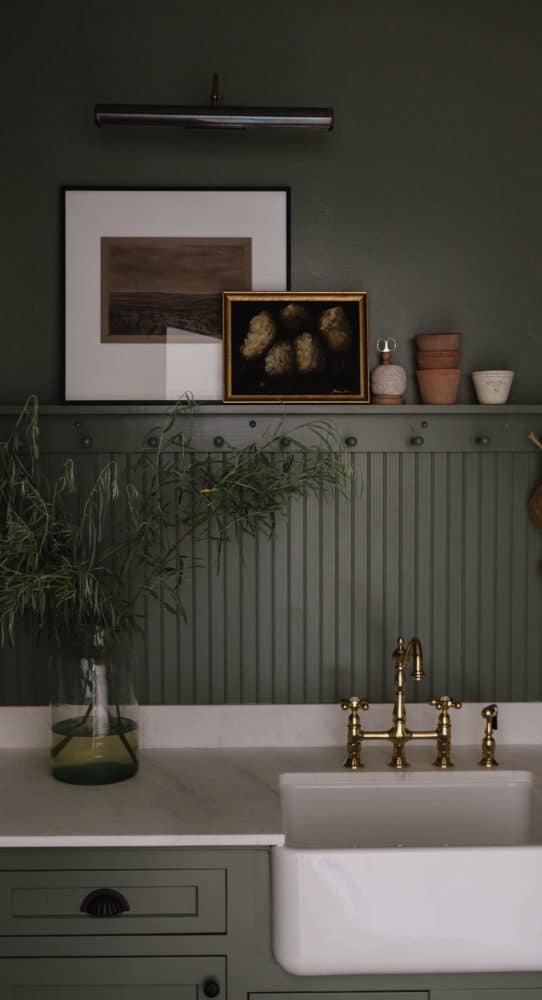 We created a functional space that was also unexpected. Laundry rooms are often purely utilitarian spaces in your home, but we love designing these rooms and infusing them with beauty! We did so with a warm green paint color top to bottom and crisp marble countertops.
Paint Tip: Dried Thyme by Sherwin Williams is the perfect blend of olive and sage. The color is balanced; not too green and not too yellow. It reads as neutral while adding a pop of color all at the same time.
Vintage Modern Plumbing
Faucets are a perfect opportunity for adding a vintage touch to any space. We love this victorian influenced bridge faucet above the classic apron front sink.
The curved details in the lines of the faucet bring a subtle elegance to your utility sink. It makes the ordinary exciting. Small details like this are the difference between an average laundry room and an intentionally designed laundry room.
The clean lines of the farmhouse sink are the perfect counterbalance to the decorative faucet. Apron sinks have been used for hundreds of years lending yet another vintage element to a modern laundry room.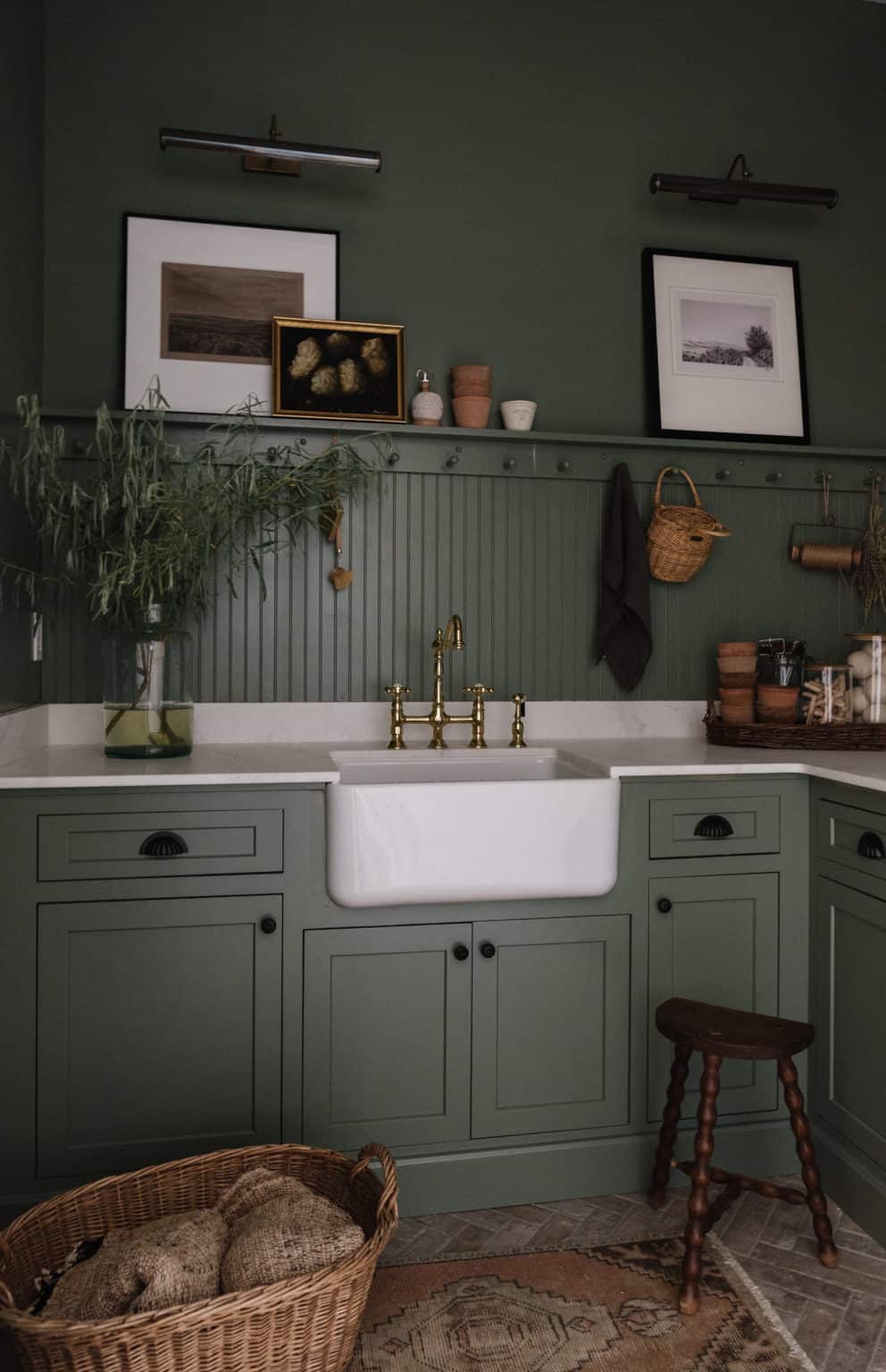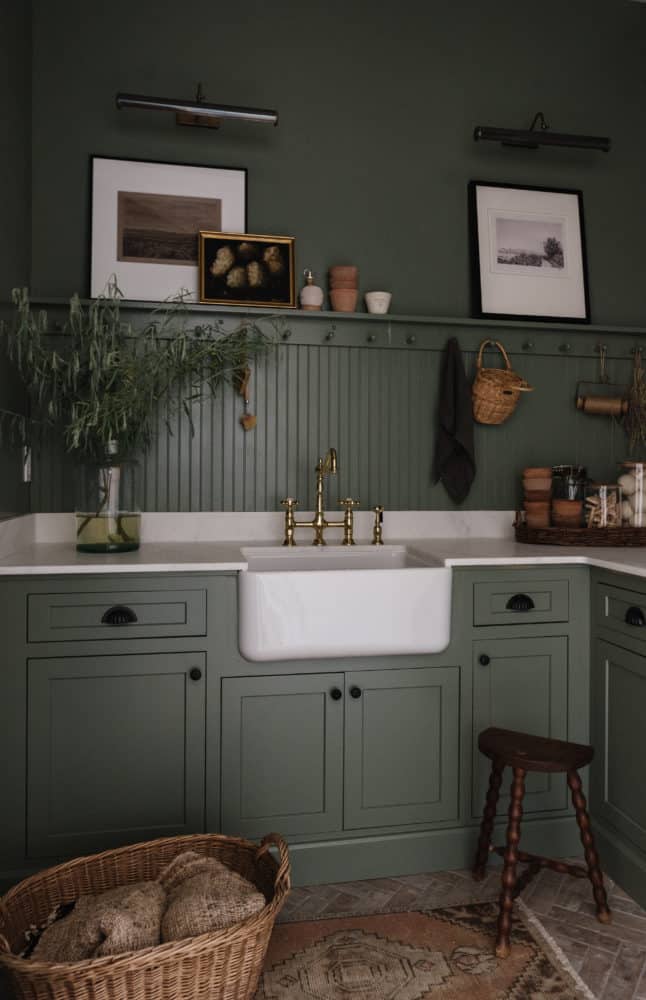 Cabinetry and Hardware
The laundry room has the same style of cabinets as in the European farmhouse kitchen with timeless inset shaker doors. The addition of the dark oil-rubbed bronze hardware with scalloped details adds thoughtful detail.
From a designer's perspective, I wanted to add a playful touch with the hardware. I think these were the perfect thing!
Delightfully traditional, the cup pull on the drawers and knobs for the cabinets coordinate well with the vintage modern theme for the laundry room.
Design Tip: Mixing Metals
We love mixing metals in our designs, the oil-rubbed bronze hardware with the polished brass faucet, and aged brass picture lights create a harmonious blend.
Millwork Details: Beadboard Backsplash & Laundry Room Peg Rail
When painting a room a bold color, the addition of millwork can break up the space and add interest. In this room, we opted for beadboard backsplash and a peg rail.
While both additions are functional, they are also beautiful yet inexpensive. We didn't want to splurge in the laundry room (with this being a spec home), but we did want it to feel special.
By adding the millwork and using a bold paint color, we achieved a beautifully designed space without over spending.
Beadboard is a very inexpensive option as a backsplash, and the peg rail came pre-made from Etsy. We simply had them installed, caulked, and painted for a seamless and custom look.
---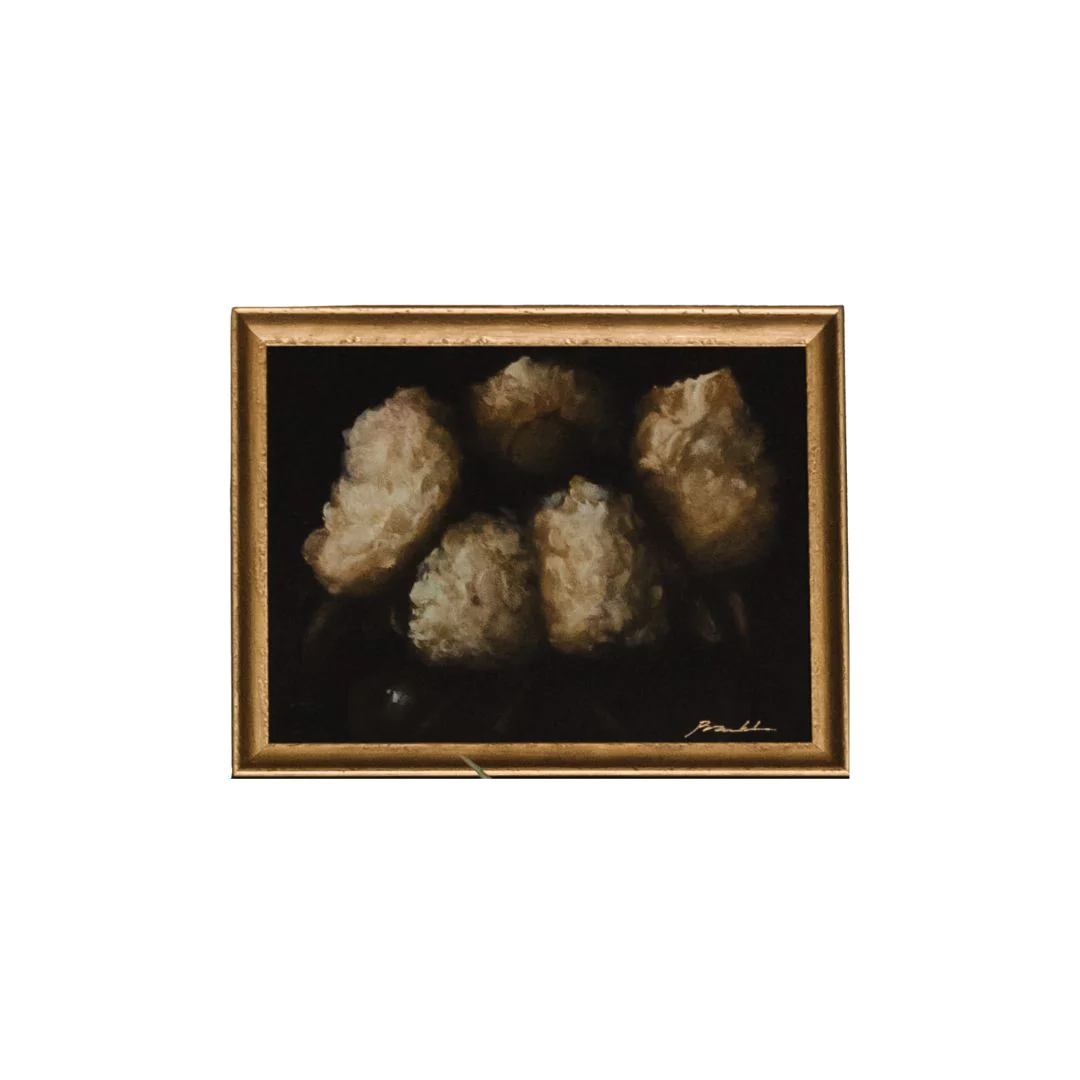 ---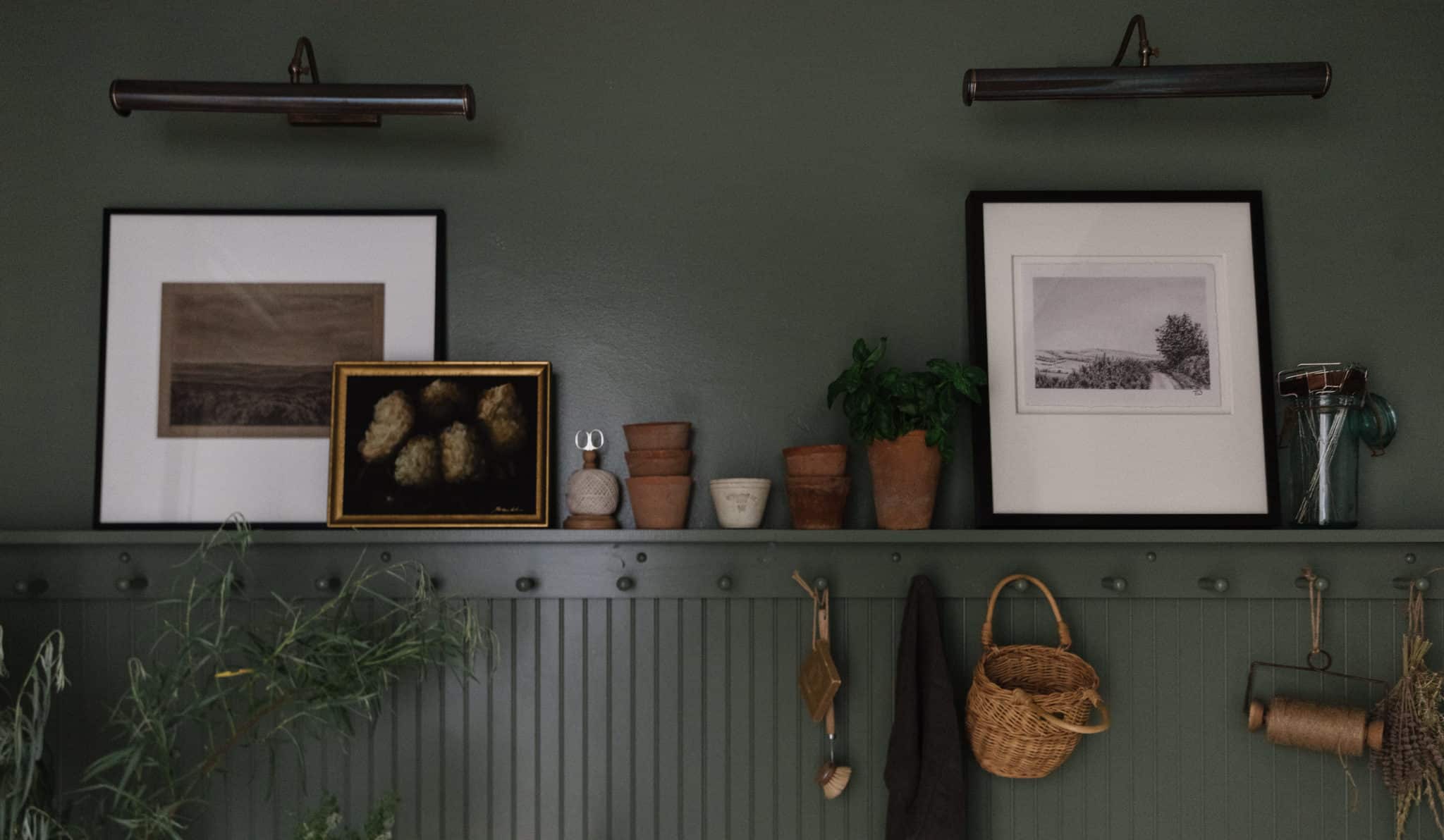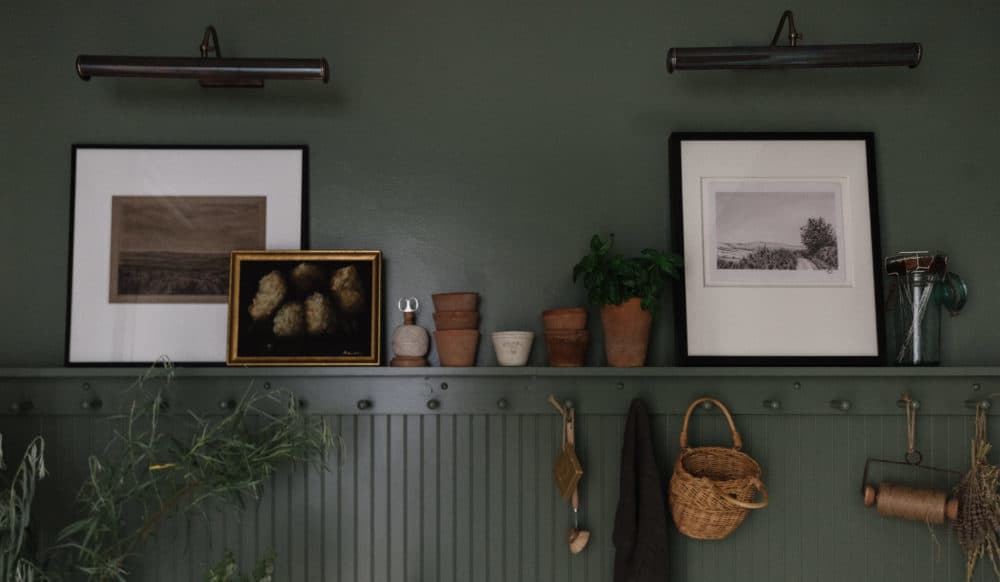 Landry Room Flooring: Herringbone Brick
There is something so classic about a brick herringbone floor! It's one of my favorite design elements to use in laundry rooms.
In this space, we went with a great inexpensive porcelain tile that looks like brick. The brick look tile lends itself perfectly to being laid in that pattern on the floor.
We used taupe color that has the slightest hint of red undertones to bring subtle contrast to the laundry room. The photos on the listing are deceiving.
Design Tip: Use color wheel knowledge when picking color palettes for your home. Muted versions of complementary colors always work well together.
These are materials that were used in homes built hundreds of years ago. The modern twist is that they are actually porcelain tiles which are low maintenance.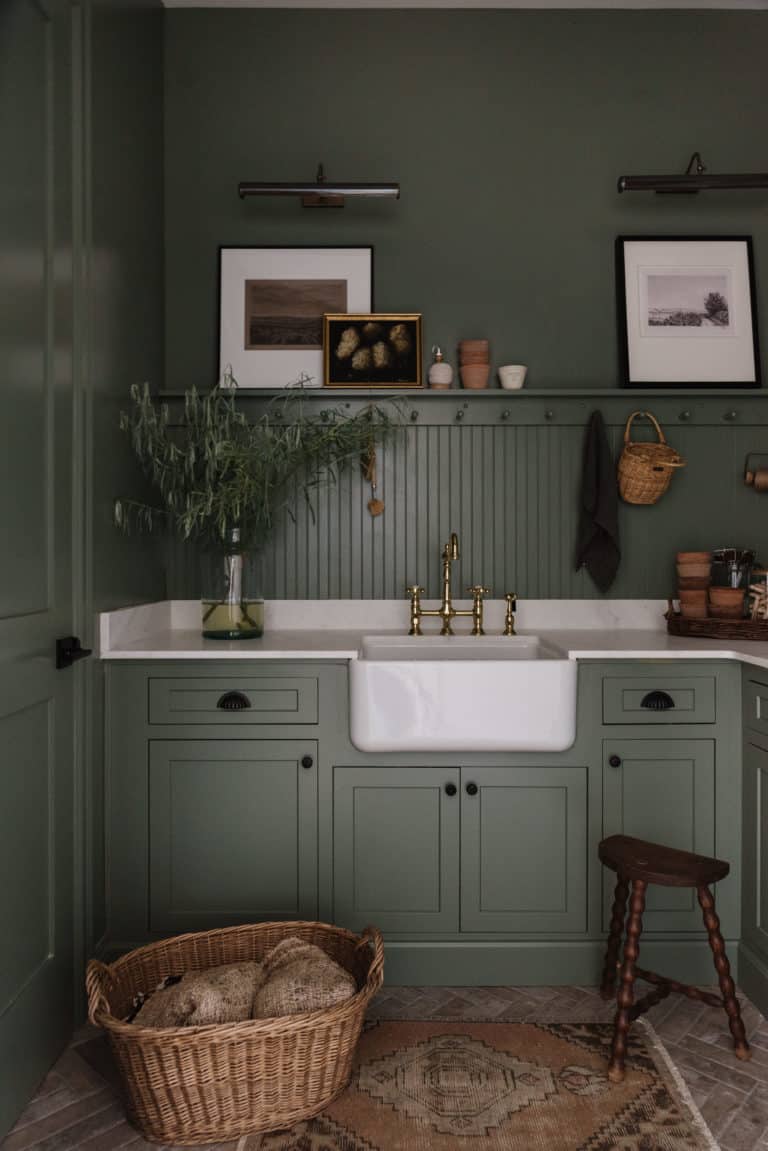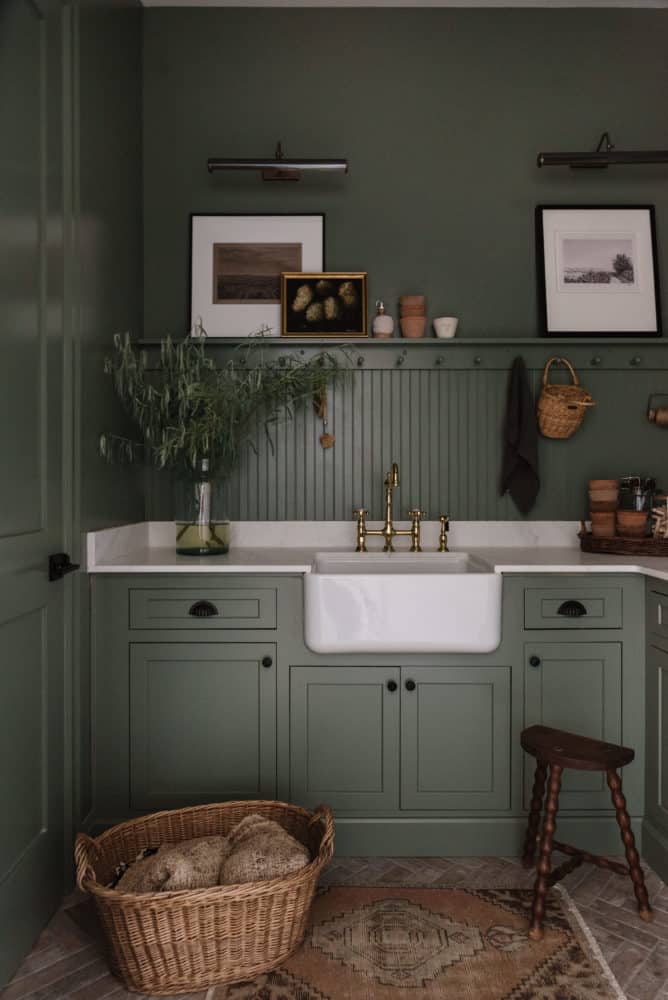 Vintage Decor
The finishing decor pieces are the best way to bring together the aesthetic of a room.
Here we used many items from the Mercantile: vintage spools of yarn, timeless wicker baskets and classic terracotta vases are perfectly at home.
Picture lights above artwork are unexpected in a typical laundry space. We love that it adds a layer of sophistication. Greenery always brings life to a room so try to incorporate some live elements when decorating.
Our mercantile shop has great vintage finds from my recent trip to Paris. We even have a curated list of the items used throughout this home for easy shopping.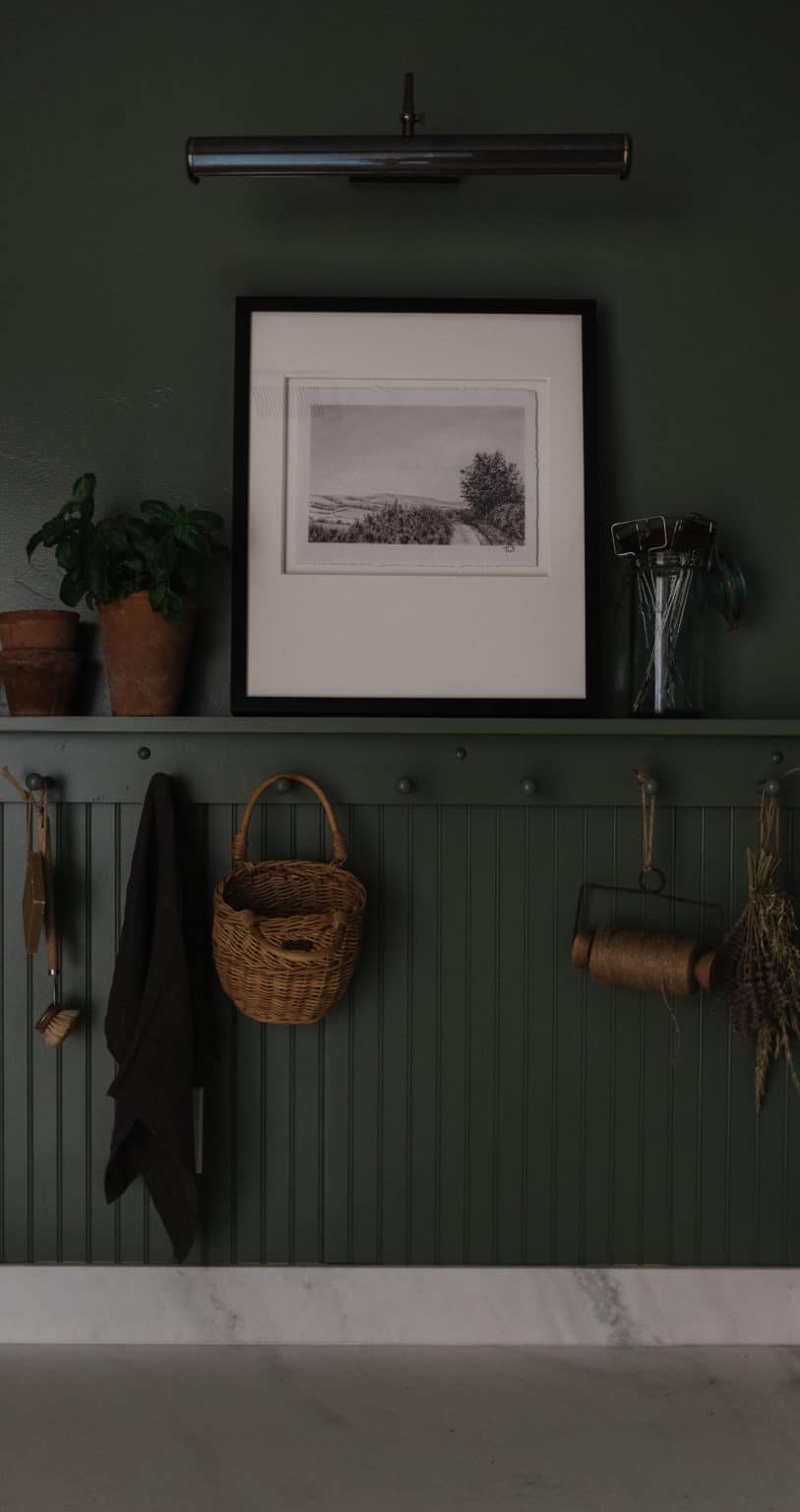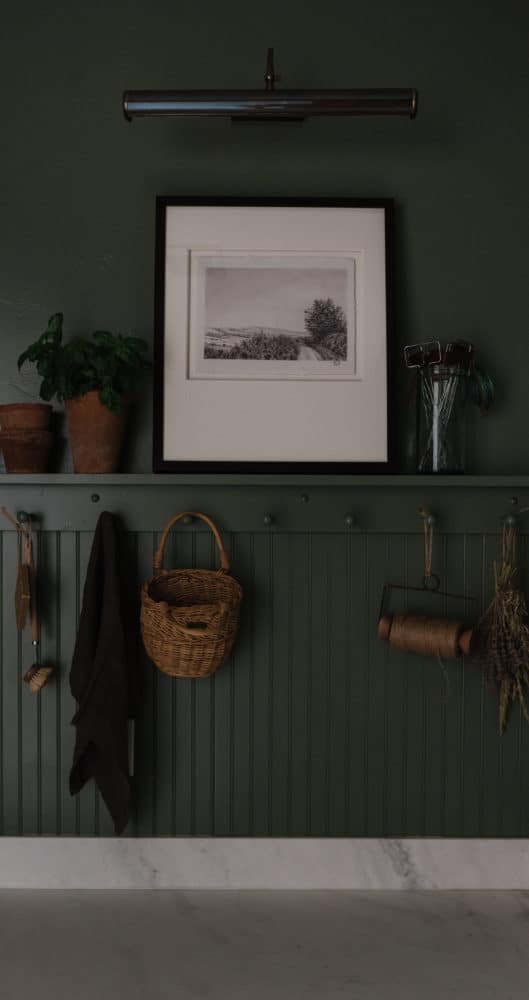 The Full House Tour
Modern Farmhouse Kitchen Nook
Additionally, we are still booking design projects for the rest of the year, if you would like our design team to help you with your home. Our passion is working with you to bring your dream home to life!