How to Hang Curtains
This post may contain affiliate links, please read my disclosure policy.
Learn how to hang curtains with these insider tips! Plus get links to the best hardware and drapery for your budget!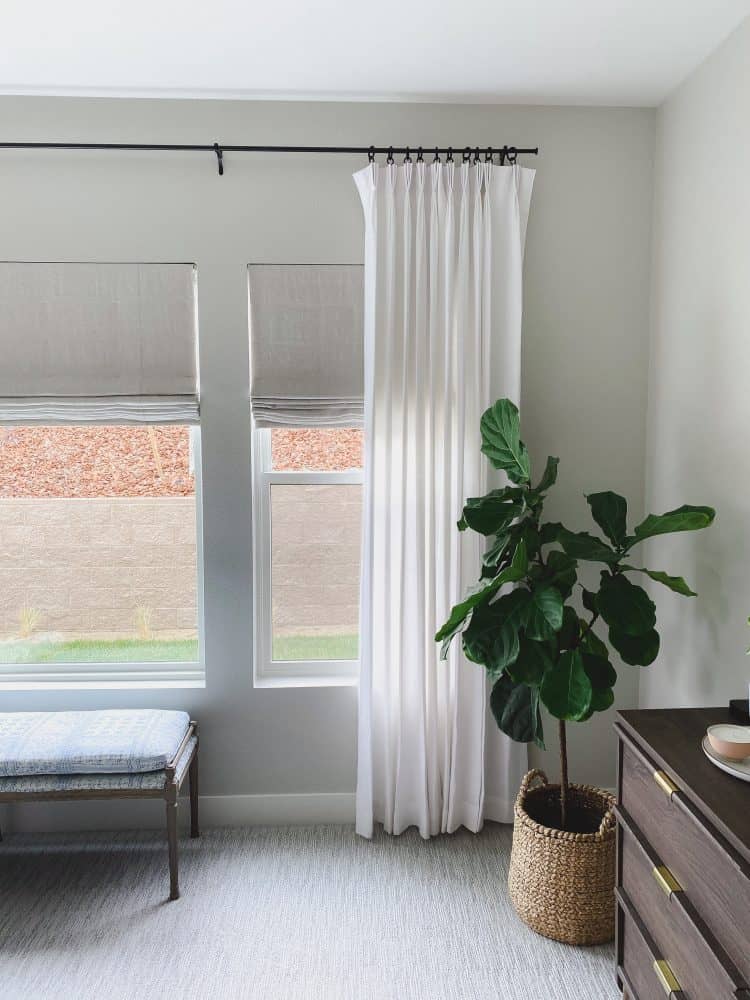 Perhaps the most questions I've ever gotten is about drapery. The question at hand? How to hang curtains!
Who knew!? It might seem like an easy no-brainer task. But hanging curtains can go wrong very quickly.
Today I hope to help you learn exactly how to hang curtains. I'm also crossing my fingers that you're reading this prior to ordering your curtains because the length, style, and material matter almost just as much as how you hang curtains.
While the materials, size, and type of drapery is very important – the installation is equal. I will tell you how to hang curtains below, but keep in mind it's just half of the job. All of the other points about style, shape, and size are just as important as how you hang them.
This image above sparked the conversation, it's from my friend's home where we used Amazon pleated curtains to dress up her windows! Here is a link for the exact curtains, there are two panels shown. I think another panel or two would look even better – I love a full window treatment!
---
---
How to hang curtains in three simple steps!
How to Hang Curtains
How to hang curtains in 3 simple steps!
Materials
Drapery Hardware
Curtain Panels
Tools
Drill 
Drill Bit
Laser Level (best) or Level
Pencil
Measuring Tape
Ladder
Wall Anchors
Instructions
Calculate Hardware & Material Needs: The rod length should extend beyond the window 8-12". So if you have a 9' window, the rod should be about 11' in length. Adjust this based on your window's overall size and spacial limitations. Adding or subtracting to keep appropriate scale. You'll install the rod about 8-12" above the window frame (size permitting) - so the length of the curtains should reflect that + any additional length for optional pooling. Order enough rings for each pleat, plus one for each end of the panel. You'll also need drapery hooks if using pleated curtains. Custom drapery often comes with hardware - so double check before ordering.
Install Hardware: Measure twice, drill once. Take the time to measure, and re-measure. It's easier to spend the time prepping than fixing an incorrectly drilled hole. Take one of your brackets and place is 8-12" above the window frame, and 8-12" outside the window frame -> this should refelct the overall length you ordered. Use a pencil to mark where the screws will go into the wall, this is where you'll install the wall anchors if needed. Repeat for the opposite side, and in the center (the center bracket will just go 8-12" above the window frame). Be exactly consistent in the height placement (ie: 9" above the window frame for all three brackets, or 11" above the window frame for all three brackets). Have an assitant hold the hardware into place and use a level to make sure the rod is perfectly level. If needed, screw in wall anchors, then screw each bracket into place.
Put up Curtains: Slide the rod into the brackets and add the rings onto the rod (if using). Attach drapery hooks to each pleat of the curtain & each end of the curtain (if needed). Then slide the curtains onto the rod (pocket style curtains) or hook the curtains to the rings (pleated style curtains).
Notes
Tip: If using curtain rings, place one ring on the outside of each bracket to hold the curtains in place when being used.
---
Here is a VERY helpful video on how to hang curtains from Everhem. They are a really neat company that offers custom drapery that comes with hardware!!!! It's an amazing company, and I highly recommend!
---
How high to hang curtains?
You can hang curtains at many different heights. I like to hang curtains about 8″-12″ above the window frame whenever possible. This will give the appearance of a taller ceiling and larger window and make your room feel more spacious.
How wide should curtains be?
At a bare minimum, curtains should be wide enough to cover the window they are intended to when closed.
To achieve an elevated look, you'll want to add some "stack width" to the window coverings. This will allow you to install the hardware about 8″ outside of the window frame to accentuate the window rather than cover it up.
Although the drapery is intended to cover the windows when closed, they shouldn't cover up the windows when the curtains are in the open position. Instead, they should frame the window and elongate it both upwards and outwards.
Sometimes you will be limited with space – if this is the case, just go as wide as you can while keeping scale in mind.
How long should curtains be?
Curtains can be a variety of lengths. Before you determine what the length should be, you need to decide on the style you're going for. Do you want them to puddle or just kiss the ground?
If you're going for a puddle look take the distance from the curtain rod to the ground and add 4″-6″ to the overall length. So if the curtain rod is hung at 96″, purchase 100″-102″ long curtains.
For a just kissing the ground look, determine where the curtain rod will be mounted, then calculate the length to the floor. With that said, I like to slide the curtains on, hold the rod up with the curtains attached, mark placement (using a level and pencil), and then install the hardware to ensure the perfect placement.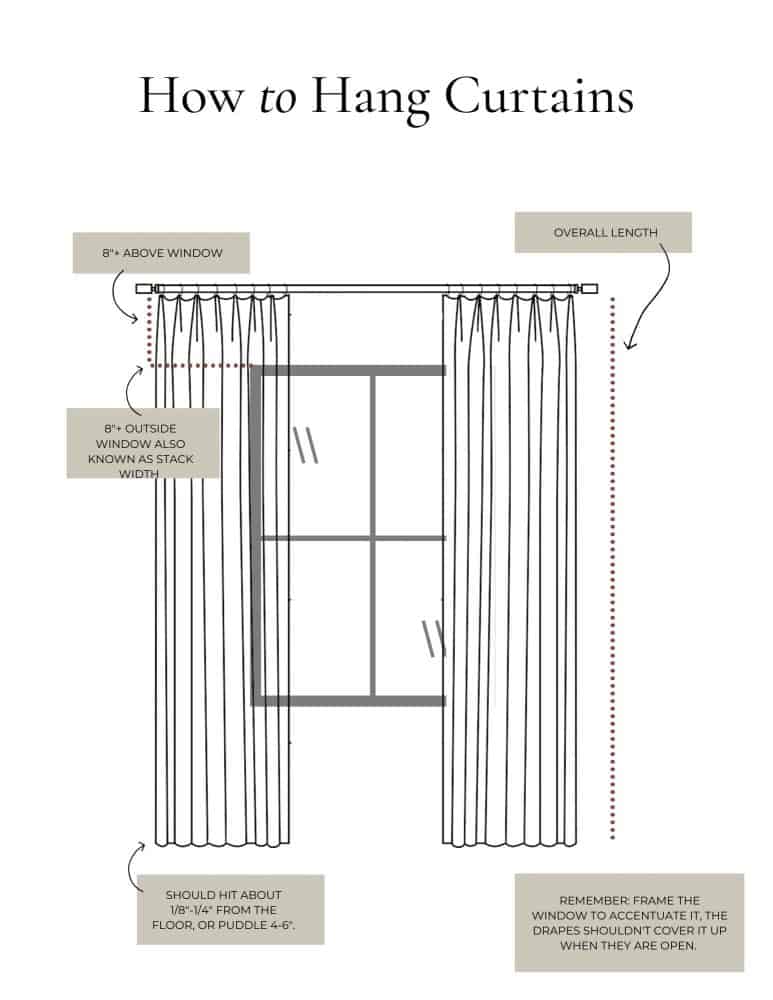 How to hang pencil pleat curtains?
You'll hang pencil pleat curtains similarly to hanging pocket style curtains; however, I suggest having someone hold the curtain rod up into place with the rings and drapery attached to determine the *exact* placement of the hardware.
Generally, you want curtains to just barely kiss the floor (be about 1/4″ above the floor). This is very hard to calculate exactly without actually holding the drapery into place. Even if you've ordered a specific length, human hands make things, and very slight variances can occur. Better to be sure before drilling into your walls.
With pencil pleat curtains, there is some advantage because the drapery hooks can be adjusted slightly to get the height *just* right.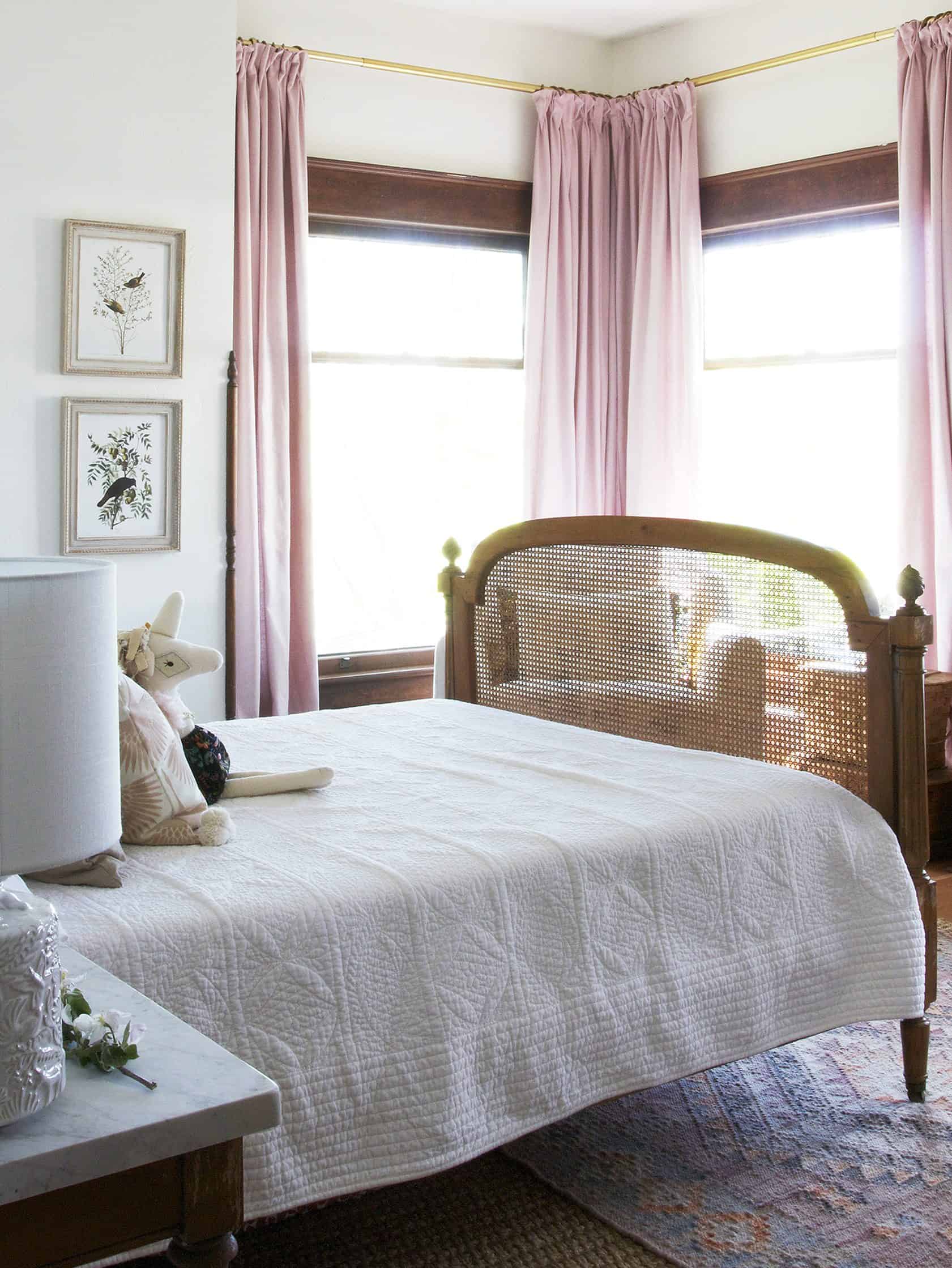 How to make curtains look good?
A pretty basic question, but honestly it's tough if you're not ordering custom curtains. And even if you do order custom curtains, the material and installation matters!
Pleated curtains are simply beautiful and luxurious, but they are not inexpensive. I have linked some budget friendly options below. Ikea is a great way to get a luxe look for less because they have curtain panels that come with a pleating strip so you can easily DIY pleated curtains.
Also, be sure to install them tall enough, wide enough, and at the proper length.
TIP! Steam curtains before hanging them. Why? Because they will stretch a bit once relaxed with steam, and they could become too long if you install them first! PS: Steaming them or ironing is non-negotiable if you want them to look good!
The drapery needs to be full enough if you want them to appear very luxe – order extra panels or extra wide!
Hanging Curtains with Rings
If you love the look of curtains with rings, there are two ways to achieve the look! One, with drapery hooks. The other with ring clips.
Drapery hooks are little metal pins the slide into the backside of the curtain panels and provide a little hook for the rings to slide into. You can find these at local hardware stores or online. They're my preferred way to hang curtains with rings.
Ring clips are another way to hang curtains with rings. They are curtain rings with clips pre-installed. The little clips are attached to curtain panels. This will give you a relaxed look. If I am honest with you, I think they look a bit unfinished.
Oddly Shaped Windows
Bay windows
Bay window can be approached two ways: with adjustable curtain rods or by opting for shades.
If there is room above the window frames, it's easy to add adjustable arms to your curtain rods.
However, if there isn't room for a curtain rod to be hung above the window frames, opt for shades. I love linen roman shades in bay windows!
Arched windows
To add curtains to arched windows, you'll want to hang the curtain rod about 8″-12″ above the top of the arch, and treat the window as if it were rectangular.
If you have a set of arched windows at different heights, treat them as one large window and hang the rod 8″-12″ above the tallest arch.
Curtain Hanging Mistakes to Avoid
Curtains too short.
I'd rather have puddling curtains than curtains that are too short! My preferred look is curtains that rest about 1/8″ above the floor. However, puddling curtains are certainly luxurious and look fantastic!
I just think of the cleaning though… :/
Rod not wide enough.
I see this ALL the time. Where the curtain rod measures the exact size of the window frame. You want your curtain rod to extend 8″-12″ beyond the window frame on either side.
So if your window is 6′ wide, the curtain rod should be about 8′ wide.
Remember, curtains are meant to accentuate and frame the window as well as filter or block light.
Rod hung too low.
Usually if I see a curtain rod that isn't wide enough, it's installed too low. The curtain rod should be about 8″-12″ above the top of the window frame (unless the ceiling or crown molding prevents this – then just go as high as you can).
Fabric not full enough.
For designers, we talk in fullness and or stack width when it comes to drapery.
Standard fullness is 200%, meaning you need 2x the amount of fabric as curtain rod length. Extra fabric is pleated in some sort of decorative way to make the drapery appear more full and luxe. Drapery fullness details.
We also factor in stack width: this is the added width of a window treatment so that you can install the drapery slightly outside of the window frame so that it does not cover the window when the drapes are open.
At a bare minimum, the curtains should be wide enough to cover the opening they are intended to cover when closed.
Where to Buy Curtains
Curtains can vary in price form $50-$5000, no joke!!!
It all depends on style, fabric, and your needs.
Who would ever spend that much on drapery? Well, custom drapery is expensive, but it looks damn good. Keep in mind custom drapery is being handmade by an actual human, so there is a lot of labor cost involved. Plus linen fabric is not inexpensive. At $50/yard+ it adds up quickly.
If custom is your jam (it's seriously beautiful), here are some options listed from most expensive to least:
A local work room – provides the most customization.
The Shade Store – makes a beautiful product!
RH Custom – very high quality linen
Everhem – highly recommend, they come with hardware and super easy instructions!
Alva – a great product for a very good price!
Blinds Com – most budget friendly custom drapery option.
If you're hoping to get a custom look without paying custom prices, here are some good alternatives:
Where to Buy Curtain Hardware
I mentioned above, Everhem comes with hardware, I think it's a really great price for the quality, customization, and hardware. However, if you're going an ikea or amazon route, here are some fabulous hardware options as various price ranges from Pottery Barn, West Elm, and CB2 (my fave!).
How to open and close drapery without them falling off of the hooks? A drapery wand helps with that!
The BEST Budget Friendly Affordable Pinch Pleat Curtains