Open shelves in the kitchen are a beautiful way to combine design, function, and display – but open shelves don't have to be made of wood! There are lots of way to get this look in your home! Let's take a peek, shall we?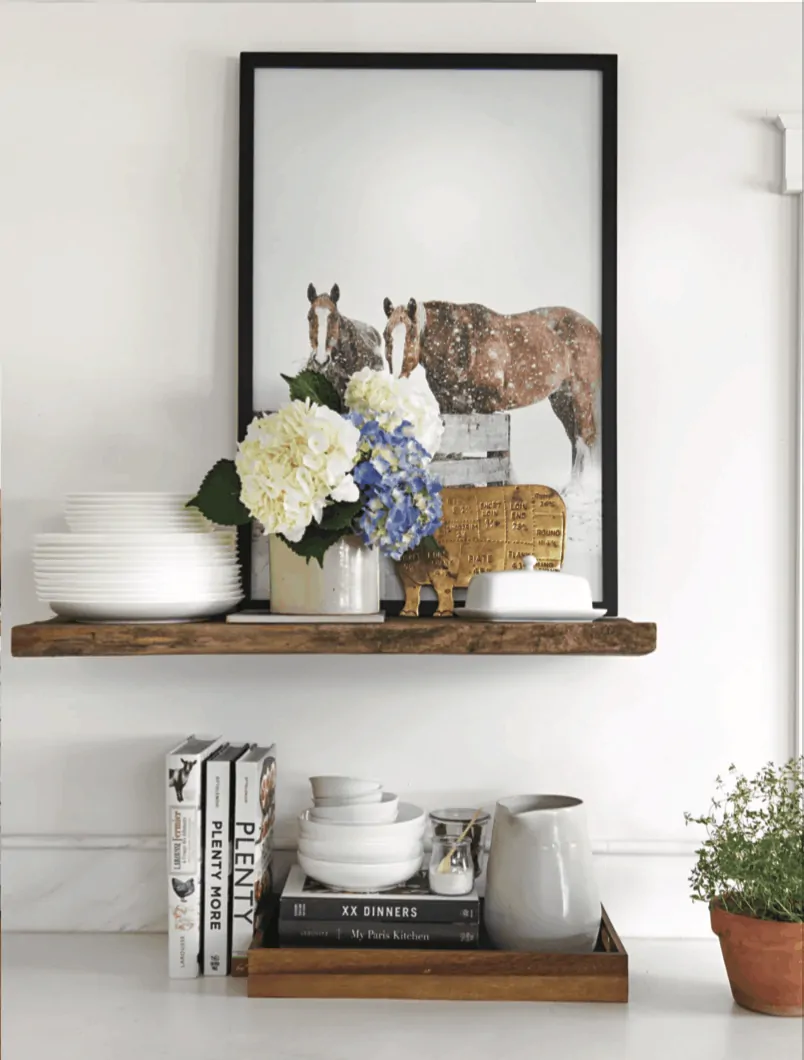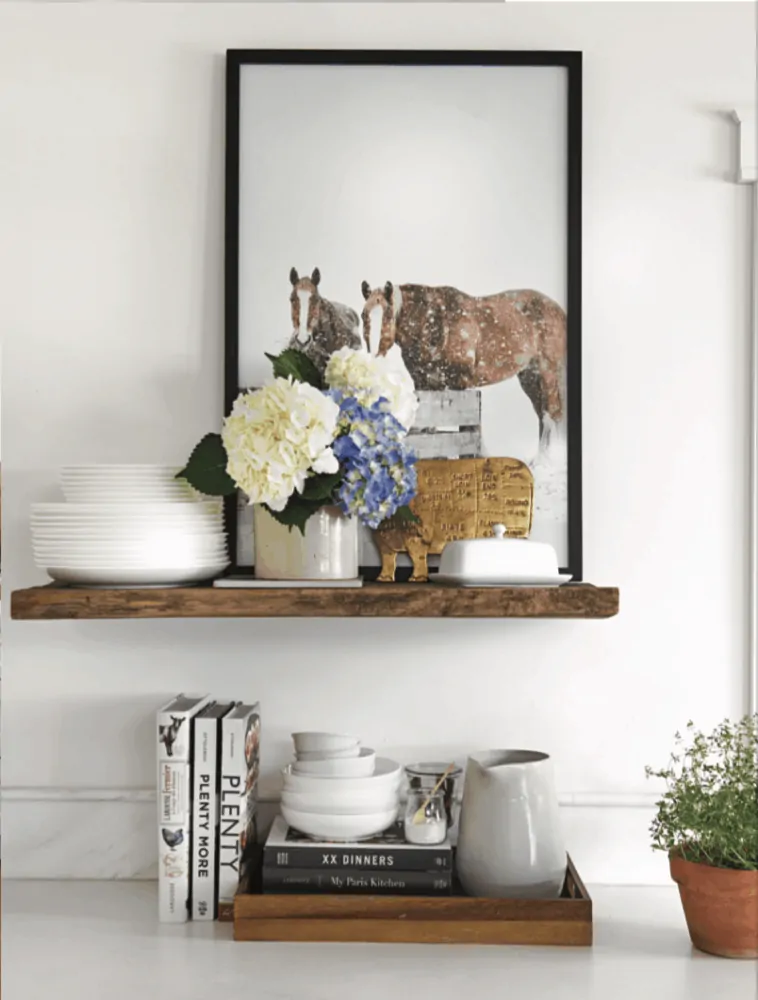 Floating Kitchen Shelves
Floating kitchen shelves are the most common open shelving we see in kitchens. We love them when done with beautiful materials and hidden brackets.
Not only are floating shelves great for storage in the kitchen, but they also display your favorite curated goods for all to see.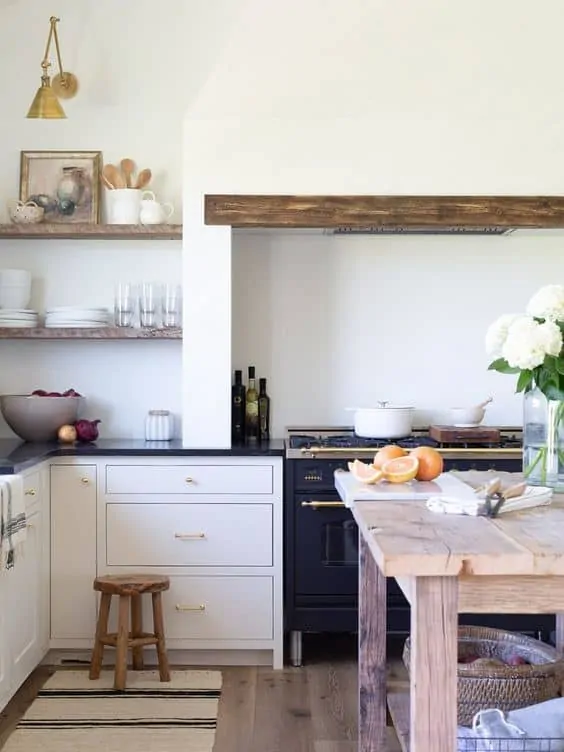 One of my favorite tiles to use in combination with a floating wood shelf is Cle tile. The design below is by Anthony D'Argenzio of Zio & Sons and This Old Hudson (where you can actually stay!!), who has an absolutely stun.ning line with Cle. Check it out here, it makes for a show stopping backsplash, floor, or really anywhere you can think to use tile.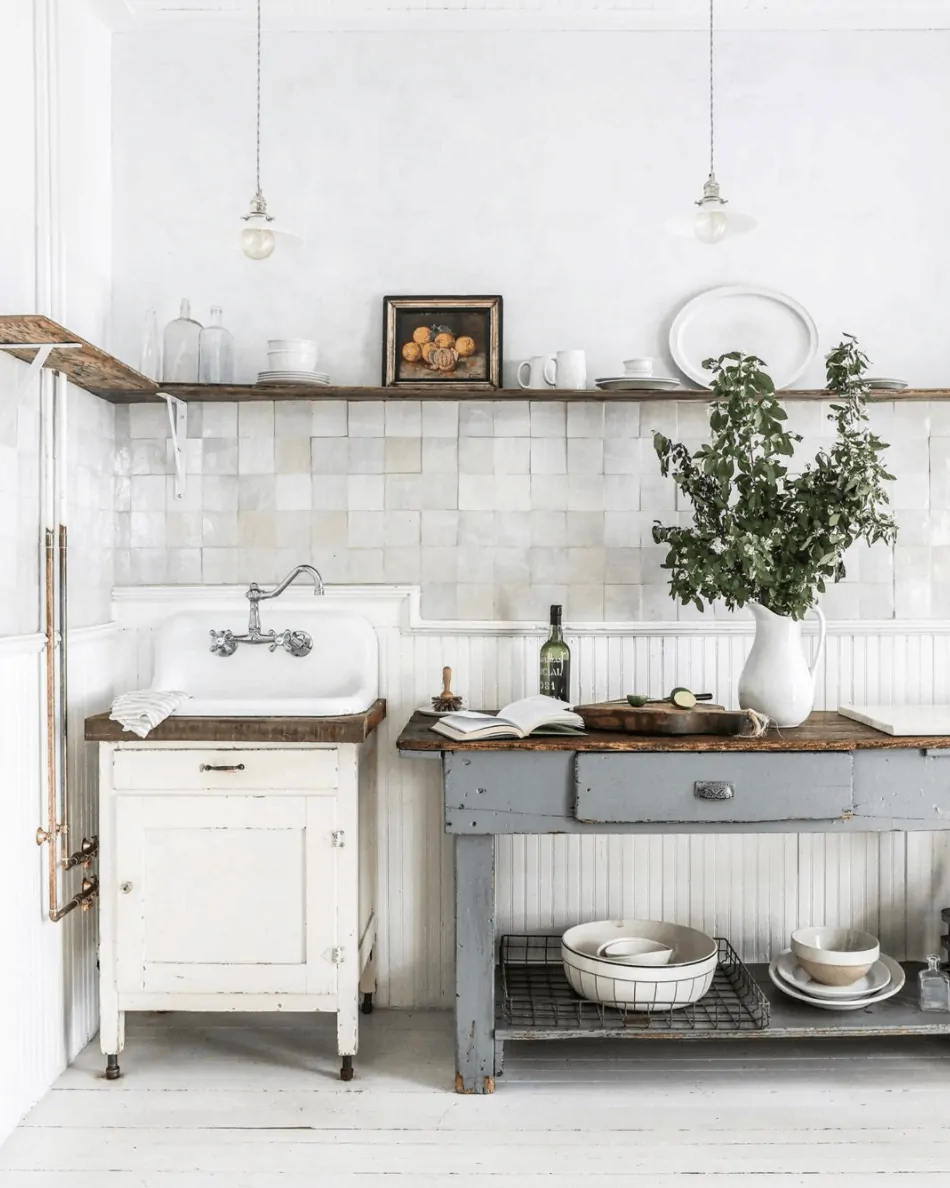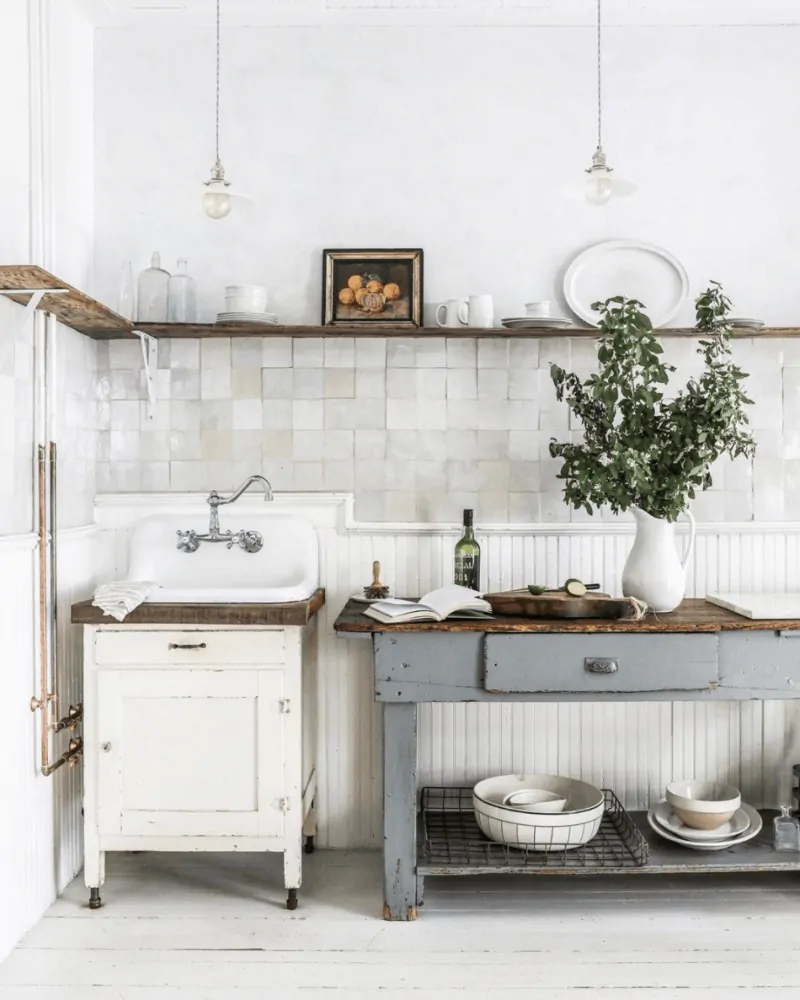 Design tip: If you're wondering how high to place floating kitchen shelves, I typically like to place the first shelf about 18″ from the countertop. And if doing a 2nd shelf, I match the height of the bottom of the hood surround (typically 32″ from the countertop). Check out this open kitchen shelving guide for even more design tips!
The endless countertop…
What better backsplash than a marble slab turned shelf? The natural material is the perfect wall treatment and floating kitchen shelf combo. Using the existing material allows for a clean sight line, eliminating a break between the countertop and backsplash. It feels timeless, yet modern in all the right ways.
Backsplash can be a toughie to nail down: something timeless, yet interesting, and functional. I think this is the perfect solution!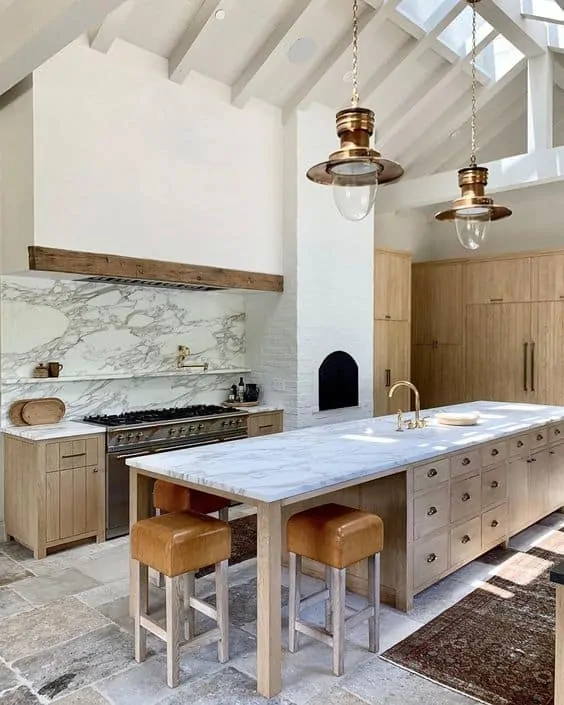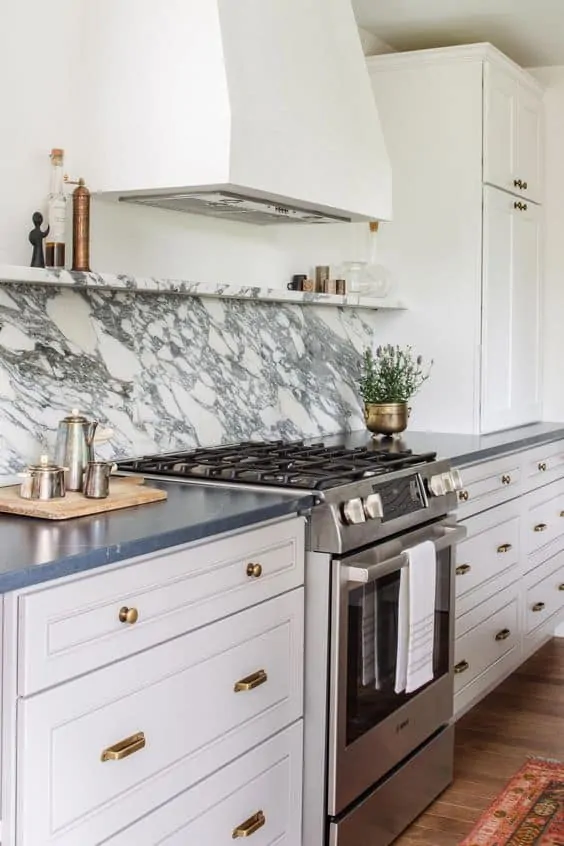 A good ol' English Kitchen…
Skipping upper cabinets for a painted wood shelf – perfect for a bead-board backsplash.
There are few things as beautiful and timeless as an English kitchen. The delicate details are layered to create truly magical kitchens.
One of my favorite elements is a wood simple shelf, often made with pegs.
This is a great option for a tight kitchen remodel budget: it saves on cabinetry, and can help save on tile expenses.
This look is beautiful with a painted bead-board backsplash, something that is incredibly cost effective – but you'd never know it! Spectacular!
Designer tip: Make sure to use a high gloss paint or water resistant paint (exterior paint is a great option) to prevent any water damage and make this surface easier to clean.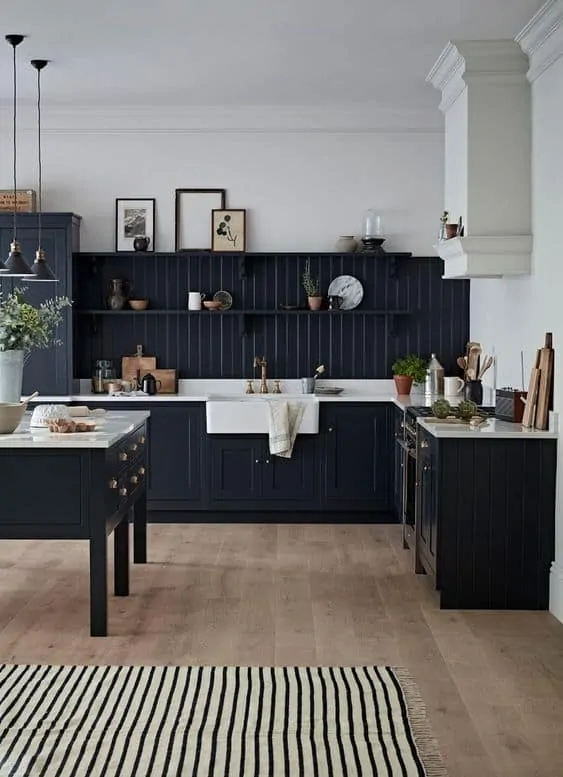 Recessed Open Shelving
We often think of floating kitchen shelves as wood, but open shelving can take on many different forms.
Create a built-in floating shelf look by skipping cabinet doors (again, cost effective!). You might even add some metal rail detailing for a custom look.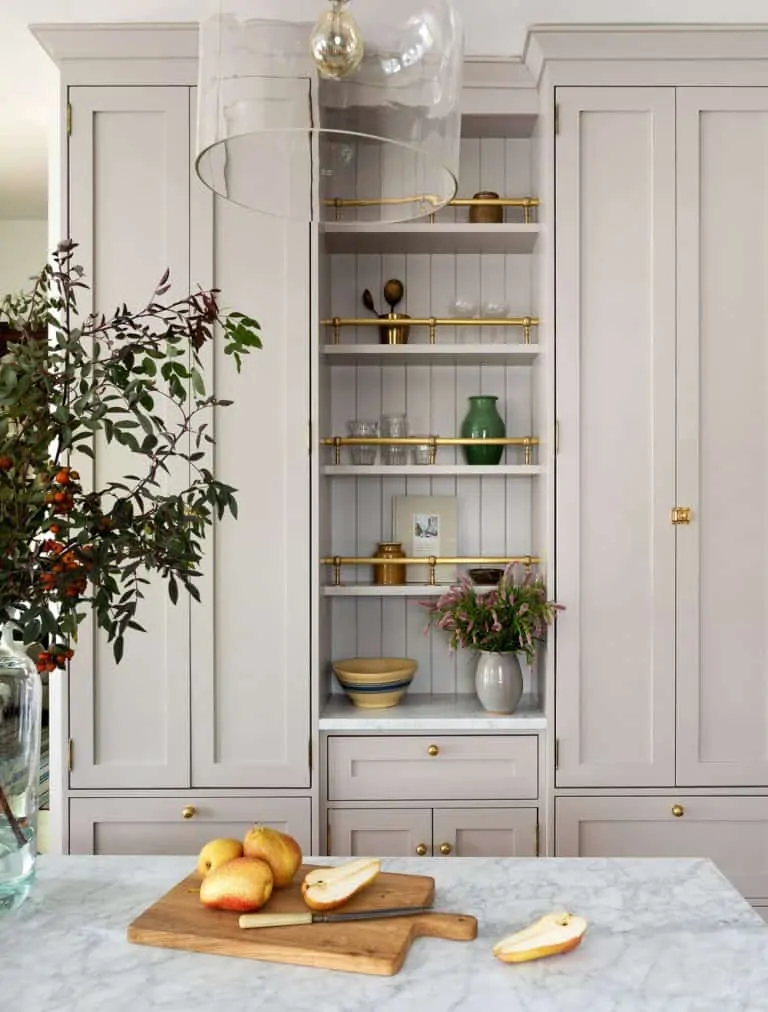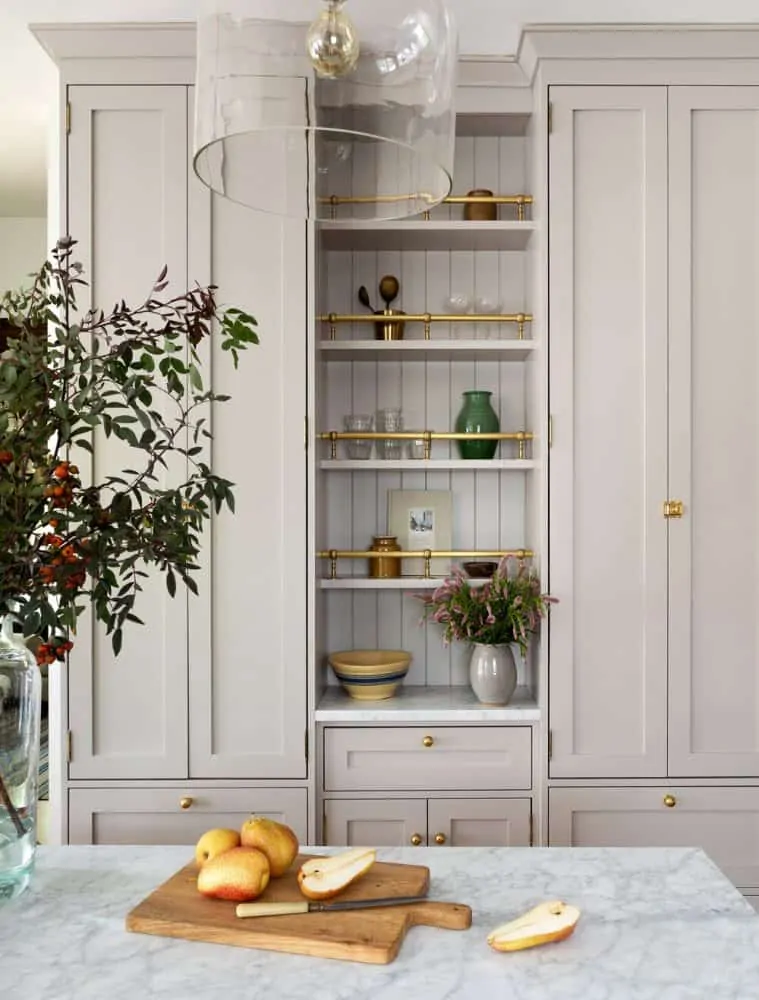 European Style Range Alcove
Tucked away shelving can make for the best vignette! We are loving this design of the range hood surround with side storage. We're seeing it pop up time and time again by designers we love!
We tried Googling this term, but aren't really sure what to call it? European hood surround? Countertop resting hood surround? Whatever it is…we like it! We like it a lot.
Hood surrounds like this can be custom made by your builder or finish carpenter and either painted to match the cabinetry or finished out in plaster – Roman Clay would be a great option.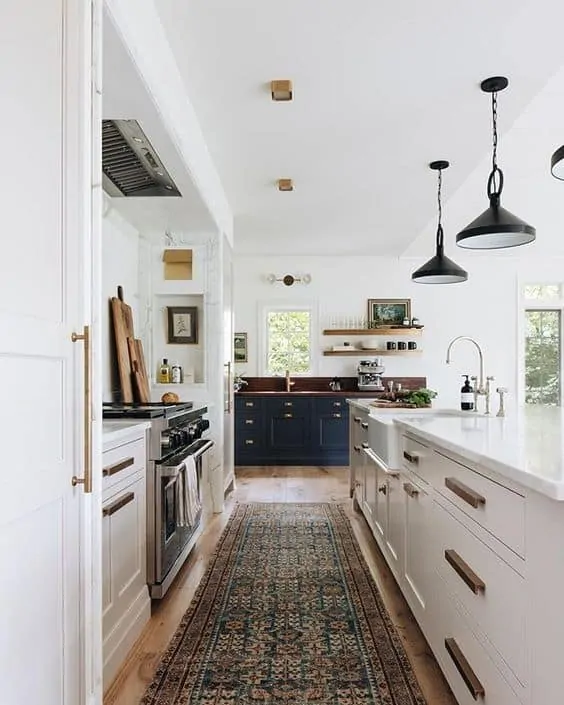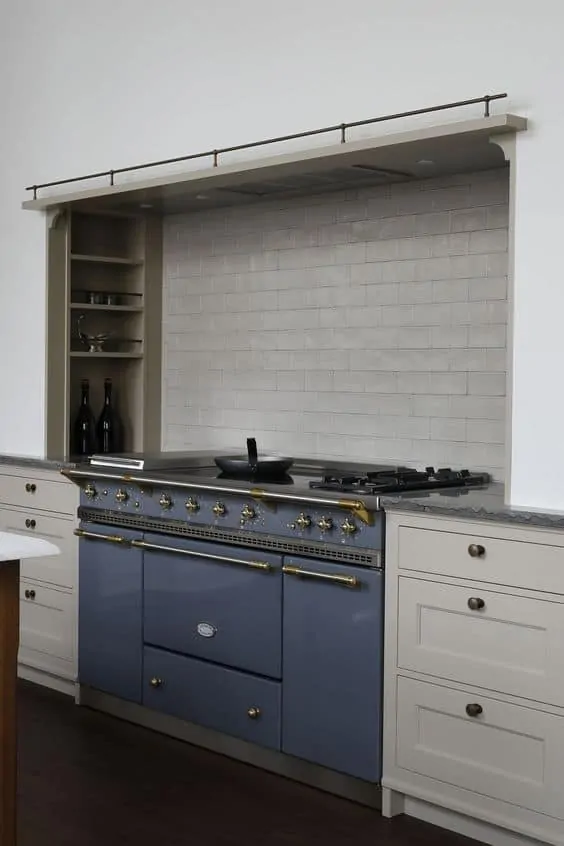 French Bistro Shelving
French Bistro Shelving makes us gasp a little bit. It's so classic and beautiful!
When writing my 2020 Design Trends post, I discovered this brand that specializes in fabricating custom bistro style shelving. I hope to use them in a project someday!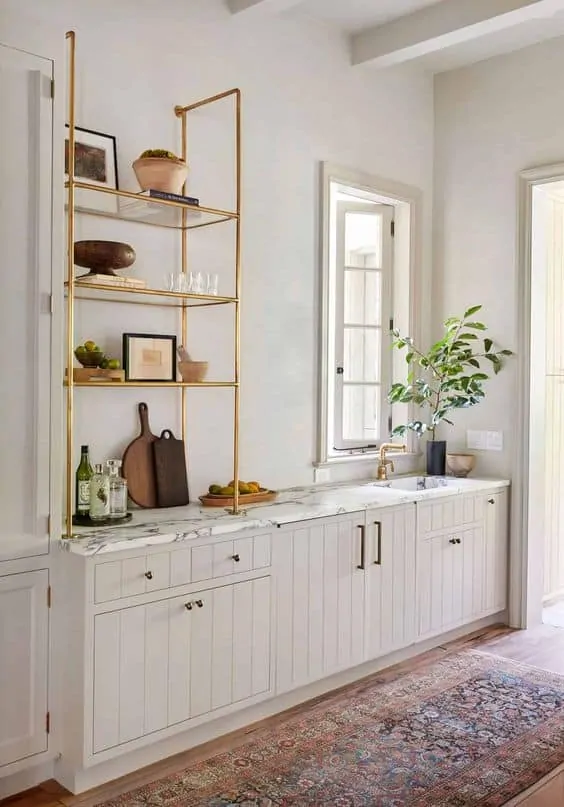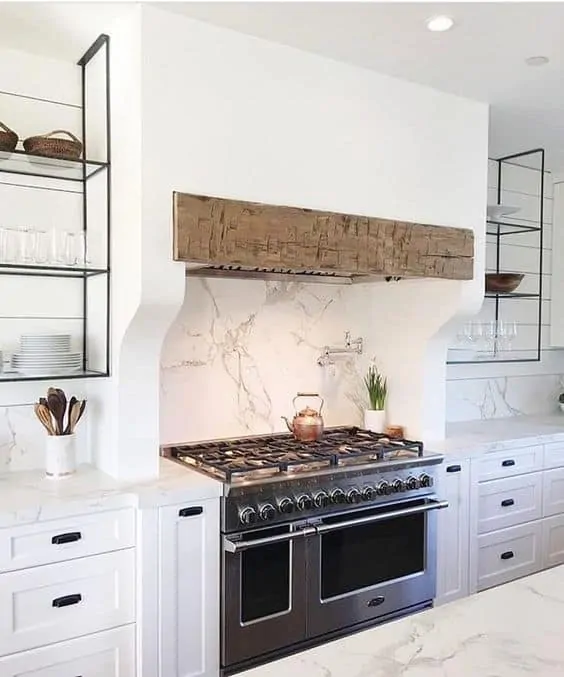 What do you think of floating shelves in the kitchen? Do you enjoy a kitchen with full cabinetry or would you be happy to sacrifice cabinet doors for something a little more unique?
Love Kitchen Design? Check out my French range review or this amazing Kitchen Reveal with Design Tips!