Pumpkin Chocolate Chip Cookies
October 25, 2018
Of all the pumpkin recipes I've shared, these pumpkin chocolate chip cookies just might be my favorite. Baked to golden perfection, they are chewy, savory, sweet, and melt in your mouth good…you're going to love these!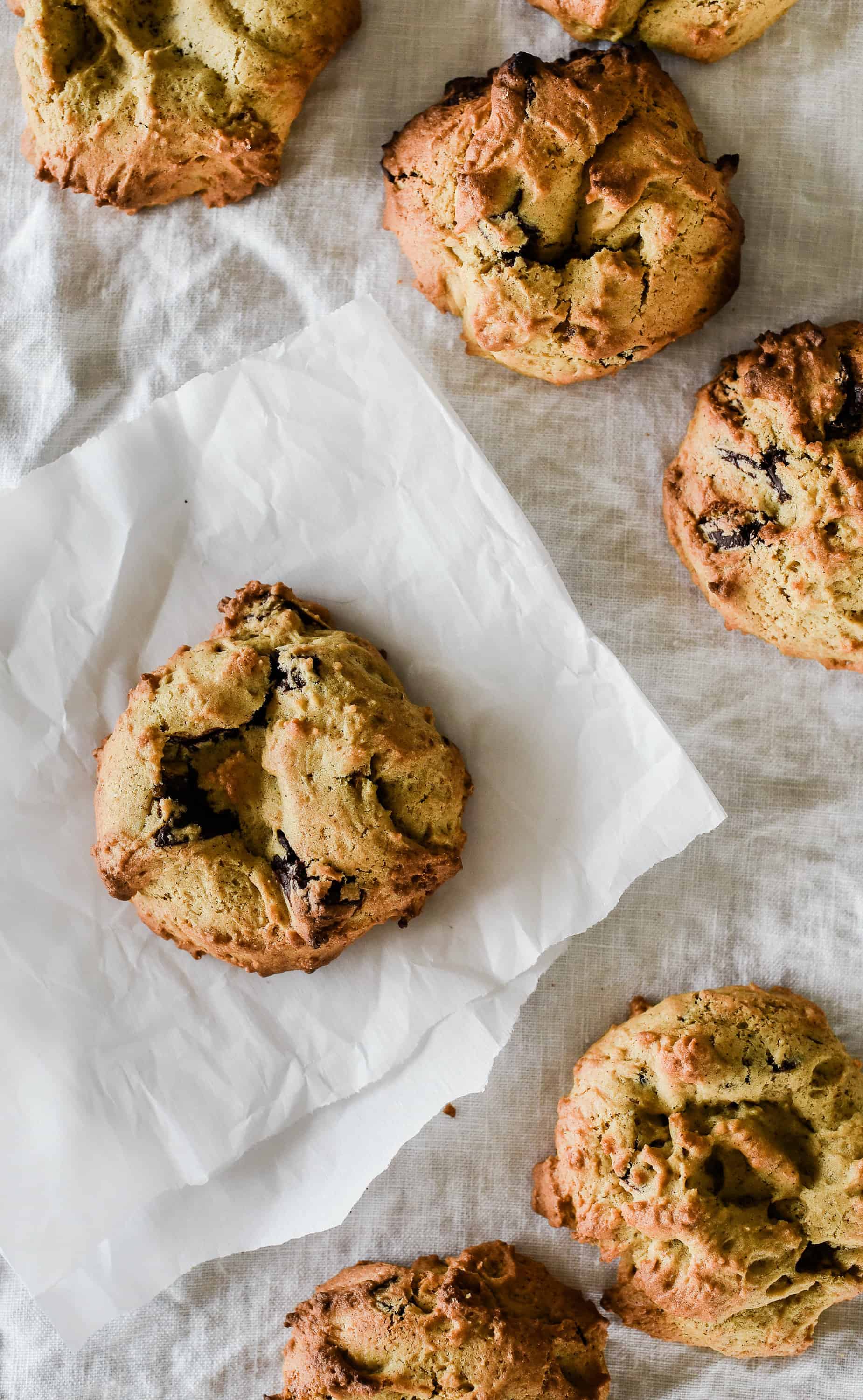 Pumpkin recipes are a fall staple that never disappoint. If you're not one for traditional pumpkin pie (I'm not!), you can still enjoy the fall flavors in things like no-churn pumpkin pie ice cream, pumpkin pie dip, and baked pumpkin donuts!
My sister recently requested pumpkin chocolate chip cookies, and I happily accommodated her request. We began to test the recipe!
Our first batch was much too cake-like. We used two eggs and a bit too much flour resulting in spongey and dry cookies.
We wanted a cookie that stayed true to its chocolate chip cookie nature, but with a fall twist. So back to the drawing board we went.
The second batch was perfection. I am excited to share it with you, I think you will absolutely love this recipe!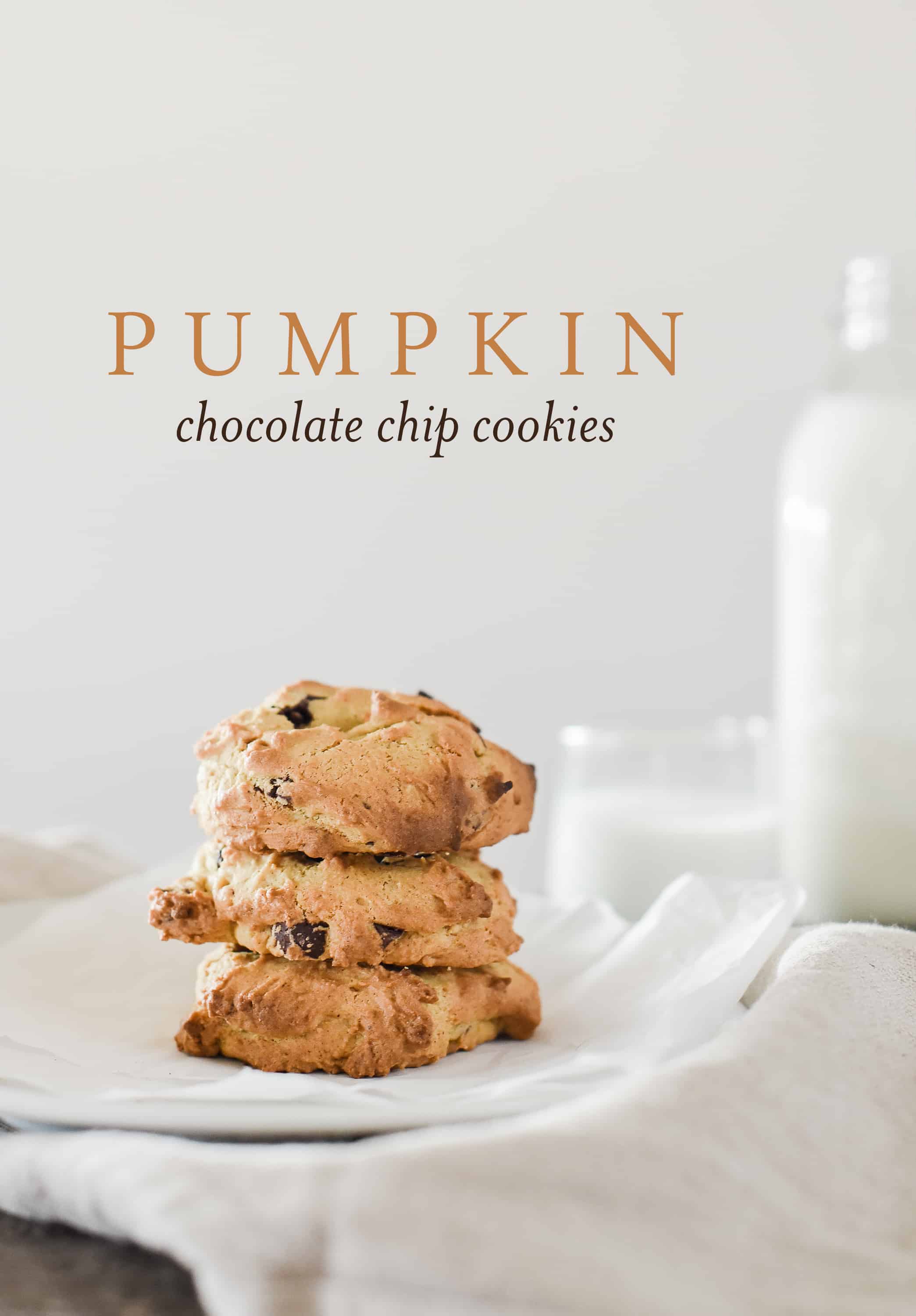 Chocolate chunks vs chocolate chips:
You'll notice this recipe calls for semisweet baking chunks. The chunks were divine in the pumpkin chocolate chip cookies, I would definitely recommend purchasing a bag if you are grabbing the ingredients for this recipe! However, if you don't have baking chunks on hand, go ahead and use chocolate chips, they will turn out delicious!
As a rule of thumb, I suggest purchasing high quality chocolate chips when baking any type of dessert, they make a huge difference in flavor and taste.
What does "light & fluffy" mean?
You'll see "light & fluffy" in a lot of recipes I write. This is the term I use for whipping together butters, sugars, and eggs. This is a crucial step when baking, so I thought I would share where I learned this from!
My high school foods teacher was a five star chef that decided to give back to the community and teach at my high school. I learned so many valuable lessons from him (like how to properly cook salmon). He taught us the "light & fluffy" method for baking.
You'll notice that when you begin to blend butter & sugar with an electric mixer it starts out quite lumpy. As you beat the ingredients together you will see a distinct change in color and the mixture will begin to look "light & fluffy". This magic happens once the butter & sugar are fully incorporated.
Next you'll add the eggs & vanilla to the mixture (or sometimes milk if not using eggs). As you beat the eggs in, you'll see that the mixture will begin to change color and become light & fluffy again. This step is vital in the success of baking, so don't be tempted to add additional ingredients until you've achieved fluffiness!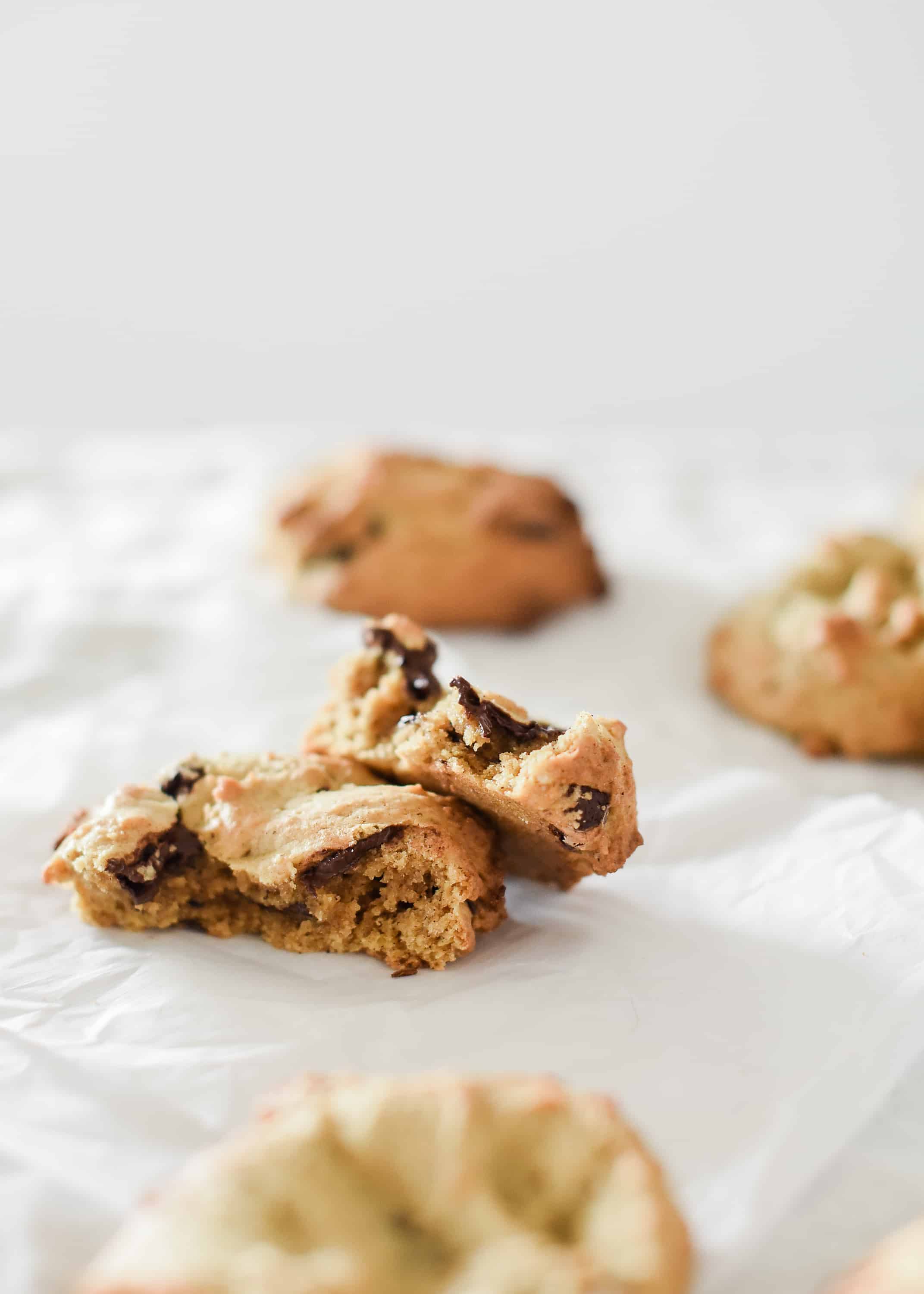 The pumpkin & pumpkin pie spice in these cookies are just present enough to delight, and the texture of this cookie is wonderful! These remind me of bakery style chocolate chip cookies, but with a fall twist. You will definitely want a glass of milk as you enjoy these delicious pumpkin chocolate chip cookies!
Should I bake with salted or unsalted butter?
I always used salted butter; however, technically, you should bake with unsalted butter, and then add salt in. If you enjoy the savory flavor of salt in your baked goods, go ahead and use salted butter (or whatever you have on hand).
---
more pumpkin recipes…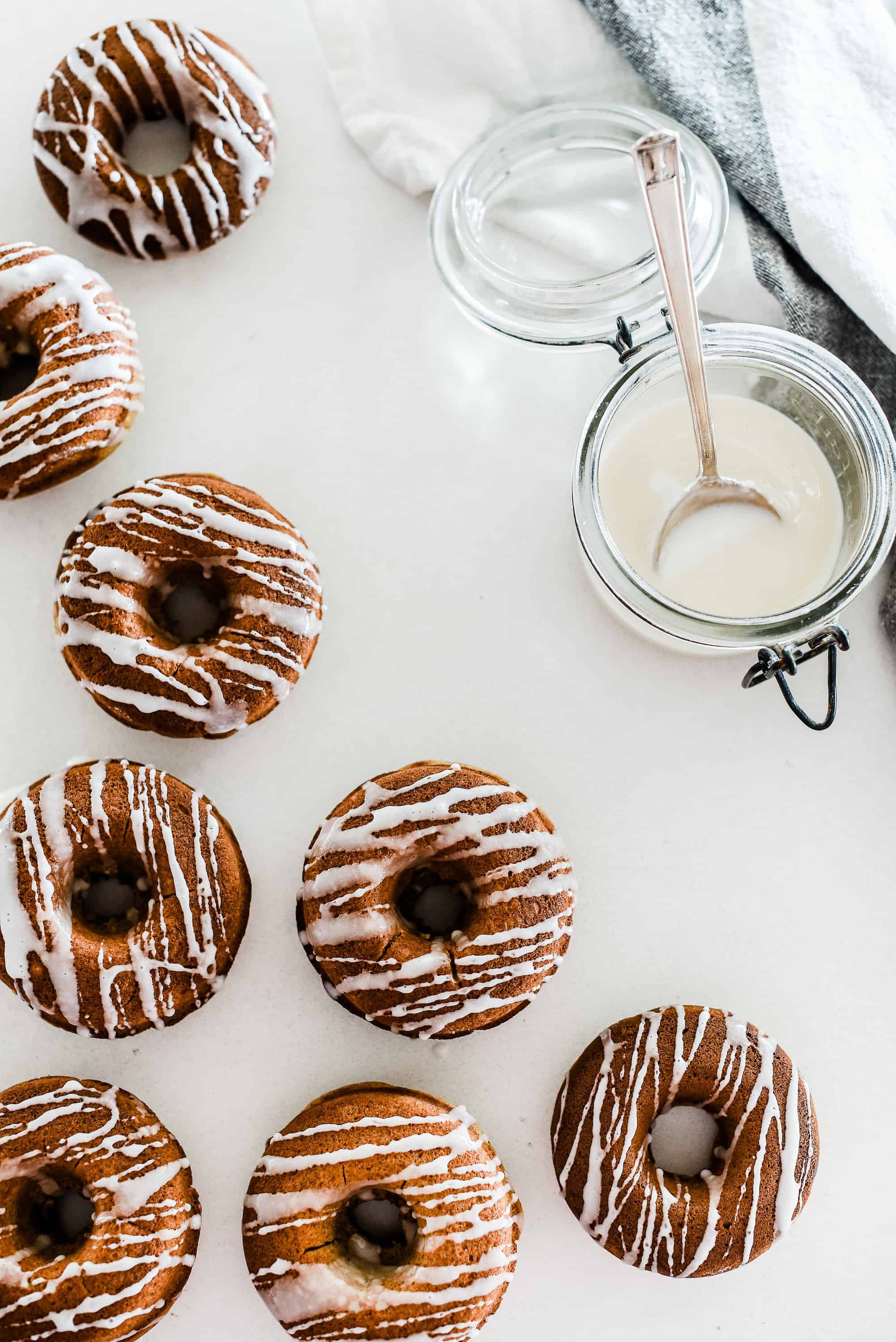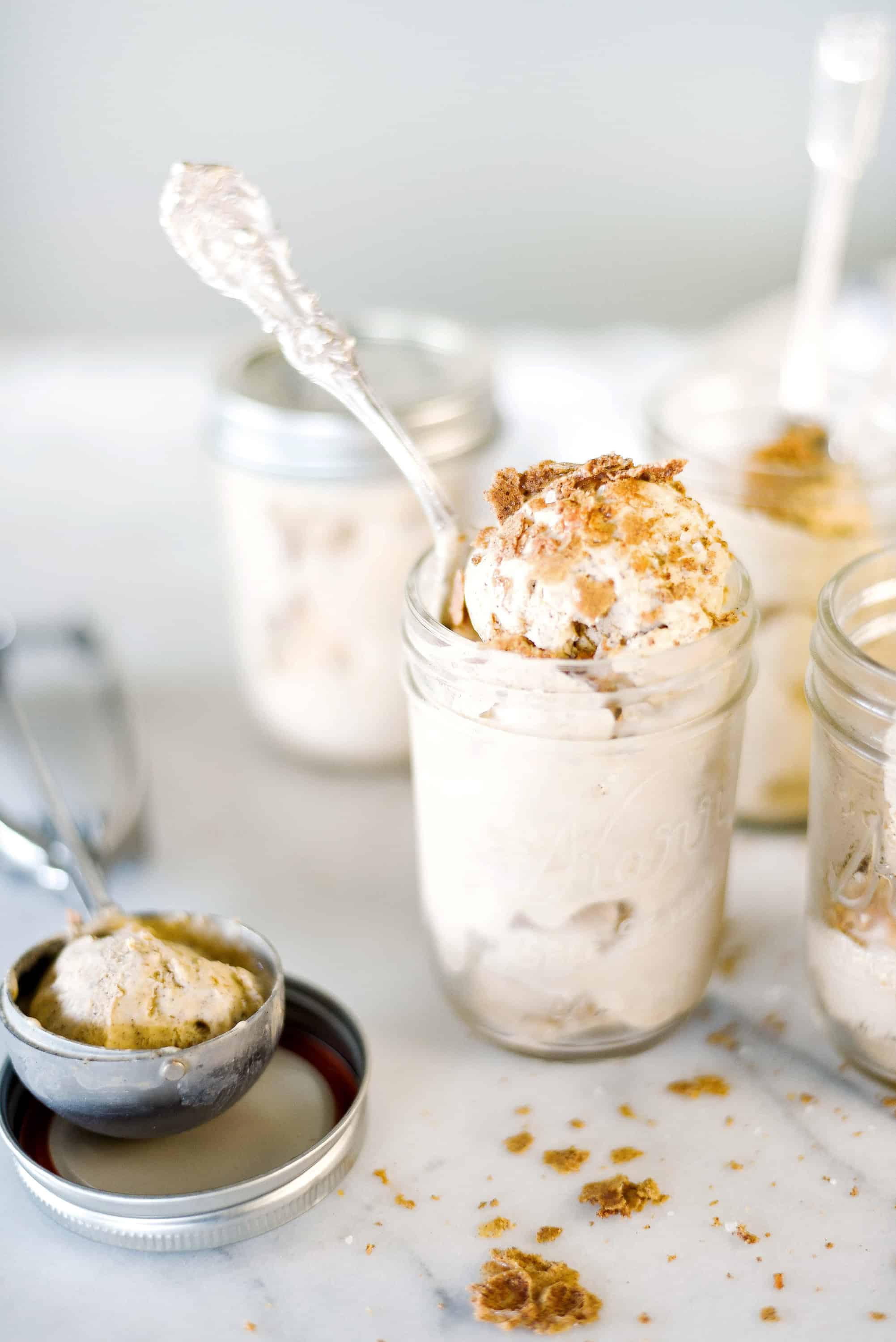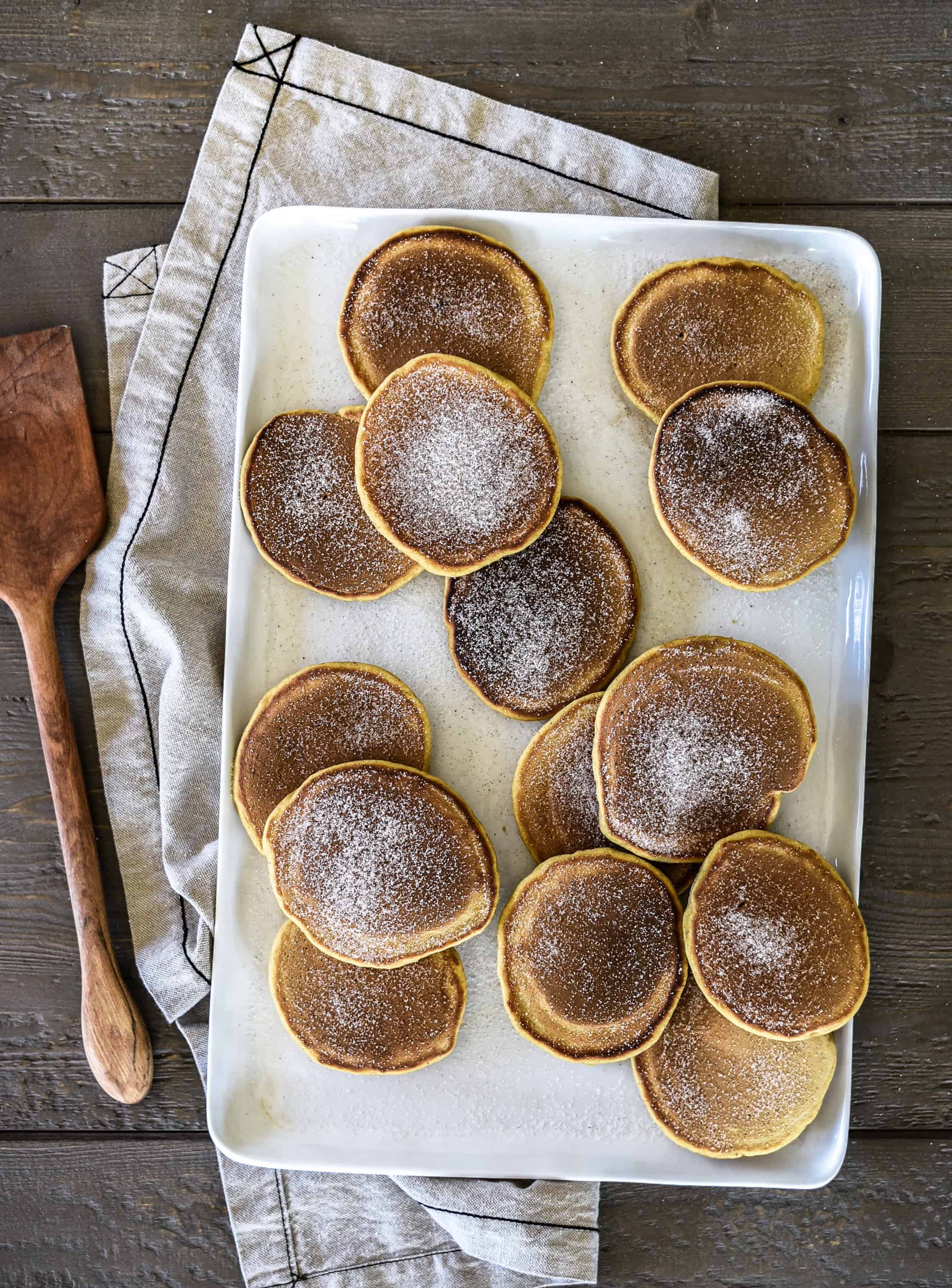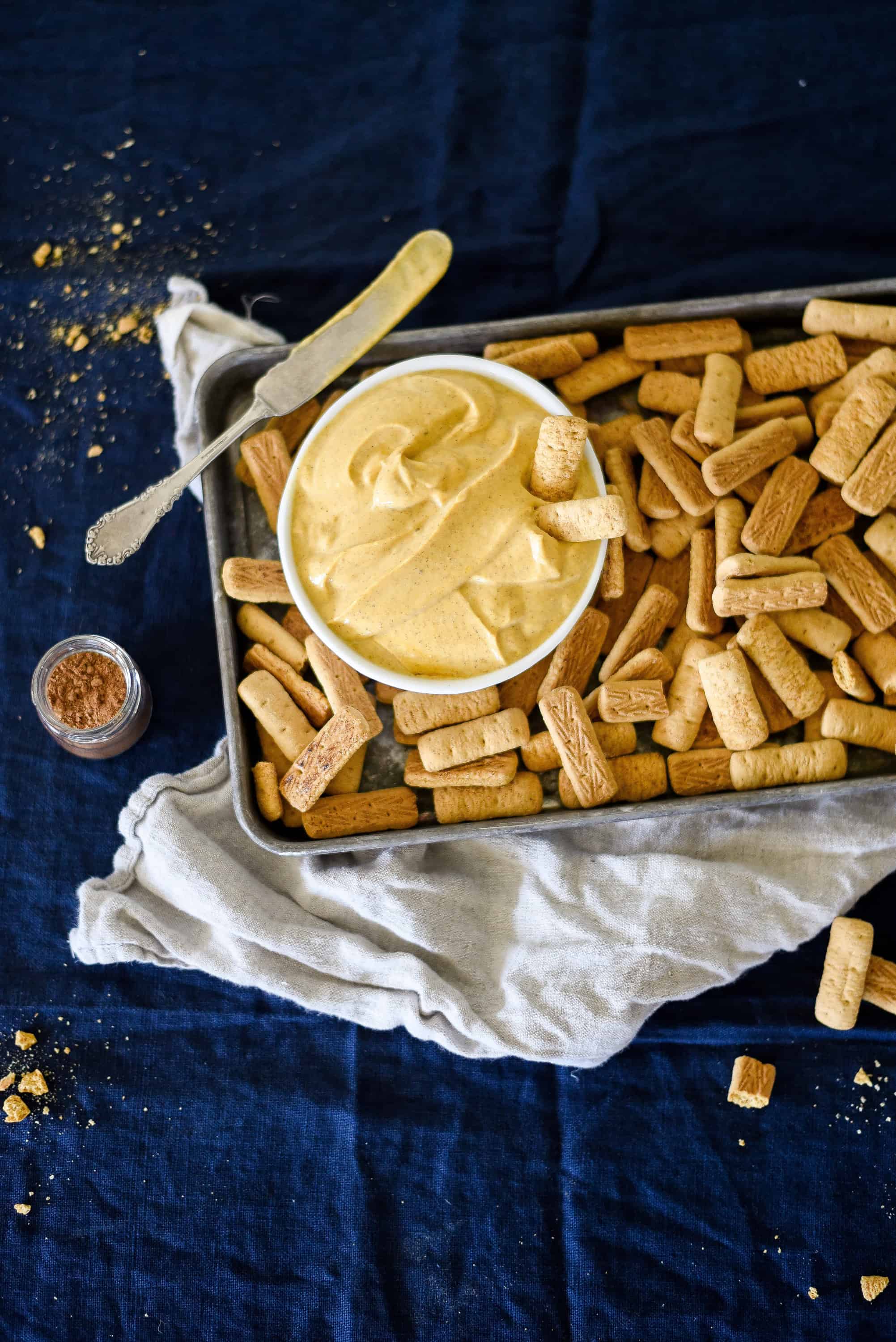 baked pumpkin donuts with glaze
no churn pumpkin pie ice cream
---
print recipe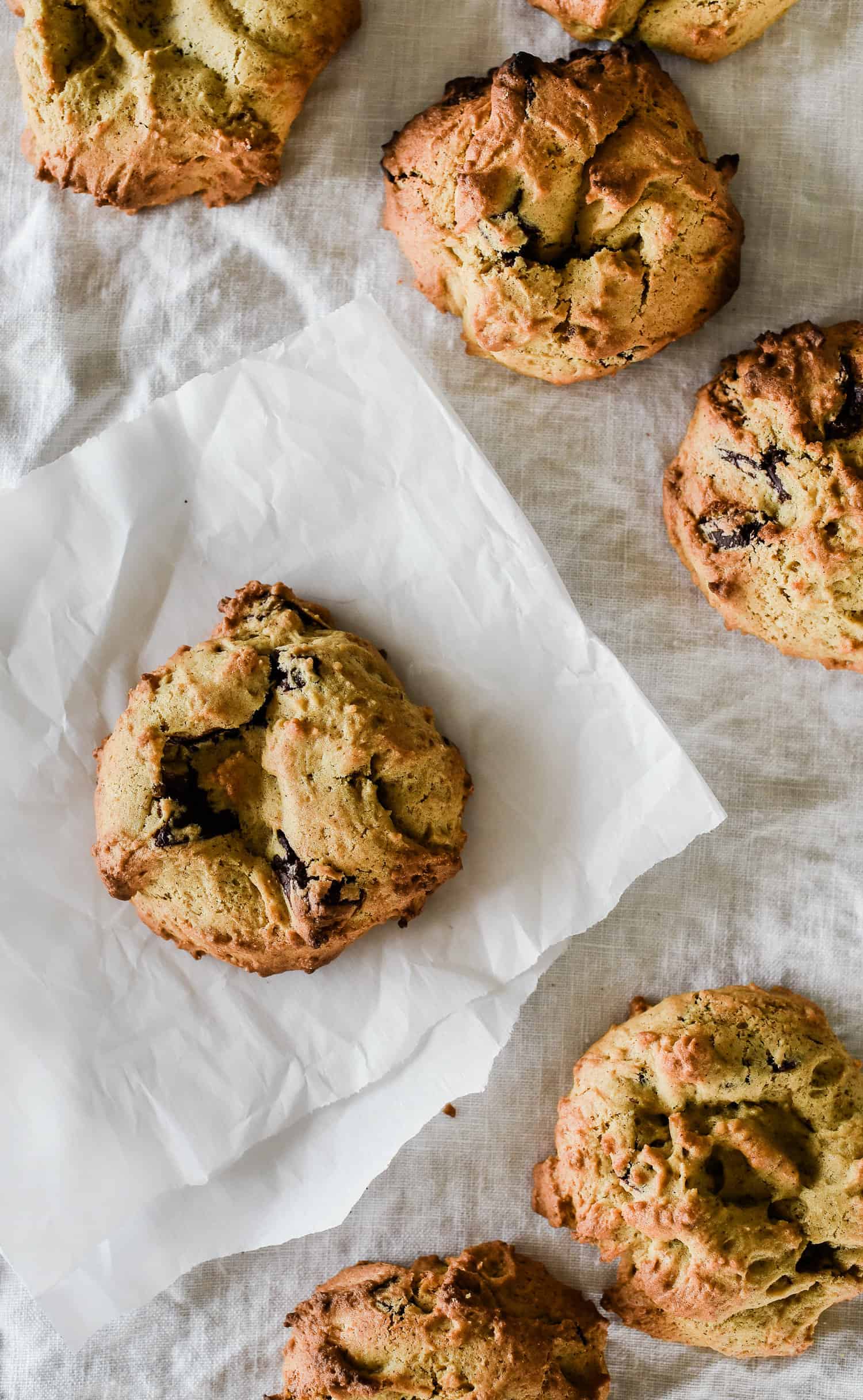 Pumpkin Chocolate Chip Cookies
These pumpkin chocolate chip cookies are chewy and absolutely delicious! You won't be able to stop at one!
Ingredients
2 cups

all-purpose flour

1 tsp

baking soda

1/2 cup

pumpkin puree

1 stick (1/2 cup)

butter (room temp)

1/2 cup

granulated sugar

3/4 cup (lightly packed)

brown sugar

1/2 tsp

coarse salt

2 tsp

vanilla extract

1

egg (room temp)

1 heaping tsp

pumpkin pie spice

6 oz.

chocolate baking chunks
Instructions
• Preheat oven to 325 F
• In a large mixing bowl, use an electric mixer to cream together butter & sugars until light & fluffy.
• Add in egg & vanilla extract, mix until light & fluffy.
• Fold in pumpkin puree until just combined, do not over-mix.
• In a separate bowl, whisk together flour, salt, baking soda, and pumpkin pie spice.
• Slowly add the flour mixture to the butter mixture. Use an electric mixer to thoroughly combine.
• Fold the baking chunks into the dough.
• Drop heaping spoonfuls of dough onto a lined baking sheet. Bake for 10-12 minutes at 325.
Details
Prep time:

Cook time:

Total time:

Yield:
12