Tomato Chutney
This post may contain affiliate links, please read my disclosure policy.
Tomato Chutney is a great way to use up all of those yellow tomatoes you have growing on the vine! Or maybe a friend has given you some tomatoes or peppers and you're not quite sure how to use them up? Try canning them in this yummy chutney recipe!
This post is sponsored by the makers of Ball® home canning products.*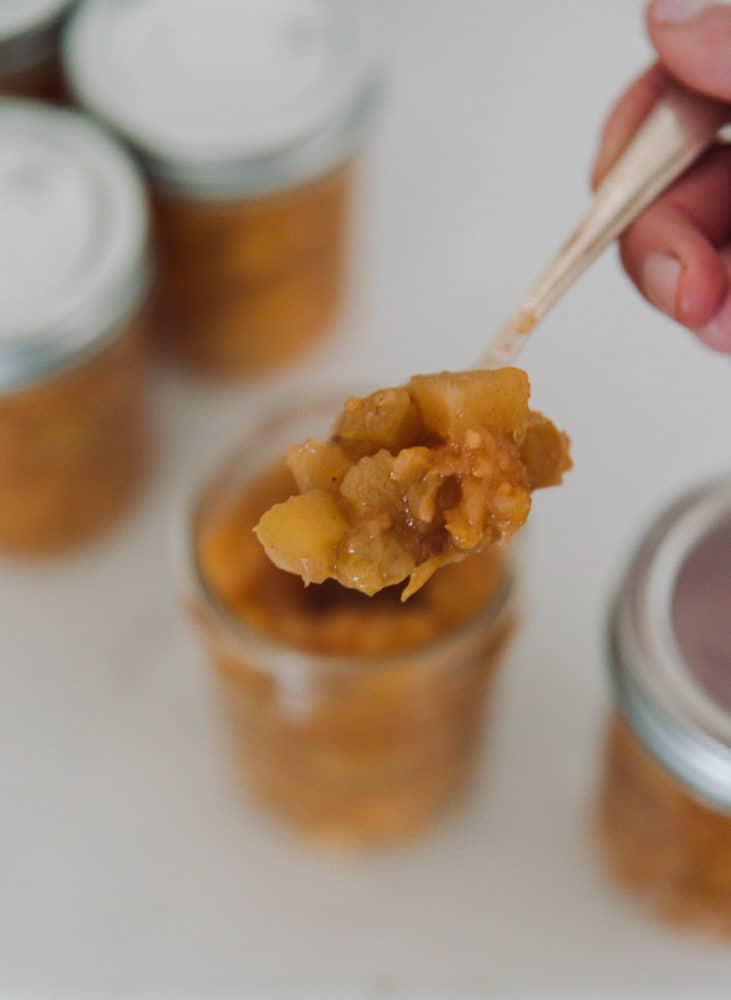 Sweet Yellow Tomato Chutney
Have you ever made chutney? If you haven't you're in for a real treat! Chutney is a delicious condiment made of fruit, vegetables, vinegar, and sugar. One of my favorites is orange rhubarb chutney, but this tomato chutney is quickly becoming a favorite!
Chutneys typically include onions and spices and can be made in a variety of ways. They are a wonderful blend or sweet and sour with a kick! I love enjoying them as an appetizer, they also go wonderfully on homemade burgers or with grilled dinners.
One of the best things about chutney is the wonderful caramelization of sugars in combination with the tart flavor of vinegar. It's a sticky, yummy sweet and sour mixture that you will have to resist eating by the spoonful! I hope you enjoy this homemade tomato chutney recipe!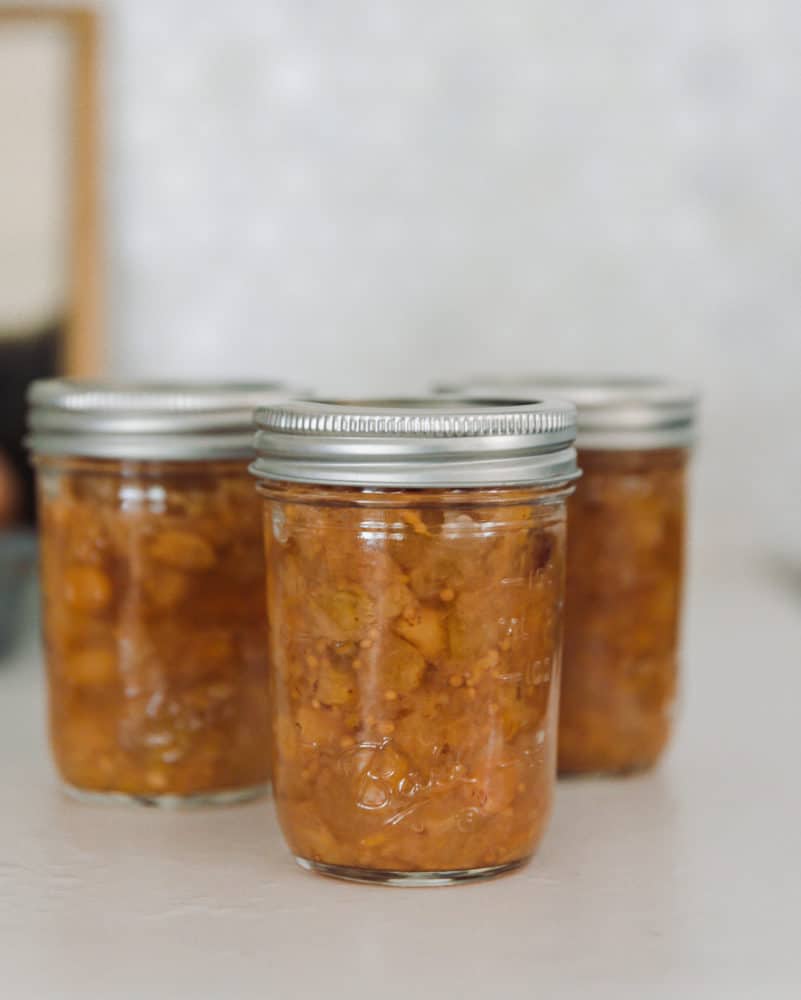 What is tomato chutney?
Chutney is defined as: a spicy condiment made of fruits or vegetables with vinegar, spices, and sugar, originating in India.
This delicious sweet yellow tomato chutney is made using yellow tomatoes, chili peppers, onions, apples, and other flavorful spices.
The combination of sweetness from brown sugar and raisins with tart apples and cider vinegar come together beautifully. The Ball® recipe is rounded out with spice from ginger and chili peppers. You're going to love this Ball® Sweet Yellow Tomato Chutney recipe!
Ingredients for Tomato Chutney
Cider Vinegar: Vinegar not only adds flavor to this recipe, it also adds important acidity needed for canning safely.
Tart Green Apples: Apples add a wonderful bite and flavor to the chutney, a tart apple compliments the tomatoes perfectly.
Yellow Tomatoes: Known for being more fruity and mild, they're the perfect variety for this chutney.
Golden Raisins: A burst of sweetness that goes perfectly with the tart apples and spicy chilis.
Onions: I prefer white onions in this recipe, they are more mild than red onions.
Sugar: This recipe calls for both granulated sugar and brown sugar. The sweetness helps round out all of the flavors, but the added sugar also helps the chutney gel.
Chili Peppers: Chutneys are known for being spicy, you can opt for banana peppers or jalapeños depending on your preference.
Garlic: Garlic is a staple ingredient for its flavor, its a great addition to the chutney.
Mustard Seeds: Both sweet and spicy, this mild spice adds flavor.
Ginger Root: Will add a bit of spice and a lot of flavor!
Cinnamon: Compliments the brown sugar and apples wonderfully!
Salt: Salt will help round out the flavor of the chutney.
Tomato Chutney Substitutions
It is important to follow recipes precisely when home canning. It is not recommended to make any substitutions unless specifically noted in the recipe.
In this recipe you may opt for any type of onion or chili pepper you prefer.
What goes with tomato chutney?
Tomato chutney is delicious with many different things! This recipe is noted for being particularly delicious on grilled fish! It will pair well with many different grilled meat dishes such as beef kebobs, grilled chicken, or even grilled pork chops.
Chutney is also one of my favorite appetizer pairings! Serve this tomato chutney alongside cheese and crackers for a wonderful quick snack board.
Another quick recipe is to warm a block of cream cheese until soft, then smother it with chutney! Serve with toasted bread slices or your favorite crackers.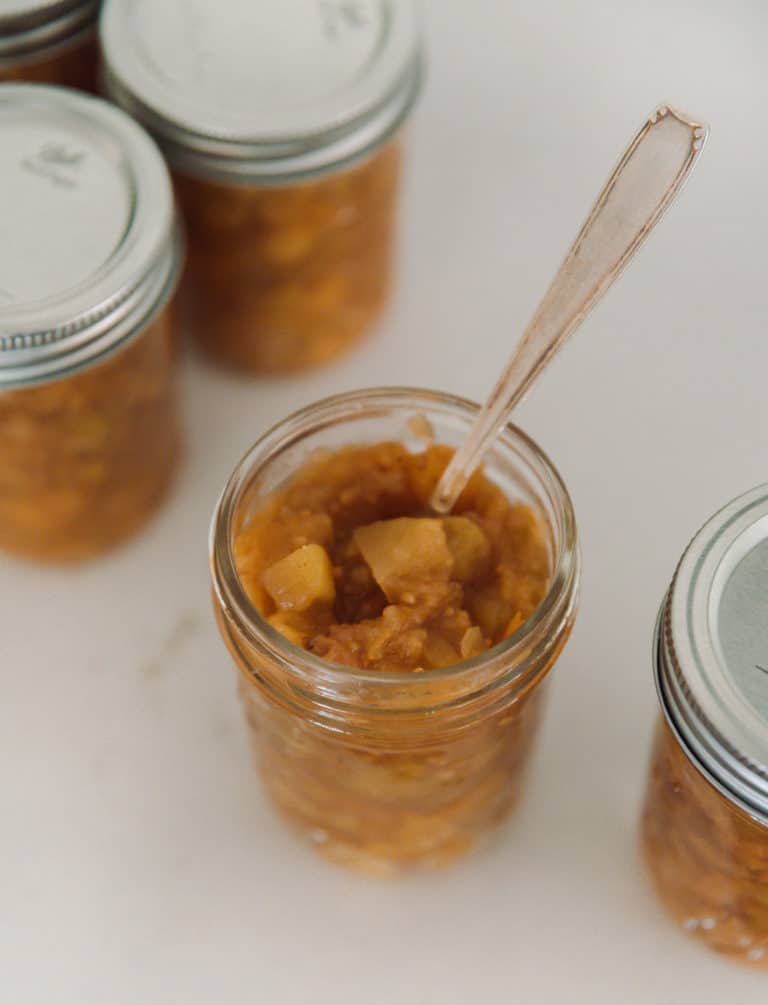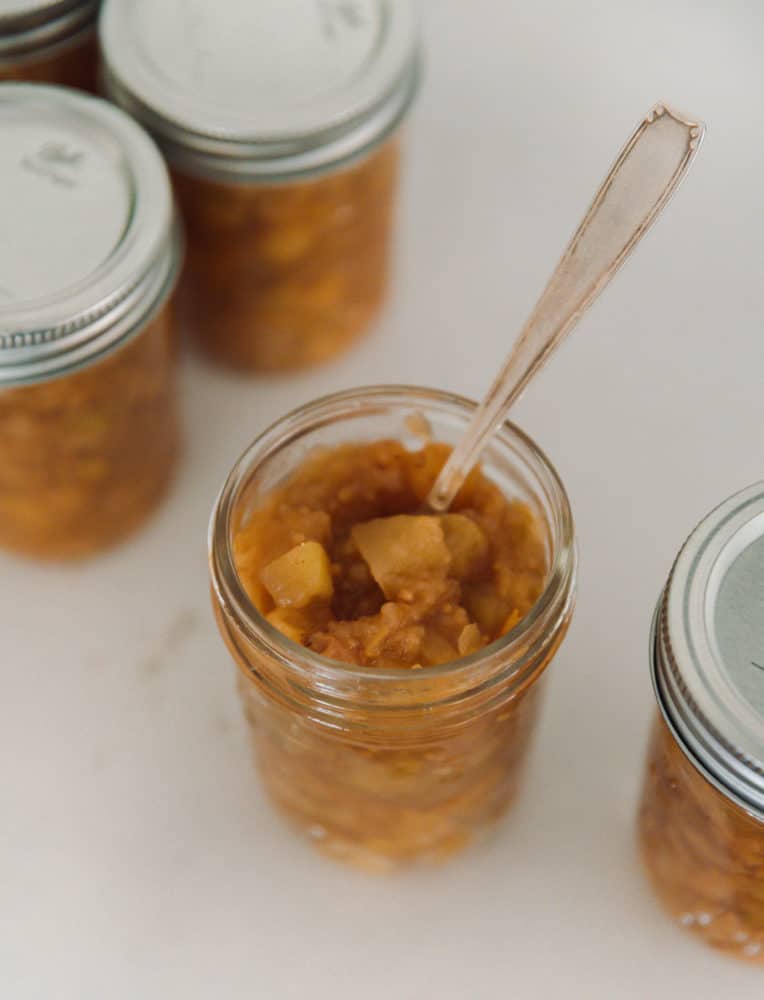 ---
Home Canning Tips
I highly recommend this home canning recipe book. It is imperative to use tested recipes when home canning. This will allow you to safely and confidently preserve food!
Click here to print the free home canning guide below! And for more useful home canning tips be sure to check out The Ball® Blue Book, it is full of really wonderful recipes that are all independently tested and verified! Allowing you to can with confidence!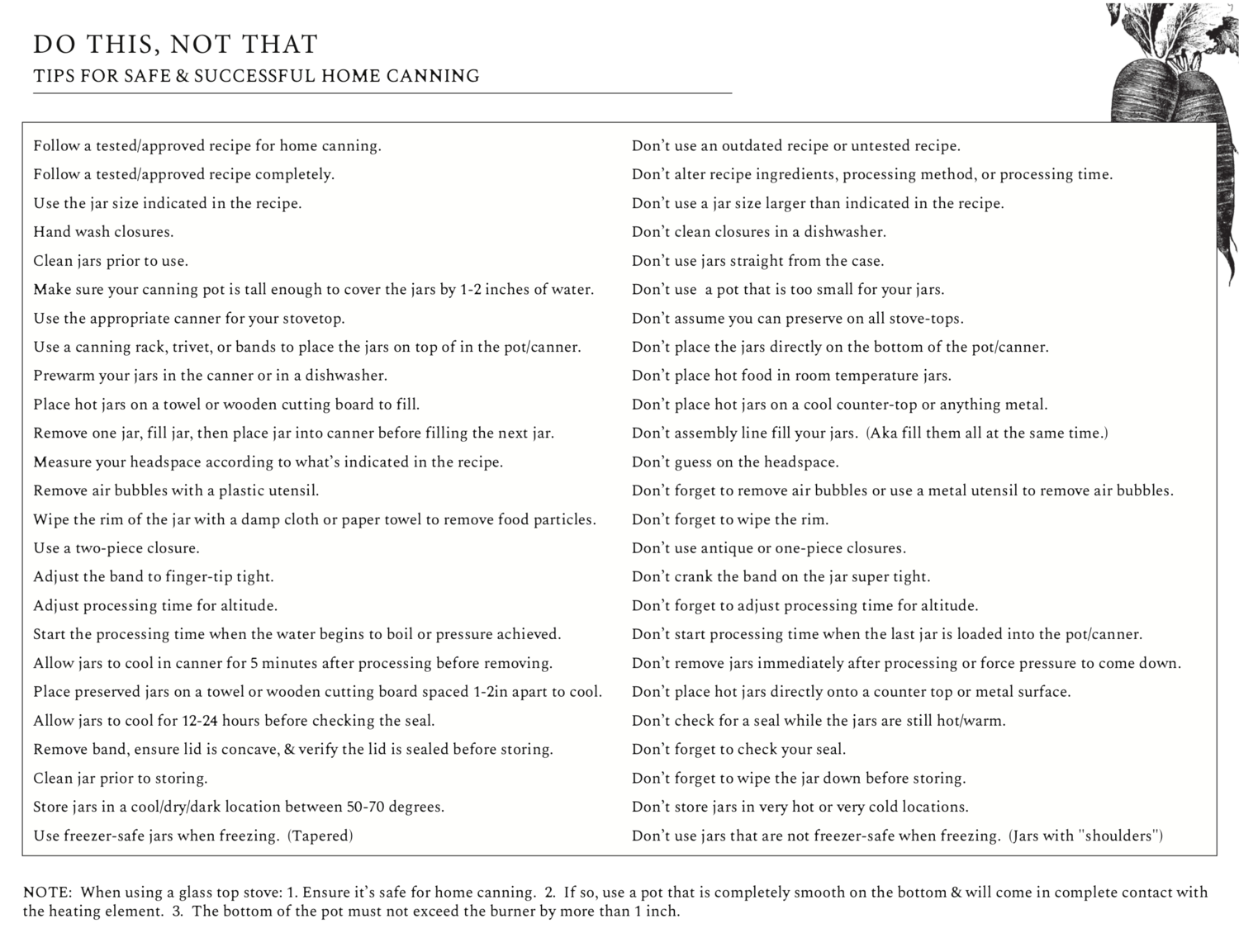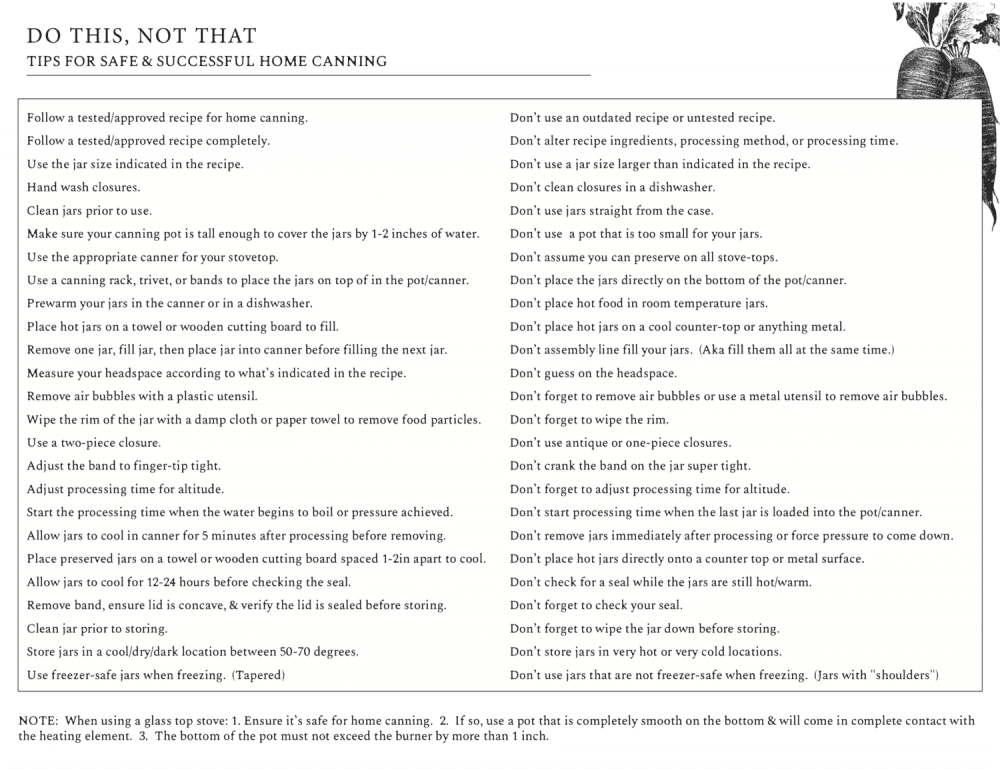 ---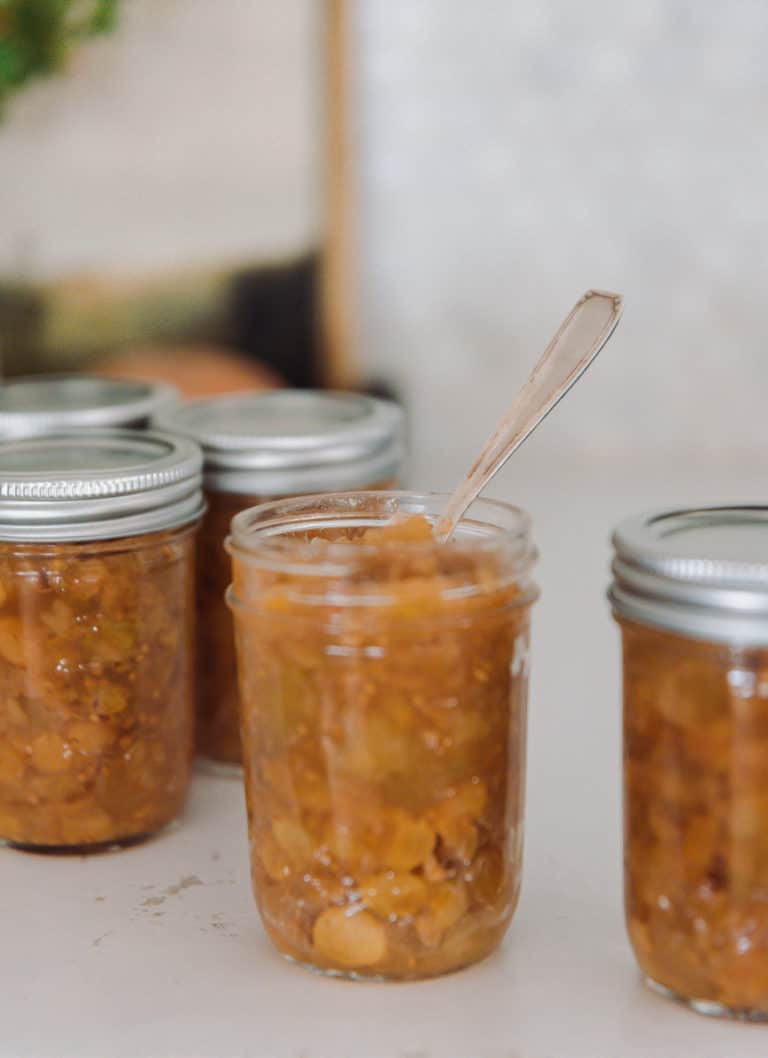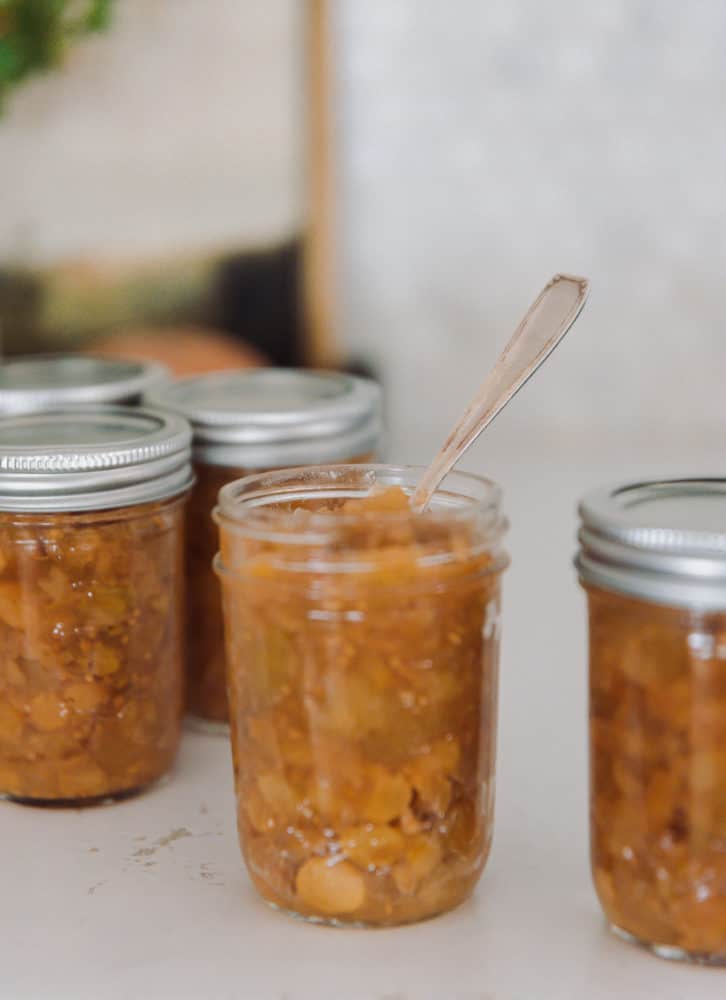 If you love home canning, be sure to check out some reader favorite recipes! Orange marmalade is a crowd favorite! Or if you have an abundance of jalapeños, check out our candied jalapeños, pickled jalapeños, or jalapeño jelly!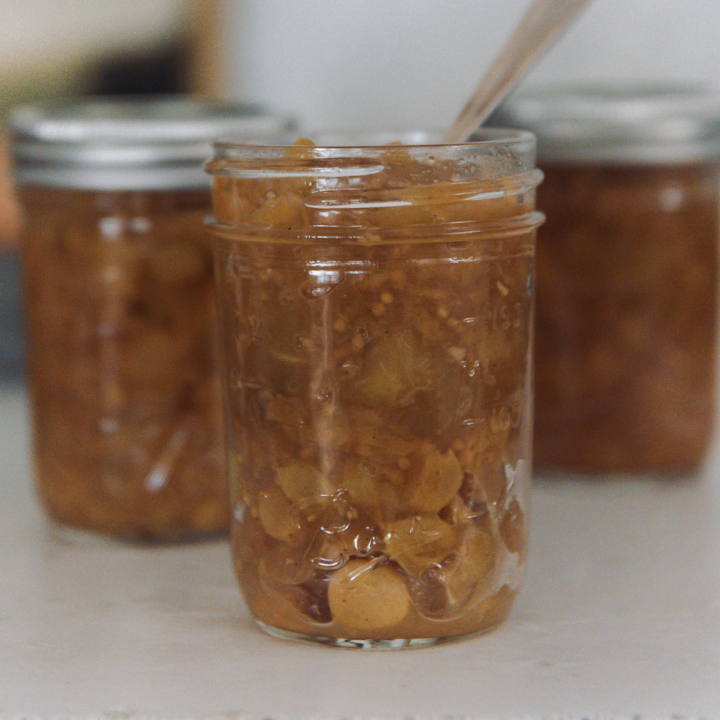 Sweet Yellow Tomato Chutney
Yield:
6 to 7 (8 oz) half-pint jars
Cook Time:
1 hour
30 minutes
Total Time:
1 hour
45 minutes
Enjoy the mild and fruity taste of delicious yellow tomatoes in this sweet tomato chutney recipe! Full of color and flavor, this recipe is a great appetizer pairing or enjoyed with grilled fish!
Preserving Method: Water-Bath-Canning
Recipe via FreshPreserving.com
Ingredients
4 cups cider vinegar
9 cups chopped cored peeled tart green apples (about 9 medium)
12 cups chopped cored peeled yellow tomatoes (about 12 medium)
3 cups golden raisins
2 ½ cups chopped onions (about 3 to 4 medium)
1 ½ cups granulated sugar
1 cup lightly packed brown sugar
3 chili peppers, such as jalapeño or hot banana (yellow wax), finely chopped
2 cloves garlic, finely chopped
1/4 cup mustard seeds
1 Tbsp finely chopped ginger root
1 ½ tsp ground cinnamon
1 tsp salt
Instructions
Measure vinegar into a large stainless steel saucepan. To prevent the apples from browning, drop them into the vinegar as they are being chopped, stirring to ensure all surfaces are covered.
Add tomatoes, raisins, onions, granulated sugar, brown sugar, chili peppers, garlic, mustard seeds, ginger root, cinnamon and salt. Bring to a boil over medium-high heat, stirring frequently. Reduce heat and boil gently, stirring frequently, until the chutney is thick enough to mound on a spoon, about 1 hour.
Prepare boiling water canner. Heat jars and lids in simmering water until ready for use. Do not boil. Wash lids in warm soapy water and set aside with bands.
Ladle hot chutney into hot jars leaving ½ inch headspace. Remove air bubbles. Wipe rim. Center lid on jar. Apply band until fit is fingertip tight.
Process jars in a boiling water canner for 15 minutes, adjusting for altitude. Remove jars and cool. Check lids for seal after 24 hours. Lid should not flex up and down when center is pressed.
Notes
Tip: Use a food processor to quickly chop ingredients!
Recommended Products
As an Amazon Associate and member of other affiliate programs, I earn from qualifying purchases.
*This is a sponsored post that is part of an ongoing partnership with the Fresh Preserving Division of Newell Brands. They have provided jars, equipment and monetary compensation. All thoughts and opinions expressed remain my own.