Did you know, there is a basic formula when it comes to how to design a living room? Once you learn it, everything will easily fall into place. In this article, you'll learn the simple steps (with a few designer secrets) to designing a beautiful living room that works with your lifestyle and aesthetic!
Whether you are starting from scratch or simply re-working an existing space, follow these expert design tips to create a functional living room in your home.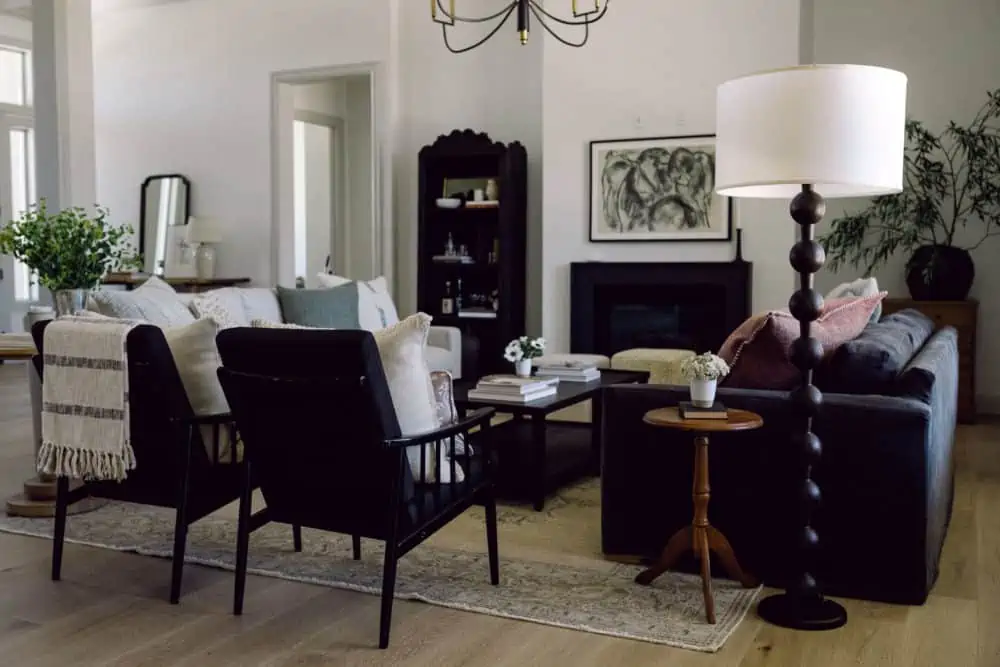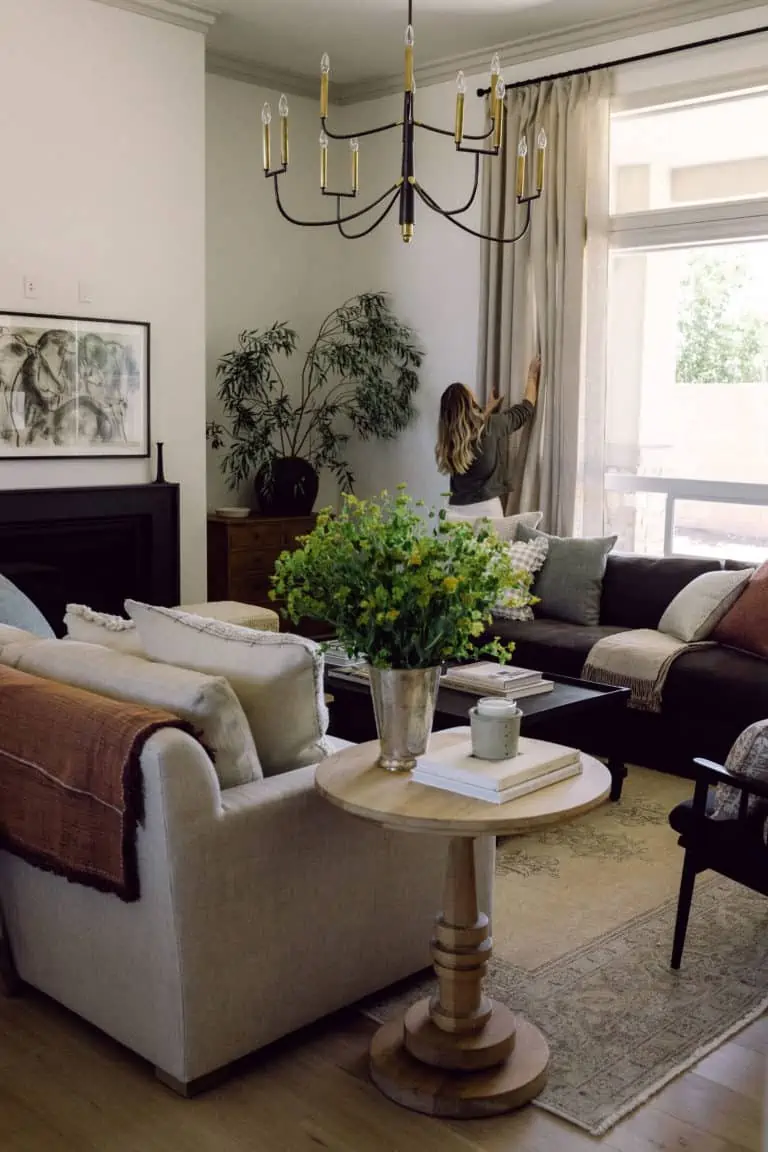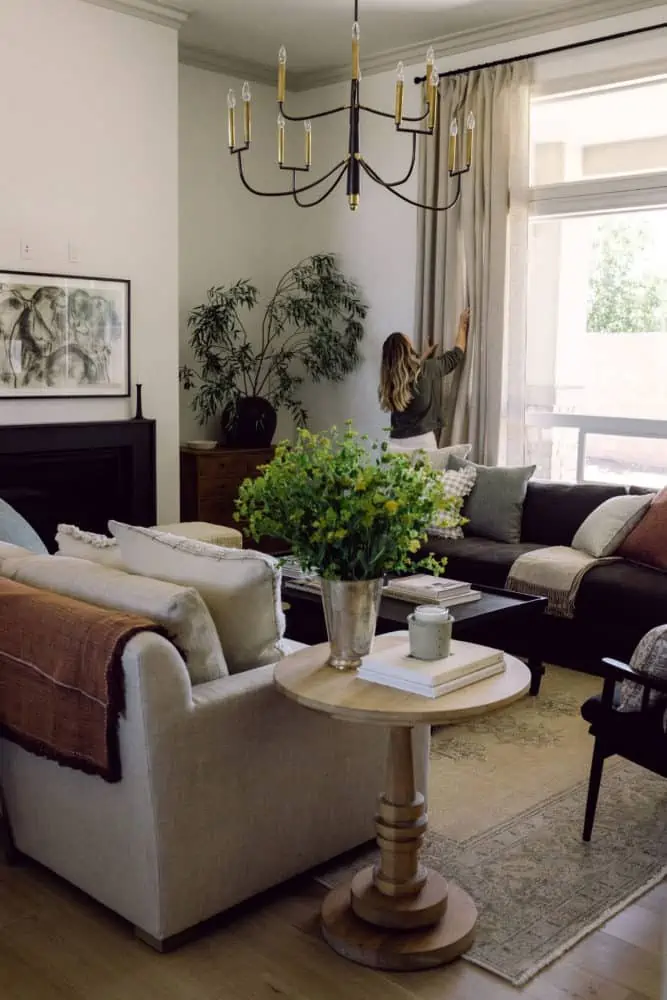 Step One: Create a Vision Board for your Living Room
Whenever diving into a creative process, it's best to begin with an overall vision board. This is applicable for any endeavor, but especially when it comes to designing.
In our design firm, we use Canva and Pinterest to gather inspiration. Think outside of the box here, and source imagery that isn't necessarily a literal representation of the space.
Personally, I like finding images that symbolize the overall feel and aesthetic that I envision. This can be of nature, textiles, color palettes, and textures in addition to actual imagery of living rooms (or whatever space you're working on).
Once you have gathered your inspiration, pay attention to a common element or theme that's reflected back from that collection of images.
Analyze the collection with fresh eyes: What exactly do you like? Is it the color, shape, function, etc?
Step Two: Measure the Living Room
I can't stress this enough, but measuring is a vital step in the process. This is where many people go wrong in design, they forget to measure! Technically, this could be done prior to inspiration gathering, but you get the gist ;).
We utilize a pencil and graph paper as a first step when we begin this process! Doesn't get more simple than that! Create a floor plan that's to scale by making each square represent 1 foot or 6 inches depending on the room size.
Additionally, I love using a laser measuring tool to quickly grab the room dimensions, but a tape measure works well too.
Make sure to note any door openings, windows, and room features such as a fireplace or HVAC.
Step 3: Sketch the Living Room Layout
Now that you have the basic room shell drawn out you can start adding in furniture. Measure and sketch the items in scale as you go. This can also be done using free online floor planning tools!
Don't forget to leave space for proper movement throughout the room. The main walkways within the living room should be 3 feet wide at a minimum and a coffee table should have at least 18 inches between the sofa and the table edge. Read more about selecting the perfect coffee table.
Design Tip: If you have space to pull your sofa away from the wall and have it float in the middle of the room, do it! You are not limited to only placing furniture against walls.
Let's talk about scale: You hear designers use the term all the time, but what does it mean?? Simply put, "scale" is making sure that the overall size of the furniture, art, and accessories fit together properly. This includes visual weight as well as actual physical dimensions.
Design Tip: A general rule of thumb is that a side table should be the same height as the sofa arm or within a few inches. A coffee table should be the same height as the sofa seat and roughly two-thirds the length.
Scale also takes artwork and textiles into consideration. Make sure to select appropriately sized art as well as a large enough rug for the room. We have a full guide talking about rug sizes to help you decide the best size rug, but when in doubt – always go bigger ;).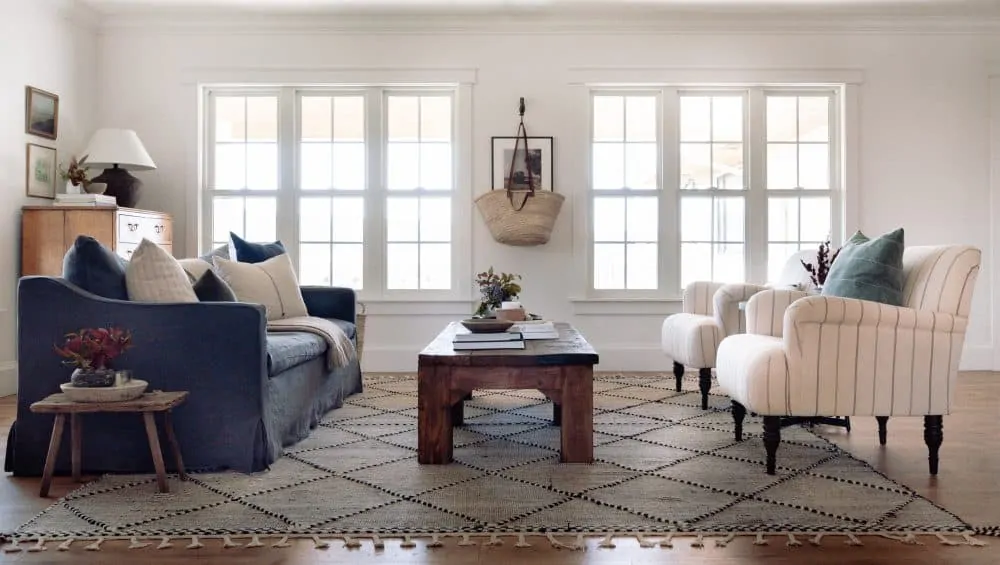 Step 4: Choose a Color Palette
Have you ever just walked into a room and felt instantly at ease? Or just the opposite, something about the room seems off?
One of the main factors in a living room appearing visually pleasing to the eye is creating a cohesive color palette.
How do you begin creating a color palette? We generally start with a "jumping off point". This can be any element in the design such as a cherished art piece, found object, or interesting textile that speaks to you. Whatever it is, allow it to direct the rest of the color palette.
The wall color might be your natural urge to start with, but it's actually the last color you should select. The reason is, there are thousands of paint colors, but only limited rug and furniture options. Start with the most narrow options and build from there.
Design Tip: Selecting naturals is beautiful, but often plays it safe and eliminates your personality! Don't be afraid to add patterns, color, and texture. We love using complementary colors and patterns to create unique spaces in our designs.
Step 5: Furniture Selection
Now that you know what sizes of living room furniture to look for and a general idea of colors, start the hunt for the perfect pieces.
In our design firm, we have a few favorite vendors we head to first. Often times it's something vintage from Chairish or Etsy!
I suggest beginning with your favorite stores (or even your own home!) and continuing to search from there.
Instagram and Pinterest are great ways to discover new sources if you want to adventure outside of your normal go-to shops.
If you're shopping from your own home or thrifting, keep your eyes open to interesting ways to repurpose and refresh overlooked pieces.
Maybe your existing sofa is the perfect size but the wrong color, invest in a good slipcover or have it reupholstered! There are countless ways to reimagine a furniture piece.
Tip: Keep a list on your phone or purse when you're out shopping so you always know what items you need. Half the fun of design is slowly collecting the ideal furnishings and decor that speak to your soul.
Consider how you use the room as well. Do you have kids, pets, or love eating in front of the tv? Look for materials that will survive a spill, pet claws, and some impromptu art creations with a found marker. Don't be afraid to actually live in your living room!
Step 6: Select Lighting
Lighting is an important layer to any space and a key element of interior design. So important that we have a full blog post dedicated to how to choose the correct light fixture.
Having multiple sources of light gives you the flexibility to set the tone of a room. We always recommend various light sources at different levels.
Overhead fixtures offer the broadest lighting and many people opt for recessed lighting, though personally, I find recessed lighting to be unappealing and prefer fixtures.
Living rooms with tall ceilings generally call for a beautiful chandelier, while living rooms with low ceilings usually look best with a flush mount fixture.
To complete the lighting needs of a space add in table lamps, floor lamps, or wall sconces for task lighting options.
Design Tip: As a rule of thumb, each individual area within a room should have its own light source. For example, a reading chair would require a reading lamp, and so forth.
Step 7: The Finishing Touches
The design elements in the room that really pull the overall living room design together are the textiles, artwork, and accessories.
Artwork
Wall decor is one of the best ways to infuse your personal style into the living room. I always suggest selecting artwork that means something to you.
This can be family photos, handmade artwork, or pieces collected from trips. When you're ready, I have a whole blog post dedicated to helping you hang art properly.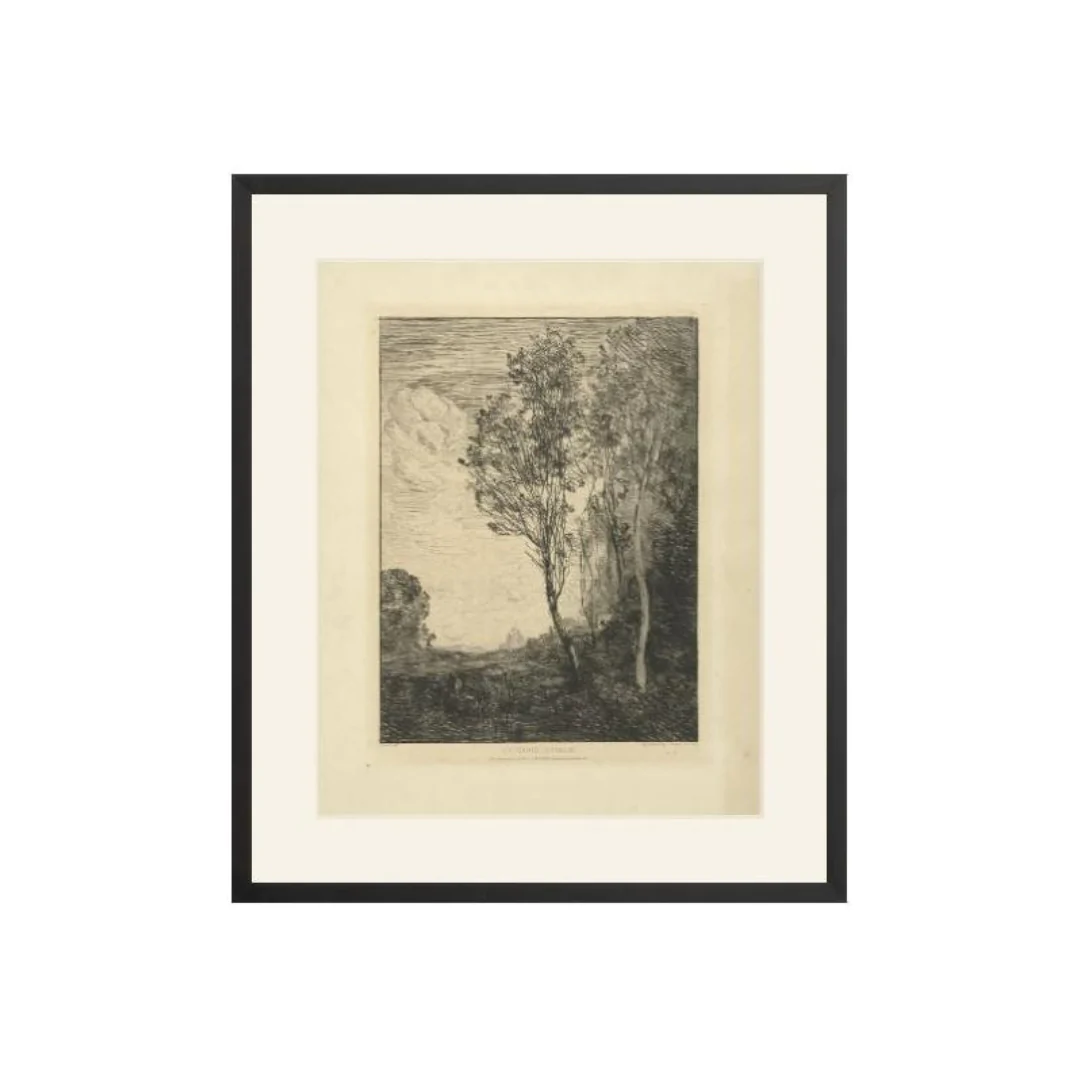 Window Treatments
Window treatments help visually soften and dampen sounds in your living room. Consider the light you want during the day and privacy options at night while choosing your drapery or blinds.
We love utilizing pinch pleat curtains (here's my favorite amazon find!) and roman shades. If you're looking for a more high-end look, our go-to is Wovn.
Design Tip: Hanging curtains correctly will make all the difference in the world! Make sure to hang the drapery high enough to visually elongate the walls.
Accessories
Decorations are the final layer to bring the room to life.
When accessorizing, think in layers. Books and found objects will be your best friend here and help create a lived-in space.
We love layering a combination of artwork, books, and smaller decorative objects like candles or vases for shelves or bookcases.
Design Tip: Group items in odd numbers like 3 or 5, our eyes find it most pleasing!
Lastly, you can literally add life to a space in the form of plants or flowers (which we always do!). Take a look at every styled photo you've seen on Instagram or in a magazine, you'll always find some form of greenery.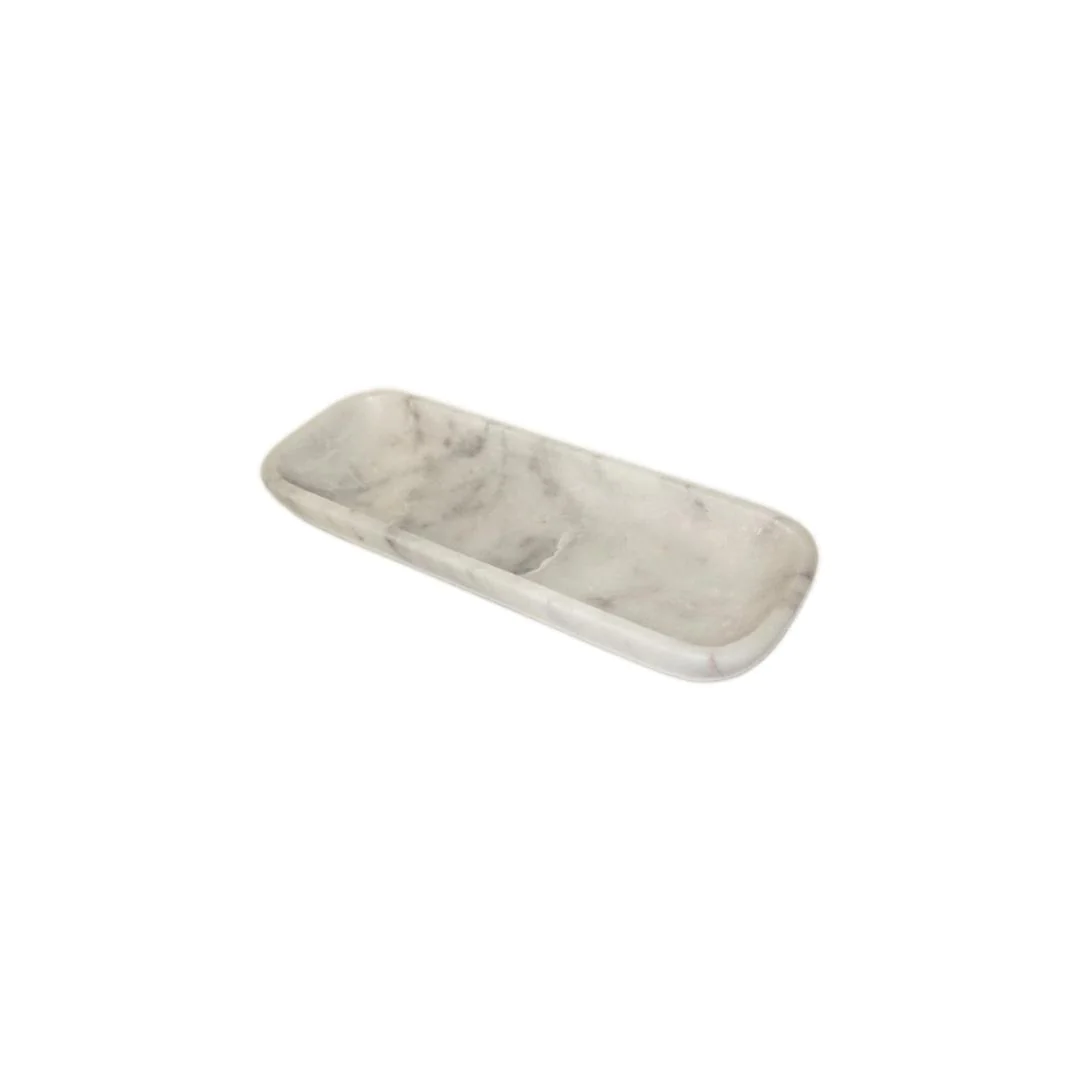 Textiles
Pillows and textiles are the best way to update the entire look of a room. As I mentioned earlier, don't be afraid to mix and match sizes, colors, patterns, and textures. This will add personality and charm to your living room.
I love mixing stripes with florals and bold patterns for a dramatic look. Some of my favorite pillows are those that are textural and made with organic materials.
Design Tip: If you have limited storage, consider buying good-quality pillow inserts to reuse and only swap out the covers.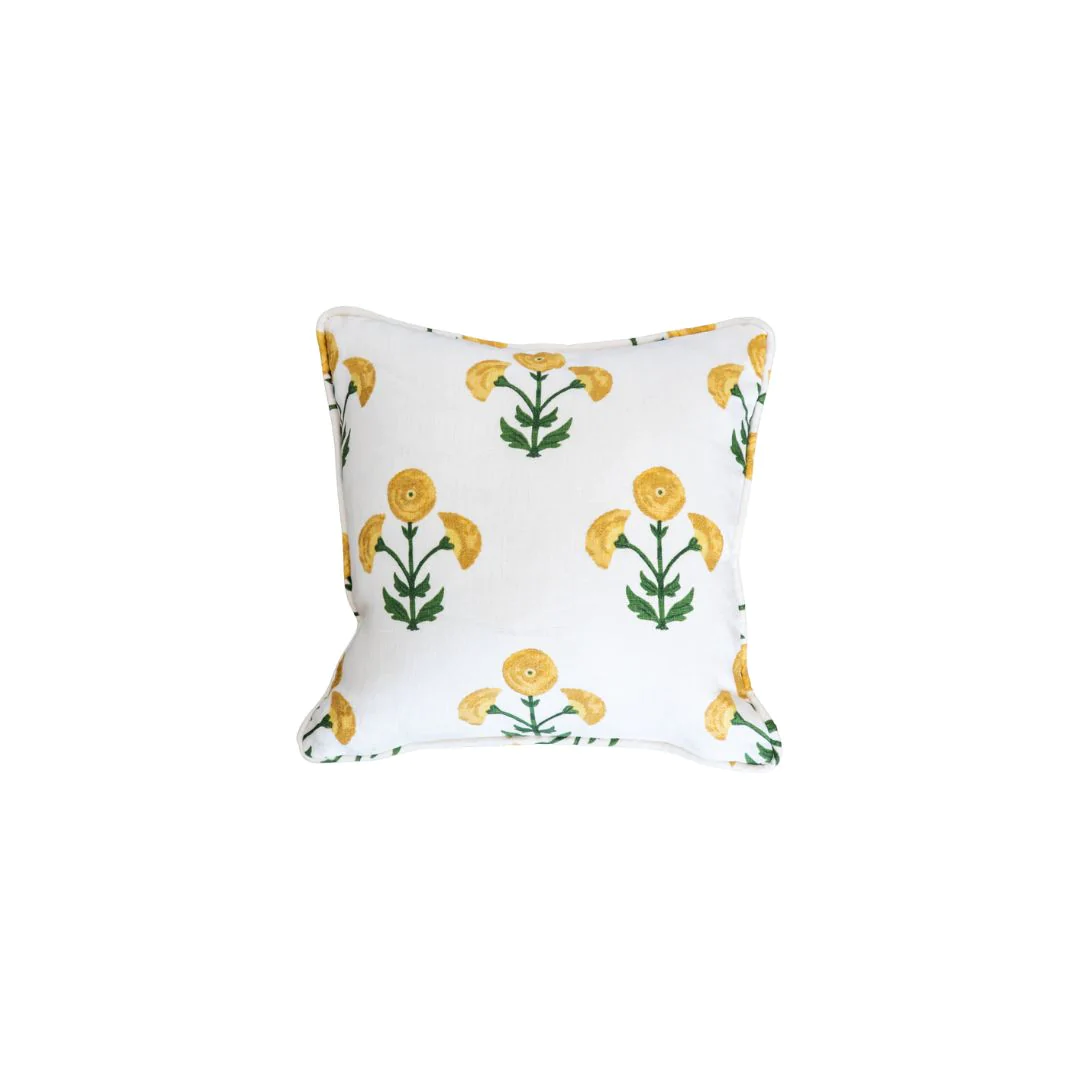 Light Fixtures
Lighting is another very important layer in the living room. Having multiple sources of light gives you the flexibility to set the tone. Overhead fixtures offer the broadest lighting. Then add in table lamps, floor lamps, or wall sconces for task lighting options.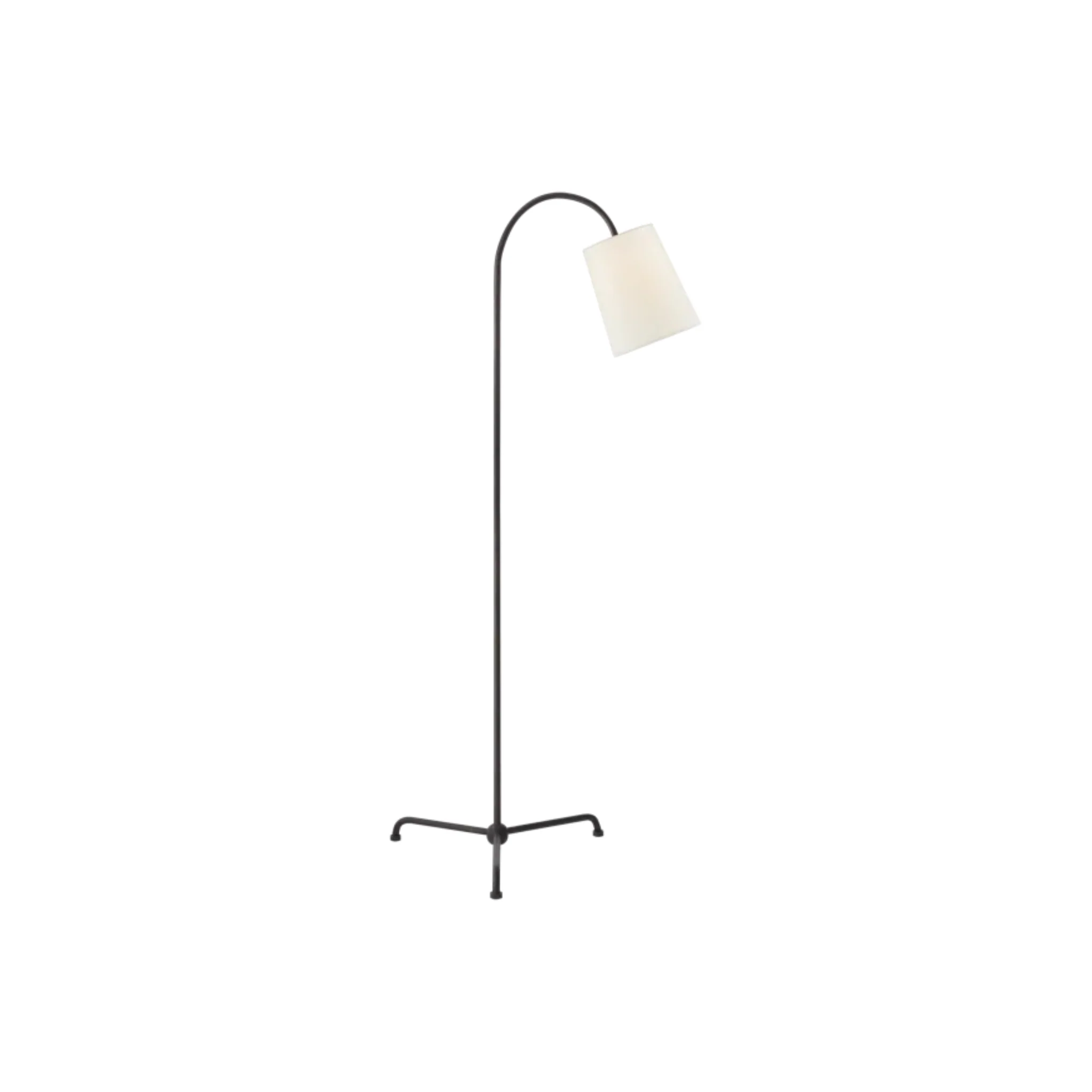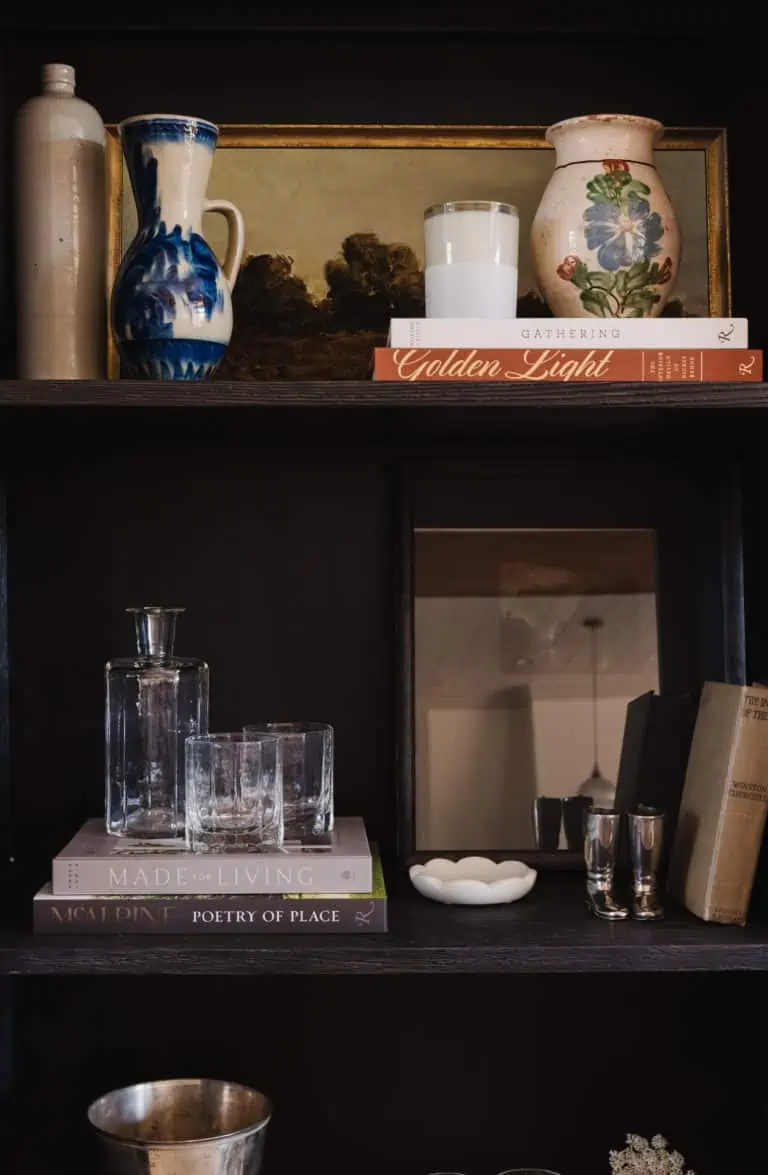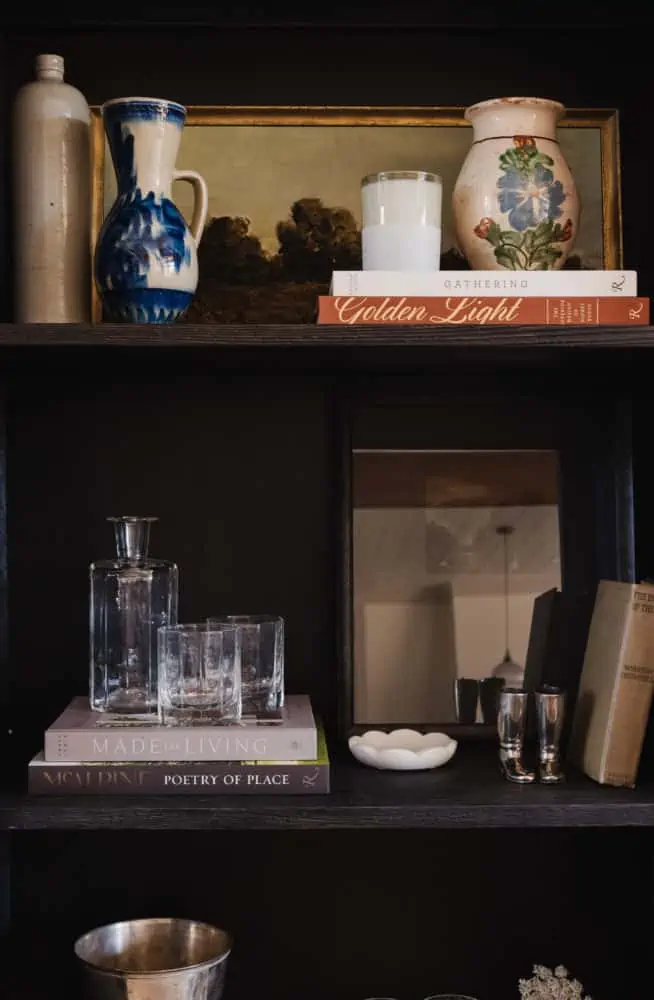 FAQ
What should I buy first when designing a living room?
I suggest starting with larger investment items. A rug and/or sofa are the best place to start because they set the foundation for the room.
How do I plan a room layout?
Ask yourself what is the purpose of the room. Typically our living rooms are used for gatherings and watching TV. Establish those focal points first and then arrange the furniture to fit the function.
What is the best element to splurge on?
We suggest splurging on the item that will get the most use in the space, typically seating! Investing in a high-quality sofa will serve you well for many years to come.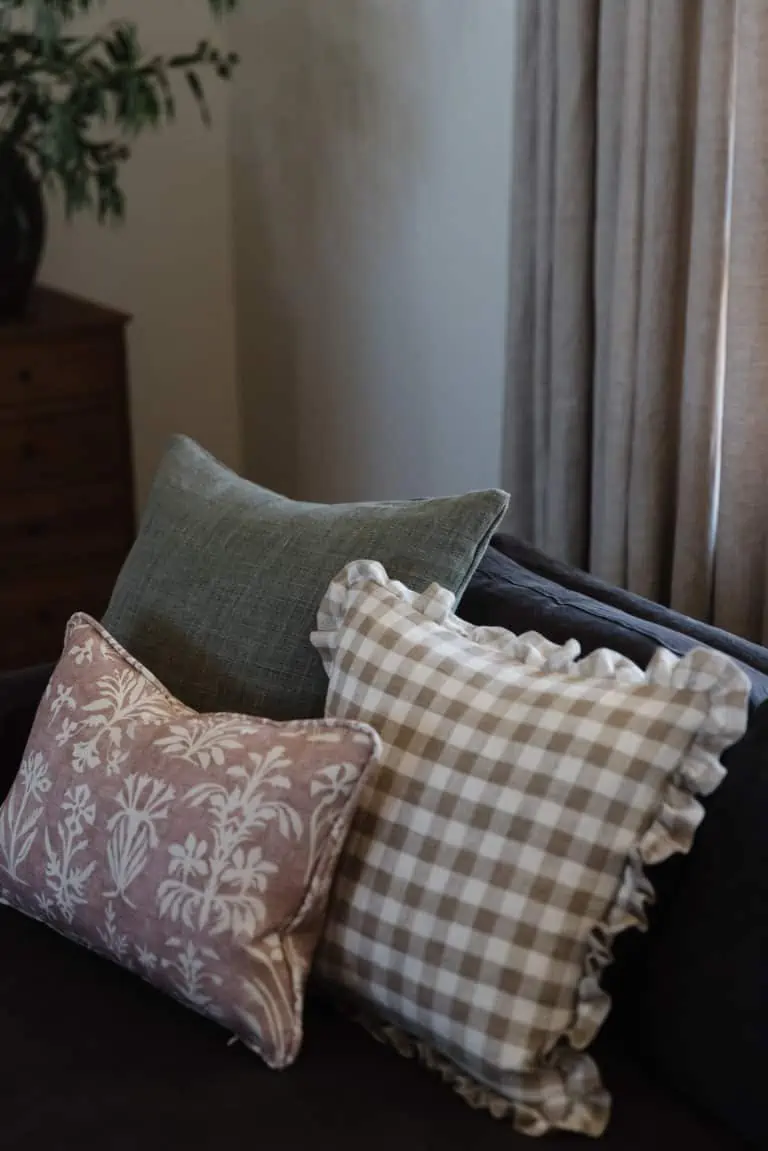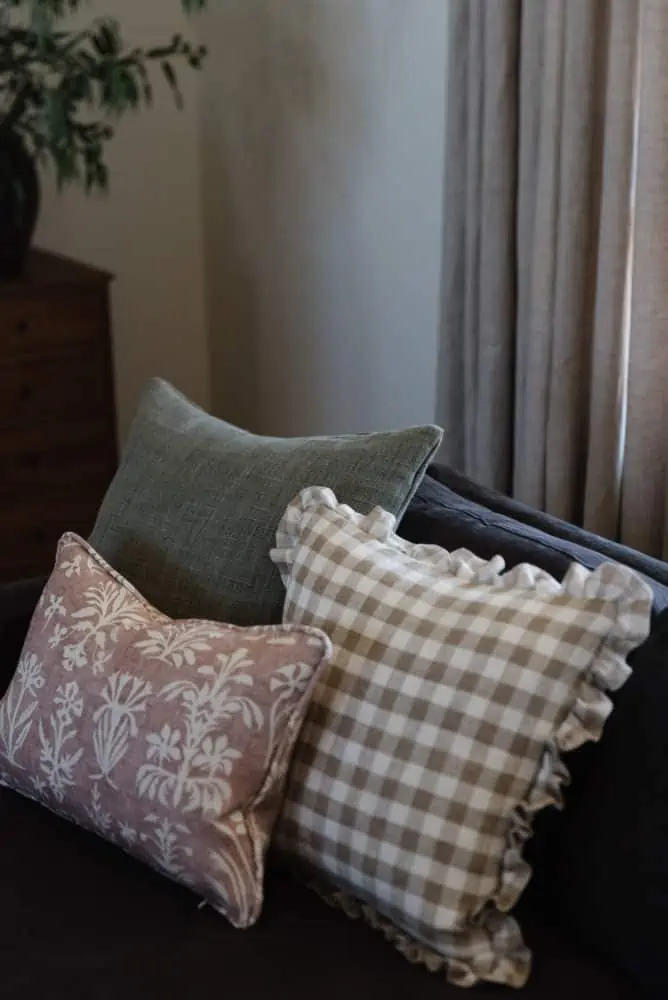 Now that you've learned the basic elements for designing your living room you can confidently decorate your home to reflect your unique style.
If this feels overwhelming to you, we are here to help! Boxwood Avenue Interiors is highly skilled in creating your one-of-a-kind vision and bringing it to life. We work anywhere and offer virtual design as well as full-service options to fit your budget.
If you are looking for more home design inspiration make sure to check out this page filled with design tips, sources, and room reveals.
---