Beautiful Kitchen Remodel with Patterned Tile Backsplash & Dark Cabinets
This post may contain affiliate links, please read my disclosure policy.
This kitchen got a major facelift with dark cabinets, quartz countertops, and patterned tile backsplash!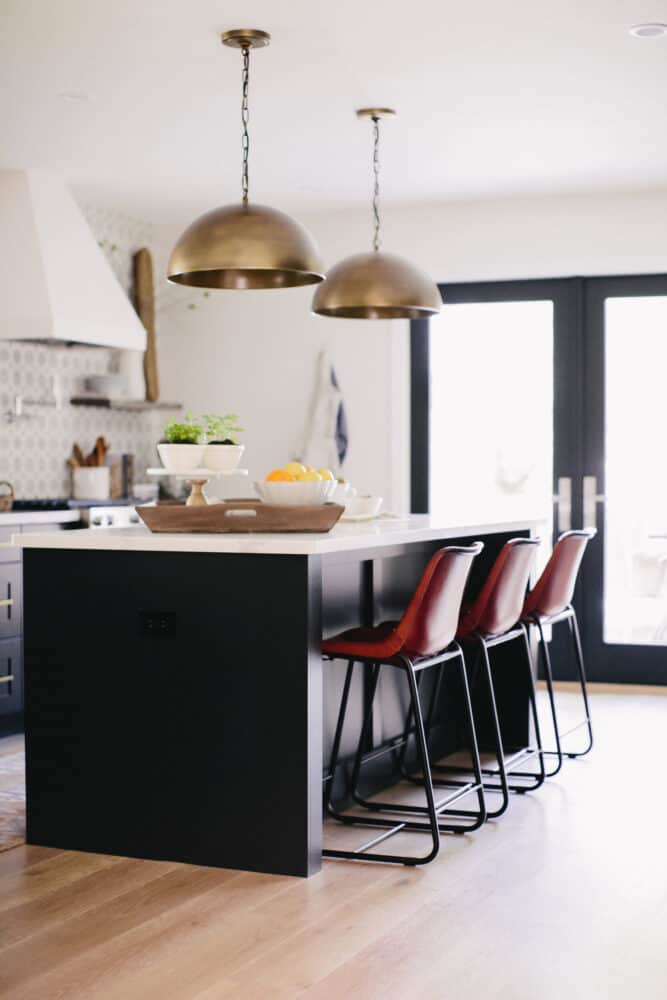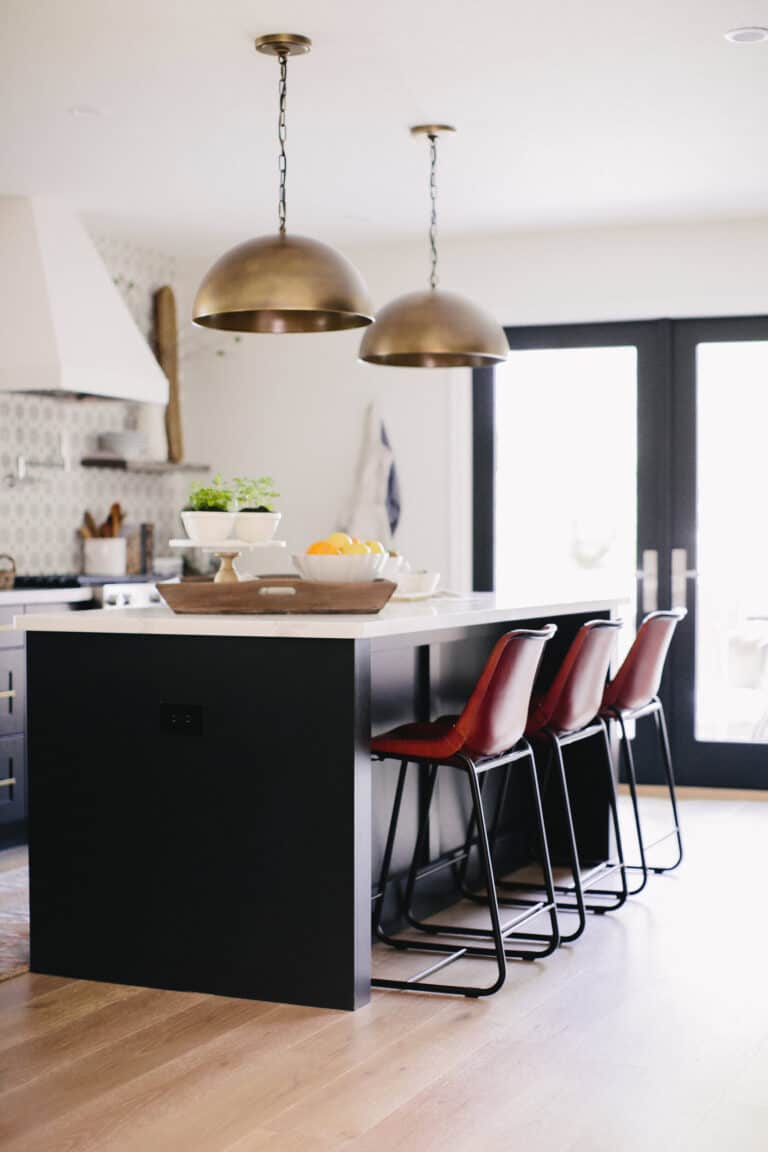 Beautiful Kitchen Remodel with Patterned Tile Backsplash & Dark Cabinets
A few years ago, we remodeled this home in Reno, Nevada in a matter of six weeks. I have shared the brick fireplace makeover, entryway with a built-in bench, and teeny tiny bathroom remodel, but I don't think I've ever shared the kitchen! So without further delay…let's dive into this kitchen remodel! 
First…let me show you what the kitchen looked like "before". It was yellow, and was divided up into two spaces. Opposite the range, was a small breakfast dining area, leaving the kitchen very small.
Due to the placement of the hood vent, anyone in the kitchen, was unable to see out. The entire space was cramped and did not function well! 
The clients had one request: patterned tile backsplash! I love using patterned tile, I have it in my kitchen (and pantry), and think it's a beautiful way to add a pop of pattern. I really love using cement tile for patterned tile because of the natural cement finish. Anytime I can use an organic element like metal, wood, or cement – I try to.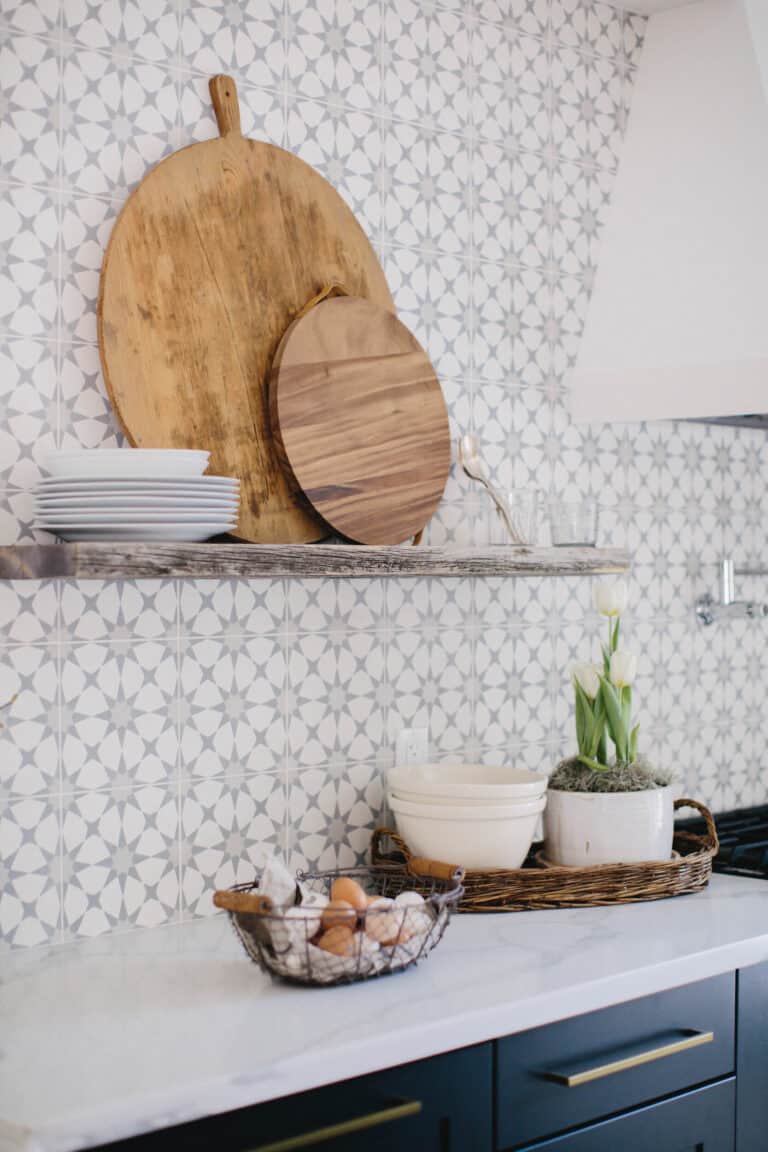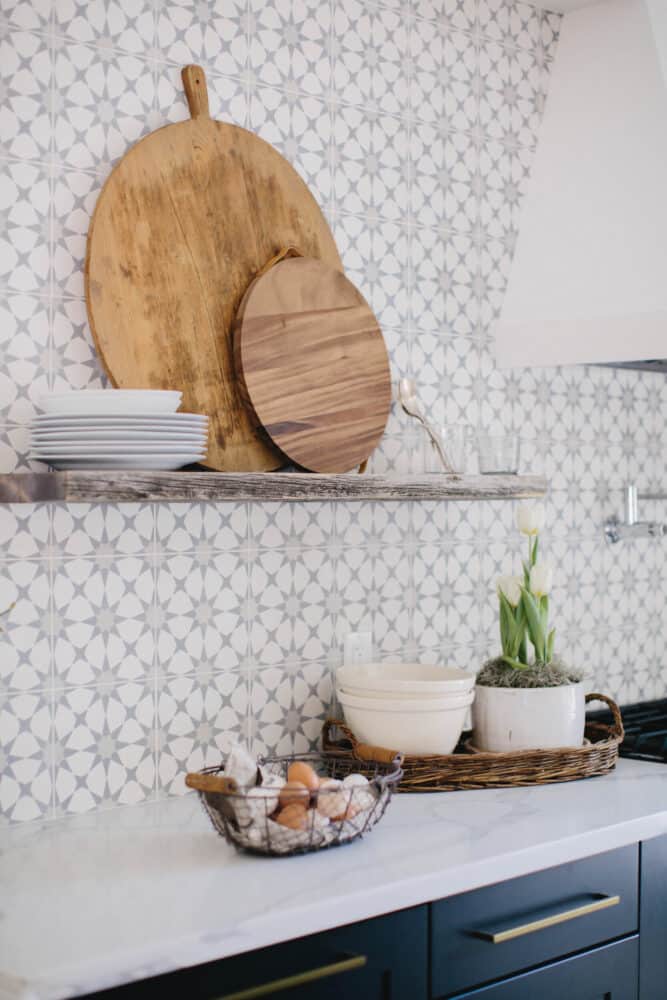 For this kitchen we used Cement Tile Shop's Atlas tile. We used this as the backsplash for entire kitchen, which you might see, does not have upper cabinets. Instead, we added floating wood shelves.
The open wood shelves are made from reclaimed fence boards which adds a rustic element to the kitchen. I love the way the added wood looks in the brand new kitchen. It really brings the design full circle. 
Read More: The Prettiest Open Shelves in the Kitchen
Kitchen Cabinets
The clients were not huge fans of white cabinets, so instead we went with a rich navy cabinet color for this kitchen remodel. I love the depth that the cabinets add. The navy cabinet color makes the patterned tile really shine!
We utilized as many drawers as possible to make the most of the space. Since we knew we wouldn't be using upper cabinetry to keep the space as open as possible, cabinet drawers were a great solution to provide maximum storage. Cabinet drawers are a wonderful way to store cups, mugs, plates, and pots and pans!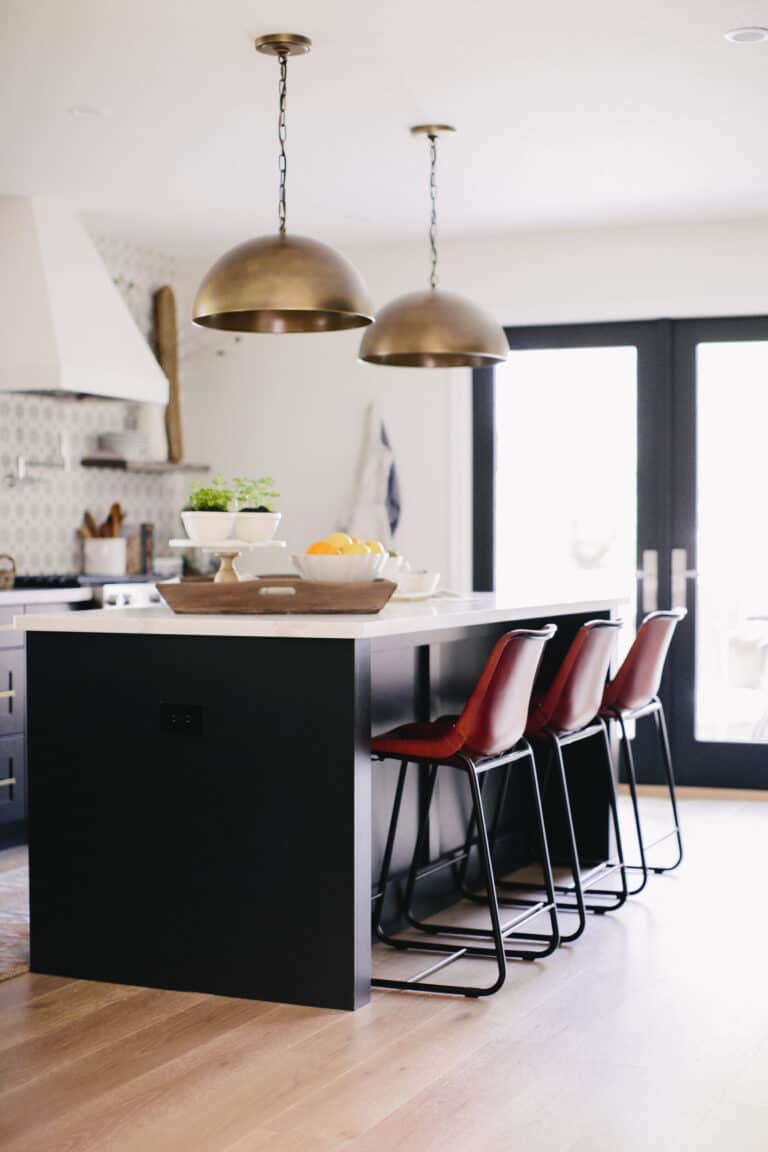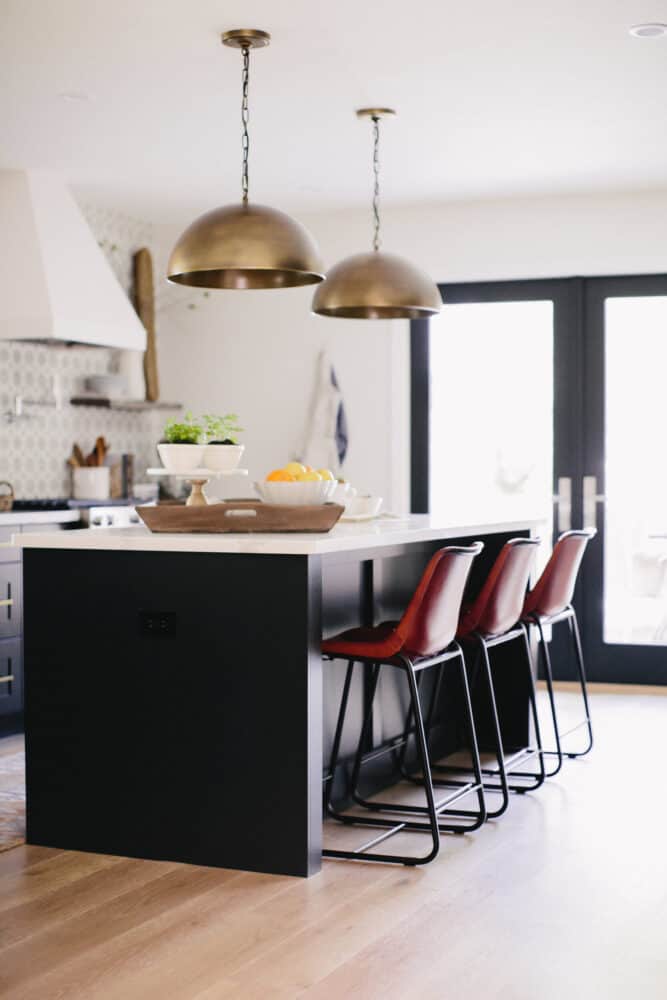 Right when we started this kitchen remodel design, I knew I wanted to use these oversized brass dome pendant lights! They were the perfect way to ground the patterned tile and add some drama over the island.
We also added a coffee station next to the refrigerator! The family roasts their own coffee, and it was important to have an area for that in the kitchen! We added a sliding barn door cabinet with a chalkboard sign!
---
shop this kitchen

---
The kitchen is complete with a large farm sink and beautiful chrome finishes. We stuck with cost effective plumbing, and added a pot filler over the range! The bridge faucet is one of my favorite elements, it adds a nice little detail to the sink area.
I had so much fun designing this kitchen, along with the rest of this house! We were able to open it up, and create a much more functional area for the family! By removing the dividing wall and adding an island, we made the most of the space available! What's your favorite part of this kitchen renovation?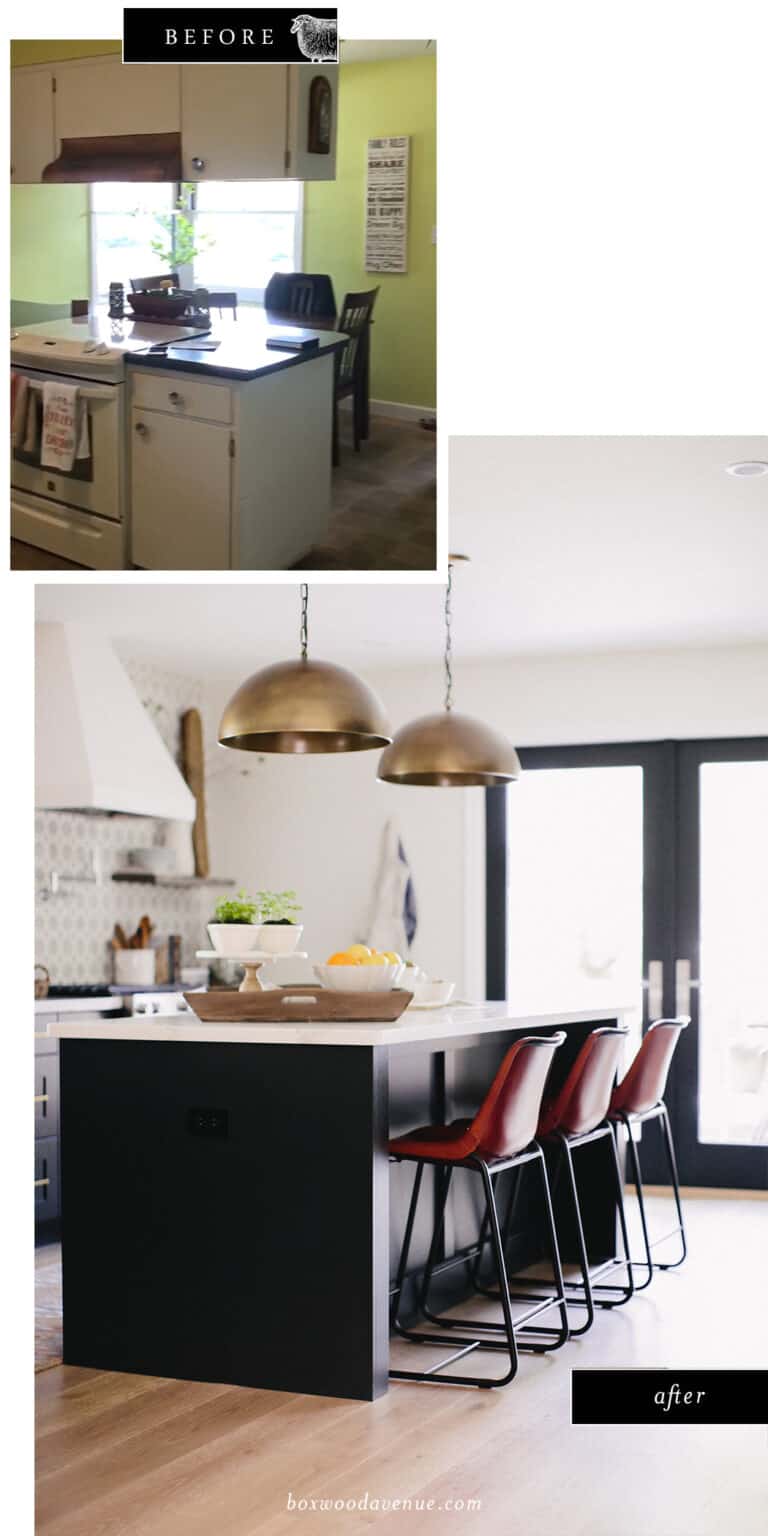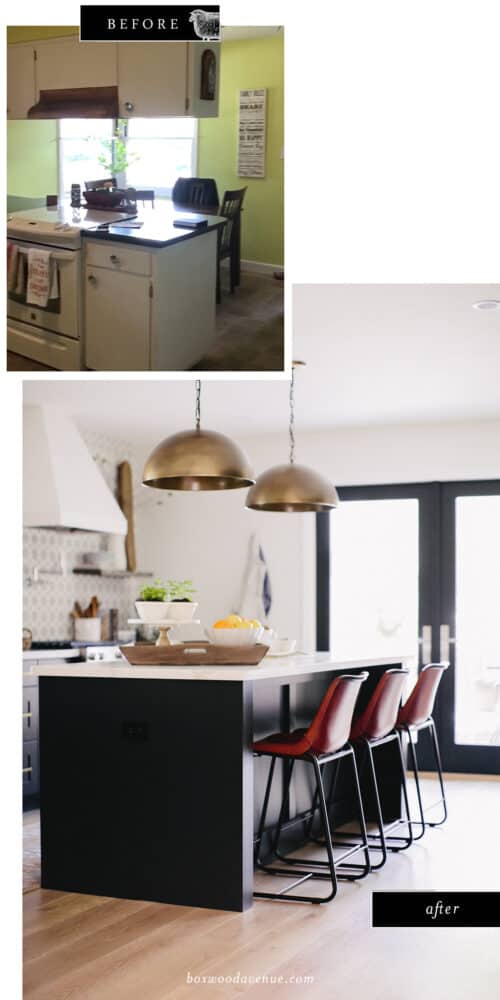 photos by Gagewood Photography | Construction by TFP Construction | Design by Boxwood Avenue Interiors